To plan for the year ahead, you need an entire year calendar on one page (or screen) so you don't have to flip between months. Of course, you also need to know all the factors that impact yearly planning. While some calendars, like Google Cal, provide a year view, you can't see actual events on the calendar in that view. With Teamup, you get an entire year calendar that shows you what you need to see. You can also create an overview bringing multiple calendars to one place. Let's take a look at how Teamup is different and how you can do better yearly planning with our customizable Year view.
Get an entire year calendar on one page  
What do you need in order to do yearly planning? There are two important requirements:
You need to see the full range of time for the year (or portion of the year).
You need to see the events, schedules, and other factors which affect your planning.
These seem like obvious needs, but with many yearly calendars or annual planners, it's not easy (or even possible!) to meet those needs. It seems like you have to make trade-offs: to view the entire year calendar on one page, you don't get to see the events and plans already scheduled for the year. To view the events and schedules you need to consider, you have to flip between weeks or months rather than viewing an entire year or quarter. For a yearly planning view to be useful, it needs to show you the year ahead and show what's happening for the months in view.
How do I make a year calendar on one page?
Teamup's Year view keeps you from making trade-offs that complicate annual planning. Instead of flipping between months, you can see the entire calendar year on one page (or screen). And you don't have to open a different view to see where events are: you can see what's already on the calendar while looking at the full year.
Yearly planning: Google Calendar versus Teamup Calendar
Here's a comparison of Year view in both Google calendar and Teamup:

🙁 Google: Calendar events are not visible in the year view. You have to click on a date to see if it has scheduled events.
✅ Teamup: Calendar events are visible in the year view.
✅ Teamup: Visualize distribution for planned events. It's easy to see which periods of the year have more or fewer activities.
🙁 Google: Cannot adjust the year view's number of months on display.
✅ Teamup: Customize the year view by choosing the number of months to display (1-12).
✅ Teamup: Adjust yearly planning for specific needs (e.g. quarterly, academic, mid-year).
🙁 Google: Toggling calendars on and off does not change information provided in the year view.
✅ Teamup: Toggle options to hide/show individual sub-calendars adjust events on display for immediate visual feedback.
✅ Teamup: Color-coded event bubbles give quick insights on event dynamics over the big picture.
Both calendars have the same iCal feeds populating events on the calendar. In fact, the Google calendar has a couple of extra feeds that the Teamup calendar does not! So it's a slightly busier calendar with a few more events than the Teamup calendar next to it. However, you'd never know that by looking at Google's Year view. The only way to see events is to hover over a date. On the right, look at the same calendar in Teamup. It's easy to see which days or weeks are busier than others. A single glance gives you a comprehensive overview of the months ahead.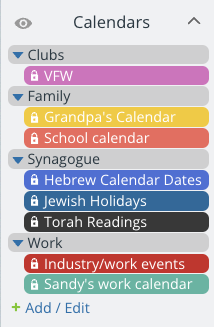 Get a unified overview of multiple calendars
For a yearly calendar to be truly helpful, it needs to include all the factors that affect your long-term planning. Fortunately, this is an area where Teamup's Year view really shines. You're probably working with schedules and calendars that matter for your work or life, but aren't under your control:
Your children's school calendar or your own academic calendar
Your partner's work or travel schedule
A departmental calendar, shared team calendar, or project timeline
Community calendars and local events
Club or group calendars for hobbies, interests, volunteering, etc.
Holidays and religious observances
How do I stay organized with multiple calendars?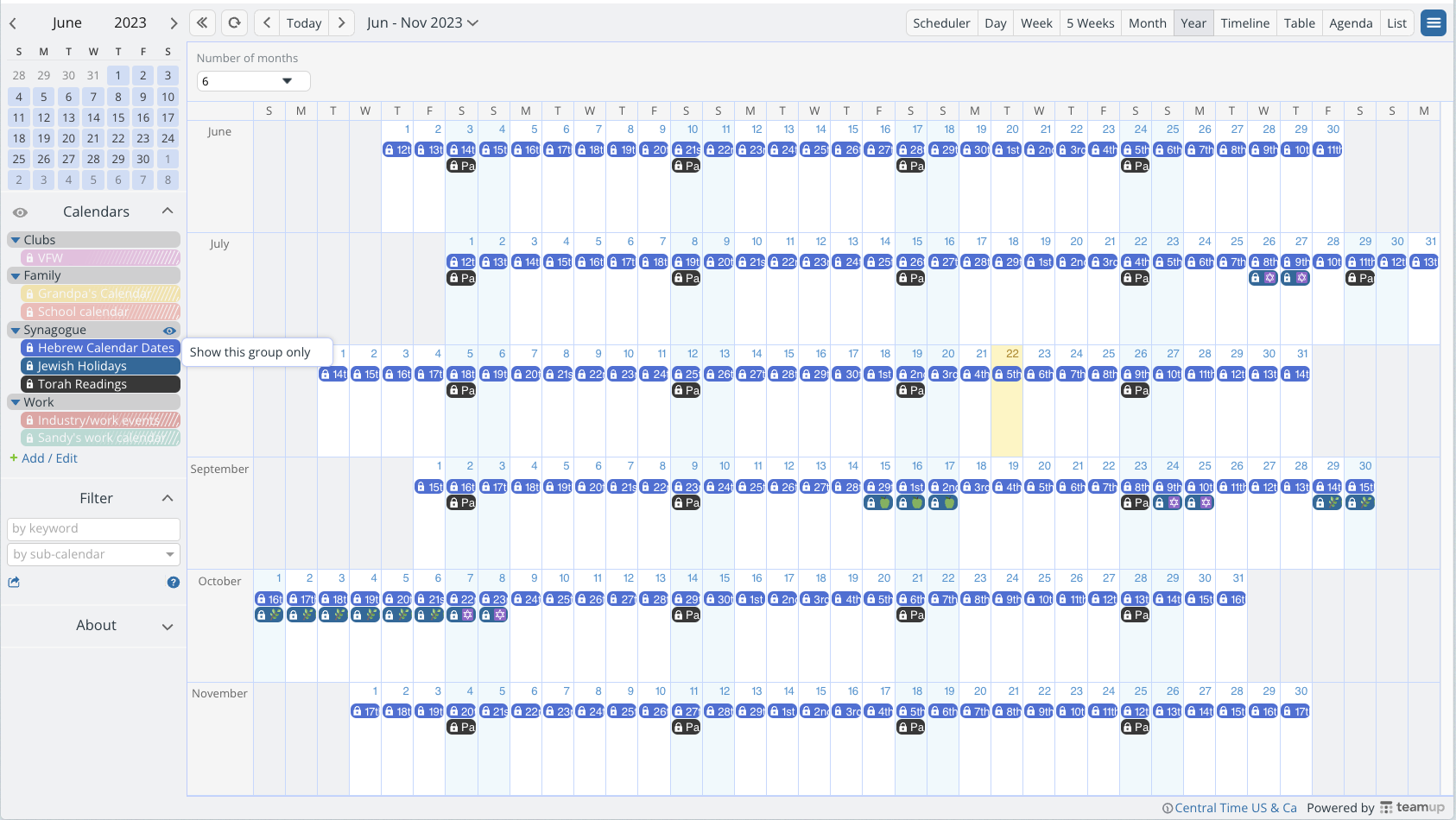 Some of these calendars may only have a few events which you can add to your own personal or work calendar. But many are busy and may be regularly updated, so you need a synchronized feed from those calendars.
You can add multiple schedule feeds to your Teamup calendar and bring all these factors into one place.
For any schedule that affects your planning, just grab the iCal feed link and add it to Teamup.
Organize the feeds in folders to make the overview of multiple calendars more useful.
You can toggle entire folders or individual feeds on and off from view to focus only on what's relevant for the moment.
Get customized yearly planning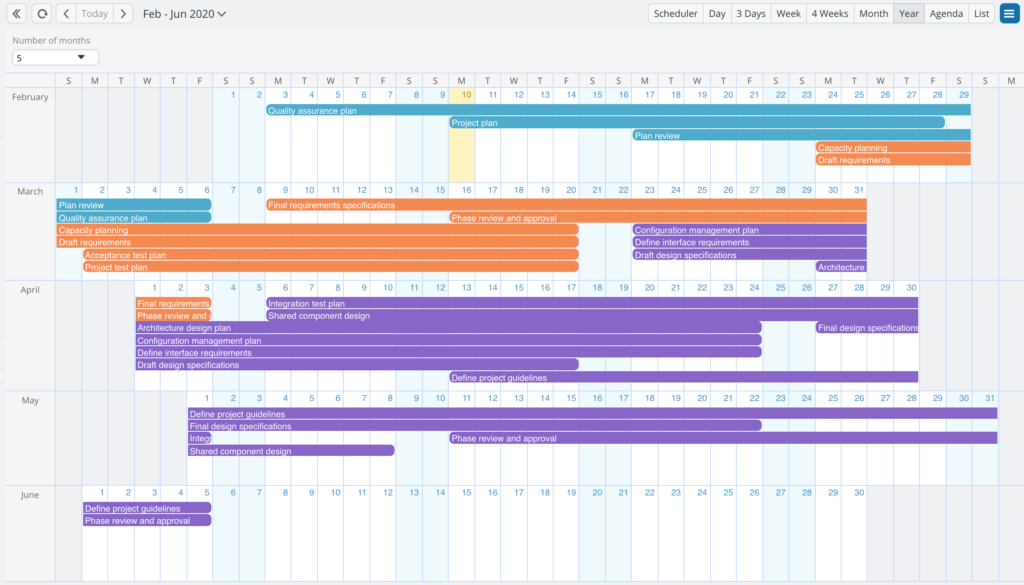 Sometimes long-term planning means looking at the entire year ahead. Often, however, yearly or seasonal planning is more specialized, which means you need a more specialized calendar view. You can adjust Teamup's Year view to show the number of months you need (1-12). Set the date range as needed, and you've got a customized yearly planning calendar for any of these scenarios:
How can I do better yearly planning?
Okay, so where does that leave us? With Teamup, you've got a customizable yearly calendar. You can set up an overview of multiple calendars and schedule feeds. In short, you've created a very powerful tool for better yearly planning or other long-term scheduling:
View an entire year to quickly spot schedule conflicts, reduce competing deadlines, and avoid resource shortages.
Find seasonal downtimes in advance so you can plan equipment maintenance or employee training when it will be less stressful.
Set project milestones that take other departmental demands into consideration.
Plan personal goals with monthly milestones and weekly action plans as you progress.
Find the best times for holiday gatherings, vacations, travel, or personal projects by spotting the slowest times in your work or community calendars.
Yearly planning isn't generic. So, there's not a single right answer about how to do it well. You might need to zoom in and out. For example, for personal goal-setting, you might start with a 3-year or 5-year view of your goals. Then you might work backwards until you're planning milestones and actions for the next 10-12 months. Adjust your calendar view to focus on what matters for each planning need. And as you plan, get in the habit of tracking context and keeping all the relevant information in one place.
Get better insights from calendar data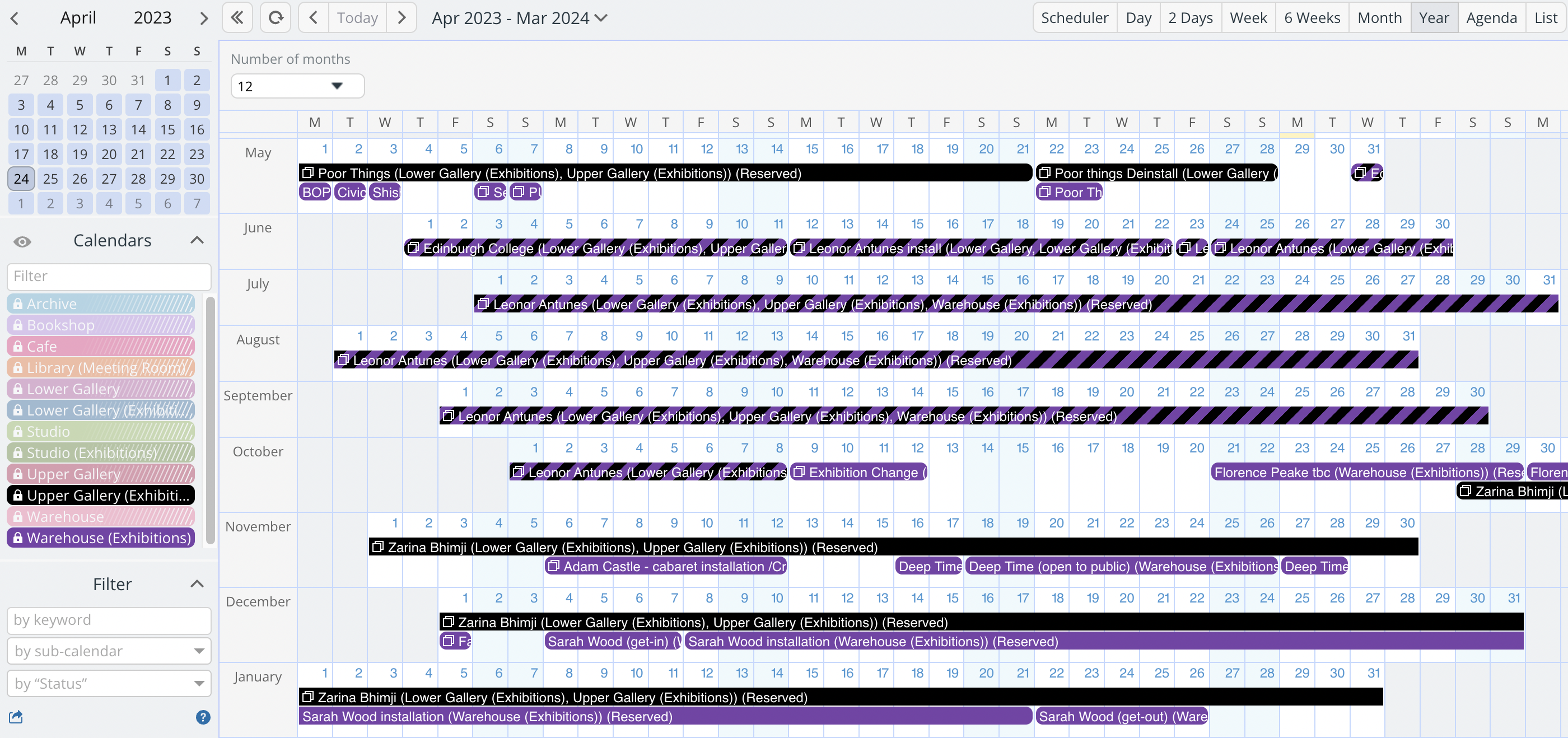 A calendar is not just for planning ahead. All the data about what's already happened is a priceless source of information. Many times there are insights which can help you do better planning for the future. But if you don't extract those insights, you don't benefit from them! For example, conducting a personal annual review can show you where your priorities got pushed aside for urgencies. What you learn won't change the past, but it can definitely change your future. Reviewing calendar data can show trends over time that you might have missed.
How do I extract data from a calendar?
Remember, a calendar is more than a series of events. A calendar is a valuable source of information. You can work with the data in your Teamup calendar to make sense of what's happening and gain insights. You can also export data from your calendar to use in other software, compare with other information sources, and generate reports.
How do I print a full year calendar?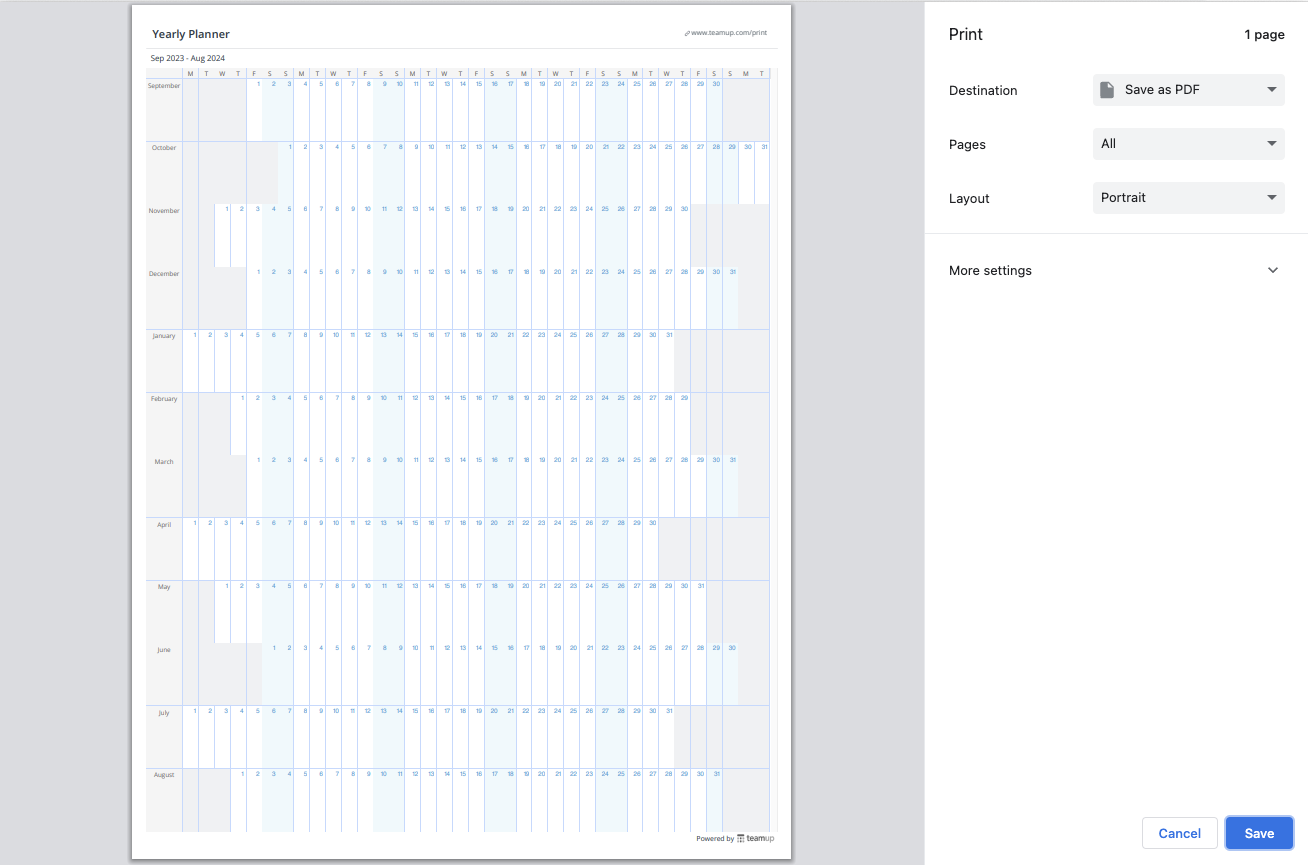 You can print a full year calendar easily, and you can choose which events to include on the printable calendar by hiding or showing sub-calendars. Hide all sub-calendars for a yearly blank calendar template (or use our printable yearly calendar template). You can also adjust the date range and the number of months shown, from 1 to 12.
Get started with Teamup for better yearly planning
Ready to try out Teamup for yearly planning? Test out Year view now with a live demo calendar or start your own new Teamup calendar. For more about Teamup's calendar views, see how they can help with better visualization of availability for more efficient work.