The Fruitmarket is a free, public space for culture in the heart of Edinburgh, providing inspiration and opportunity for artists and audiences. They programme, develop and present world-class exhibitions, commissions, publications, performances, events and engagement activities to open up the artistic process and create a welcoming space for people to think with contemporary art and culture in ways that are helpful to them – for free. To manage bookings for the different spaces in their venue, they use Teamup.
Booking spaces in the venue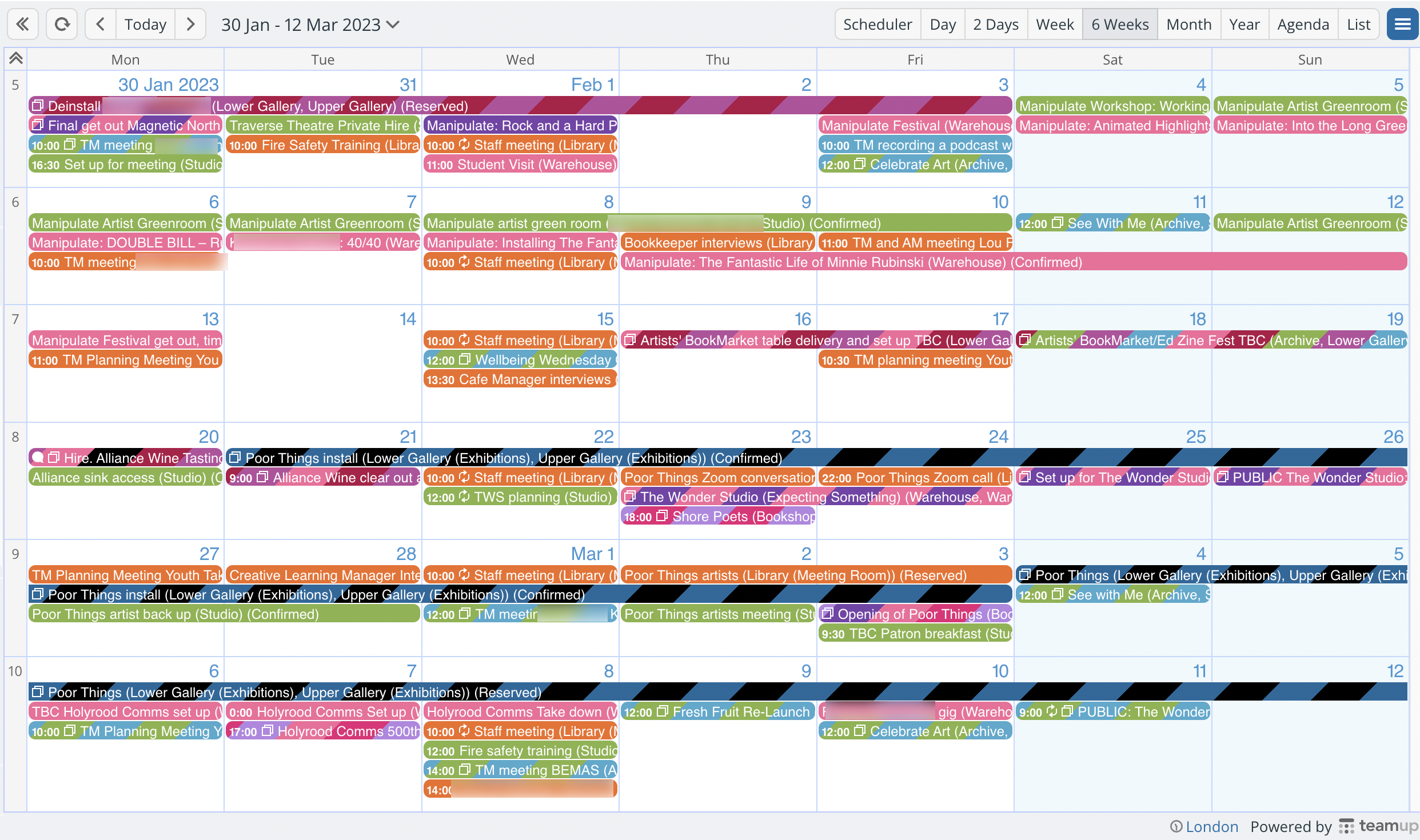 After a recent redevelopment, the team needed a better way to manage internal bookings for an increased number of event spaces. Previously, they'd relied on a messy spreadsheet, which created lots of issues. "It was difficult to see potential schedule clashes," explained Iain Morrison, Partnerships Curator. "Sometimes the document got accidentally duplicated and there were two different versions of it saved on our server, each with conflicting info. Nightmare!"
The venue is comprised of multiple distinct spaces for live events, such as the library, the cafe, gallery and studios, and room for exhibitions. For this team of 16, Teamup is an easy-to-use solution for booking the spaces, managing events and exhibitions, and keeping everyone on track.
Strategic and long-term scheduling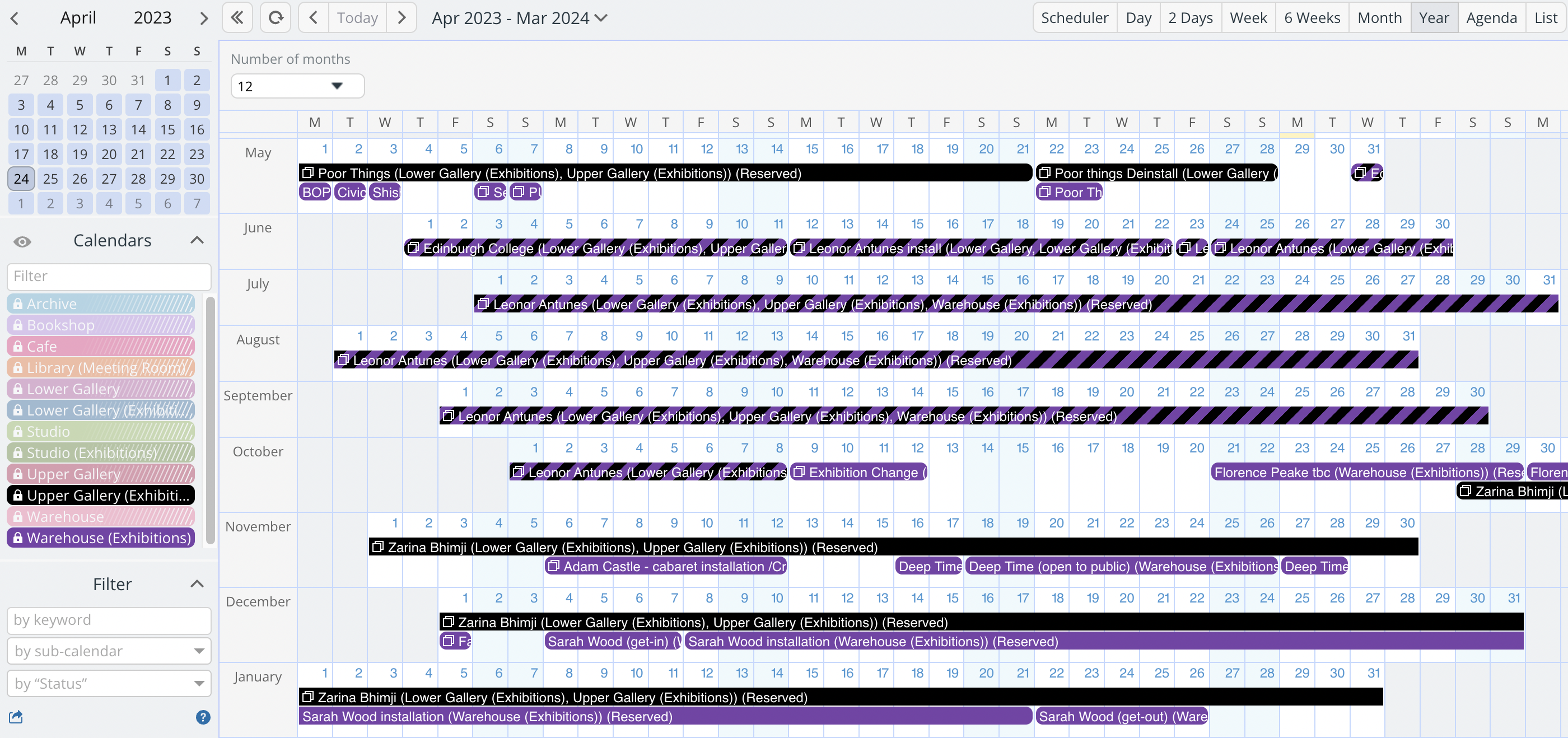 With thoughtful calendar structuring, it's easier to manage long-term exhibition planning alongside live events. As Iain explained, "We've found that setting up two calendars for the exhibitions spaces works well for us: it means that we can see longer entries for exhibitions that are going to be on for several months (this is particularly effective when you switch to viewing the whole year) but can also programme live events alongside them. That's why you'll see we have a calendar called 'Warehouse' and one called 'Warehouse (Exhibitions)' for example."
What makes it work
Here's what makes Teamup work for booking shared space and scheduling exhibitions for this creative venue: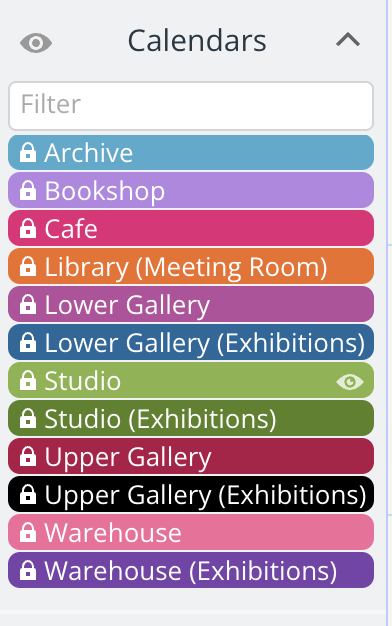 Sub-calendars: The calendar has sub-calendars for each distinct area, as well as for exhibition areas. This allows the staff to manage scheduling for live events separately from the exhibitions. The ability to disallow overlapping events helps eliminate scheduling conflicts.
Link-based access: Using a shareable calendar link without a password makes it easy for the team to use the calendar. "We found we had most chance of getting the team to buy into the process by allowing frictionless access," said Iain.
One-to-many: If someone needs to book two spaces for an event, they can simply assign it to both sub-calendars. Or, if an exhibition will be displayed across several areas, the booking event can be assigned to multiple exhibition calendars.
Calendar views: The year view is perfect for planning longer exhibitions which span months. The multi-week view, set to show 6 weeks, is helpful for managing the current schedule of needed prep work, events, and meetings.
Custom fields: Custom fields can be created and adapted to capture the details that matter. "We're going to try adapting the fields to record some general info that's useful for the front of house staff," said Iain. "They use Teamup every day anyway to see what events are happening in the building so it makes sense for us to share key info about bookings in the one place."
Recurring events: Events that happen on a regular basis, such as a staff meeting or weekly program, can be added to the calendar with a recurrence rule.

Thanks to Iain for sharing the story!