We're overwhelmed with information, but keeping all the pieces connected doesn't happen automatically. Whether it's shuffling through a dozen apps to get work done is an everyday scenario, or copy-pasting text from one document to another, a big part of work involves jumping from one information silo to another. Without a centralized system, it quickly takes up a huge part of your time, making it difficult to stay focused and productive or find what you need when you need it.
Where were the details of that upcoming client project again?
In the team's Slack channel? No, not there.
In email? Nothing there.
In the project management Trello board? Still nothing.
If that scenario seems familiar, you're not alone. On average, professionals in the United States use 13 different apps per day, and the number can climb up to 30 each month. In addition, over one quarter of them report that this "app bloat" leads them to lose key information, forget action points, and hurts their productivity.
Let's take a look at how you can create a more intentional workflow. Less confusion, more control.
Don't delete all your apps!
The reactive solution to app bloat is to start deleting. It sounds tempting, doesn't it? Let's just reduce the overload by deleting a bunch of apps and focusing only on the essential few? For busy knowledge workers, this is often not a solution. If you're working with clients and team members, you can't control the apps deemed necessary. You have to be able to do your job.
And, of course, most of the apps you rely on are there for a reason: they're extremely good at what they are designed to do. It's hard to beat Google Docs in writing, editing and collaborating on a text file. Trello aces project management and coordination of both internal and external teams in a focused way. There are few more convenient ways for quick exchanges with remote teammates than Slack.
Fortunately, there is a better solution than getting rid of the apps you rely on.
Manage information silos with context and connection
Instead of managing single apps or trying to streamline your workflow on a micro basis, let's change perspective and look at things from a macro perspective. The problem is not the number of apps, but how we use them. We can efficiently use countless solutions if we build an intentional, centralized system to manage all the information spread across different platforms.
The challenge, in many situations, is to keep different pieces of information in the right context.
Click To Tweet
When you build a system to serve as a hub, you're able to link to each piece of relevant information in context. You can find and easily access any piece of information from this central hub, even if the data itself is living in another app.
Teamup works great as a central system, or information hub, for all the apps in your world. It's easy to zoom in and examine the details, or zoom out to see the big picture by switching among 11 calendar views. Use the filtering capabilities coupled with various lists and calendar grid layouts to visualize new insights and context-specific perspectives, on a single page, that otherwise would never be discoverable from disconnected apps.
Use Teamup to visualize new insights and context-specific perspectives, on a single page, that otherwise would never be discoverable from disconnected apps.
Click To Tweet
These insights and perspectives can help you and your team save time, avoid frustrations, and reduce mistakes.
Teamup's flexibility makes it easy to organize and retrieve information when you need it. With customizable access and powerful features, you can use Teamup as a central hub where all members of your team, as well as external stakeholders, can find and use the information they need in the most updated version. Let's look at a couple of examples.
Organize information in context with calendar events
A shared Teamup calendar helps you gather information stored in different places and find it easily. For example, if your team is planning an event, there are multiple stakeholders involved. From internal team members to catering, venue and event staff, different people need the right information at the right time.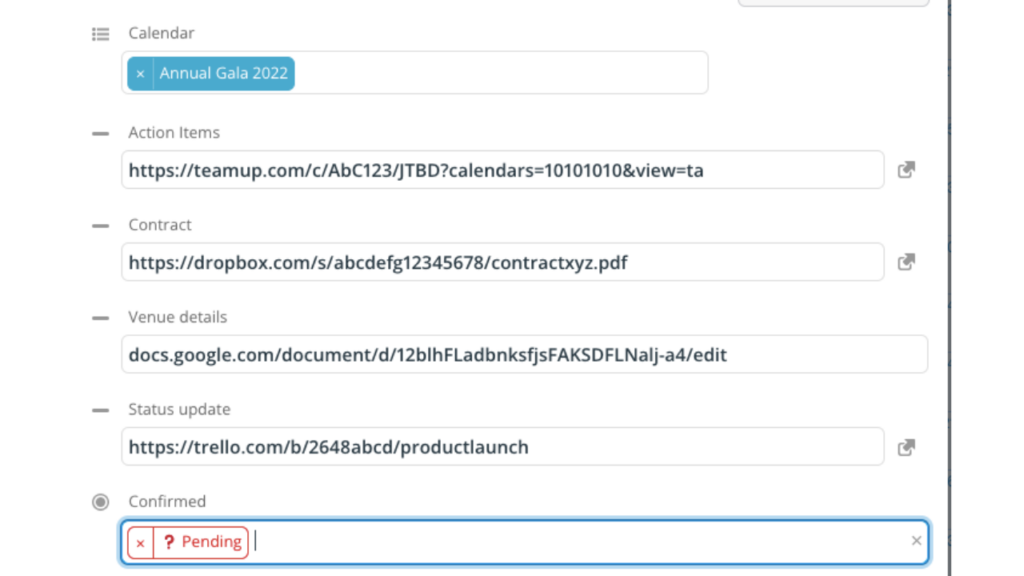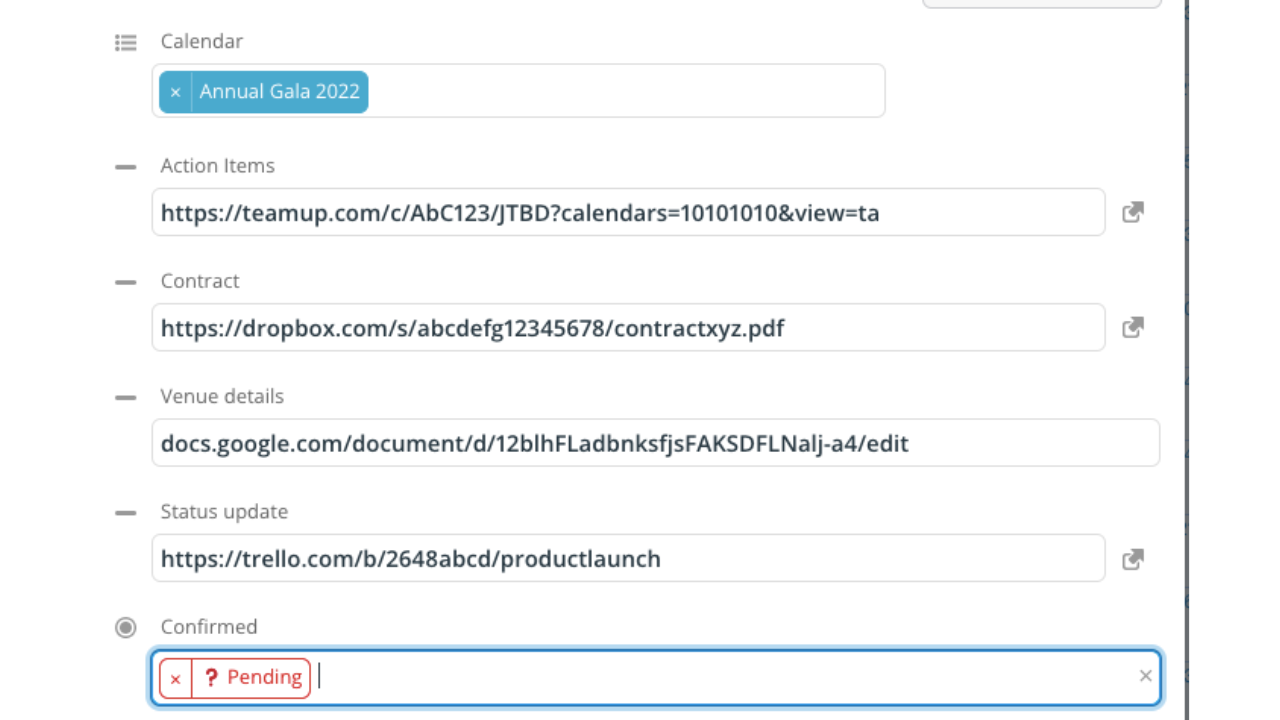 When apps are disconnected, information is stored in separate silos. This is a big issue you have to address in order to manage app overload. For example, the internal team communicates on Slack, but client and external contributors are managed via email. With countless documents involved, from offers to estimates to contracts to updates, there are many details to track. People have to continually update versions and relay messages from one app to another. It's difficult to make sure everyone has the most up-to-date information all the time.
Enter Teamup: An event on a Teamup calendar organizes information in a context-specific way, making it easy to find regardless of where the details are stored.
Custom fields for custom context
A well-structured Teamup system might contain many custom fields, making it much more than an ordinary calendar. Let's say you have a marketing event calendar.
Here are some fields that may help organize the information in the context of a product launch event:
Event title: A usual descriptive title is just fine. Display the value of another field if you like.
When: Another usual field for event date and time.
Where: Include the exact address if you want people to be able to click to open the map for direction.
Venue details: If you have an online doc or website about the venue, use a custom text field, give it a descriptive name, e.g. Venue Details, and paste in the link. You can keep updating the venue details on the doc or site as needed. When people click on this link on Teamup, they will jump to that document directly.
Registration: If your event registration is managed on Meetup or Eventbrite, add a link to your Meetup or Eventbrite attendee page in a custom field. Organizers can check registration status with one click from Teamup. You don't need to give up any of the great event management features these platforms offer.
Description: This field can be a catch-all place to add any additional information and provide shortcuts to other apps with relevant information, such as a Slack discussion with action items or a link to media files on Dropbox.
Comments: When it is enabled, you could allow anyone, including those with the read-only access, to contribute additional information to the event without complicating access control.
With customized access to Teamup, anyone in the team can check details as needed: when the event venue retainer is due, an  invoice amount, the contract details, the rental agreements,  contractor contact information, and more. It's all there, easy to find in seconds via the shared calendar.

Use Teamup to manage creative projects
Similarly, Teamup calendar can be used to manage creative projects. For example, as a creative project manager, you can use a shared calendar to coordinate team members' work and have a master project management system. You'll have an overview of all projects, plus the timelines, documents, and other information for each project. And team members can be given access to just the sub-calendars relevant to the projects they're part of.
Writers can still work their magic in Google docs, and simply add document links to the project calendar. Designers can get creative on Adobe Photoshop, and link or upload their masterpieces to the same event. Relevant progress report cards from Trello can have their own field, as well as the links to published content. Whenever you need to check a designer's brief or a writer's progress report, you'll only need to look in one place: in your Teamup calendar.
Managing with different views
In today's busy professional environment, most of us are managing more than one project at any given time. Thanks to different calendar views, Teamup lends itself well to different types of projects. From events with set dates, to client projects, to complex multi-phased projects, you can find the view that works:
When you're managing an event like a trade show, you can locate it easily by navigating to the set dates using, for example, a multi-week calendar view.
When working on a client campaign, campaign-specific keywords are the way to go: the right one can be found quickly with some help from filters.  Be amazed if you have what you look for within seconds without hopping through apps!
Custom fields are also handy when managing complex projects with multiple sub-calendars and phased project plans: set up custom fields and labels to enable easy filtering for the respective context.
Teamup becomes your project hub
When used this way, your Teamup calendar becomes a project hub filled with pointers guiding the team to the right information. Everyone saves time and mistakes are reduced. An intentional master system allows you and your team to manage app overload and gain back control of your workdays. You have an intentional system that you run, instead of letting an armada of different apps run you.
Of course you can still occasionally want to do a complete app check and get rid of the underused ones. Thanks to your focused Teamup system, it will be very easy to see which apps you don't actually use that much.