Create and share a community calendar with Teamup! It's easy. Let groups collaborate, share the calendar securely with the public, and promote events.
With Teamup, you can create a calendar for your community, hobby or special-interest group, or other organization, and securely share it with the public. You can also use Teamup as a collaborative community calendar, where multiple groups or individuals can add events to the calendar.
Set up your community calendar
First, create a free calendar.
The Basic version comes with eight sub-calendars. If you need more, you can upgrade to a paid subscription level at anytime.
Next, decide how to organize the sub-calendars.
You might create one sub-calendar for each type of community event, for example. Or you could assign a sub-calendar to each group or organization that will be involved.
Finally, create calendar links for all collaborators. 
Will you be asking other individuals to add events to the calendar? Or do you want to share calendar access with other groups, so they can add and update their own events to the calendar?
To create calendar links, go to Settings > Sharing. Then click the blue New Link button in the top right. Name the link for the group or individual who will be using it. Then scroll down to select the sub-calendars to include, and the access permission for each one.
For collaborating, it works well to give each group modify access to their own sub-calendar, and read-only access to all other sub-calendars. That allows them to add and update their own events, but only view the events that other individuals or groups have created.
Read more about using calendar links and access permissions.
Share the community calendar
When you have the calendar all set up, you can share it with the public via a secure, read-only calendar link. This will allow people to see all the events on the calendar, and view all event details. But they will not be able to change anything on the calendar.
Go to Settings > Sharing, then click on the blue New Link button. Name the link something you'll remember, like "Public Read-Only" or "Public Access." Scroll to the bottom and set the access permission to read-only for all sub-calendars:

If you have some sub-calendars that you don't want to include in the public link, you can select the sub-calendars you want individually and set the access permission for each one to read-only.
Now you can share that calendar link via any means that is convenient: you can send it in an email, share via social media, or embed it on your Facebook page or website. It's up to you!
We've collected a few great examples of shared community calendars for inspiration and ideas.
Enable group collaboration with a shared community calendar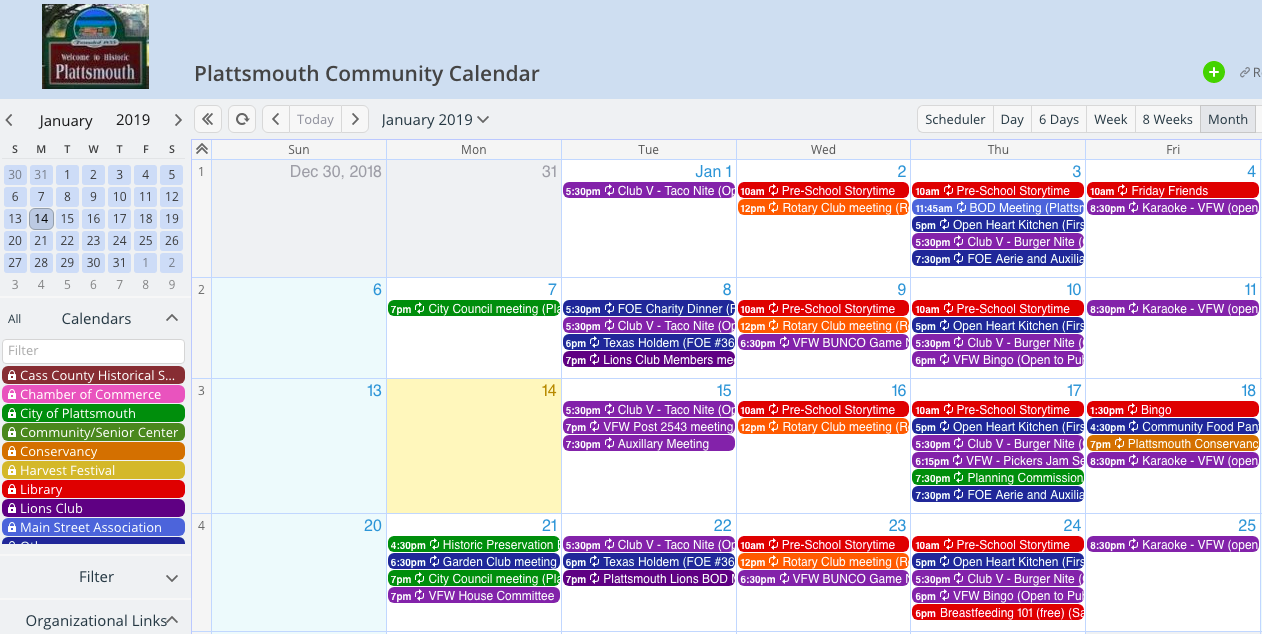 The Plattsmouth Public Library set up a shared community calendar that multiple organizations and groups use to keep community members informed about events, area opportunities, and updates.
The library staff often took calls and inquiries about area events and decided it was time for a more efficient system. They created a Teamup calendar and invited major community organizations to collaborate. The library staff takes care of adding events from smaller group and area organizations.
Now the community calendar is a helpful tool for all members of the community, and is kept updated by efforts from multiple groups. No one person or organization is overloaded, and event information is easy to find for everyone.
Read more: How a Library Created a Shared Community Calendar for Multiple Groups
Avoid scheduling conflicts with a shared calendar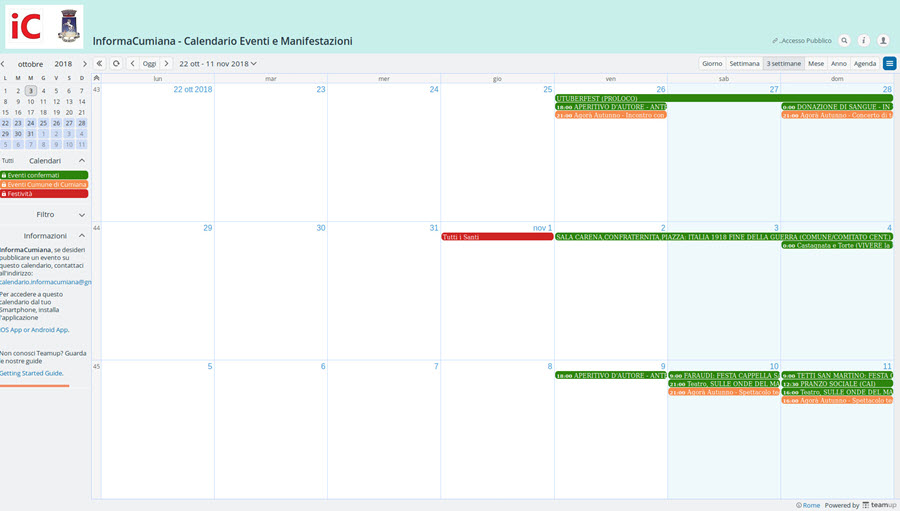 The municipality of Cumiana, Italy, uses a shared calendar for public shows and events. Their calendar allows event organizers to update information in real-time, and keeps the public updated on area events.
They have a unique method of using the calendar that helps various individuals and organizations schedule events for the area with less overlap. That way, more people can attend more events. There's less "competition" between events, and more opportunity for everyone to enjoy all that the area has to offer.
To plan events, calendar contributors are given access to a work sub-calendar:
The organization or association… can enter events independently, with an easy-to-operate system, directly in the work calendar. They can add useful and essential text or images: descriptive details that, as soon as they are posted, become visible to other associations and organizations, as well as to the editors of InformaCumiana. In this phase the events will not be visible to the public just yet.
Seeing various event plans and details on the work calendar allows organizers and groups to avoid scheduling conflicts and provide more opportunities for the community. Once the event details are confirmed, the event is added to the public calendar.
Read more: Public Shows and Events of the Municipality of Cumiana, Italy
Provide no-fuss public access with an embedded calendar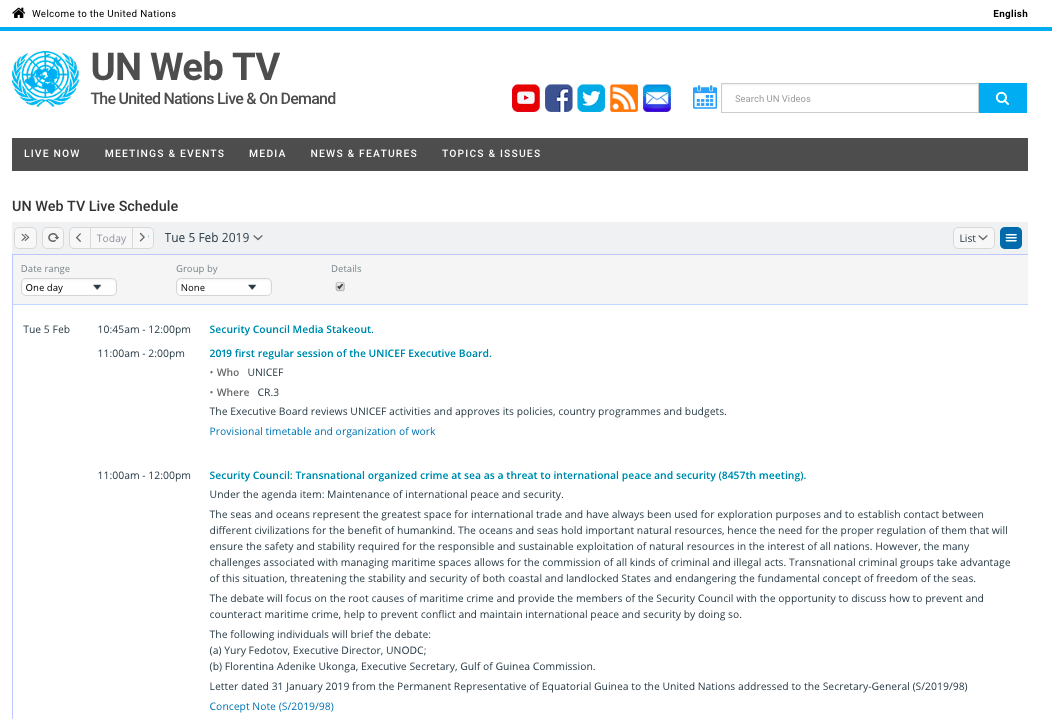 UN Web TV is the video portal of the United Nations Webcast. It broadcasts daily, live and on-demand video coverage of United Nations meetings over the internet. UN Web TV uses a Teamup Calendar on their website to share their program schedule; the calendar, embedded on their website, is easy for anyone to view or share with others. It's a no-fuss way to keep the public informed about the video coverage.
The embedded calendar is shown in List view, with event details on. This default view makes it easy for website visitors to scroll through the day's programming without needing to open individual events for details or links.
Site visitors can adjust the schedule view using the options at the top of the calendar:


Read more: Embed a Calendar on a Website
Promote events with easy calendar and event sharing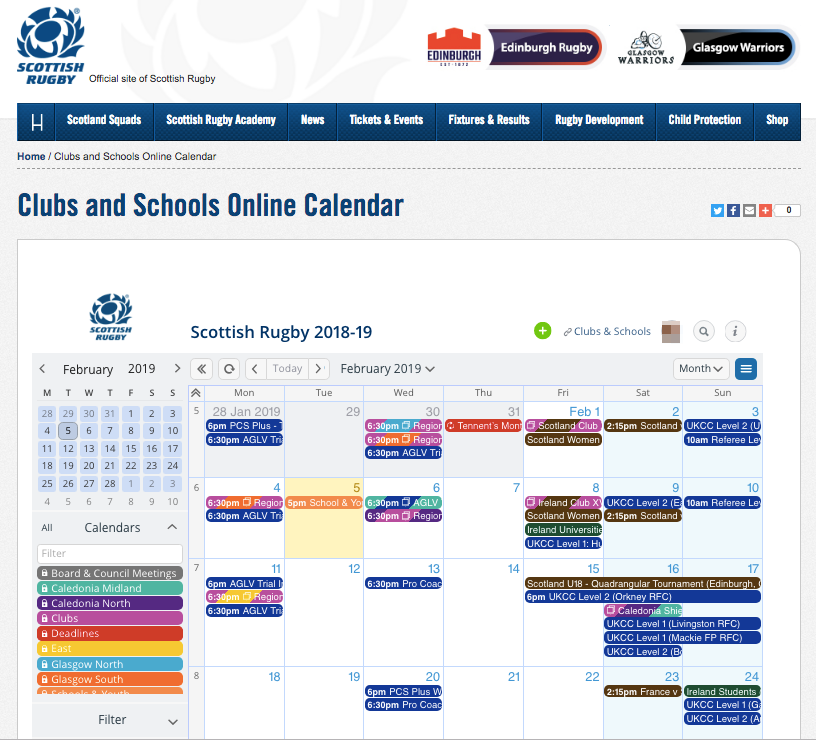 Scottish Rugby is the governing body for rugby union in Scotland. Their role is to do whatever it takes in order to grow the game and help it flourish in a manner that fits their values. Part of the way they grow and promote the game of rugby is with a Teamup calendar.
Their Teamup calendar is for clubs and schools, showing key dates, deadlines and courses all in one place. It's embedded in their website for easy access. They can use the calendar for coordinating their own training and coaching sessions, as well as sharing games and other events with the public.
They can also share their entire calendar via social media, easily, by using the public calendar link: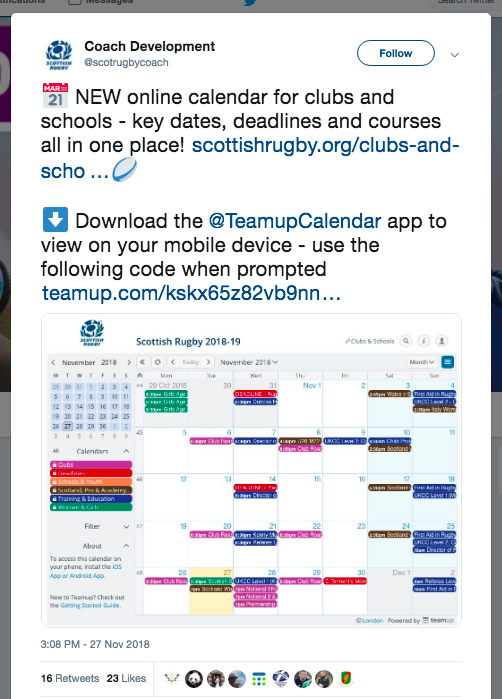 Read more: How to Securely Share a Calendar with the Public
---