We've officially crossed the halfway mark in this year! How do you feel? Are you making progress, using time well, and taking care of what matters? If not, take some time to slow down, evaluate, and set clear intentions for the rest of this year. And hey: maybe Teamup can help with organization, efficiency, and information so there's less chaos and more calm. Check out Scheduler use cases (and share your own!), get some power tips, and more.
1. Highlight: Scheduler view use cases
Our recent update to Scheduler view opens up a lot of possibilities. You can now work with Scheduler view over multiple days, weeks, and even longer time periods. While it's still extremely helpful for one-day planning and scheduling scenarios, there's more power and flexibility in what you can do with this view.
So we want to know: how are you using the expanded Scheduler view?
Need some inspiration? Check out a couple of use cases.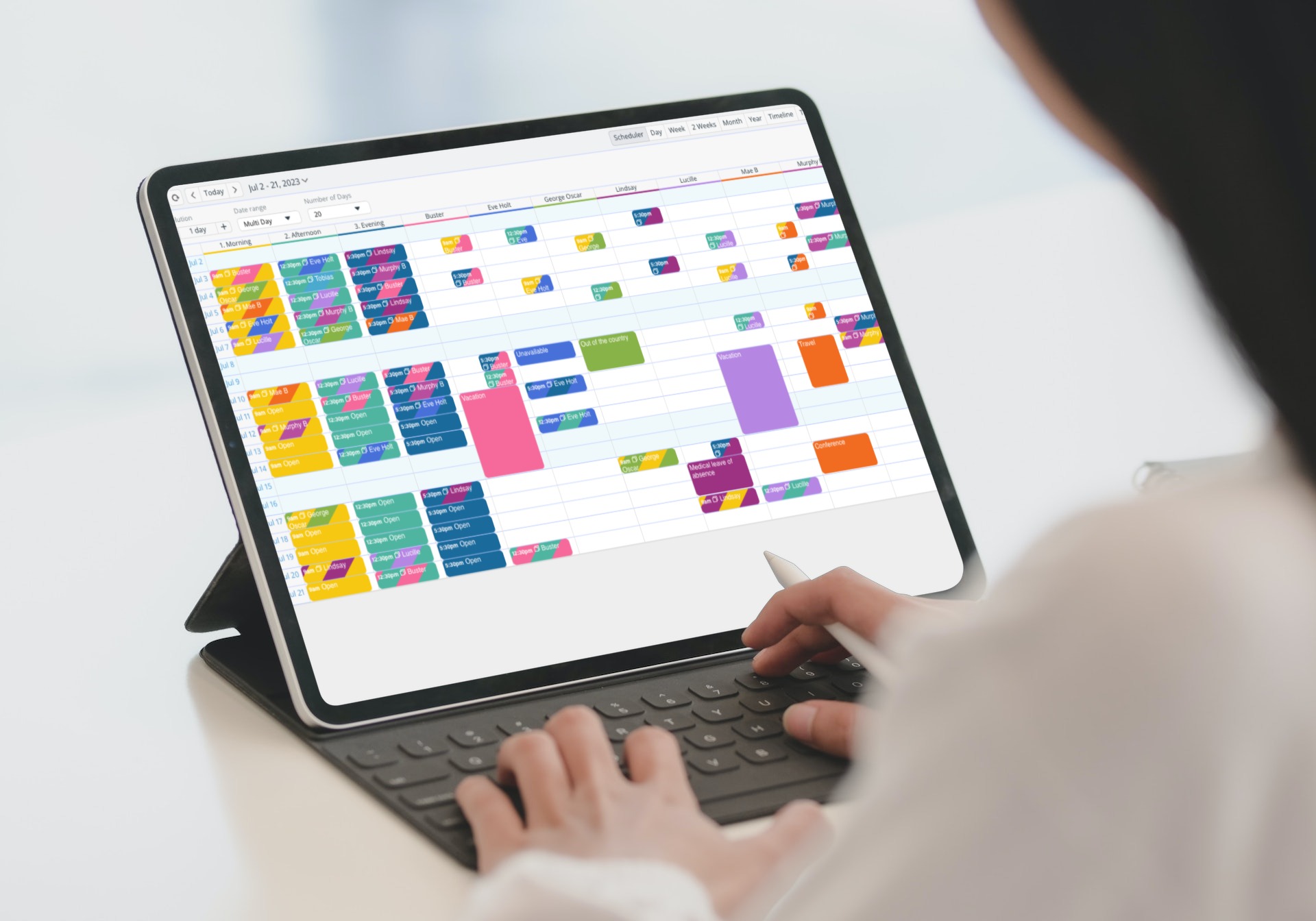 Then let us know what's working for you. Your feedback and stories help us create a better product and inspire thousands of others to work more efficiently and enjoyably.

2. Teamup in action at global events
It's an honor to be part of these amazing events.

3. Product news and updates
We're happy to announce that Teamup is now available in Chinese!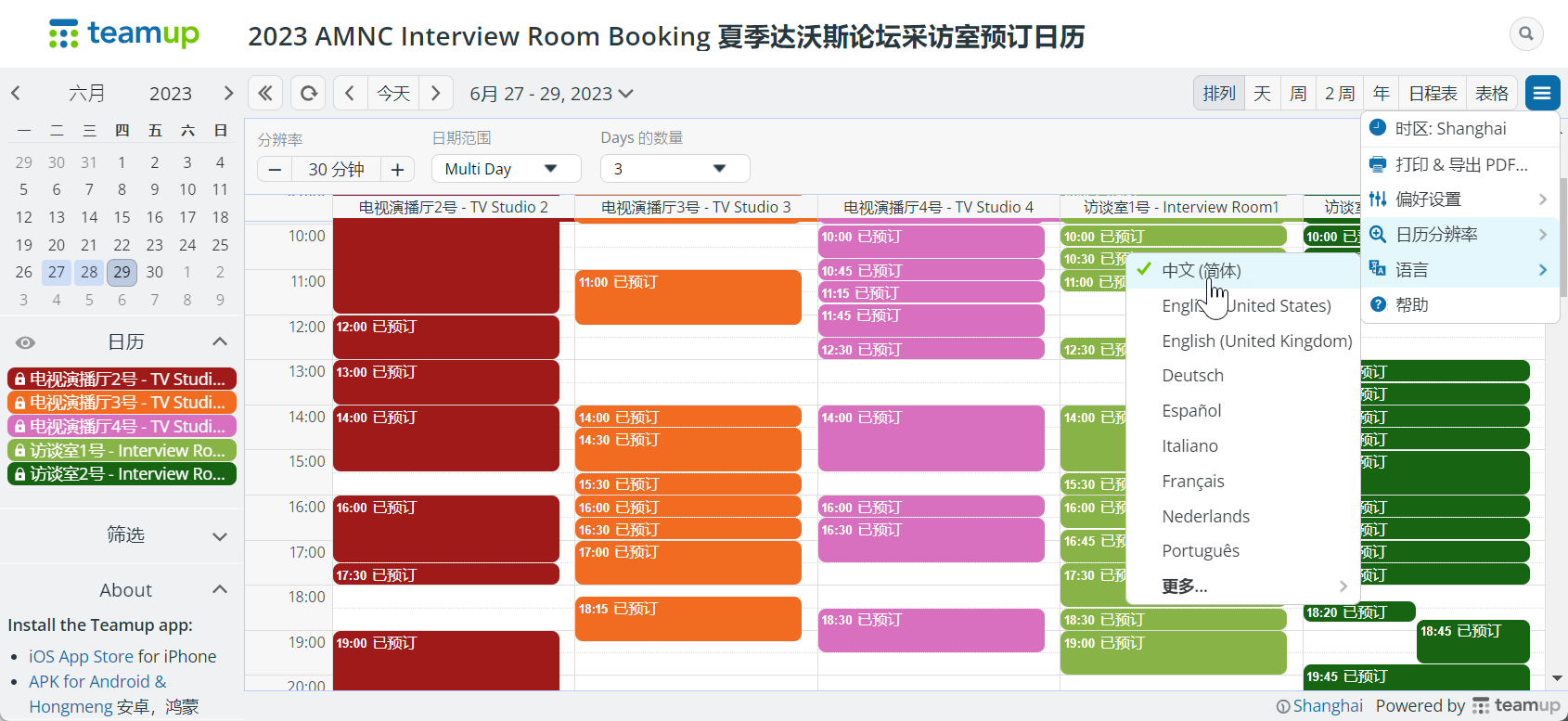 To change the language: click the blue menu in the top right, select Language, then choose from the list.

4. New user stories
Producing live events at multiple venues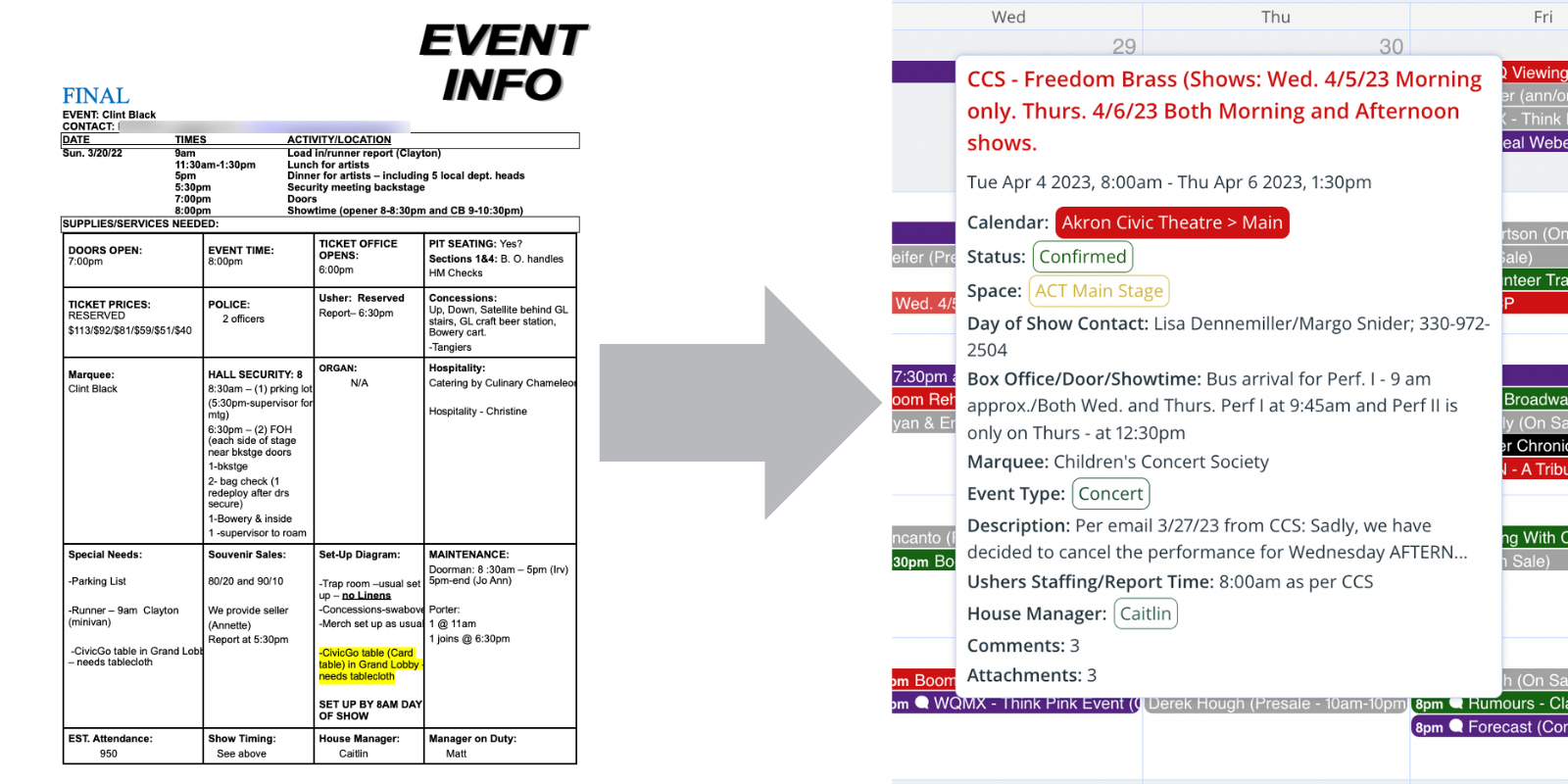 🎭 See how this busy organization manages live events at multiple venues by keeping all the details in one place.

Scheduling sessions for tutors and students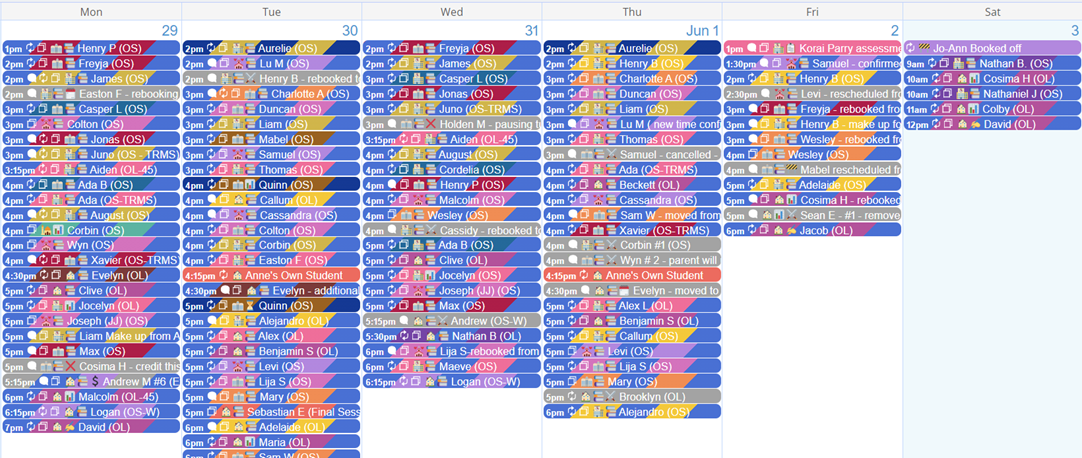 Strickland Reading Clinics provides tutoring sessions for dyslexic children in Toronto.  They offer both onsite and online tutoring sessions. They use Teamup to schedule about 2500 tutoring sessions each year, with a team of 15+ tutors and over 50 students. Teamup helps them stay on track, keep all information in one place, and manage internal administrative tasks as well.
📓 Learn how they use custom fields, filters, and notifications to enable streamlined scheduling for tutors and students.

5. June's power tips from the Teamup Ticker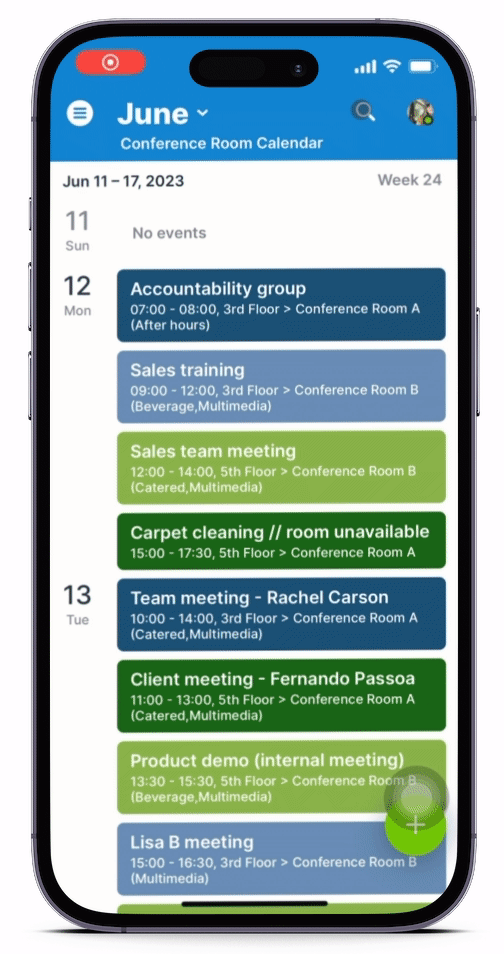 This mini use case demonstrates how Teamup can be used to track customer orders entered by sales reps, assign trucks, and oversee physical delivery.
Many small businesses use Squarespace as a website provider. With an embedded Teamup calendar, you can keep customers updated on store hours, seasonal specials, events, and more.
Customize what's shown in the event titles by adjusting the settings for each event field.
Teamup mobile apps (iOS and Android) have two sidebars which provide access to different options and settings.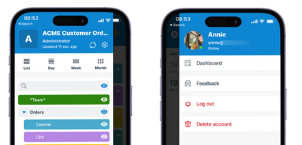 6. Inspiration: Easier event sharing on Facebook
While Facebook is an easy way to share an event with your personal or professional network, it's not a perfect solution. First, if you have events hosted on various platforms or calendars, you might need to recreate them specifically for your Facebook followers. Duplicating events effort is tedious and prone to errors. Second, if you want to share events outside of Facebook, you'll have to create them separately to share them off the platform.
Here's how you can use Teamup to streamline event sharing on Facebook and improve your overall experience.

7. User feedback favorites from June
I predominantly use Teamup on my iPhone. I organise tours and am able to assign a colour to each driver, add all the relevant info I need and then use desktop to upload itineraries via dropbox.I have the app set to List Mode as this also works best as I can see each day clearly.I came across TeamUp in 2018 when working for another agent and then started my own business with my business partner and now subscribe as it's that good!

– Catherine, Owner, Scotland's Highland Tours

We certainly love your calendar! This has helped our organization stay quite organized with our appointments. We love that our subcontractors can access their calendars, and view any details, as well as upload and links for zoom meetings, and add in any documents to help them prepare for upcoming appointments and events.

– Alissa, Sign Language Solutions

I love the sharing abilities and the fact its "online". Both myself and my wife can add events to our calendar and we both get notifications that show us what's been added or updated. We use this for our small mobile catering business. A potential customer can contact us about a booking date and we can immediately see if the dates available, no need to ask the other half or check a hand written diary back at the office…
Thanks for the support and the great application. I have told many of our local small catering businesses about it.

– Albert H.

8. This month's printable calendars
It's often helpful to print out events from selected sub-calendars. For example, a small business has sub-calendars for each shift and each staff member. Once shifts are assigned, they print out just the shift sub-calendars for the upcoming week. The printout is put on the bulletin board for quick reference.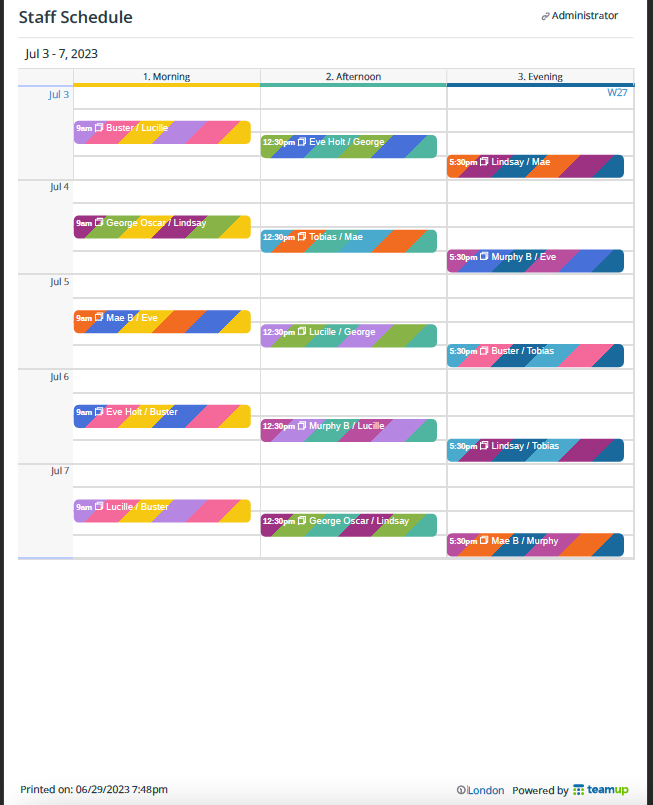 Here are printable blank calendars for the current quarter and month:

 See all June tickers. New tickers are added daily, so don't forget to check them out. The easiest might be to click the ⓘ icon in the top right corner on your calendar. See also tips and ways to access the Ticker calendar to keep up with all things Teamup.