Strickland Reading Clinics was established in 2018 as an after-school clinic for dyslexic children in Toronto.  They offer both onsite and online tutoring sessions. They use Teamup to schedule about 2500 tutoring sessions each year, with a team of 15+ tutors and over 50 students. Teamup helps them stay on track, keep all information in one place, and manage internal administrative tasks as well.
The calendar structure

Sub-calendars and folders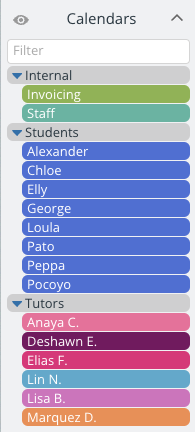 Each tutor and each student have their own sub-calendar, with overlapping events disallowed.  This provides the basic framework for scheduling, with each tutoring session (event) including one tutor and one student calendar.  The tutor's calendars are color-coded for individual tutors, while all student calendars are blue. In addition to the tutor and student calendars, a group of administration calendars facilitate tracking of non-tutoring events.
The calendars are organized in folders, as well: one folder for Administrative calendars, one for Tutor calendars, and one for Student calendars.
Calendar access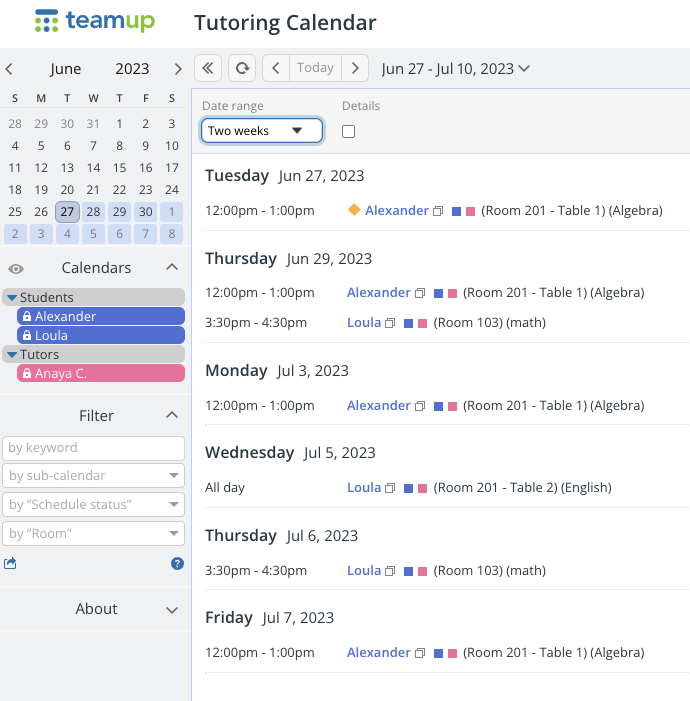 Each tutor is given customized calendar access to view their own sub-calendar and the sub-calendars of all the students they tutor. The read-only access allows them to view but not modify their schedule.
How it works
Administrative staff handle student intake and scheduling. They put the student's name in the event title for each scheduled tutoring session. Tutors can search by student name to review notes on previous sessions. Admin staff can track student sessions over time, total sessions per student, and other data.
Custom fields track key information such as room, course, schedule status, and more. Each custom field has an emoji assigned and displayed in the event title. These visual cues allow both tutors and scheduling administrators to see key info at a glance: which rooms are in use, which subject is being tutored, and so on.
If a session is canceled, the reason for cancellation is noted in the schedule status field. Then the invoicing administrator can use this information to make adjustments to invoices as needed. With custom fields, you can capture the details that matter and set up specific options that make work more efficient. Strickland has numerous options for tracking status of each session, which makes reporting and record-keeping easier.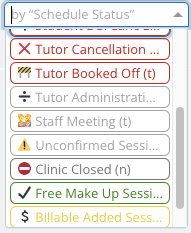 What makes it work
Adapt and scale for growing demand: It's easy to adapt to changes and scale up to accommodate more students and more tutors, as needed. For example, simply add more sub-calendars for new students and "archive" calendars of past students to a separate folder. If a tutor leaves, revoking calendar access takes just a moment, and doing so does not affect anyone else's calendar use.
Helpful insights and analysis: By using the built-in filters, staff can analyze patterns and gain valuable insights such as whether more sessions are online or onsite, which subjects are in most demand for tutoring, etc. These insights and Year view make long-range planning easier.

Strickland's calendar filtered to show scheduled sessions for Mathematics over several months.

Export calendar data for payroll: At the end of each month, the invoicing administrator exports the events for the month into a spreadsheet. A set of pivot tables produces reports for each tutor, which contains their completed sessions for the month. After review, the tutoring session data is transferred into the payroll system.
Easy updates with notifications: Each tutor is set up for email notifications, letting them know of changes to their schedule within minutes.  This is especially helpful when a student makes a last-minute cancellation.
Session feedback and notes: Tutors use the event comments to provide feedback on sessions or indicate session adjustments such as no-shows, which are used by the scheduling administrator to adjust the schedule status.
View schedules anywhere: Tutors can view their individual schedules with their customized calendar access. Most tutors use the Teamup mobile app to review their up-to-the-minute schedule.
Thanks to Greg Merrick, Director of Administration, for sharing your story with us.