The Akron Civic Theatre of Akron, Ohio has a rich and spectacular history, and has provided the community with a venue for quality entertainment and live performances for over seventy years. The Civic is one of only five remaining atmospheric theaters in the country where patrons experience a twinkling star-lit sky and intermittent clouds moving across the horizon, all while sitting inside the auditorium. Besides this historical theatre, the organization manages three other live event venues.
The many details of live event production
Putting on a live event means managing a lot of details. Each production is unique, so the set has to be designed and built, and props put in the right places. Lighting and sound have to be adjusted. There may be multiple performances, even on the same night, so you have to make sure everything can be cleaned up and reset between performances. Before the performance, there's promotion and ticket sales. During performances, ushers and concessions. And after performances, you have to tear down the set and clean the theatre.
Each detail is crucial with live events. There are no redos, so ensuring a smooth production means knowing ahead of time which staff members is assigned to which task, and ensuring that they have all the information needed.
Managing live events at multiple venues
To manage live events at multiple venues, the Akron Civic Theatre team needed a reliable and organized solution for capturing, checking, updating, and sharing details of each event with all the involved people. Managing the venues with a single overview is important, since staff may work at multiple events.
From multiple event sheets to one event calendar
Prior to using Teamup, the team had event sheets which held all the details of each event. Staff would reference these sheets to find out relevant details for their role. If there were changes to the event details, the event sheet would have to be updated and redistributed.
Now it's all in one place, right on their calendar. There are custom fields to capture all the live event details needed for production. They can still attach the event sheet and any other documents, but now staff can simply hover over an event to see the details: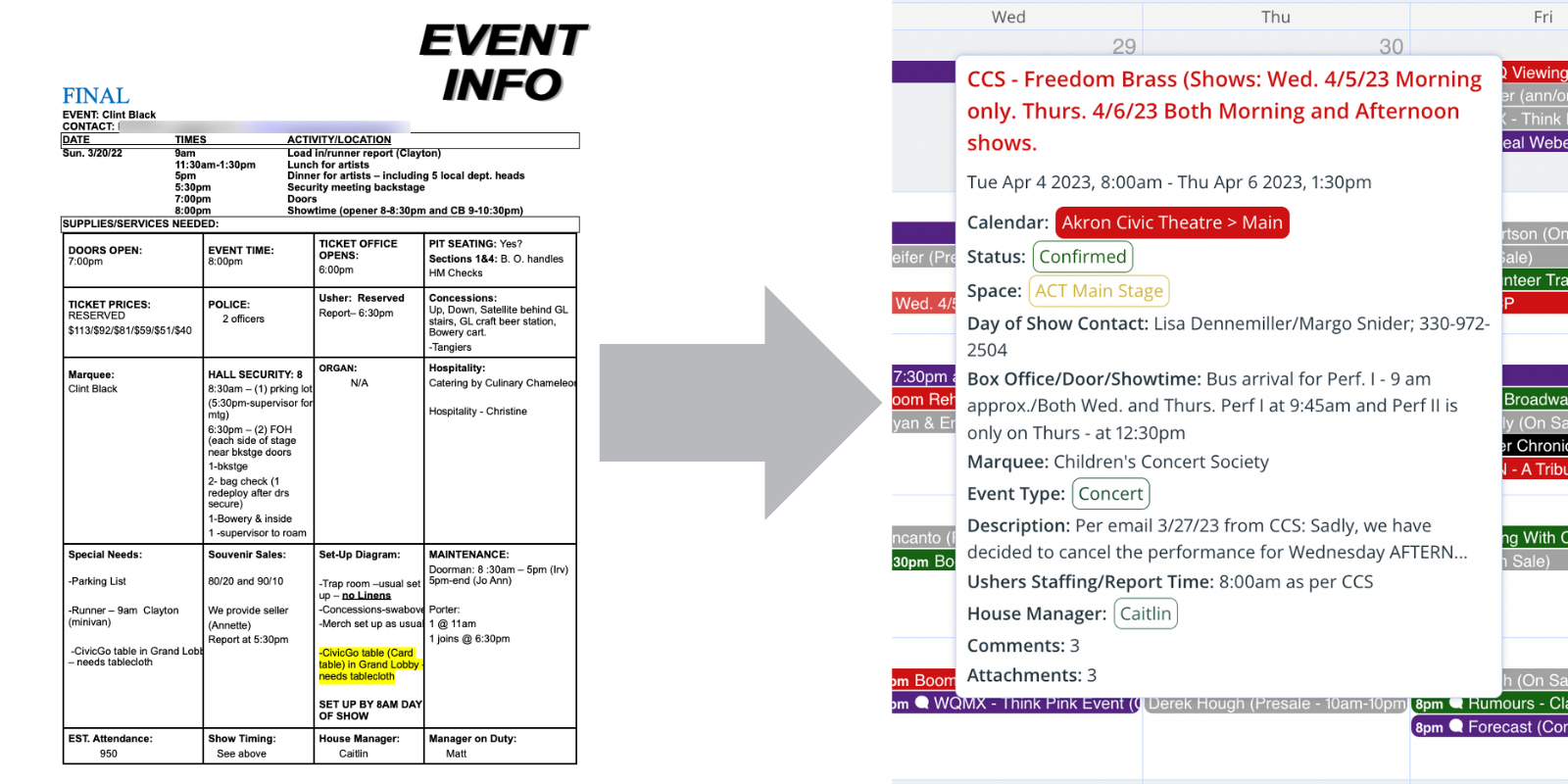 For viewing all the events on the schedule for several days or a week,  Agenda view with details shown works well. To focus on one venue at a time, the team can toggle sub-calendars: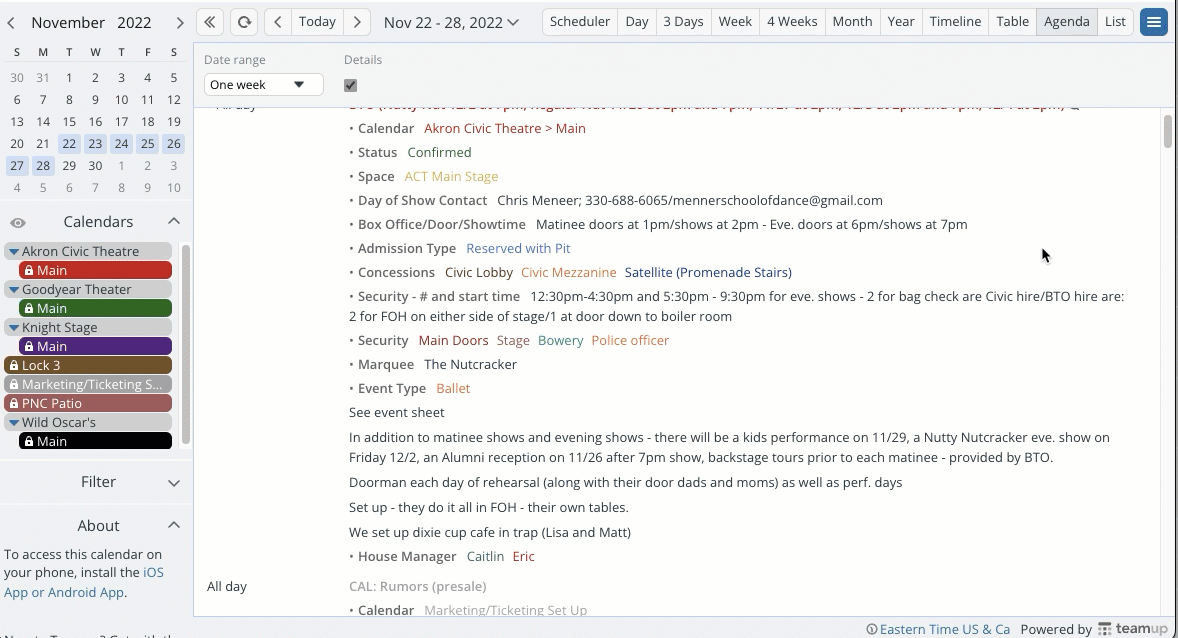 What makes it work
An organized overview: To avoid scheduling conflicts, the management team needs an overview of all events at all venues. With each venue assigned a sub-calendar, and other calendar set up for ticketing, they can ensure that everything is planned, tasks are assigned, and timing works. Every aspect, from promotion to post-production work, is all in one place.
Customized information capturing: In order to replace a detailed event sheet, the team needed to have quick entry of all the required fields on the calendar. With custom fields, it's no problem. Fields can be text-entry, multiple choice, or numerical and can be arranged as needed. There's plenty of room for additional notes in the Description field.
All documents in one place: Live events may include request sheets from performers, agreements, and other documents that staff members need to reference. All these files can be uploaded right to the calendar event.
Having all the event details in one place simplifies event production and ensures that everyone involved has updated information. Try out these features yourself on a live demo calendar and see what Teamup can do for you.
Thanks Jennifer for letting us share your story!