We had some fun discussing our favorite tools for remote work, plus find help for scheduling employees fairly and see all the versatile looks of the Timeline view. Working with groups is easier, and our event export and import tool got a significant boost in our latest update.
---
What's new this month
Product updates and news
Solutions
On the blog
---
"I love your calendar and it is helping us greatly to deal with the COVID-19 restrictions that our lawn bowling club must follow with regards to the number of people who are allowed to bowl at one time."
Video tutorial contest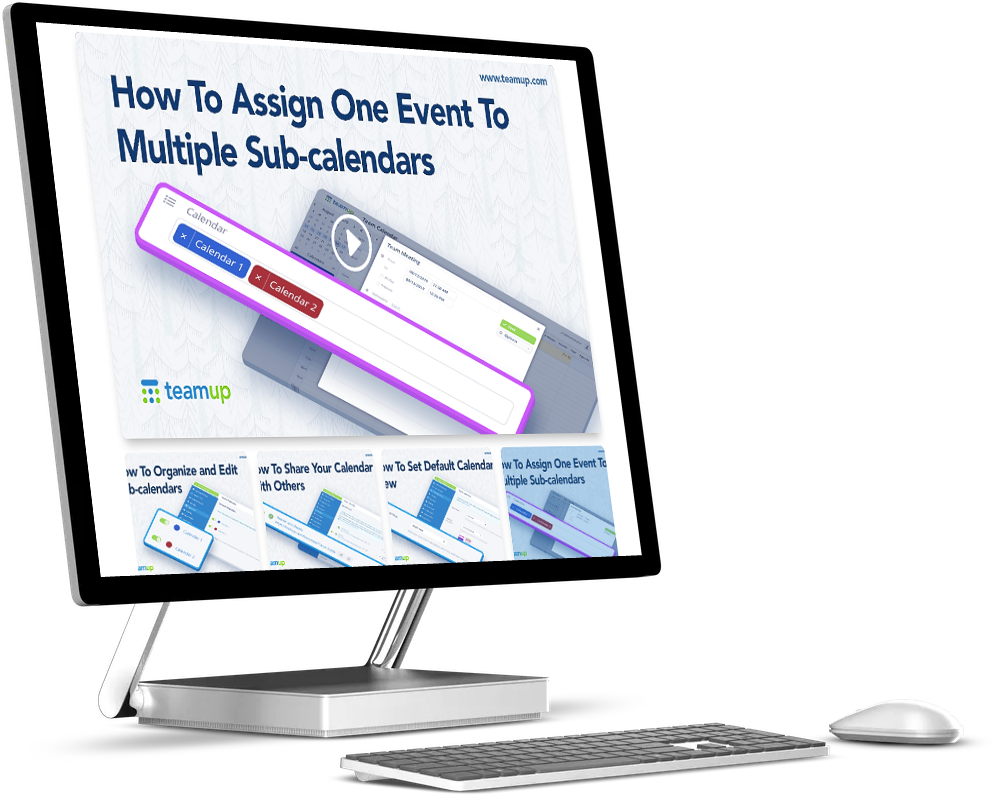 Calling all Teamup users! It's time to share your Teamup expert knowledge and help other Teamup users benefit… and you can benefit as well.
We're collecting Teamup video tutorials to share with the larger Teamup community.
Have you created a how-to video to share with your team or community? Maybe you put together an introductory tutorial, some tips for using Teamup, or a helpful short video for your employees or family members.
Get inspired with these user-submitted videos. Submit your own video and you might win a free calendar upgrade!
---
Improved function for user groups
When working with account-based users, you can create a group for users who share the same access permissions. Configure the calendar access once for the group; any user added to the group would be able to access the calendar with the permissions set for the group. Of course, you can remove users from the group and adjust group permissions as needed.
Our recent update improves the group function when adding users to a group. You may add a user to the group by name if the user is already a user of your calendar. The user would become an active user of the group instantly. The auto-suggest feature of matching names makes it faster to find the appropriate user you want to add.
You can always add a user by email. If that person does not have a Teamup user account yet, an invitation would be sent and that individual joins the group once he or she creates a user account.
Learn more about groups →
---
Better event export and import
Being able to migrate calendar data is important. Our latest update improves our export and import tool, making it easier to migrate event data from one calendar to another via CSV format:
For recurring events, event exceptions are now also exported and imported. This enables full export and restoring of recurring events in another calendar.
When importing events and the specified sub-calendar does not exist, the sub-calendar is now automatically created.
The date format checking has been much improved. Incorrect date formats are now detected and reported with a clear message and line number.
Learn more about exporting and importing →
---
Very helpful. It always works, never given problems. I have been using it for almost a year with my colleague for work and we are able to interact very well.
Versatile looks of the Timeline view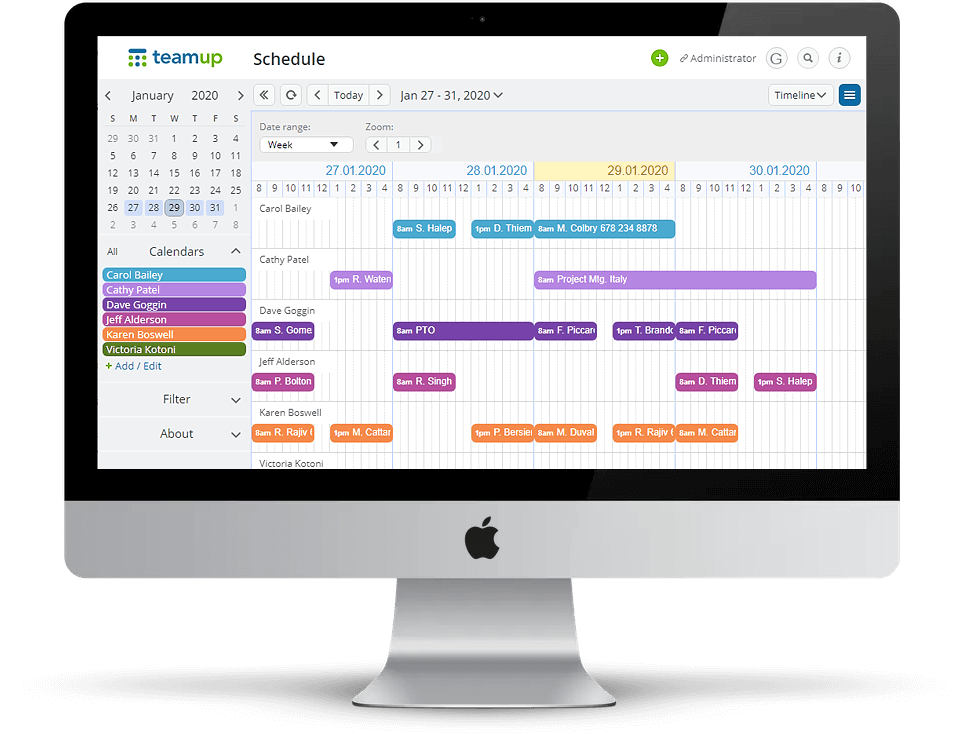 The calendar Timeline view shows each calendar in its own row, with the option of seeing a day, multiple days, a week, or multiple weeks. It's easy to compare scheduled events, reserved rooms, shifts, and tasks in this view. The individual rows keep events separated, while the side-by-side view makes it easy to see availability at a glance.
Learn how to make the most of this unique view with our collection of versatile looks, tips, and ideas.
See the Timeline view solutions page →
Easy scheduling for research teams and labs

Research teams at many universities and institutes are re-opening their research labs with safety guidelines. To protect everyone's health, the teams need a lab scheduling system to book lab space with limited slots and to keep a log of who is occupying each space, among other social distancing measures.
Learn how to use Teamup to manage shared lab space and research equipment, enable self-scheduling for research team members, and stay within safety guidelines.
See the research team scheduling solutions page →
---
We have been testing your calendar for a few months now and are very satisfied. Even our not so tech-savvy colleagues like to use the calendar.
What's new on the Teamup blog
Send calendar invites on mobile
Schedule employees fairly
Favorite remote work tools
Use Teamup as a free online business planner
Top mistakes with calendar set up
---
I've been a current subscriber of your calendar for a few years now and have found the program to be very valuable to my role and the project I manage.
New to Teamup? Start here.
Make the most of Teamup, right away, with our docs and guides.
Jump in with the Quick Start, learn more from the Getting Started Guide for All Users, or check out the Calendar Admin Getting Start Guide and our FAQ.You can search our Knowledge Base to find information on specific topics. Check out Quick Tips on our blog for quick ideas and information.
Looking for inspiration? Try our Wall of Love or User Stories. Do you have your own story or tip to share? We'd love to hear it! Share your story here.
We're on Instagram, too! Follow us for helpful tips and inspiration.
If you can't find the information you need, let us know. We're here to help you find the best solution for your needs.