When you organize your team with a Teamup calendar, you can maintain centralized control and security while providing autonomy and flexibility.
As a team leader, you know that organizing and communicating with your team can take up most of your working hours.  Sometimes the systems and methods that worked in the past need a major upgrade. The tools that work best allow you to give more autonomy to your team, while maintaining streamlined, central management. And, of course, it's important to keep information secure.
A powerful, intuitive, and customizable Teamup calendar might be just the thing. Take a look.
Create your Teamup calendar
Start by creating a new Teamup calendar here. It's a quick and easy process. It's free to create a new calendar on the Basic plan, and you can upgrade at any time. Or try a free trial of paid plan, then decide as you set up your calendar which pricing level is right for you. See a full comparison of plan features here.
If you have a Teamup user account (they're also free), you can add your new team calendar to the calendar dashboard.
You'll receive a confirmation email with the administrator link for your new Teamup calendar. Open the calendar with that link and take a look at the calendar settings. You can access the calendar settings from the blue menu in the top right corner of the calendar: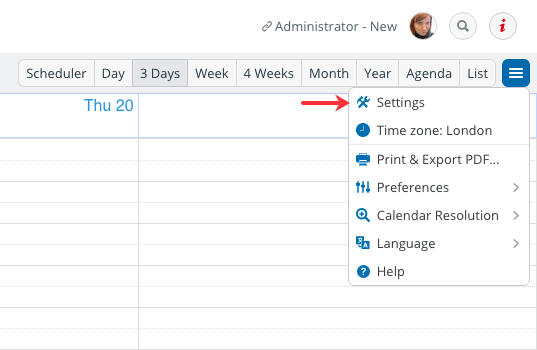 Good to know:
Your administrator link is important and should be kept secure. Use it when you need to access calendar settings, and only share it with someone who is authorized to act as calendar administrator.
---
Create one sub-calendar for each team member
To organize your team, start by creating a sub-calendar for each team member. Before you do, though, think about how you want to organize the sub-calendars.
For smaller teams, it's often good to keep it simple. Create one sub-calendar for each team member and don't worry about folder organization. You can create an additional sub-calendar for  All Team Members or Team Meetings, if needed.
Here's an example of a simple team calendar for one small team: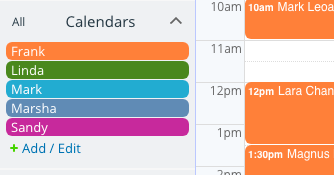 For larger teams, or for managing multiple small teams, use folders and color-coding to organize. You can group each team's sub-calendars into a folder, as shown below: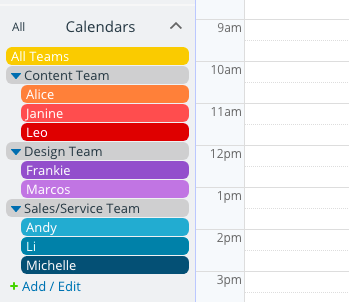 In this example, the individual sub-calendars are grouped into folder, according to team. Each team is color-coded: the Sales/Service team members each have a sub-calendar in a shade of blue. There are over 40 color choices to use for color-coding your team's sub-calendars.
To create a sub-calendar, go to Settings > Calendars. Click the blue New button in the top right. Select Add Calendar. Enter the name of the sub-calendar, select the color, and click on Save.

To create sub-calendars in a folder, follow the same process but include the name of the folder before the name of the sub-calendar: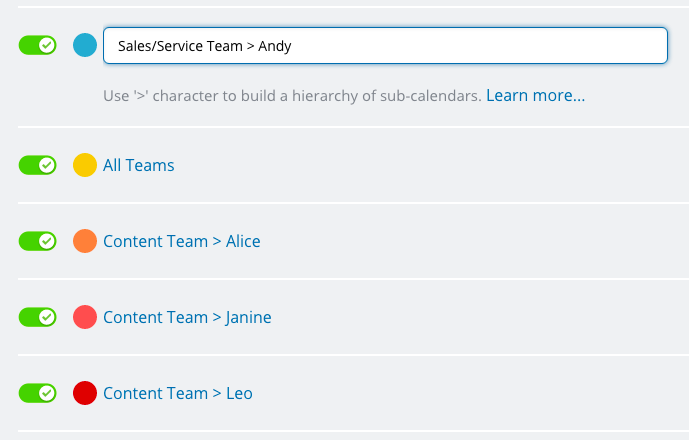 You can nest folders for deeper organization, if needed. For example, if you have a large content team, with several team members focused on research and writing, and other team members focused on multimedia production, you could create a nested hierarchy: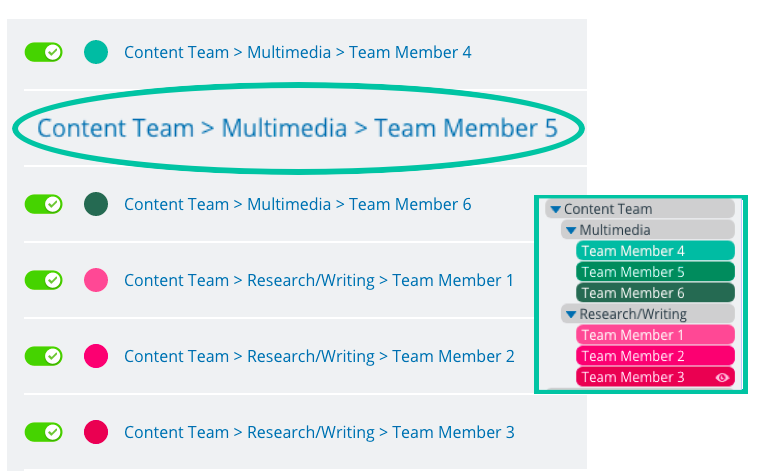 Good to know:
You can change how sub-calendars are organized any time without affecting the calendar data on the individual sub-calendars. Remove, rename, or reorganize folders and sub-calendars as needed. You can also deactivate sub-calendars, then activate as needed. If a sub-calendar is no longer needed, you can permanently delete it. All sub-calendars you create are under your control, as calendar administrator.
---
Give calendar access to each team member
With Teamup, you can allow calendar access to account-based users or with unique shareable links.
Account-based users have an added layer of security and can use a synced global dashboard and event reminders.
Shareable calendar links allow for secure and customized calendar access for groups or individuals.
For both account users and links, you choose which sub-calendars to share and set the level of access allowed. This way, you can keep information secure and confidential, when needed, while also giving your team autonomy and flexibility. You maintain control, but your team members can work confidently and efficiently.
Here's how it works:
You will add each team member as an account user, or create a unique calendar link for each team member.
As the calendar administrator, you always have control of all account users and calendar links. So you can see a list of users and links in the calendar settings. You can deactivate or delete calendar links when they are no longer needed, and remove or change permissions for any user.
For example, if an employee leaves, you can simply revoke calendar access by removing that employee as a calendar user or deleting the calendar link for that employee.
Tip: Name each calendar link for the person or group who will be using it, so it's easy to remember which link belongs to which person.
You'll decide which sub-calendars to include for each account user or each calendar link.
If you want to your team members to see all the sub-calendars, you can include them all. Or, if you want to give access to selected sub-calendars only, you can select the sub-calendars to include. You can include only one sub-calendar.
For example, if you have a sub-contractor helping with a particular project, you can create a calendar link that includes only the sub-calendars related to that project. (And when the project is over, you can deactivate or delete the calendar link you gave to the sub-contractor, so they can no longer access the calendar.)
If you have a team member who is only part of one project, you can include only those project sub-calendars for their account access. You can update included sub-calendars as needed for users or links.
There are two ways to do this: you can assign one access permission level for all sub-calendars included, or you can set the access permission individually for each sub-calendar you include. There are nine levels of access permission, and you can use these to maintain confidentiality, protect information, and provide the right level of autonomy to each team member.
Good to know:
You can modify calendar access for account users and existing calendar links as needed. Go to Settings > Sharing. From there, you can edit user permissions or calendar links.
Make your Teamup calendar work for your team
Once you have your team calendar set up, and you've shared calendar links with your team, you can explore more ways to make Teamup work for you and your team.
Install and use Teamup mobile apps: try out the Teamup mobile app for iOS or Android. Full functionality in a streamlined, mobile package so everyone can work on the go, stay updated, and keep communication flowing.
Explore Teamup's features to see how they can make life easier for you and your team:
Ready to get started? Try one of our live demos to test out all the features, or Create your team calendar today.
---
Photo by Natalie Pedigo on Unsplash