Corrie Elle, Director and Owner of Corrie Elle Artistry, is a Toronto-based makeup artist and hair stylist. She specializes in print, fashion, bridal and beauty makeup and hair. Known for her polished, elegant and romantic looks, Corrie has quickly become one of the most sought-after artists, working internationally and building a team of talented artists as well. She was kind enough to tell us about how she uses Teamup to schedule bookings for her team of artists.
"I scoured the internet for a shared team calendar and looked at so many and there was something about the layout, the colour scheme, multiple calendars, notification settings, etc. that was so attractive to me. I've actually used Teamup for years now… I have a team of artists whom I coordinate bookings and Teamup allows me to manage that."
Color-coded booking for a team of artists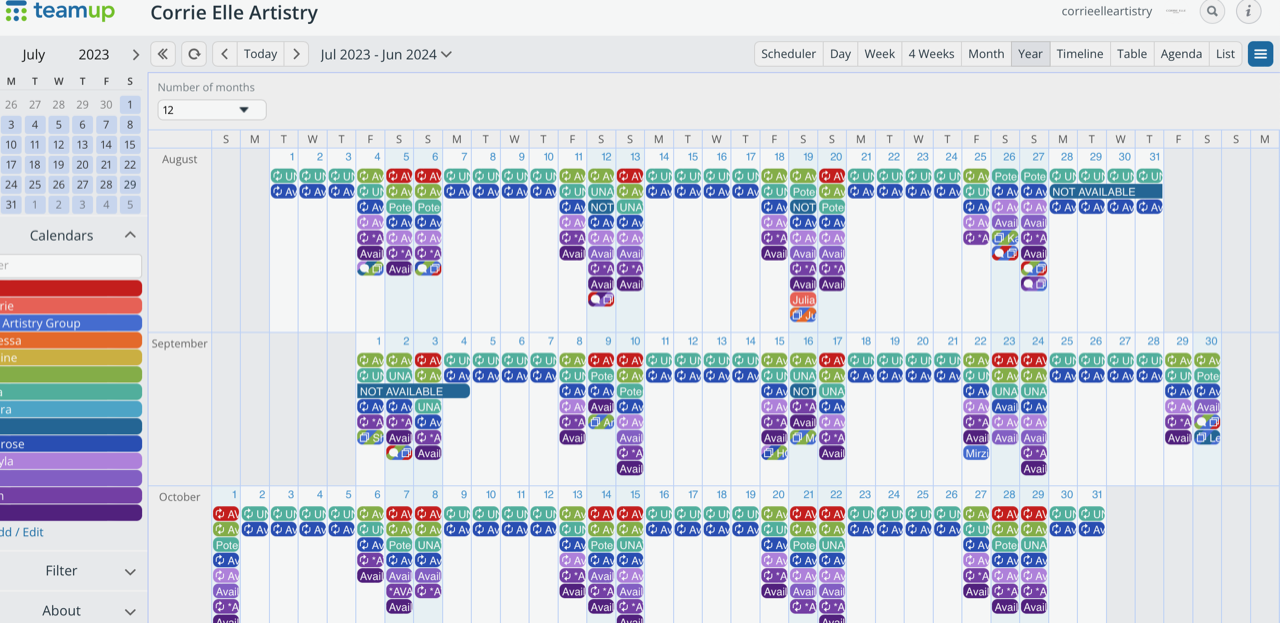 The booking process
Corrie has the calendar set up so each artist has their own color and their own unique calendar access. They can add their own availability to their calendar. Then, when a booking comes in, Corrie reviews which artist has matching availability. When she creates the calendar event for that booking, she assigns it to the main calendar and to the artist's calendar as well. If multiple artists are needed for a booking, she can add it to all their sub-calendars.
With notifications set up, the artists receive an email when a booking has been added to their calendar. They can review the time, location, and details. They use the event comments to confirm their acceptance of the booking.
"I appreciate being able to turn the comments on and keep track of changes within the booking. This way I receive all the emails they do and receive a notification for any comments they add."
All the information in one place
Corrie uses the Description field of each booking event to capture all the information. So, there's no need to chase down important details at the event. It's all there, on the calendar: the location, the services to be provided, client preferences and requests.
She also includes images for reference and inspiration. If needed, she can add a map, details about parking or entry for the artists, and any other pertinent documents or notes. If a client changes a request, it's easy to update the booking. The artists will be notified if the event is changed, so they can review the newest booking details.
The features that make it work
"My artists really appreciate being able to add a reoccurring event; this way if their availability remains the same for multiple days, they can add it in with ease." 
Recurring events: being able to set a repeating event and control the recurrence pattern in multiple ways is helpful for showing availability.
Color-coding: colors allow for a more appealing display and quick visual cues by assigning a color to each person on the team.
"One of the biggest features for me is the extensive colour-coding options; as a synesthete, it's exactly what I need."
File uploads: keeping all the details, documents, and images in one place for each booking simplifies the workflow and ensures that everyone has the right information.
Notifications: the change notifications streamline the booking process, as everyone is automatically notified when an event on their calendar is added or changed.
"Just want to add how much I value not only the calendar but the Teamup support team as well.
My experience has been simply fantastic."
We love to hear about Teamup in action, doing work they love and making the world a more beautiful place. Thanks to Corrie for sharing your story!