Sometimes all it takes is a simple change to improve workflows and save time. Then there's more room for enjoyment in what you do. We love finding and sharing the power tips, inspiring use cases, and smart integrations that can turn frustration into efficiency. This month, we've learned a lot from support cases around consolidating iCal feeds of rental bookings, more inspiration and insights on the power of visualizing calendar data with calendar views, and more.
1. Highlight: Consolidating iCal feeds from Airbnb, booking.com & co.
SuperControl is a very popular online booking system. It is used by many self-catering property owners and agencies to manage their rental properties around the world easily and efficiently. Many of them prefer listing their properities on multiple channels for wider reach and more bookings. However, multiple booking channels means multiple iCal feeds with bookings, one from each channel. Teamup makes it possible to consolidate iCal feeds from all booking websites and platformes, and create a single iCal for import into SuperControl.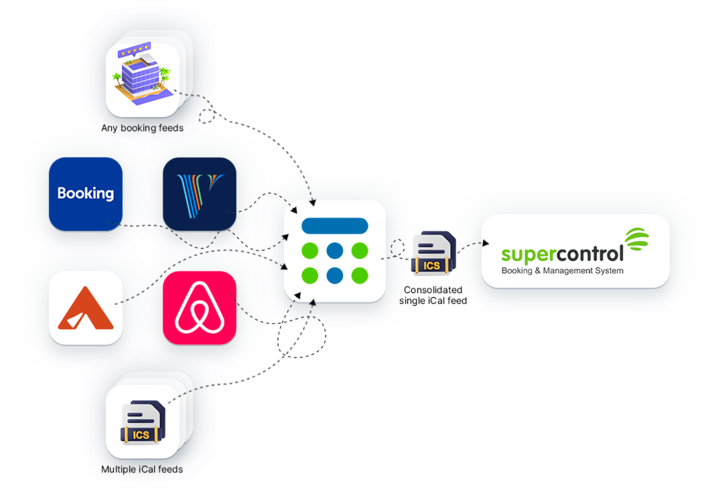 2. This month's power tips from the Teamup Ticker
Get valuable insights from your calendar data
Combine Teamup's built-in filters with Table view to work with your calendar data and see what's happening in different areas.

Change the date format on your Teamup calendar
Calendar administrators can choose the format for the date and set the starting day for the week.

Calendar views on Teamup mobile apps
Teamup mobile apps have 4 calendar views. Open the left sidebar to view and switch between calendar views.

Sync Teamup events to a Notion database
Automatically sync Teamup Calendar events with your Notion database using Zaps — Zapier's automated workflows — to capture important details like event time, participants, and description, consolidating all your vital information within Notion without any additional effort.


3. Product updates and news
A new tab on the Teamup blog gives you quick access to the Daily Ticker. Click to the ticker easily anytime from a blog post, or bookmark the Daily Ticker for an easy way to check out latest tips and news.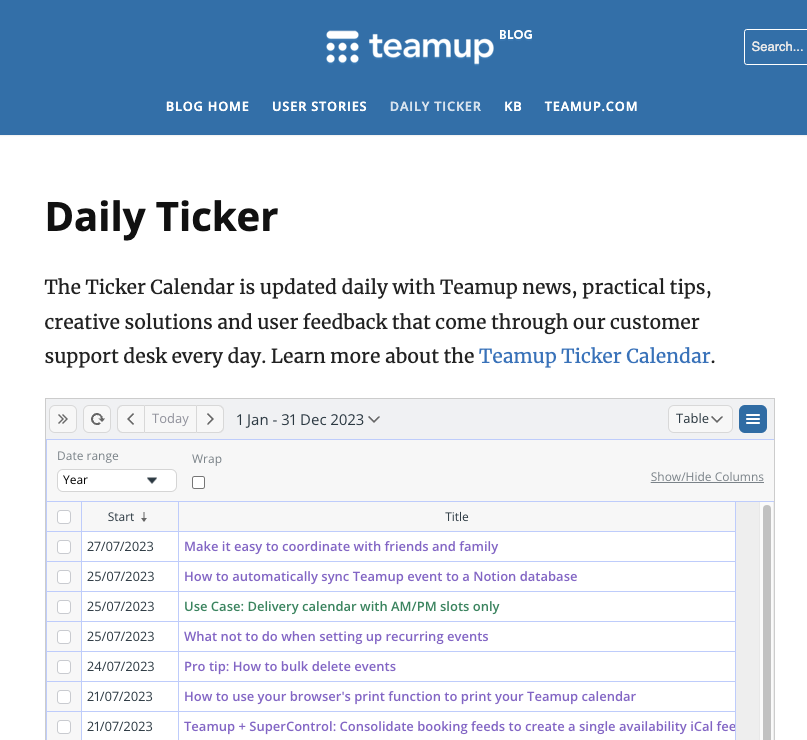 4. Use cases on the Teamup Ticker
Did you know we share helpful use cases on the Teamup Ticker? These scenarios come from real stories shared by our millions of users. We want to share the ideas and solutions with others who might benefit, so we turn them into use cases that can be applied across a wider range. Here are a few recent use cases:
A simple but effective set up for scheduling deliveries.


Assign morning, afternoon, or evening shifts to available staff members. A great use for multi-day Scheduler view.

Handle every aspect from taking the order to tracking payment and documenting the delivery.

5. Inspiration: Visualization with calendar views
Traditional calendar views don't provide an easy way to visually compare an unfilled need (such as a service call, open shift, delivery) with an available provider (crew member, staff member, driver). You often end up clicking back and forth between separate calendars or tabs, or relying on printouts which quickly become outdated. Teamup's calendar views provide side-by-side options for comparing needs with resources and getting clear visual cues on availability.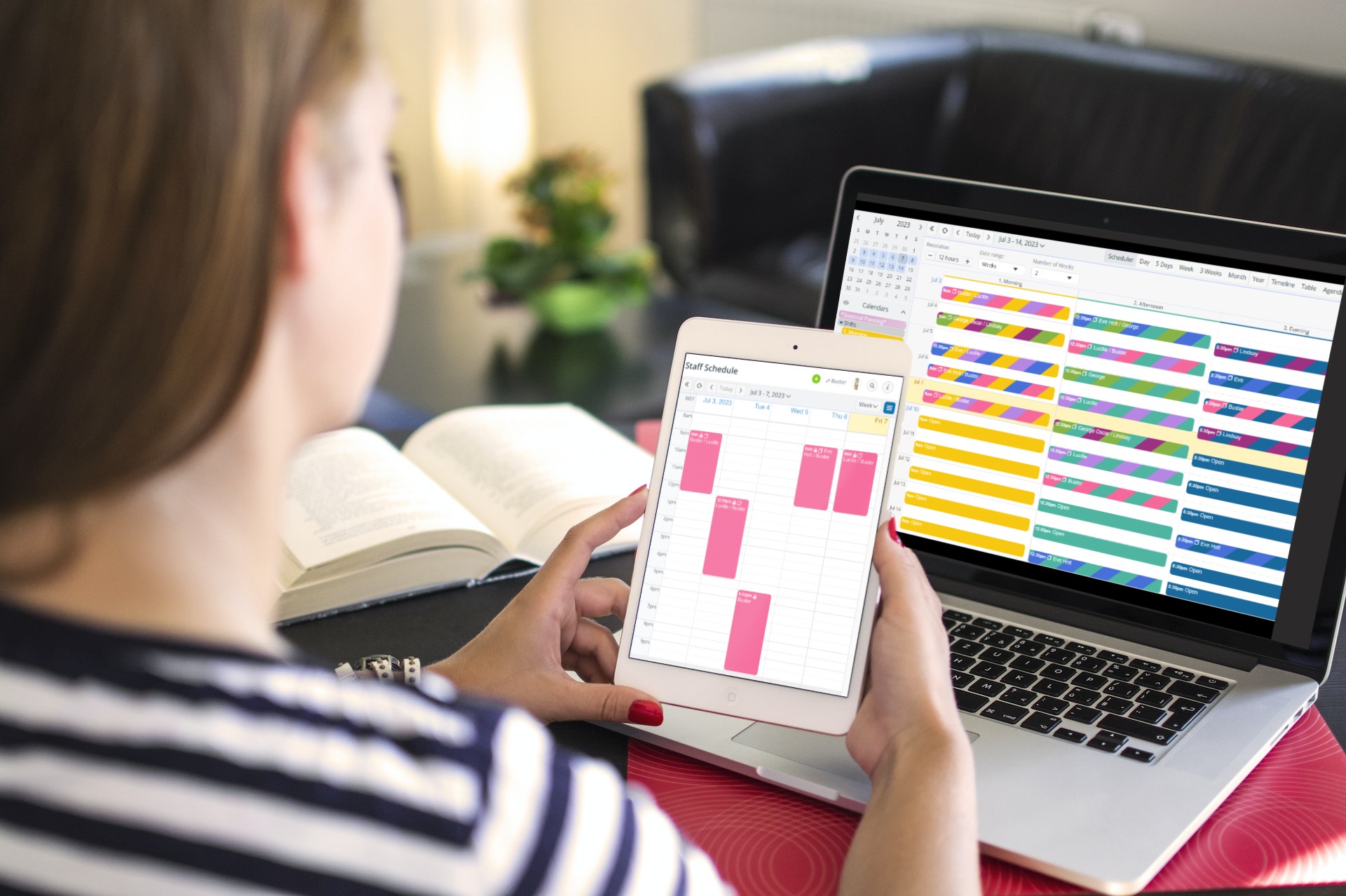 6. User feedback favorites from July
Your team is amazing and I have to say Teamup is my lifeline. I recommend it to anyone who asks. Your response time is great and your thorough answers with links were very comforting. I mean, I no longer have birthdates with years on paper or death dates or yearly car or house reminders. There would have been important things I would have never recovered. Thank you again. Very happy member of Teamup.
– Jennifer W.

I would like to say THANK YOU SO MUCH to Teamup for making our life better and much more productive.
– Miki Shintani La, Rehearsal Planning Manager, American Ballet Theatre: Read the story!

When coming onboard, the director introduced me to Teamup and how they are using it for fleet tracking and volunteer help. I am impressed with the work your team has done. I have worked at other tech companies in terms of project management and have had my fair share of PMP tools with calendars (Outlook, Google, etc), agile and Kanban structure and on it goes. The power and simplicity of Teamup is a breath of fresh air.
– Stephen D., Operations Manager

7. This month's printable calendars
Printing a calendar, either blank or filled with events, can be helpful for planning, reference, and more. You can print Teamup calendars by using the built-in PDF/print function, or by using your browser's print functionality. You can print an entire year by using Year view. The printout will paginate automatically depending on the number of events displayed on the calendar.
If you want to have a printout of the entire year, with or without events, over multiple pages with larger spaces for each day and larger event blocks, you can do that too! Just adjust the number of months in Year view, print, then repeat for the subsequent months. See all the steps here.
Here's an example with months printed 3 at a time:
Here are printable blank calendars for the current quarter and month:

 See all July tickers. New tickers are added daily, so don't forget to check them out. The easiest might be to click the ⓘ icon in the top right corner on your calendar. See also tips and ways to access the Ticker calendar to keep up with all things Teamup.