Use Teamup's unique calendar links to provide access to your calendar with limitations you choose.
Calendar links are an easy and controllable way to give individuals or groups customized access to your Teamup calendar.
---
Table of Contents
---
How calendar links work
Think of your master calendar as an office building. You own it and control access to it. To let a tenant use your offices, you give them a key. You can give a key that opens one office, or several offices, or all of the offices in the building. And, if needed, you can change the lock so the key no longer works.
Each key also comes with a set of permissions. One key might allow a tenant to enter multiple offices, just to look around. Another key might allow a whole group to come in and rearrange things to suit what they're doing.
A calendar link works the same way.
You can create customized links that allow access to your calendar. Each link opens a customized view to the selected sub-calendars (offices) you've included. And you set permissions for what people can do with each sub-calendar: read only, add items, or modify all? It's up to you. There are 9 permission levels you can choose from.
Working with customized calendar links
When you create a Teamup calendar, you receive the administrator link (it is displayed on the screen and sent to the administrator email).
There are also several pre-configured calendar links in Settings > Sharing. You can use the pre-configured links as they are, modify them, or you can create new links for calendar access.
For each calendar link, you choose which sub-calendars to include. Then you set permissions for each sub-calendar you're including. When you create such a link, a unique calendar key is generated, and that becomes part of the calendar link.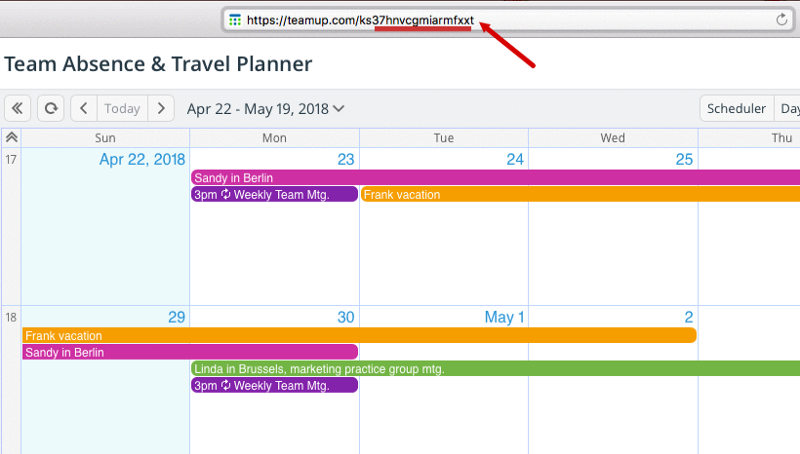 Someone using one of these keys will only have access to the sub-calendars and permissions you set for that particular link.
Creating a new calendar link
To create a new link, you need to go to the Settings from an administrator link, go to the Sharing tab, then click the New Link button at the top right as demonstrated in the video below:
The basic settings for each calendar link include the following:
Name: use something that will help you remember who is using the link.
Active: you can toggle the calendar link on and off.
Administration: be careful with this option and only check Yes if you want the link to include full administrative powers.
Password: you can include a password for an added layer of security (available on paid plans).
Choosing sub-calendars and permissions
You might have a calendar with forty different sub-calendars; if you create a link that includes only one and share it with someone, they'll only have access to the one sub-calendar you included.
You can choose to include all sub-calendars or select the calendars you want to include. If you include all sub-calendars, you can set permissions globally.

Here's more information about calendar links.
If there are multiple users with the administrator rights, each of them has the same power of controlling the calendar links and all other settings. Be aware of the security implication of an administrator link.
Read more
about administrator links.
---