We're sharing smart tips, inspiring use cases, and helpful advice on the Teamup Ticker. It's a one-stop shop for all things Teamup, so you can find the info you need and do even more with your Teamup calendar. For May, we're excited to share some smart syncing with iCalendar feeds, a public beta opportunity, and some inspiration from the Teamup blog.
1. Highlight: iCalendar integrations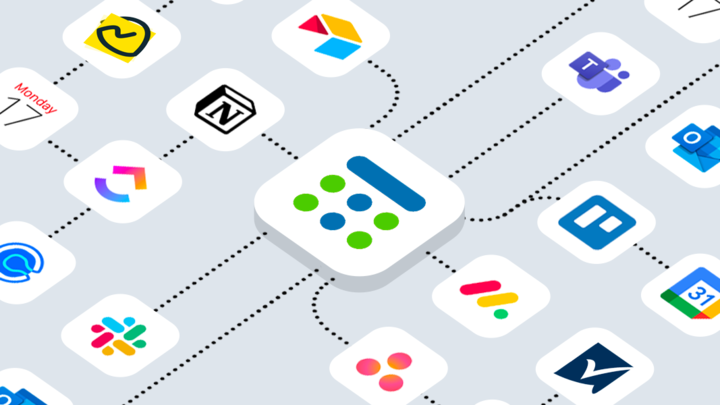 With many apps and services in your digital toolbox, things can get disconnected. And it can be tough to keep an eye on the big picture when you have to switch from one tool to another to see timelines, assignments, and scheduling details. Most project management tools have a calendar component, but they're often not as fully featured or scalable as you need them to be.
Fortunately, with iCalendar integrations, you can sync calendar data from your favorite tools to your Teamup calendar. With smart syncing, you can use Teamup as a full-featured, flexible, customizable alternative to your project management calendar. And if you're managing multiple calendars for different projects and areas, you can bring them all to one place: Teamup. Having a single overview of everything time-based helps you stay on top of timelines, make better decisions, adjust for obstacles, avoid schedule conflicts, and manage more effectively. 

2. This month's power tips from the Teamup Ticker
This month's power tips are all about smart syncing with iCalendar integration. Be sure to check the Teamup Ticker for more tips, news, and updates.
Use the calendar view in AirTable to set up a one-way sync to your Teamup calendar. Being able to see AirTable records in Teamup can lead to helpful insights.
Choose a project or tag from Asana; or, if preferred, you can sync your Asana task list to Teamup.
Send data from a Basecamp calendar to your Teamup calendar, and see those project deadlines and other items in your own personal or work calendar.
Get those Calendly appointments showing up in your Teamup calendar. Seeing all your commitments in one place is the best way to prevent schedule conflicts.
With an integration between your ClickUp Calendar and Teamup, you can stay on top of all the aspects of your life.
Use a one-way integration to show items from your Monday.com board on your Teamup calendar. Choose either the items assigned to you or all items on the board, as you prefer.
Smartsheet includes calendar views for sheets, and you can use a feed to sync this calendar data to Teamup.
Set up a sync for multiple Trello boards into one Teamup calendar, which lets you see all your Trello cards with due dates, from various boards, in one place.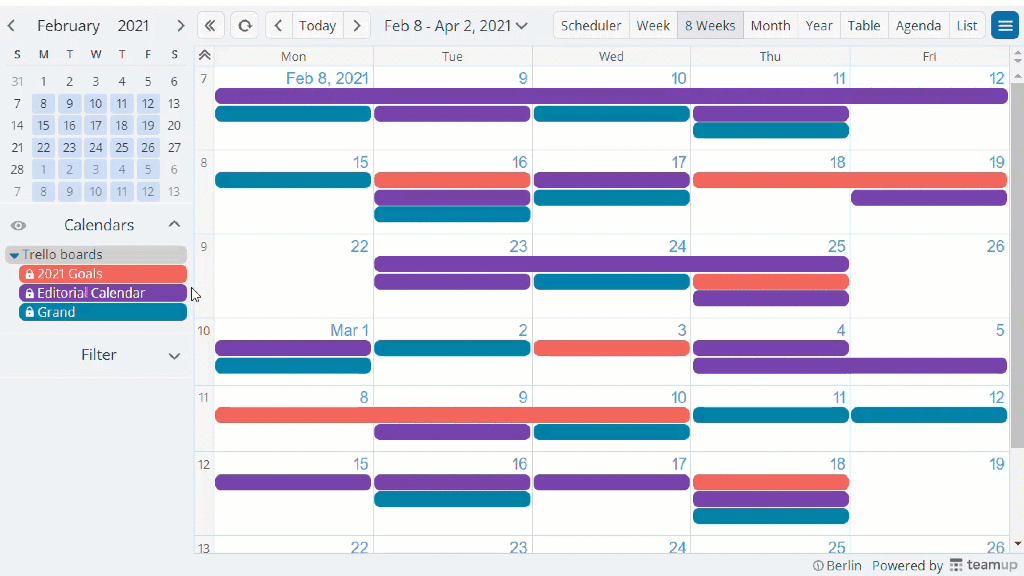 3. Product news
Public beta: Enhanced Scheduler view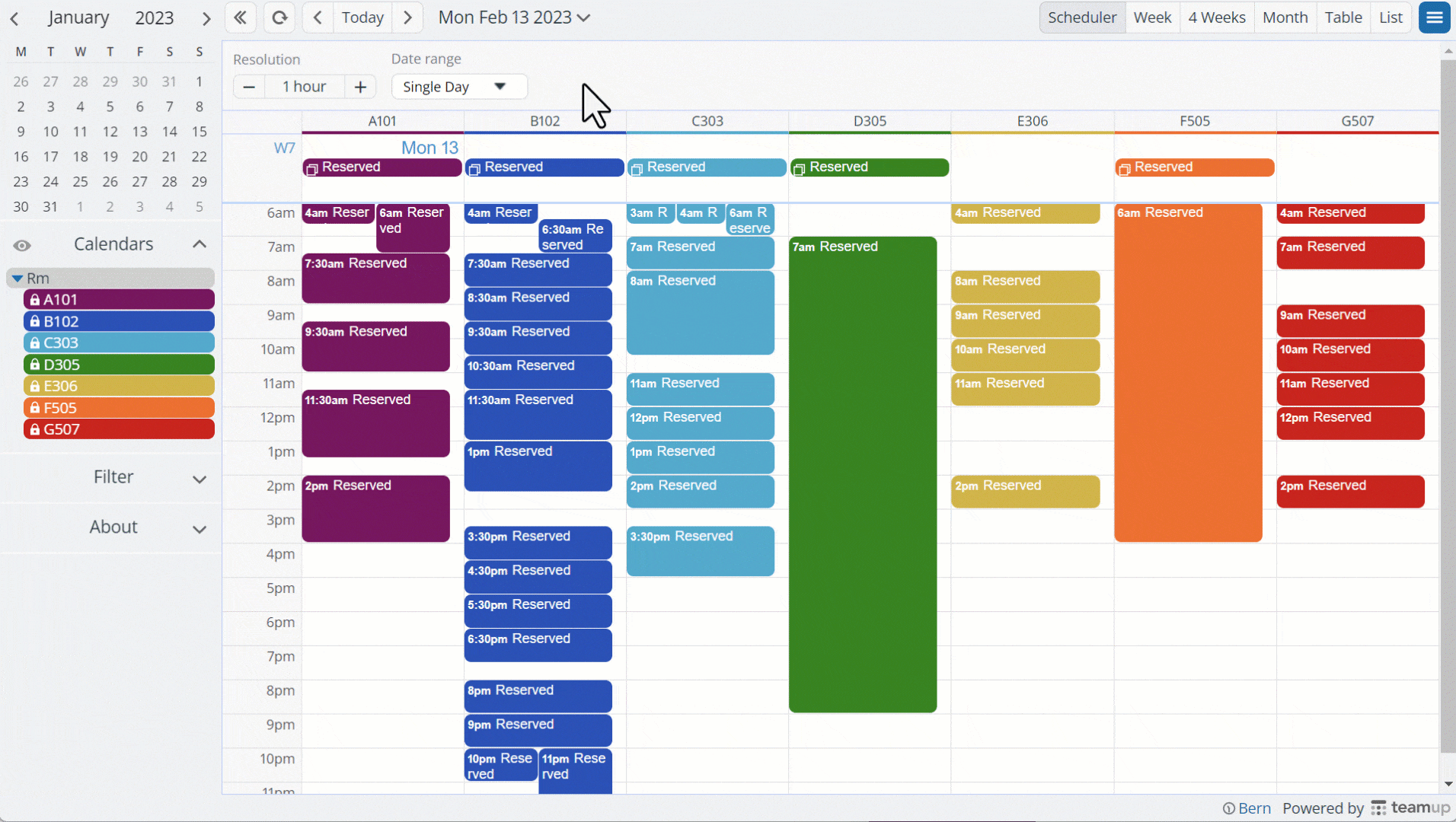 One of our most unique and powerful calendar views has just gotten better. Scheduler view (browser only) shows each sub-calendar in its own column. Previously you could only view one day at a time. Now, the expanded Scheduler view gives you more options. You can adjust the date range and resolution to view multiple days, weeks, and more. Try it out by switching your own calendar to Scheduler view, or check out a live demo (the Resource Scheduler, shown above).
Excited about the new possibilities of the enhanced Scheduler view? We'd appreciate hearing from you. Let us know.
Teamup app for iOS update
The Teamup app for iPhone and iPad just got an update. Version 2.15.12 includes:
Support for add-only permission
Ability to filter events by sub-calendar
Improved error handling for overlap conflicts
Various bug fixes
Visit the App Store to download or update to the latest version of Teamup's app for iOS.

4. New user stories
Room booking system for community use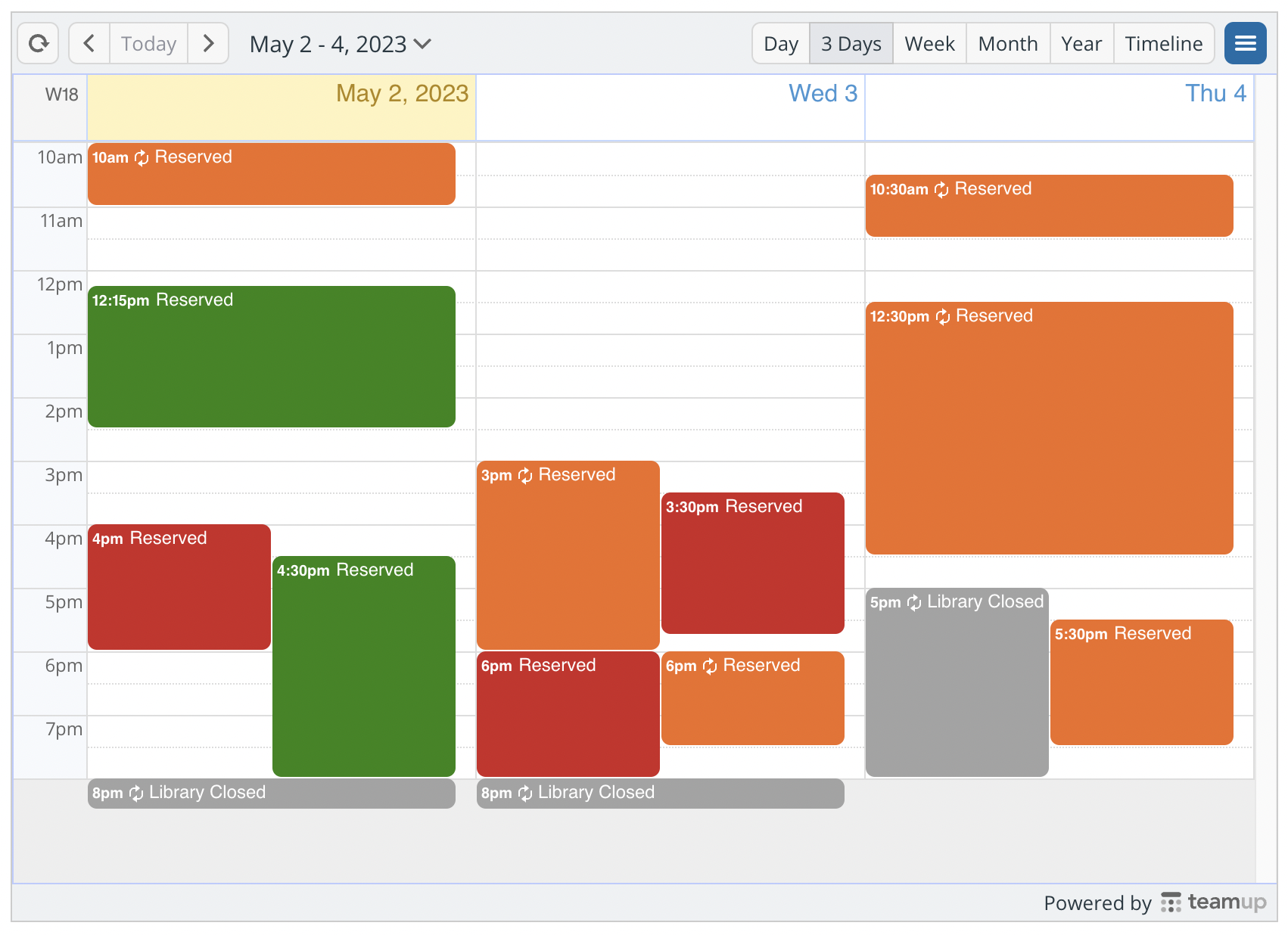 This busy library allows community members to book meeting rooms for use, with an online form and an embedded Teamup calendar.With both the form and the calendar publicly accessible on the library's website, the process is simplified for everyone. Community members don't have to wait to find out if a room is available; and, if needed, they can adjust their plans immediately. And staff members don't have to do the time-consuming work of reviewing and responding to booking requests for times when the rooms are unavailable.
📚 Read about a streamlined booking system making work more efficient for library staff by showing availability of rooms to the community.

Organizing research studies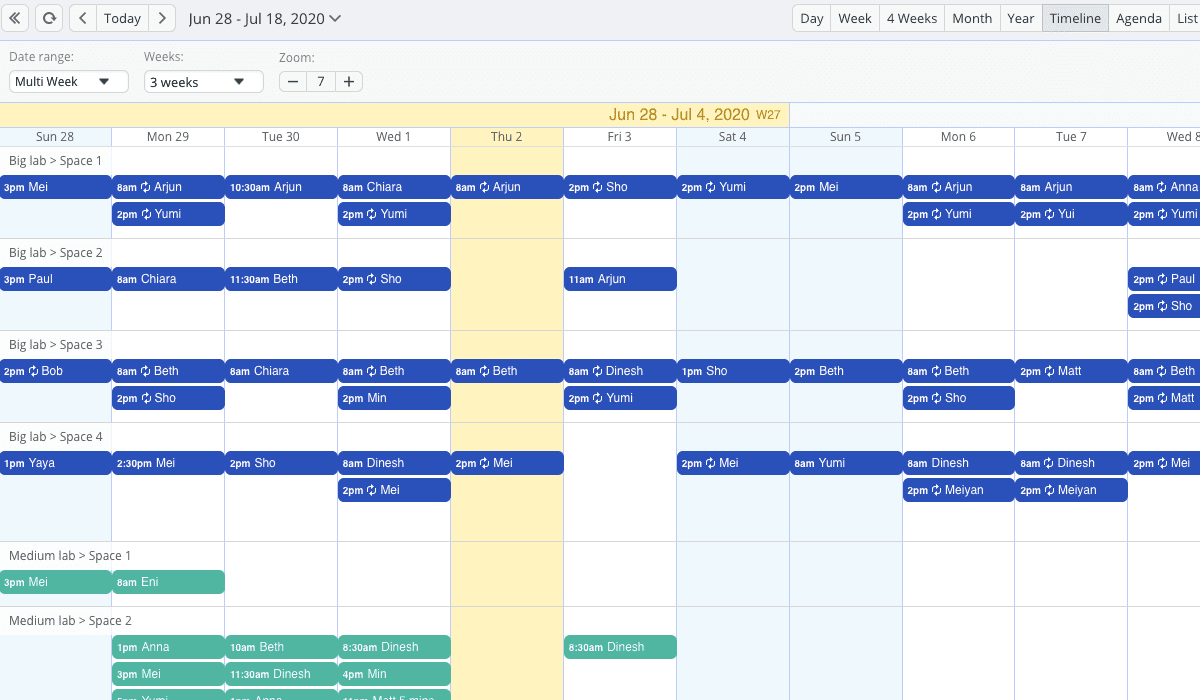 A research team managing a clinical trial or other type of study may all work in the same location, with the same general hours. Or they may be distributed, handling different areas of the study, working different hours, and collaborating remotely and/or asynchronously.
For either situation, it's important to have a single timeline for the study, which all team members can access. Everyone needs to know what to do and the team leads need a way to check that tasks are being done on time.
🧪Check out this use case of a research team managing a clinical trial or read more about organizing research studies.

5. Inspiration: Embedded calendars and regional filters
Embed a calendar
Making a calendar easy to access encourages people to actually use the calendar in the way you intend. It's a more cohesive experience for users. Plus, when you update events, those changes are immediately reflected on the embedded calendar as well.
When you embed a Teamup calendar, you can customize the look and feel, plus choose the default calendar view and start date. How you set these options up can make the calendar easier to navigate for your users. Get some inspiration and smart tips for embedding a Teamup calendar.


Filter by country or region
If you are hosting a calendar with events that happen all over the world, such as sporting events or events of a global community, you may want users to be able to filter events by country or region.
You can use a custom choice field with options for each region or country. When you add an event, just select the appropriate geographic option. The filter will automatically be added to the sidebar, and users can then filter events by country or region.
Whether you share a calendar link or add an embedded calendar to your website, the filters will be available so users can quickly find the events they care about.
See a great example here or learn more setting up a custom field to filter by location.

6. User feedback favorites from May
"Our Company has recently started using your Teamup Calendar. This is so far an AMAZING new tool.. We have enrolled in the Pro Plan and have up to 25 users which is working well so far…"
-Kim

"I started to use Teamup since 2016… and I'm very satisfied with it! The improvements, reliability and customer focus, too."
-Andrew

"The calendar is one of the best that I ever used, I really really like it."
-Ivan
7. This month's printable calendars
We love digital tools, but sometimes you need to sit down and plan things out on paper. You can print a blank Teamup calendar anytime, adjusted to the exact dates you need. For example, keep the family organized all summer by printing your own family planner for the week or month ahead: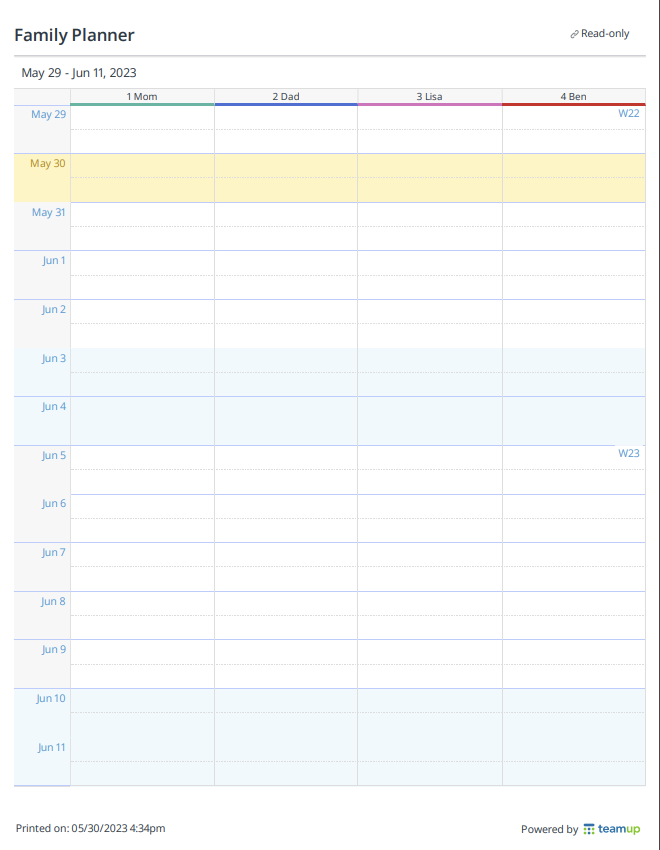 Here are printable blank templates for the current quarter and month:
Want to customize the title of your printable calendar? Here's how.

 See all May tickers. New tickers are added daily, so don't forget to check them out. The easiest might be to click the ⓘ icon in the top right corner on your calendar. See also tips and ways to access the Ticker calendar to keep up with all things Teamup.