No one is an island, and the same sentiment applies to the tools we use. They don't exist in isolation. We have different tools for different needs, and how we use these tools has a big impact on our productivity.
Most project management tools have a calendar component, and for good reason: You can't manage projects without thinking about the timeline. But calendars are typically an add-on feature, like Trello's popular calendar power-up, rather than a core strength. So they're quite limited.
On the other hand, the big three – Google Calendar, Outlook, and Apple's iCal – do event scheduling well for individuals, but quickly get messy at scale. They're not set up for group collaboration with people and resources.  And it's tough to keep all the information in context on these typical calendars.
Fortunately, you can sync many tools to your Teamup calendar. With smart integrations, you can add contextual depth to your time-based planning. Get better insights, visualize schedules, and organize information for a more comprehensive and helpful workflow.
Send calendar data from these tools to Teamup:
Explore other smart integrations:
1. Sync an AirTable view to Teamup
AirTable is a platform for creating and sharing relational databases with lots of powerful features. You can use the calendar view in AirTable to set up a one-way sync to your Teamup calendar. Being able to see AirTable records in Teamup can lead to helpful insights, and help you connect those projects with meetings, travel, and other relevant things that land on your calendar.
👉 Get an AirTable view synced to Teamup.
2. Sync an Asana project or tag to Teamup
Asana is a powerful work management software option that's widely used by small and large teams. If you're using Teamup to manage your personal schedule or other parts of your work life, you can use a smart integration to get a single overview. Choose a project or tag from Asana; or, if preferred, you can sync your Asana task list to Teamup.
👉 Set up an integration with Asana and Teamup.
3. Sync calendar data from Basecamp to Teamup
Basecamp is a very well-known and powerful project management software. It's used by many teams to stay coordinated and keep complex projects on track. You can sync data from a Basecamp calendar to your Teamup calendar, and see those project deadlines and other items in your own personal or work calendar.
👉 Set up synced calendar data from Basecamp to Teamup
4. Sync Calendly appointments to Teamup
Calendly is a great tool for managing appointments and finding times that work for everyone. It's easy to use, and if you want to make life even easier: get those Calendly appointments showing up in your Teamup calendar. Seeing all your commitments in one place is the best way to prevent schedule conflicts.
👉 Get started with syncing Calendly to Teamup.
5. Sync a ClickUp Calendar with Teamup
For managing your own tasks or working with your team on a big project, ClickUp is a great cloud-based choice. With an integration between your ClickUp Calendar and Teamup, you can stay on top of all the aspects of your life.
👉 See how to sync ClickUp to Teamup.
6. Sync Monday.com board to Teamup
Monday.com is a popular project management software. You can set up a one-way integration to show items from your Monday.com board on your Teamup calendar. Choose either the items assigned to you or all items on the board, as you prefer. The sync will automatically send items to your Teamup calendar so you can see it all in one place.
👉 Set up a Monday.com sync to Teamup.
7. Sync a Smartsheet calendar to Teamup
Smartsheet is a modern work management platform, used by many teams to build automated workflows, track plans, coordinate, and generate reports. Smartsheet includes calendar views for sheets, and you can use a feed to sync this calendar data to Teamup.
👉 See how to sync Smartsheet to Teamup.
8. See your Todoist tasks in Teamup
Todoist is one of the most popular task management and to-do list apps, used by many people around the world. Are you one of those people? If so, you might benefit from syncing your Todoist tasks with your Teamup calendar. Then you can easily view all your deadlined tasks on your calendar alongside events, meetings, and other scheduled activities.
👉 Get your Todoist tasks synced to Teamup.
9. See Trello cards in Teamup
When it comes to teamwork project management tools, Trello is always a winner. The calendar power-up allows you to see Trello cards with due dates in a, well, calendar. But if you're not using Trello as your primary calendar, you may want to see those cards with all the other stuff on your schedule. Even better: you can set up a sync for multiple Trello boards into one Teamup calendar, which lets you see all your Trello cards with due dates, from various boards, in one place.
👉 See how to sync Trello cards with due dates to Teamup.
10. Embed a Teamup calendar in MS Teams
Your Teamup calendar can be easily integrated with your MS Teams environment. Anyone who is part of the team (either the MS Teams owner or a Team member, not a guest) can simply add your Teamup Calendar as a tab to your Teams environment. Make sure to use a secure calendar link.
Here's an example: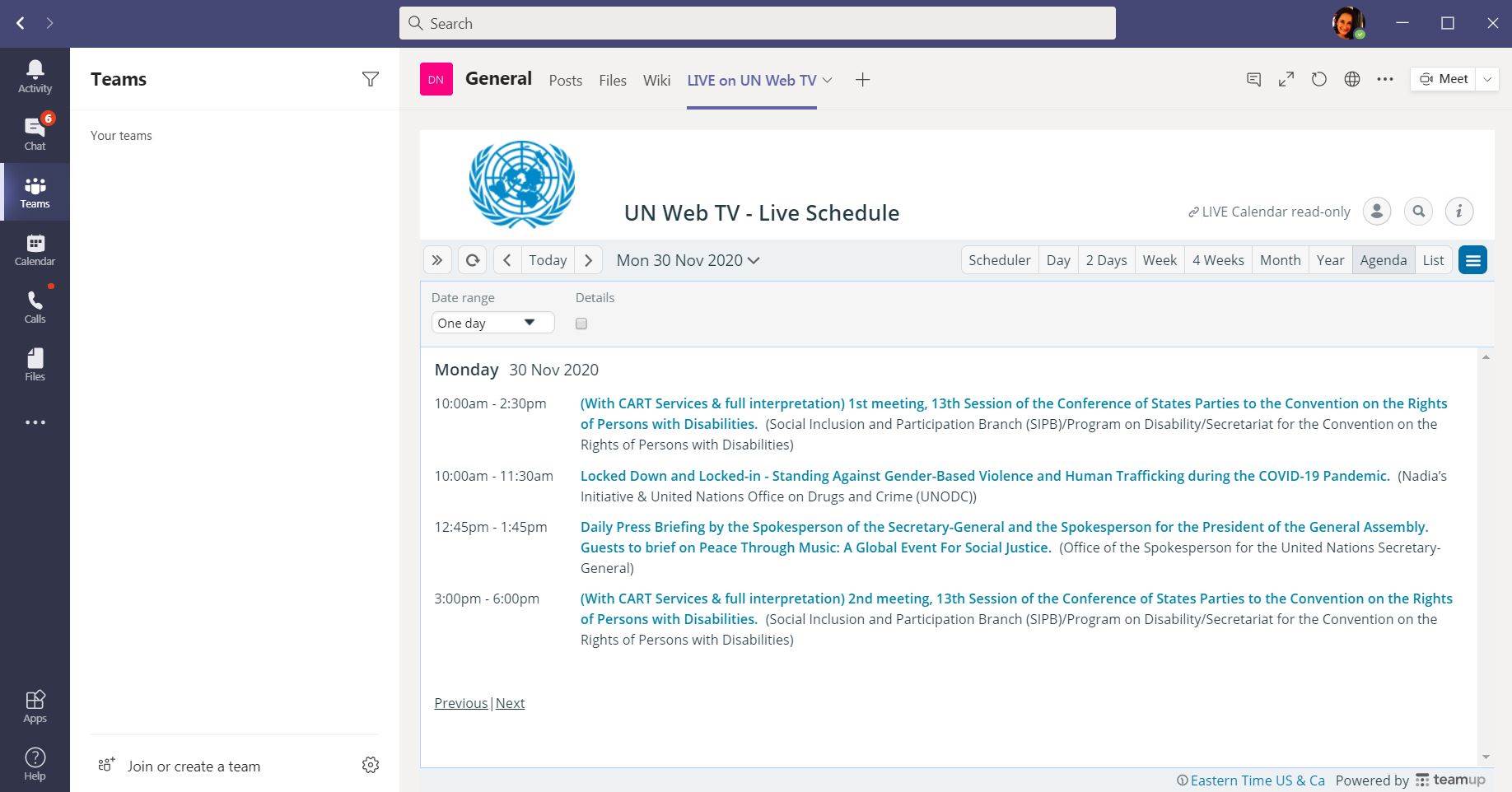 👉 See how to integrate Teamup with MS Teams.
11. Embed a Teamup calendar in Notion
Notion is a very popular note-taking and productivity application. You can make Notion even more useful by embedding your Teamup calendar in any page. Just copy and paste a secure calendar link into Notion using the /embed command. Or use Teamup's embedding tool to customize the look and feel of your calendar first, then embed. Here's an example of an embedded Teamup calendar with a more simplified look, in a Notion two-column section beside a task list: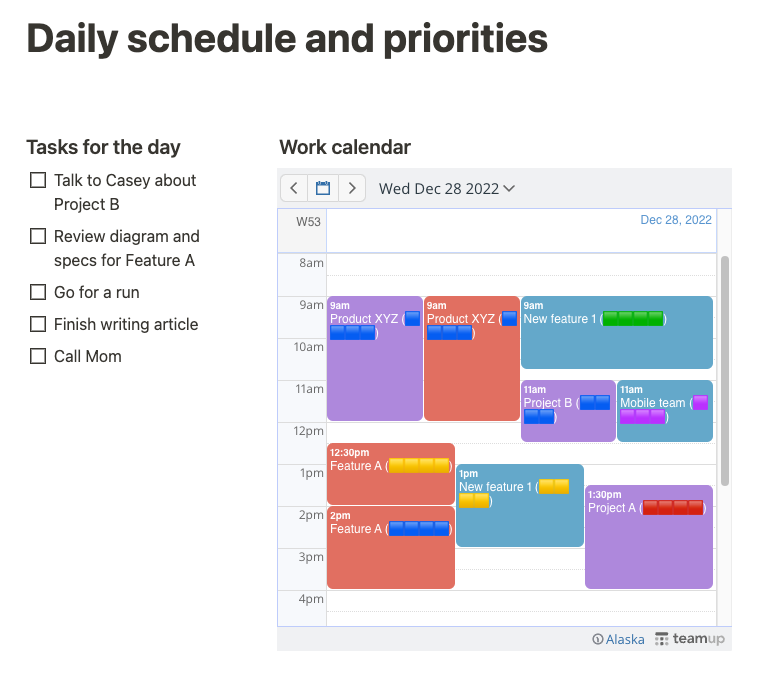 👉 See more about embedding a Teamup calendar into Notion.
12. Sync other calendars to Teamup
Inbound iCalendar feeds allow you to view calendars from other calendar services in your Teamup Calendar. All you have to do is get the iCalendar feed URL from Google Calendar, Microsoft Outlook or Apple Calendar, or other calendar software. Then, in Teamup, you'll set up a new iCalendar feed which will automatically import the events from your other calendar into Teamup. These events will be read-only (meaning you can't modify them, only view them).
You can also set up an outbound iCalendar feed from your Teamup Calendar to other calendar applications such as Google Calendar, Microsoft Outlook or Apple's iCal.
👉 Get started connecting calendars with iCal feeds.
13. Build a custom integration with Teamup's public API
Custom integrations can help solve inefficiencies in your operations. Many businesses use industry-specific software, CRMs, or other internal apps to get work done. For a more efficient workflow, connect these tools with Teamup using the API to build your own custom integration. Here's a great case of solving manual inefficiency for field service crews. Using the API it is possible to read, write, update, and delete calendar events.
👉 Request an API key here, or see the full API documentation.
14. Get Teamup notifications in Slack
If you use Slack, you can set up an integration to get Teamup calendar notifications on a Slack channel. If you're in Slack all the time anyway, it's helpful to get updates from your calendar in one place.
👉 See how to get Teamup notifications in Slack. 
15. Use Zapier to connect more tools
Perhaps your department uses Salesforce and you'd like a streamlined workflow that includes scheduled meetings on Teamup. Or maybe you want to use both ToDoist and Teamup for better project management. Zapier is a powerhouse of integration possibilities, making it possible to connect your Teamup Calendar with hundreds of apps and tools.
👉 Check out our quick start guide with some of our favorite zaps, or go straight to Teamup on Zapier.