A business is a collage of people and projects—and the office staff hold it all together. You manage information and keep every piece in the right place. It's project management, schedule coordination, and more. You go by many names: office manager, executive assistant, team lead, communications specialist, sales or project coordinator, project administrator, office supervisor, scheduling coordinator… The list goes on.
The title may vary according to the industry or company. The primary responsibility is to manage information. You need to gather, organize, and distribute the right details to the right people.
The challenges of the office role
It's a job that comes with plenty of challenges.
For example, the office of a busy construction contractor will include many different players—clients, field employees, project managers, and subcontractors. There are multiple inputs and sources of information. Projects have different locations, resources, and timelines. Timely communication is key because there are so many dependencies.
In the office of a counseling practice, security is a very important factor. Multiple counselors share office space and meeting rooms. They need to coordinate with each other and individual clients, while maintaining client confidentiality.
For an office coordinating sales reps with clients, there is a high volume of resources and information. There's often a need to distinguish between different types of sales calls, various stages in the sales process, and client categories. A demo for a high-volume B2B purchaser is different from a small retail boutique owner, even if the products being purchased are the same. Office staff have to coordinate schedules, client information, demo equipment, hosted client meetings, deliveries, and more.
Accessible information, in context
Across many industries, office staff manage many types of information:
PTO and vacation schedules
business trips
project status
resource availability
whereabouts of key people
supplier and delivery schedules
meetings and events
documentation
project briefs
project management notes
work orders
job site locations
photos of completed jobs.
And that's a short, incomplete list! Without a dependable, context-driven information hub, there's no way to efficiently manage and distribute information.
Depending on a paper-based system is almost always a disaster. Paper files are unwieldy, insecure, and require lots of space. It's a chore to sort through paper records to find exactly what you need. However, digital communication and files can quickly become overwhelming. Details are scattered over multiple digital systems, making it impossible to quickly locate the information you need.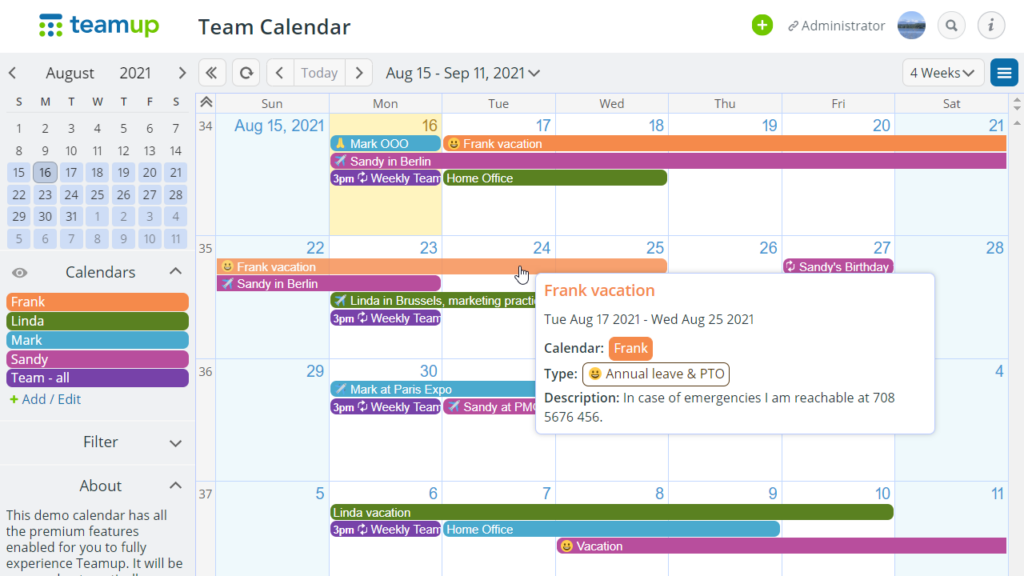 It's fine (and necessary) to have different tools in your toolbox. They need to work together well and solve the problem. To manage information flowing in and out, you need reliable catch-all, a system which connects all the pieces. A good connection hub can hold some types of information (such as notes and images) and provide shortcuts to other files (such as Google Drive docs, Dropbox files, Sharepoint files, social media posts, etc.). A Teamup event can be the hub for all related information in a specific context, whether the context is about a person, a project, a job, or a resource.
Why office staff love Teamup
With Teamup as the hub for information in context, everyone is empowered. People can find the information they need, without creating security risks. Let's take a look.
Calendar setup
Start with color-coded sub-calendars. Create calendars for team members, rooms, projects, job types, clients, or whatever makes sense for your business. Keep them all organized with folders.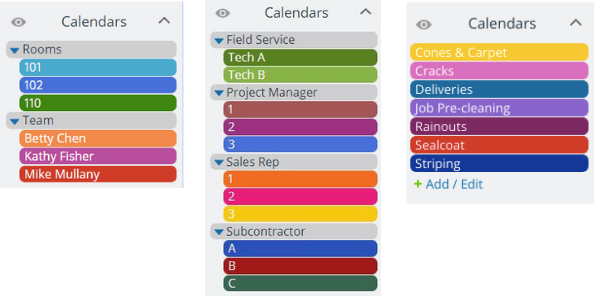 Add custom fields (single choice, multiple choice, or text entry) to ensure that the key details are captured every time. For example, add a custom field for customer ID or project number and make it required so you're never missing that crucial detail.
Customized access
Who needs to see what on the calendar? With Teamup, office staff can make sure each person sees only what they need to see. Set permissions for what each person can do. Allow crew members to see only the service calendar. Let subcontractors view but not edit events. Make information accessible without making it insecure.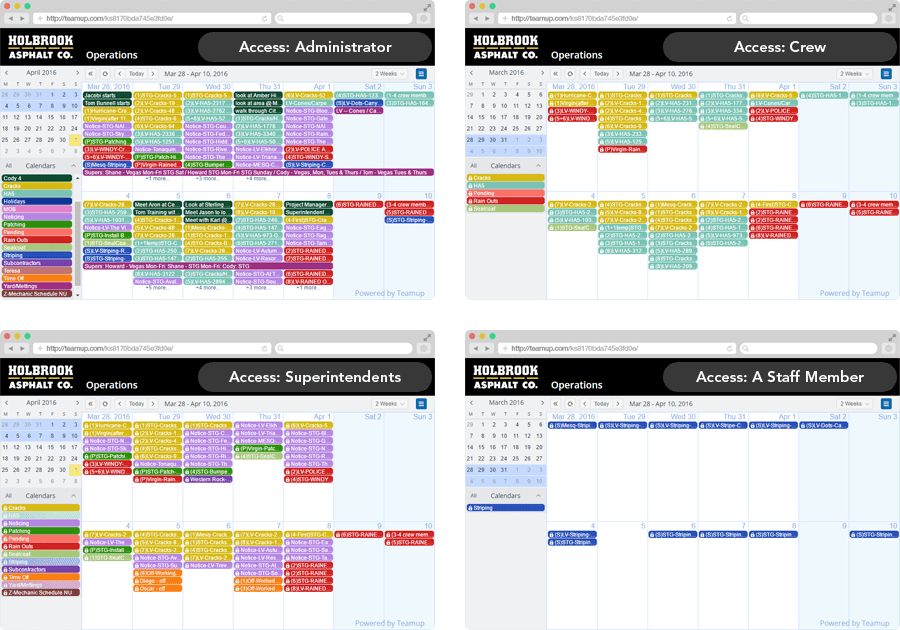 The right view
Get the big picture, or the zoom in on details. Easily switch between work modes with calendar views. Filter to see only the information that's relevant at the moment. For example, filter for a customer ID to see all tasks for that project.
Stay current in day or week view, or look at the long-term with multi-month view, with or without filters. Need to see a big picture for the long term? Check out the year view in action.
Real-time updates
On-the-go team members can keep their jobs updated easily with Teamup apps for iOS and Android. Enable sales reps, technicians, and employees on the field to update the calendar with real-time status, so office staff don't have to chase down information.
Capture and find what's relevant
Comments on each event let crew members, staff, contractors, and other stakeholders discuss, decide, make notes, share info, and keep track of changes. Allow even users with read-only access to upload images to the comments. Field staff and sales reps can capture information right in the field instead of sending yet another email or text that has to be processed later.
File and image upload
Keep all the key information on the calendar—include notes, links, images, and files on each event (job) so key stakeholders can complete the work without delay. Enable efficient work and decision-making for everyone involved in project management.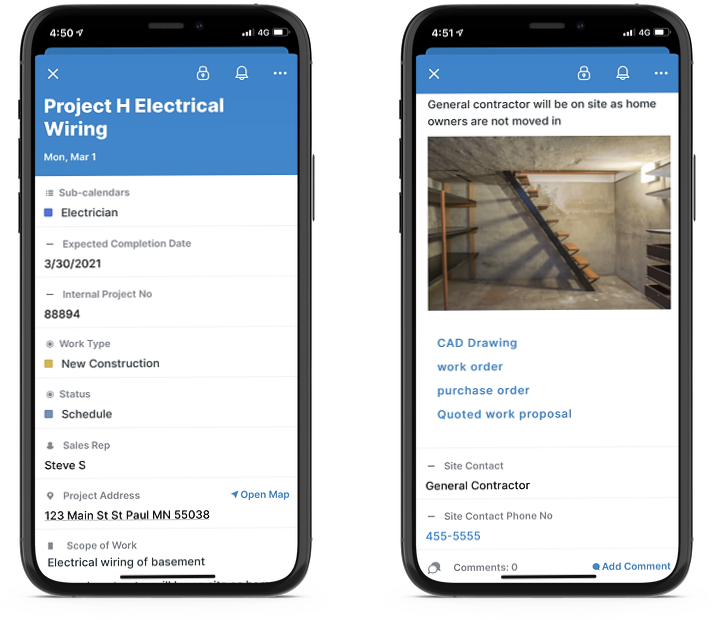 Streamlined work, information in context
It's the tool that brings all your other tools together: note taking, uploading documents, or sharing specific links to other files and tools. Organizing context-specific information about each project in one place is crucial. Teamup will eliminate the time you've had to spend playing "detective" to find all the information you need from too many inputs.
Teamup works in two key ways. It is a catch-all hub for capturing information. And it is a context-specific system for organizing and distributing what is relevant to the right people. Capturing all the information in one place is the first step towards getting organized. With Teamup, that becomes an easy process. Every person involved has the ability to add (and access) the key information they need to the calendar. Save the time you used to spend repeating the same information, resending the same files, and answering the same questions. 
How could Teamup help you run the office more efficiently? We'd love to help you find the ideal setup — take a look at our demo calendars to get a better idea, or create your own Teamup calendar today.