Coordinating and managing a corporate event is a challenging job. There are lots of variables, often complex, and many people involved. Pulling it all together can seem like a miracle.
You and your team can use Teamup in two major ways to ease the workload. First, you'll find that Teamup offers many features that are perfect for  planning a corporate event. Second, Teamup is great as a shared calendar and team collaboration tool that participants can use during the event.
Set Up a Planning Dashboard
"We love using Teamup for our company's events and meetings, and we would love to start using it for staff planning as well."
The first step to simplify planning something complex is to set up a dashboard, or control center. A Teamup calendar can serve this purpose: it's a single point of management, where you and your team can gather all incoming data, share tasks, and compare schedules.
A unified control center helps your team work more efficiently:
Schedule Event Sessions and More
"We use it to have a schedule for all planned meetings, for all board members."
You can use a Teamup calendar to organize a complex conference or a smaller team meeting, or anything in between. Here are a few examples.
Conference Schedules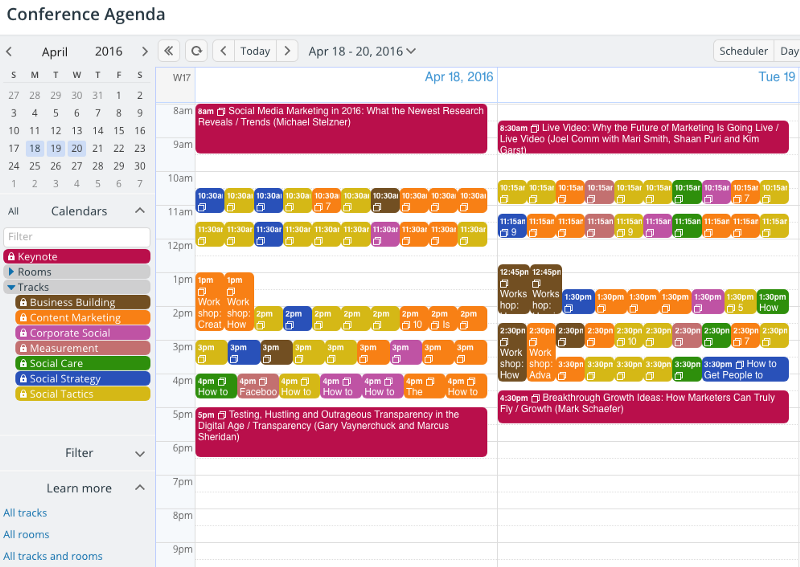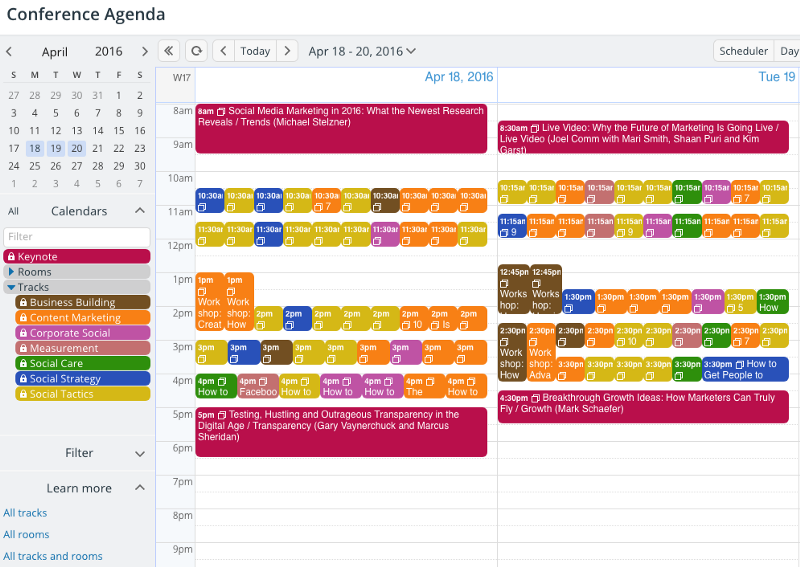 In this example, a conference with various sessions is organized by location (rooms) and tracks. With all sub-calendars toggled on, you see everything that's planned and how it works together.When you need to focus on a certain category of information (such as sessions by room, or speakers), you can toggle calendars off, individually or by category. Now you can focus on details as needed.
Read more about organizing a conference schedule.
Executive Meetings
"The Teamup Calendar allows us to easily coordinate schedules for joint meetings and allows us to see what meetings others are going to."
An executive meeting can range from a small to a large group. It might be held over several hours or over the course of several days. Many organizations and corporations have found that Teamup provides the right amount of flexibility and features for any meeting scenario. One non-profit organization used Teamup to coordinate 300 small group meetings in a single day!
These Teamup features make meetings run smoothly:
Prep Event Participants
"Your calendar has revolutionized management of event and activity coordination among our team."
When people know what to expect from a corporate event, they're more comfortable. Thus, they're able to relax and participate fully in the event, since they feel prepared and know what is expected. You can help participants get ready for the event in several ways:
Gather Event Feedback
"Just want to say that we are already loving Team Up and how it is helping our companies. The ability for multiple calendars, the numerous color options, and the sleek design is a big hit with our team."
You can use Teamup not only to encourage team collaboration at a corporate event, but also to gather feedback and use the input you get. You'll know immediately what participants enjoyed, what worked, what was valued, and what fell a little short of the mark.
For example, instead of taking turns for session moderators to summarize their experience, ask them to enter their discussion in the "Description" field of their session right there. For the wrap-up at the end of your event, you could show these descriptions on the projector and the moderators could give additional explanations and/or answer questions.
Try one of our live demos to see all of Teamup's features, and how they can make your next corporate event easier to coordinate, and a better experience for all involved.
---
Header photo by Joakim Honkasalo on Unsplash