Managing a complex conference schedule requires a lot. You need to keep a comprehensive overview; sort the schedule by multiple categories; and control and update shared information. As a conference organizer, you process and handle incoming information from many sources. You're coordinating space availability, transitions, presentation equipment, speakers, topic tracks, and much more.
You need a way to keep track of all the details without losing sight of the big picture.
---
Table of Contents
---
You also need to provide accurate information — such as the conference schedule, session agendas, and speaker details — for marketing efforts and for conference attendees. Details may change even up to the day of the event. You need a way to quickly and easily update the schedules and information for all attendees.
"Before I came across Teamup, I've tried printing calendars, customizing calendars on Excel & Google Sheets, none of which really had quite the ease of accessibility, functionality or organization. It was through researching and simply just trying out "other options" online that I came across Teamup, and have been grateful ever since."
Here's a short list of the data you might coordinate as a conference organizer:
Multiple schedules over the same time period
Conference sessions organized by various filters (tracks, rooms)
Speaker information (bios, headshots, background)
Handouts or other materials related to presentations
Smaller/private sessions (agendas, invitees, locations, and number of slots open for each session)
Registration and check-in instructions
Media interviews or Q&A sessions
Networking opportunities and bonus events
Let's take a look at how you can use a Teamup Calendar to manage all the complexity involved in planning and coordinating a conference.
Get a comprehensive schedule overview
It's important to know all the details, from the speaker level, to the use of space, to ensuring that each topical track is filled out. You don't want to be taken by surprise, leave necessary details undone, or inadvertently create a scheduling conflict.
However, when you cram all the information onto a single calendar, it's easy to get lost. It's too much in one place. You can use spreadsheets and multiple calendars, but then you have to click between screens and documents. You risk missing an important detail when you can't see the big picture, all at once.
With Teamup, you can create multiple sub-calendars, organize them as you desire, and toggle them on and off. With all sub-calendars toggled on, you see everything that's planned and how it works together. You can look at the big picture by day, by week, by month, or in an agenda view. Color-coded sub-calendars give you a quick, visual understanding of what's happening.
Here's an example of a conference with sessions organized by location (rooms) and tracks: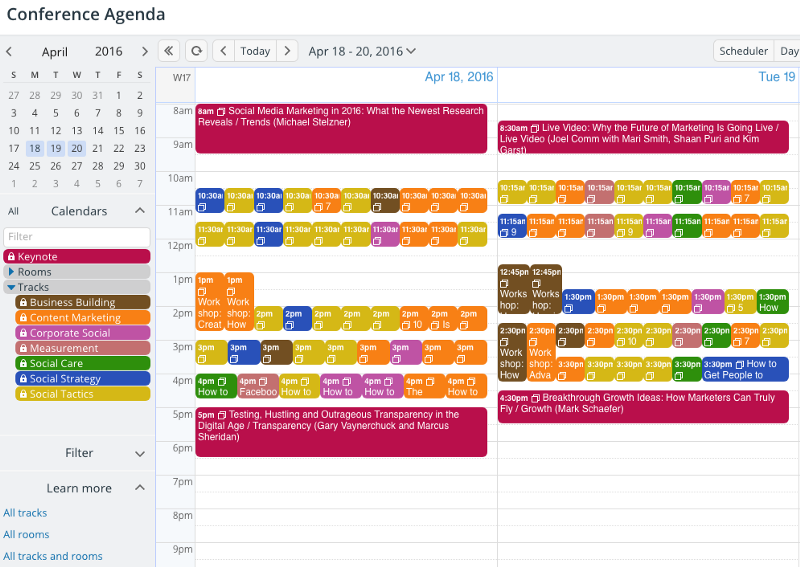 When you need to focus on a certain category of information, you can toggle calendars off, individually or by category. Now you can focus on details as needed.
Set up a customized calendar view
You can also set a default sub-calendar view, so you always get the view you use most when you open your calendar.