Bobbie Fisher is a Work Order Coordinator at UVMC Plant Services & Engineering. As the department that keeps everything up and running for the hospital, it's very important that they have all shifts covered, keep up with all maintenance and repairs, and ensure that everything is in good working order. Bobbie shared with us how their department has been using Teamup since 2019, with one calendar to manage staff scheduling, and one calendar to plan and document maintenance as well as repairs.
Overseeing staff schedules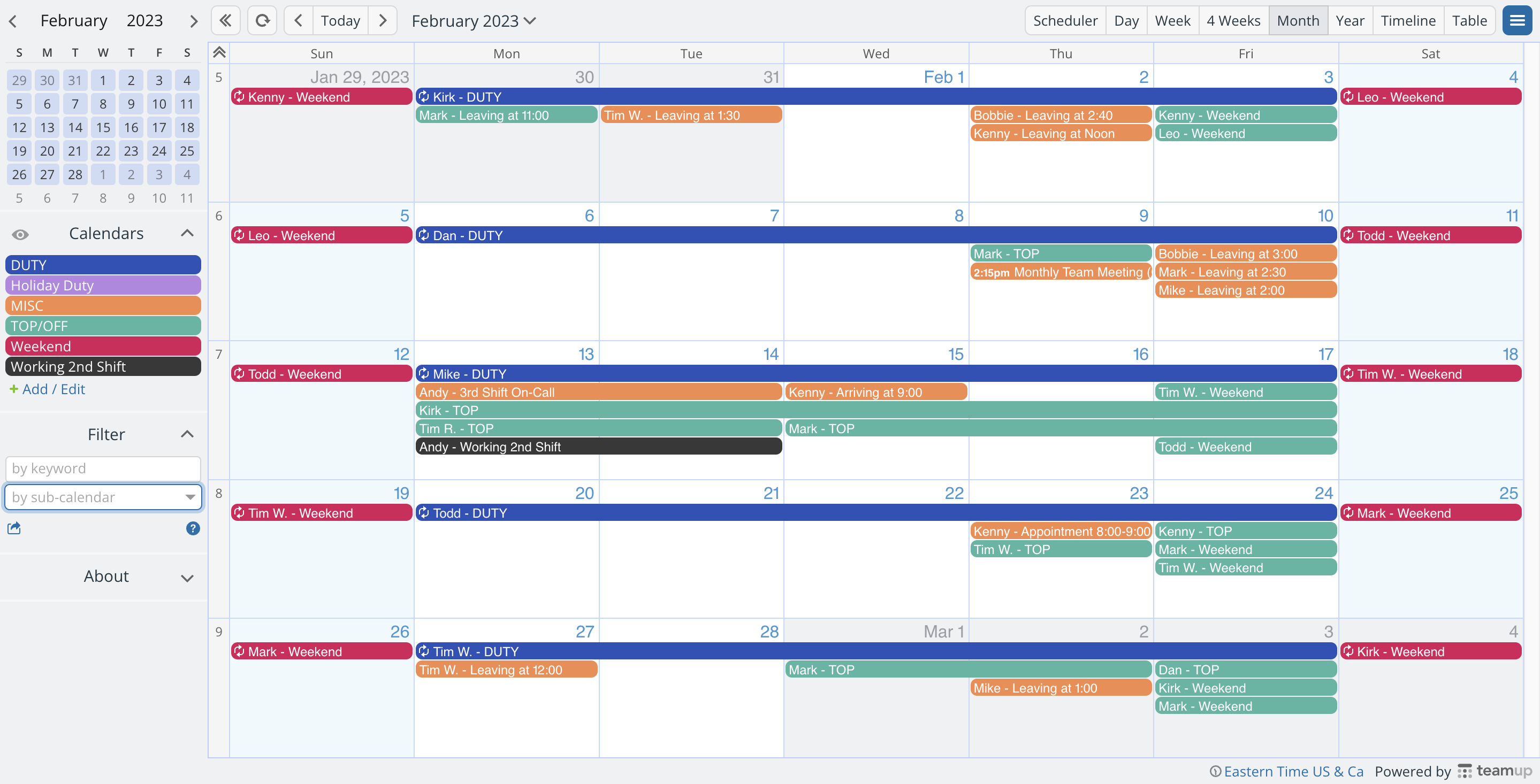 The schedule on display
The staff scheduling calendar is used to document staff time off and team meetings. They also make notes on this calendar if someone needs to leave a shift early, has an appointment, is on call, etc. Since the technicians don't regularly use computers for their work, they submit their PTO requests which Bobbie then adds to the departmental calendar. The staff calendar is posted at all times in the departmental shop area, where everyone can see it, anytime.
The calendar is less about tracking what people normally do during their scheduled work time, and more about handling the exceptions, changes, and inconsistent needs that arise. When these changes aren't documented, they create "information holes" and cause unnecessary back-and-forth. But when the information is displayed in an accessible area, everyone knows what to expect: if you know that someone is leaving early next Tuesday, you won't expect them to assist on a maintenance job that will take all of Tuesday afternoon.
Easy updates to the rotation
As maintenance department for a hospital, it's also critical to have weekend coverage to keep things running smoothly. They utilize a rotation schedule for Weekend Duty and for holidays. The rotation schedule can be set up as recurring events in Teamup, which can be easily modified if someone is unavailable or leaves the department.
"When a technician leaves the company for any reason, I love how I can go in and very easily make adjustments to that rotation schedule on our Calendar; the Teamup program is set up to make this process very easy, quick, and manageable."
Documenting repairs and maintenance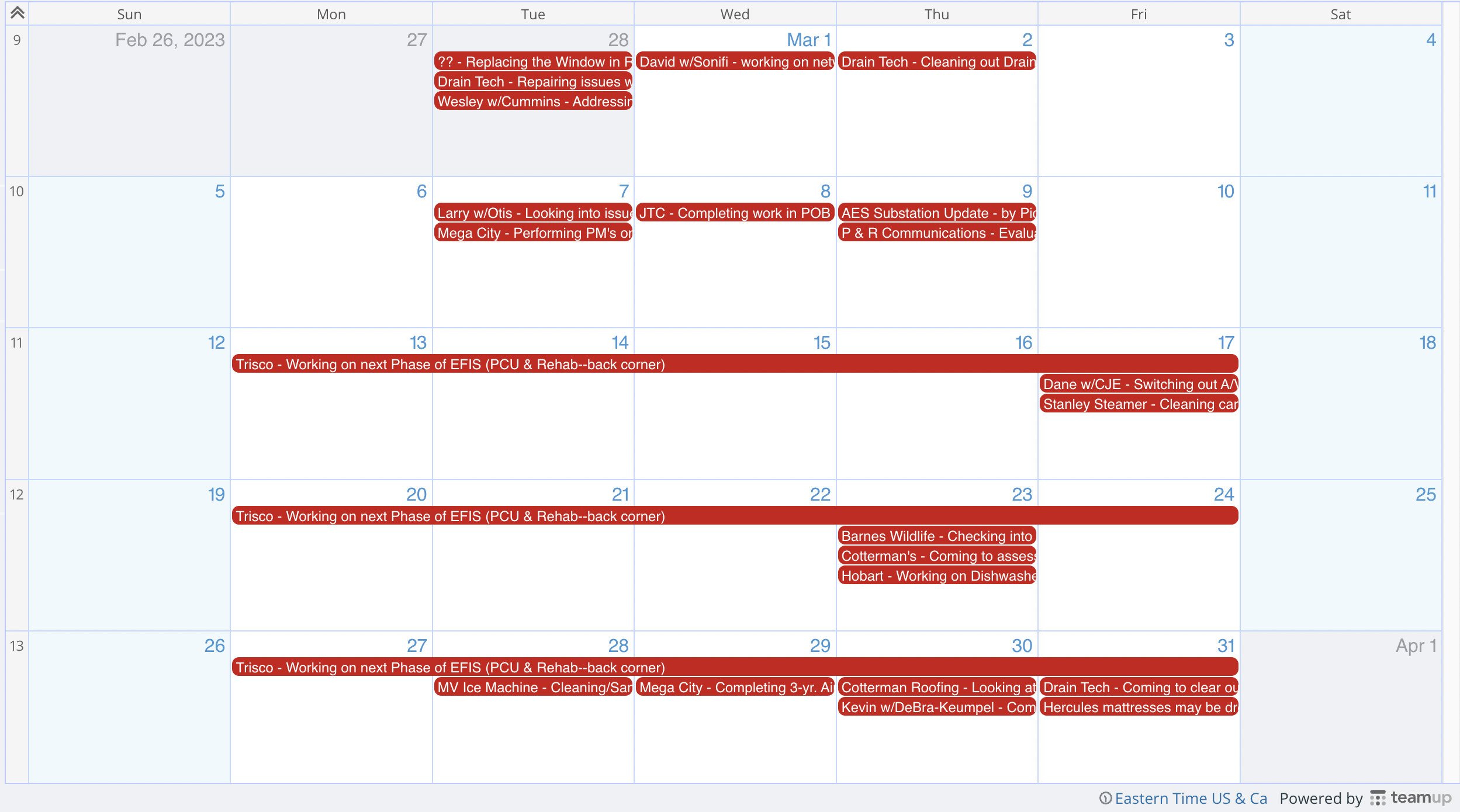 Contractor and vendor information in one place
The maintenance calendar is used to document appointments for regularly scheduled PM's (Preventative Maintenance). There are multiple contractors and vendors who come to the hospital to perform the maintenance. Many of these appointments are on a regular schedule. The team can set up a repeating event for planned maintenance; if a contractor needs to change the timing, it's no problem to quickly adjust on the calendar.
Documenting the details
All the pertinent details, notes from a call, or other information is added to the job's description. It's a central place to document what's being done, who the contact person is, and how it might affect the hospital environment. For example, repairs to the building might mean an entryway is closed off or a parking lot isn't usable until the repairs are complete. By keeping the information for each job on the calendar, the team reduces hassles and miscommunication. No matter who's there during a maintenance appointment happens, they can check the calendar for the needed info. And the team can review the notes on completed maintenance or repair events anytime.
What makes it work
Calendar display: Let crew members check their schedules anytime. Print a PDF to hang on the bulletin board, or use a shareable link with read-only permission to set up a digital calendar display.
Recurring events: Set up a rotating schedule easily with granular recurrence rules, and adjust as needed with only a couple of clicks.
Information in context: Use Teamup as a centralized hub so the relevant details are where you need them, when you need them.


Thanks, Bobbie, for sharing how you use Teamup!