Whether you're booking shared spaces, client appointments, staff schedules, or volunteer shifts, you need a reliable system. A good booking system is streamlined and secure. It should make the booking process easier for everyone. Many of our users find that Teamup is a great solution. With color-coding and filtering, you can make available resources more visible. Plus, Teamup's secure sharing options make self-booking convenient.
Different scenarios create different needs, and Teamup is both scalable and versatile. It's built for adaptable collaboration on a small or large scale. Take a look at these custom booking systems. Maybe you'll find the inspiration or idea you need!
Custom booking system examples
World Economic Forum
Media bookings at a large global event for hundreds of journalists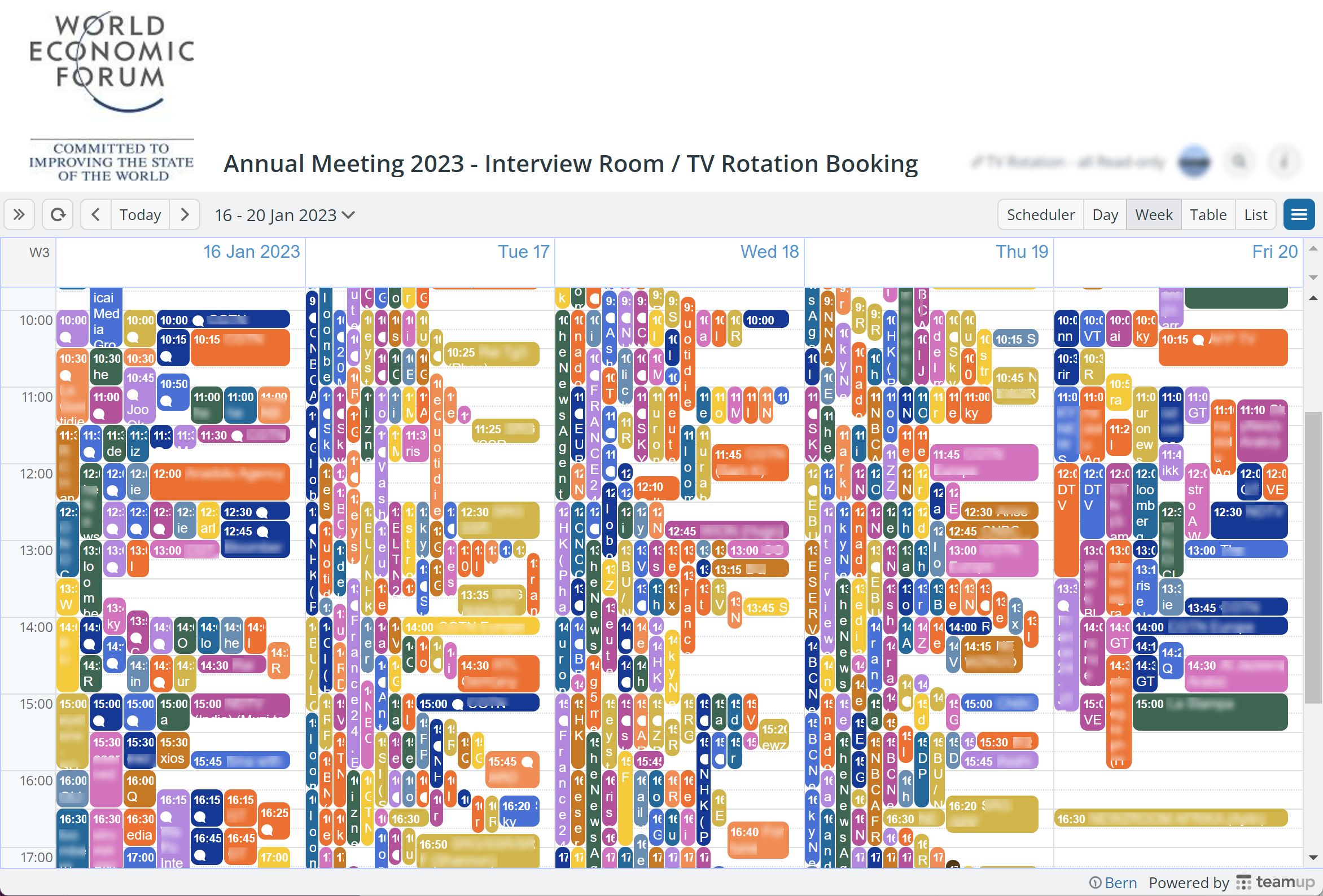 Every year, the World Economic Forum's annual meeting attracts hundreds of media organizations, including many of the most recognized global media brands. Hundreds of journalists converge to conduct live interviews with WEF participants. The WEF uses a Teamup-powered booking system which allows media crews to self-book dedicated interview rooms and request TV rotation slots. Such a complex live event means constant adjustments, high volume, and real-time demands. The booking system must be highly reliable and adaptable. Teamup has met the challenge year after year with great success. For the 2023 Annual Meeting alone, over 600 sessions were booked smoothly on Teamup throughout the five-day event.
Read more about the WEF booking system.
Evelyn music production studios
Space and resource self-booking for groups of students 
Evelyn is the music branch of Swedish study association Kulturens. They provide coaching, music production tutoring, and studio space with shared equipment. Student groups share the studio spaces, and at times may borrow the equipment that's usually available in the studios. The organization needs a way to enable groups to self-book, while notifying others if the equipment is out of the studio. They also have some guidelines (such as how long a studio session can be) to make these resources available to everyone. With Teamup, they are able to have a custom booking system that enables self-booking while encouraging students to stay within the guidelines.
Read more about studio self-booking.
On-call nanny
Individual time availability and client self-booking with confidentiality
Teamup user Haley Kate is a busy, on-call nanny who works for many families. Haley needed a calendar solution that would allow her to sort out her schedule in a way that made sense for her work. She needed to be able to share her availability with all her clients, while maintaining everyone's privacy. She set her custom booking system up to send an email notification whenever a booking is added, so she can review and confirm the time right in her calendar.
"With Teamup, I can organize my calendar by family, and my families can see when I'm busy without seeing who I'm working for, maintaining everyone's privacy! They even have the ability to book themselves into my calendar, saving me so much time answering texts when I'm busy chasing kids! I'm so glad I found TeamUp, it's changed my business!"
Read more about this custom booking system.
TripTo Car Club
Affordable, accessible booking system for community and hobby groups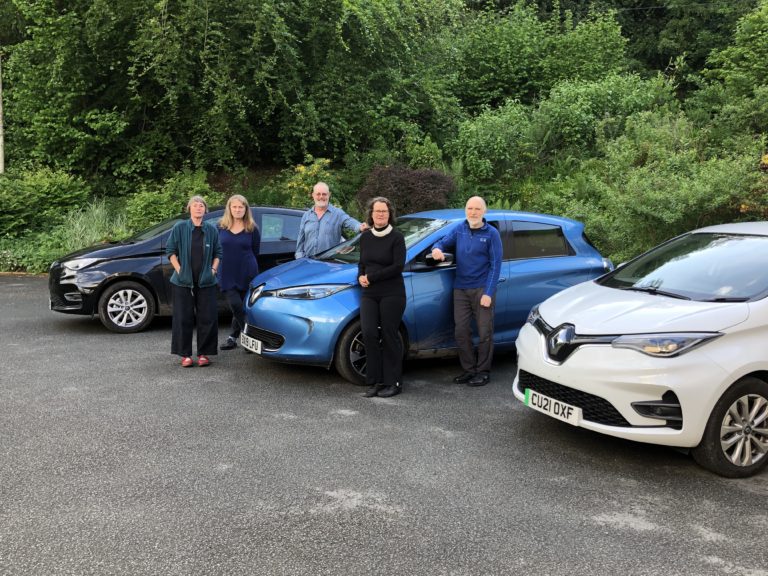 TripTo is a non-profit social enterprise bringing together several electric car clubs. Besides providing access to electric vehicles,  they are also installing local charge points so cars can be recharged when not in use. TripTo uses Teamup for efficient, secure car bookings. The customized booking system makes it easy for members to see car availability and to show their individual car requests. This visibility allows club members to be more efficient and utilize the cars optimally. We also love their helpful guide for new members, showing that Teamup is an integral part of their organization.
Read more about the TripTo booking system.
What makes Teamup work as a booking system
Here are a few of the strengths of a Teamup-powered custom booking system that makes it both powerful and flexible:
Self-booking: Make availability visible and allow clients, guests, and group members to self-book for a streamlined system that helps everyone to be more efficient. Set calendars to disallow overlapping events to easily prevent double-bookings.
Privacy: Keep booking details private. You may need to keep client information confidential, ensure privacy for team members, or allow people to see open appointment slots without seeing details from the booked slots.
Customized: Adapt the booking system to your needs with custom fields. Shared space or room bookings often involve additional details, such as multimedia or tech equipment, set up of chairs or tables, presentation needs, beverage service, catering, and more. Custom choice fields are great for standard requests, and custom text fields can handle out-of-the-ordinary needs and details.
Scalable: Use a custom booking system that works from small to large-scale. From daily operations to major events with hundreds of people making hundreds of appointments, Teamup can scale to meet the needs of each situation.
Guidelines: Set up your calendar to support the booking guidelines you have in place and encourage better use of your resources. For example, you can set up 'event slots' for a certain amount of time. Or encourage bookings within a certain or limited time range.
Making the best use of an adaptable system
Getting beyond the core strengths, here are some more ways you can improve and adapt a booking system for your needs:
Use filters to show availability with certain criteria. It's likely that people will want to filter the available spaces, appointments, facilities, or resources to focus on certain criteria. For example, they might want to see just the availability for a particular conference room, or when a certain resource is booked.
Let people sign up for open slots. The built-in event signup feature can be a great tool for the target audience to sign up or reserve a seat at an event. You can set a maximum number of signups and a signup deadline.
Require booking approval first. Some work and community scenarios benefit from an approval system in which a calendar user would submit a booking request, and then a supervisor would review and approve (or deny) these requested events.
Set up your custom booking system with Teamup
If you're ready to create your own Teamup booking system, start here with a free calendar. Want to explore with a "sandbox"? Dive into one of our live demos or take a look at the guides that match your situation: