TripTo is a forward-looking organization which brings together four Mid-Wales electric car clubs based in Llanidloes, Newtown,  Machynlleth  and Welshpool. It is a non-profit social enterprise run by and for the communities in which the group operates. As well as providing access to electric vehicles,  TripTo is also installing local electric charge points so that the cars can easily be recharged when not being used. They use Teamup for efficient, secure car bookings that keep things at the clubs running smoothly.
Shared booking calendar for club members
TripTo uses Teamup for a shared and secure booking calendar. It's an integral part of their organization. They've even created a helpful guide for new members.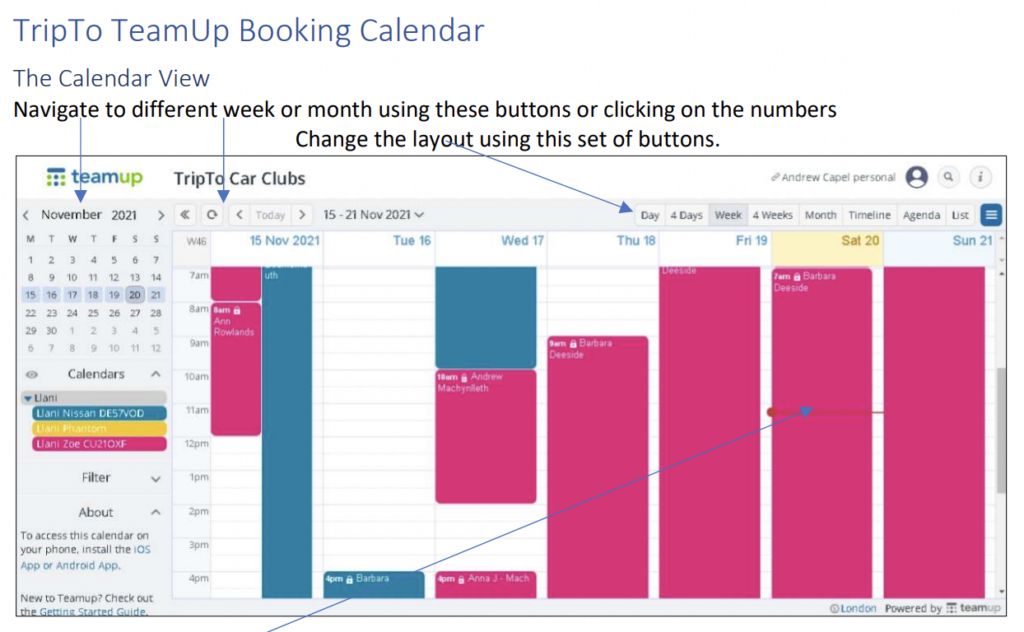 They use their Teamup calendar so members can make a car booking anytime, day or night. It's a self-contained system, and eliminates the need for review or approval of booking requests, or waiting to find out when a car might be available. Members can simply open the calendar and see the scheduled bookings and open times for each car.
One very clever idea they use is the "Phantom car" sub-calendar:
'If a car is not available when you need it, please book the Phantom. The Phantom is not a real car, it is there to indicate that someone wants a car should one become available. If we start getting frequent Phantom bookings, we know we need to consider getting an extra car."
Their efficient booking system, along with the clear and detailed communication of how to use it, enables more people to reduce their carbon footprint and transportations costs by joining a car club.
Features that make it work
We're glad to see Teamup used to help such a great idea in action.