For organizations, clubs, special interests, and more, it's helpful to have an easy way to share events with members of the community. Having a public calendar which can be easily updated and accessible helps simplify the communication, and reduce messages and questions about events. With a calendar for members, everyone can always access the latest event information, right from a smartphone or a computer.
A calendar for members that stays updated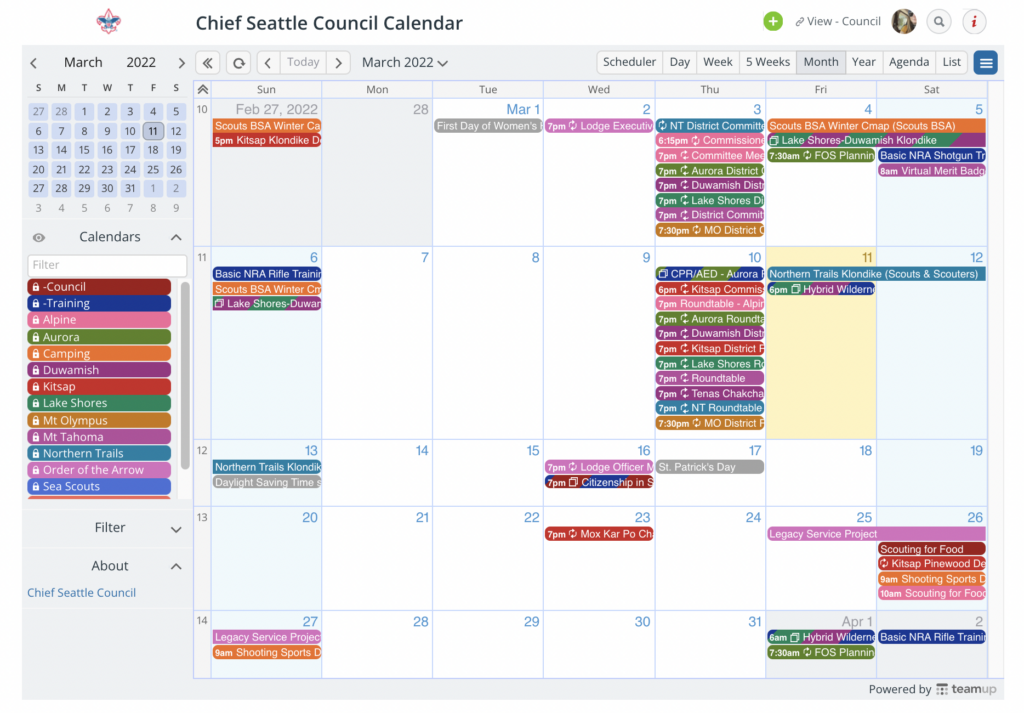 You may have tried other methods of sharing events with group members. Perhaps you've created a PDF that you put on your website or sent to the group email list. Or you may simply list the upcoming events in an email. The problem with these methods is that if the event information changes, you have to redo the PDF or send out updated information via email. If members don't check the updated file or email, they won't have accurate information about the event.
A public calendar which you can easily share with members streamlines the communication and takes much less work, especially for large communities. Since members can access the calendar anytime, they can check event details to see the latest info–no need to call the office or email with questions. All event details, such as the location map, a button to signup, and links to additional info, are all just a few taps away!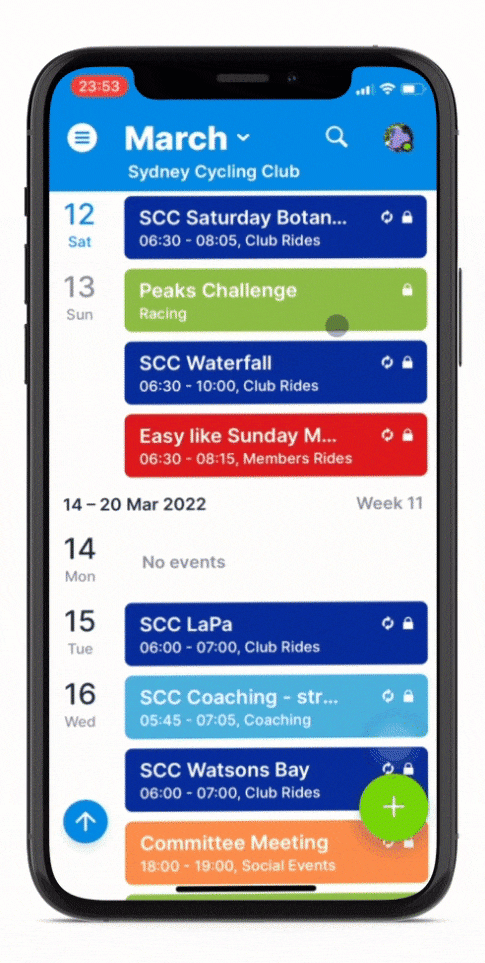 Create a community calendar
First, create a Teamup calendar (it's free!).
Next, customize your calendar:
Set up sub-calendars for the types of events you'll be sharing.
Optionally, add one or more custom fields.
Add your public events. Optionally, you can also add other, non-public events on another sub-calendar. Then you would simply choose to not share that sub-calendar in the shareable link.
Create a shareable link to share the calendar with members. Select the sub-calendars which contain public events; choose Read-only for the access level. Choose Not Shared for any sub-calendars which should remain private/internal only: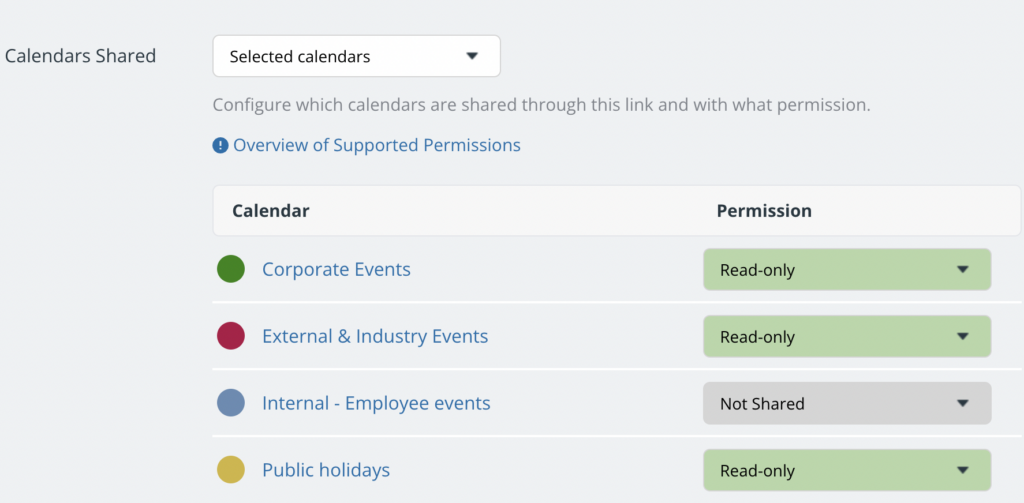 Share the calendar with members
There are several easy ways you can share the public calendar with your community members.
Share the calendar link
You can use the calendar link as you would any link: send it in an email, a social media post, or in a message. 
Embed the calendar
You can also embed the calendar into your website for easy access. Here's an example of an embedded Teamup calendar: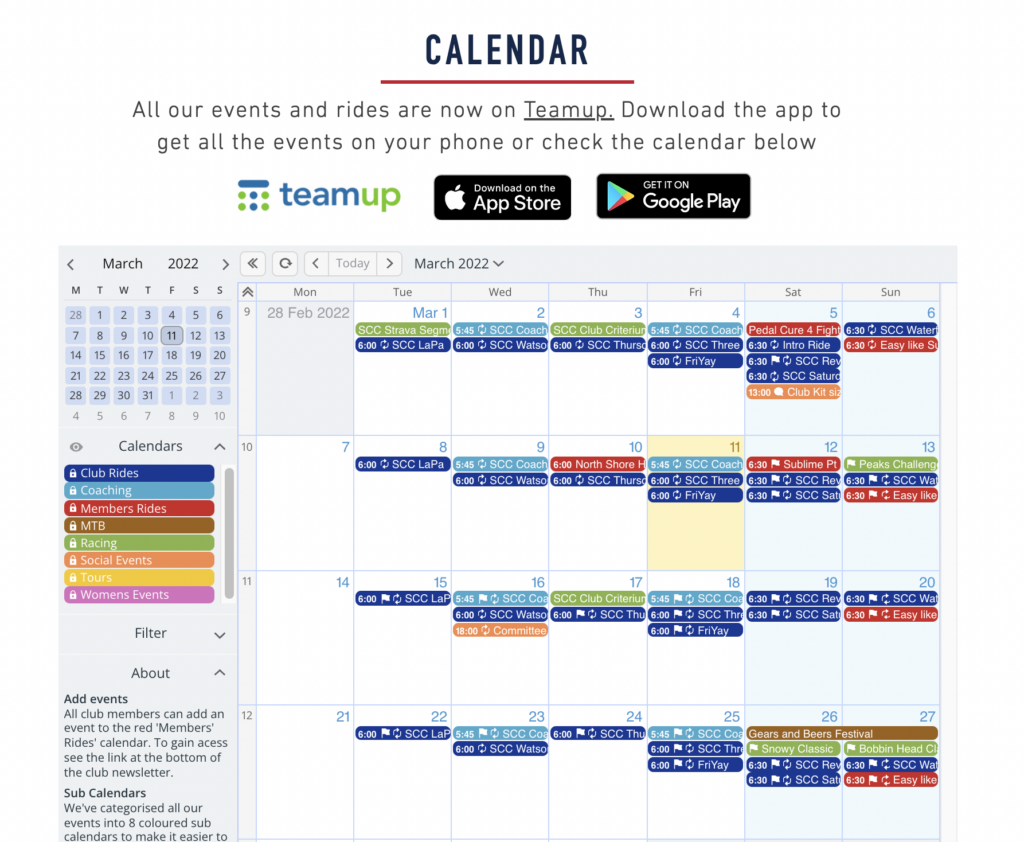 You can see the live embedded calendar of Sydney Cycling Club, and read more about their story here. Want to customize how your members see the calendar even more? You can do that by appending link parameters to the read-only link: here are some ideas to start with.
Share the calendar feed
You can also share the iCalendar feed URL of your read-only link with group members, so they can add it to their personal calendar.
Share event pages
You can also share single events as stand-alone webpages. So if you wish to promote a particular event, or share a member event with a wider group, you can do so by sharing the event page.
Share via mobile apps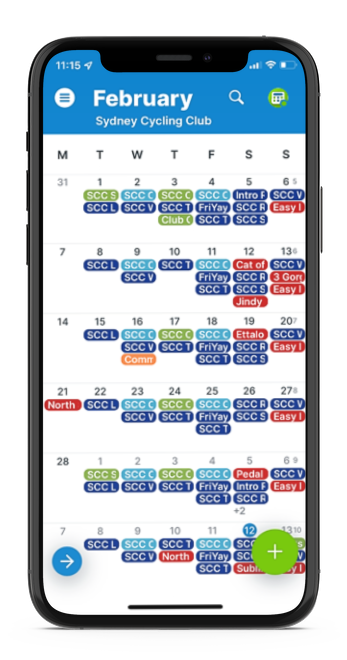 With Teamup's free mobile apps for iOS and Android, keeping community members updated wherever they are is easy. All they have to do is download the Teamup app and add the calendar link to the dashboard. They can check the community's public calendar anytime to see the latest event info.
Community coordinators and event organizers can also use the mobile app to update events on-the-go. It's easy to update important changes or add helpful, last-minute information such as road conditions or best places to park. 
There's a lot more to Teamup that makes it perfect for a shared public calendar, from filters to signups to custom fields (and more). It's useful for small and large communities.
Ready to dive in? Create your own Teamup calendar here, or see more live, embedded calendars to get inspired.