How does one of the biggest cycling clubs in Australia keep its members updated? With hundreds of members, weekly rides, and lots of events, it's a challenge. With an embedded Teamup calendar, they've found an efficient way to keep everyone updated on the latest info.
About the Sydney Cycling Club
The Sydney Cycling Club has a long and accomplished history. Founded in 1978 by Don Beavis, over the last 40+ years the club has grown to almost 500 members. Though pandemic conditions meant pausing all events and rides for months, the group has stayed connected and supportive. As one of the largest and most welcoming clubs in Sydney, SCC encourages safe bunch riding and endeavours to be inclusive and help develop members through coaching, skills improvement, racing and mateship.
The Challenge
A busy cycling club with hundreds of members and lots of events takes a lot of organization. Here are just a few of the events and activities available to SCC members:
Club rides 6 days a week
Regular skills coaching throughout the year
Women's development & women's only rides
Ride for a Reason (R4R) annual charity ride
Subsidised tours
Mountain bike and gravel rides
Access & support for races
Regular social events
The SCC committee needed an efficient way to share events and keep members updated. They were using a combination of calendars and social media. It was confusing for members, who weren't sure where to check for the latest updates. And it was time-consuming for volunteers to update multiple platforms.
The Solution
SCC needs one central calendar where all members can easily get the most updated information on all events. It needs to be user-friendly and secure. SCC also wants it to be available on their website. An embedded Teamup calendar is the perfect solution: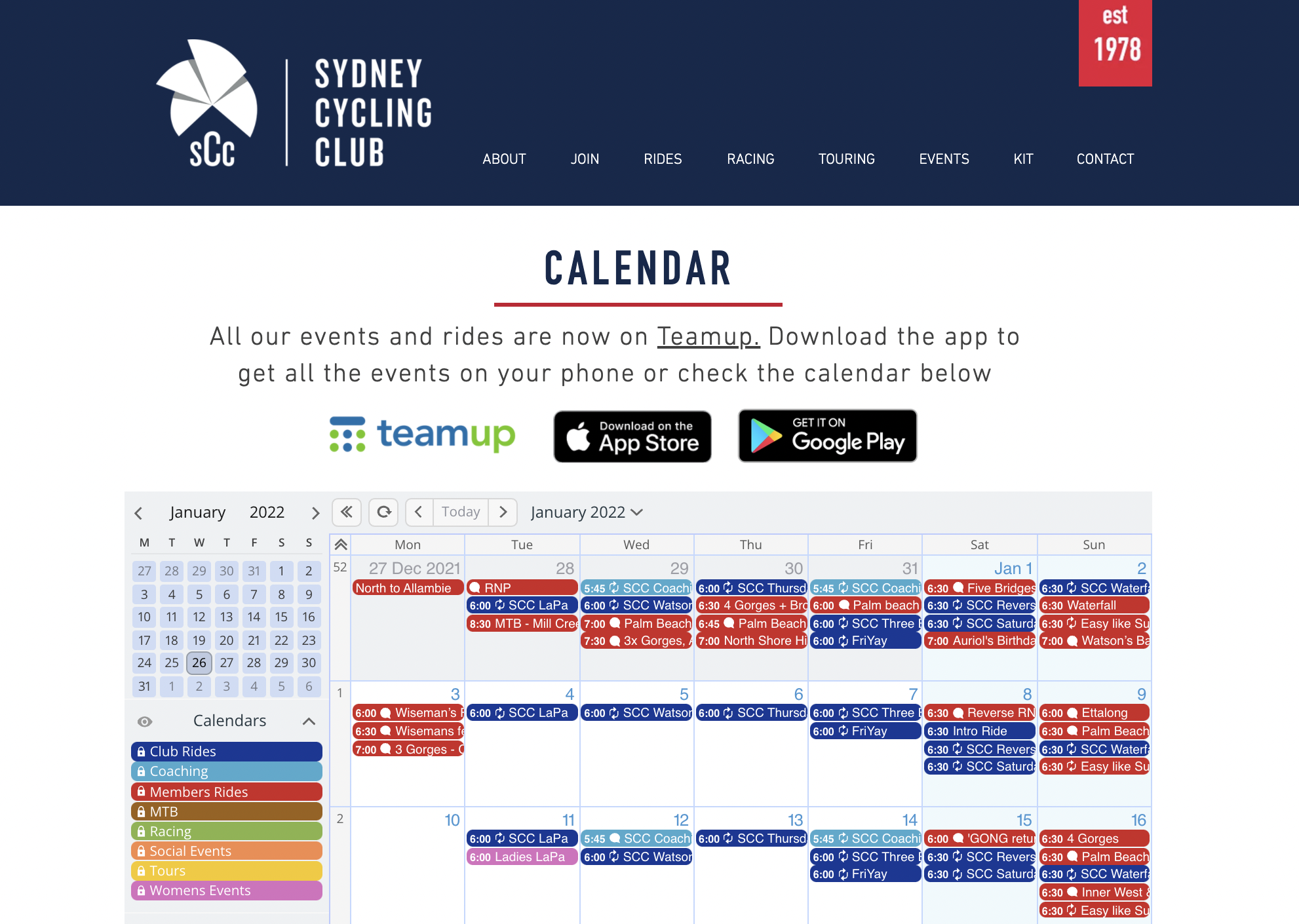 With a Teamup calendar, SCC can provide secure calendar access from their website. Members can check in on event details. Prospective members can see what the club is all about. Volunteers can quickly add or update events in the Teamup calendar, and everyone stays synced with the latest info. It's secure and intuitive (plus it looks great).
What makes it work
Here are the Teamup features that make it all work for Sydney Cycling Club:
See the SCC embedded calendar on their website. Interested in trying it out for your group, organization, or team? Create a calendar or check out the gallery of live embedded calendars for more inspiration.