Managing construction equipment rentals is a job with two parts. The first part is scheduling the equipment, whether it's being rented to a customer or used by crew members. The second part of the job is making sure that the equipment is in good working order. It needs to be maintained well and repaired as needed. Teamup can help make the whole process easier for a more efficient operation.
What it takes to schedule equipment rentals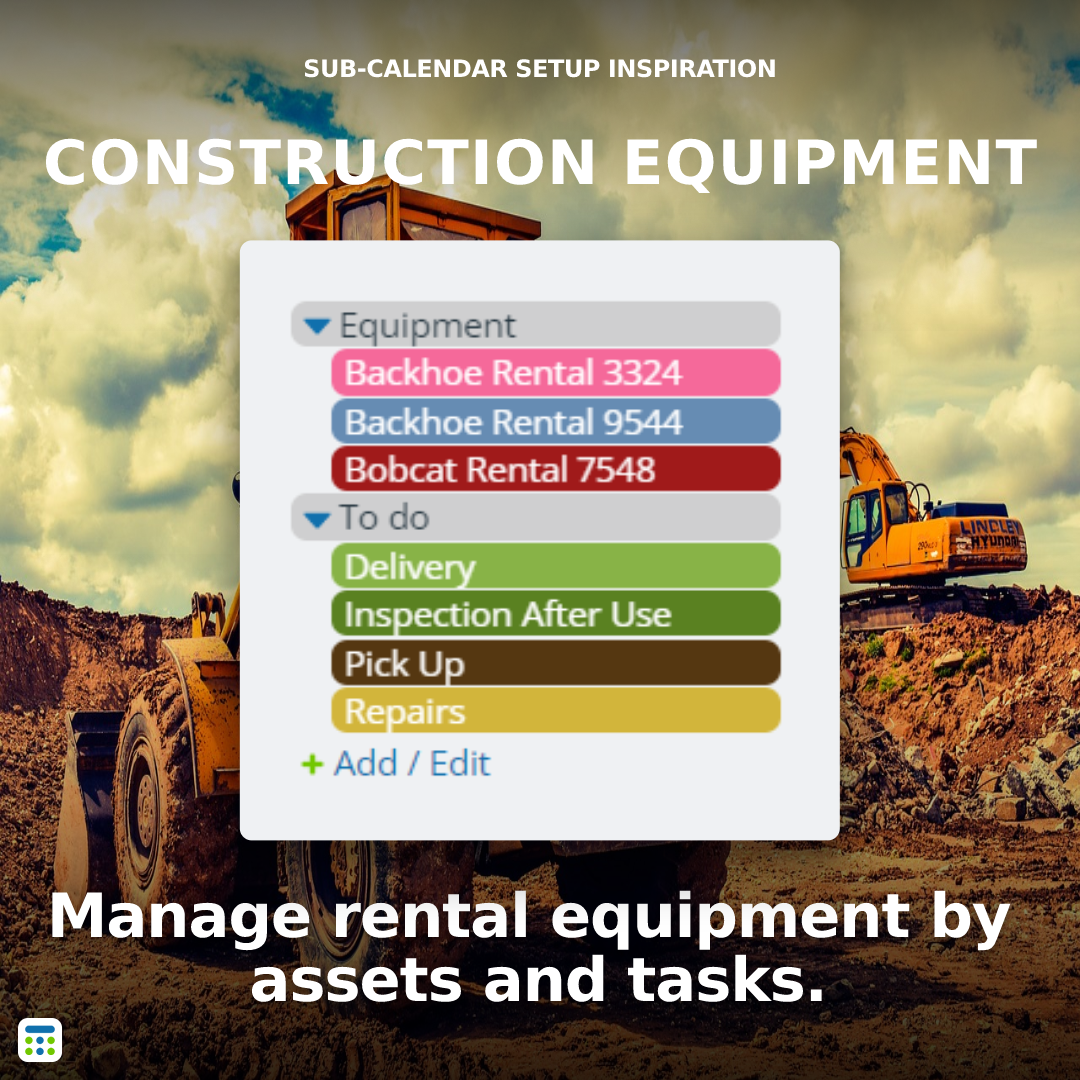 There's a lot involved in the job. You need to schedule rentals, manage construction equipment, and make sure that the equipment stays in great shape and is a profitable investment:
Inventory and tracking: know what's available, what's on site, and how long a piece of equipment will be out before another crew can use it.
Delivery and pickup scheduling: know when you'll need a truck and trailer to get equipment from site to shop and back again.
Schedule crew use: split equipment use between rentals and your own crew. Without a plan, work at one site can be held up for days.
Schedule rental use: maximize rental use to stay profitable. With a good scheduling system, the planned maintenance gets done before the customer shows up.
Proper training and certifications: track which crew members are trained and available for different types of equipment. Plan time for training and keep certifications updated so your crew is equipped.
Inspection and maintenance: schedule preventative maintenance and thorough inspections after rental use or crew use to keep minor dings from turning into major damage.
Repairs or replacements: keep track of repairs and note how long equipment will be unavailable. You can also plan out when to purchase replacements to reduce downtime.
Use and profitability: ensure that you're booking enough rental hours to offset the purchase cost of the equipment, ongoing maintenance, and any needed repairs.
Different solutions, different pains
For a construction fleet, typical solutions for equipment management are Google calendars, Excel spreadsheets, or customized computer software. Or sometimes, it's an expensive and inefficient combination:
Customized software is expensive, but that doesn't mean it's intuitive, flexible, or powerful enough.
Google calendars are free but limited in the functionality and customization needed.
Excel spreadsheets can do a lot, but they're extremely time-consuming and leave lots of room for error.
A better way to manage equipment rentals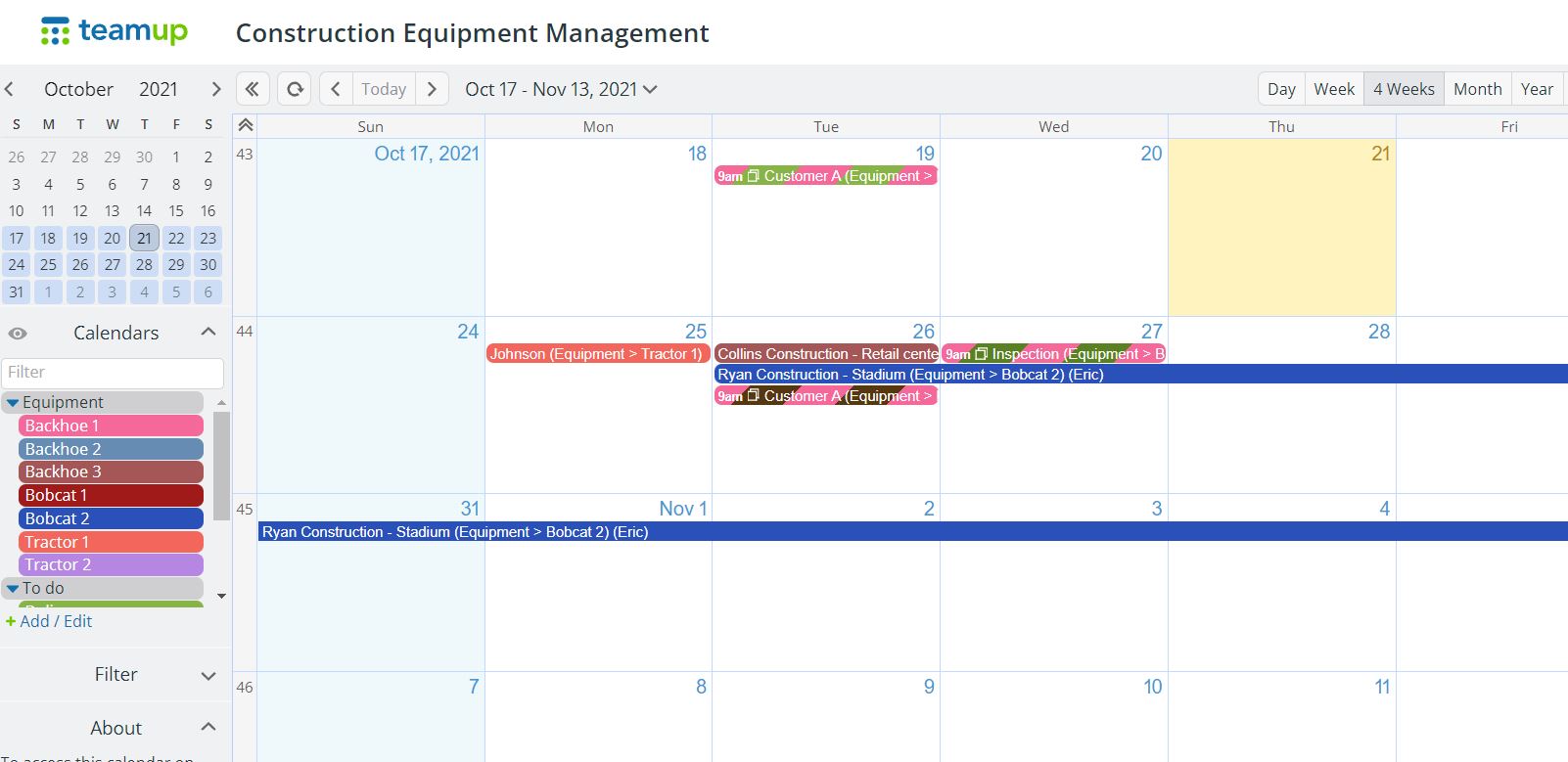 With a Teamup calendar, you can keep track of the details and see the big picture. Let's take a look at how it might work for your operation:
Create a calendar for each piece of equipment. Track rentals, schedules, repairs, maintenance, and crew use. Log use from the hour-meter so equipment doesn't miss needed maintenance. Plan the week and month, and easily adjust scheduling with drag-and-drop events.

Set up an easy way to track each important task and status. Ensure that post-use inspection is always completed and that there's a single place to find notes, photos, and documentation. Schedule every aspect of rental management and equipment use in one place, where you can see details and get the big picture.

Give the service manager secure access to the calendar for scheduling maintenance and repairs and reviewing notes on any piece of equipment. Eliminate the frustration of back-and-forth texting, phone calls, emails, and conversations. Put all the information in one place, with secure access to the right people. Everyone can do their jobs more efficiently.
Give the drivers secure and limited access to the calendar for site information. Use the Where field for a clickable address that opens up in a map on the driver's phone. Drivers can use comments to log the delivery time, site conditions, and even add photos.
Filter the calendar to see the history of any particular piece of equipment. This will bring a whole new level of insight and efficiency to your operation. Track how often attachments are used, when repairs were made, which customers rent the same equipment over and over, and more. Plan for needed maintenance proactively to avoid costly repairs, and keep track of usage, maintenance, and repair history over the lifetime of the equipment.
Always know where a particular piece of equipment is and be able to check the status of any task, delivery, or inspection. Teamup's mobile apps (for iOS and Android) are fully functional and free. Everyone from office staff to service manager to drivers can stay updated–and keep everyone else updated–no matter where they are or what they're doing.
Handle those last-minute changes with less hassle. You know they're going to happen–it's just part of the construction industry. With Teamup, you can see what's available, what's scheduled, and how to rearrange things in the most efficient way. Drag-and-drop events for easy schedule adjustments. Multiple calendar views, from Multi-day to Timeline, let you get the details or overview you need in the moment.
Ready to see how a Teamup calendar could make it easier to schedule rentals and manage construction equipment for you and your team? Check out our live demos for an interactive preview, or create your own Teamup calendar and get started with the help of these video tutorials.