Remote work has become the norm for many. While it has a lot of benefits, working remotely also brings some unique challenges. It can be tough to draw lines between work and personal life. Endless Zoom meetings can eat up productive hours, but you may not feel comfortable saying No–what if you miss something important? Communication is difficult and, without personal interaction, both employees and supervisors may feel insecure and isolated. A work journal can minimize some of these remote work challenges and make remote work easier and less stressful.
Remote work challenges and pains
Many of the pains of remote work are caused by the loss of casual verbal communication and visual cues. You can't stop by a coworker's desk, glance over at an employee, or hold up that document for your supervisor. The casual, automatic ways we check in and 'read the room' aren't available with remote work. You have to make an effort and ask things directly, which causes more interruptions and can feel rude, invasive, and controlling.
But the communication needs to happen:
Employees need to know what the highest priority is for the day or week.
Project leaders need to know about issues and changes to the timeline.
Supervisors need to know that workers are on track (or not).
Coworkers need updates on shared areas and tasks.
While a messaging app like Slack can help, the relevant work messages are likely scattered across multiple channels. The info you need gets lost quickly in a stream of group postings. It's almost impossible to get only the relevant information about your work on one page! If that's what you want, let Teamup help.
Easier communication with a work journal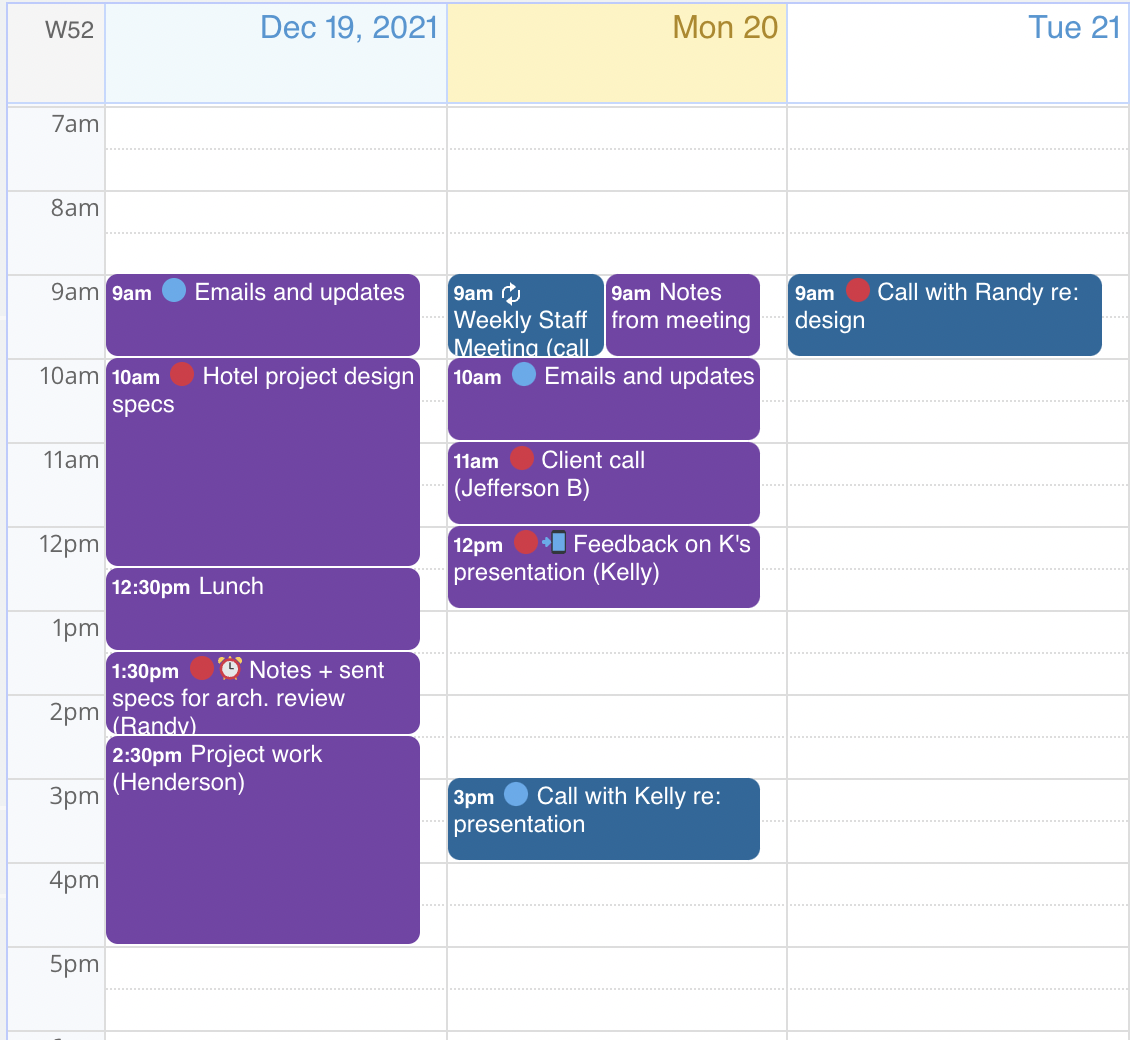 A work journal can be a place where this type of communication happens, . With Teamup, you can create a shared calendar to use as a work journal. Use the work journal to keep track of your tasks, deadlines, progress, issues, and so on. Add notes. Link to key documents. Upload images. And share the work journal with anyone who needs access to what you're doing: supervisors, team members, coworkers, employees.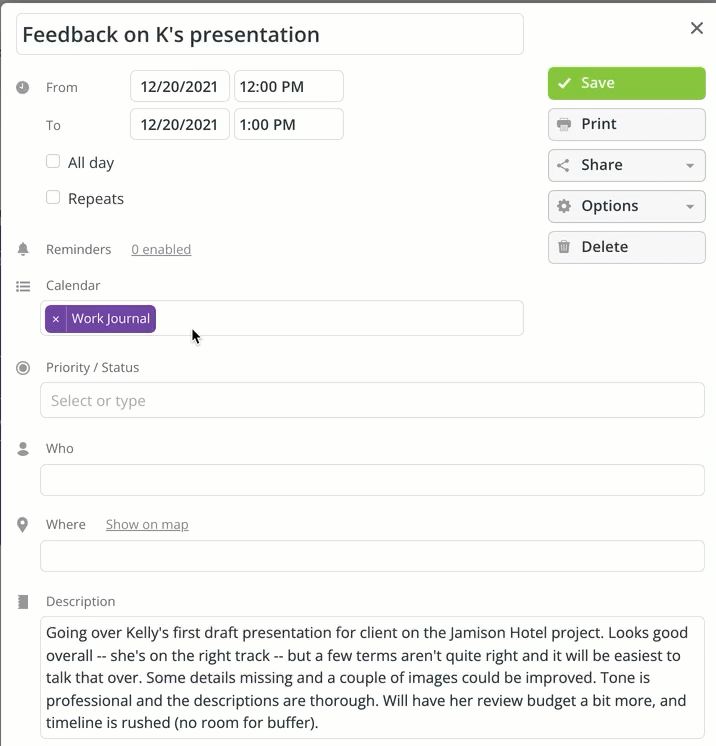 You can give customized, limited access to the people who need it, and spend less time responding to emails and answering questions. It's a way to be transparent without feeling controlled and to check in without being invasive. And, if you make notes throughout your day, you'll always know where you left off. You can search the calendar to find your notes about any task or project.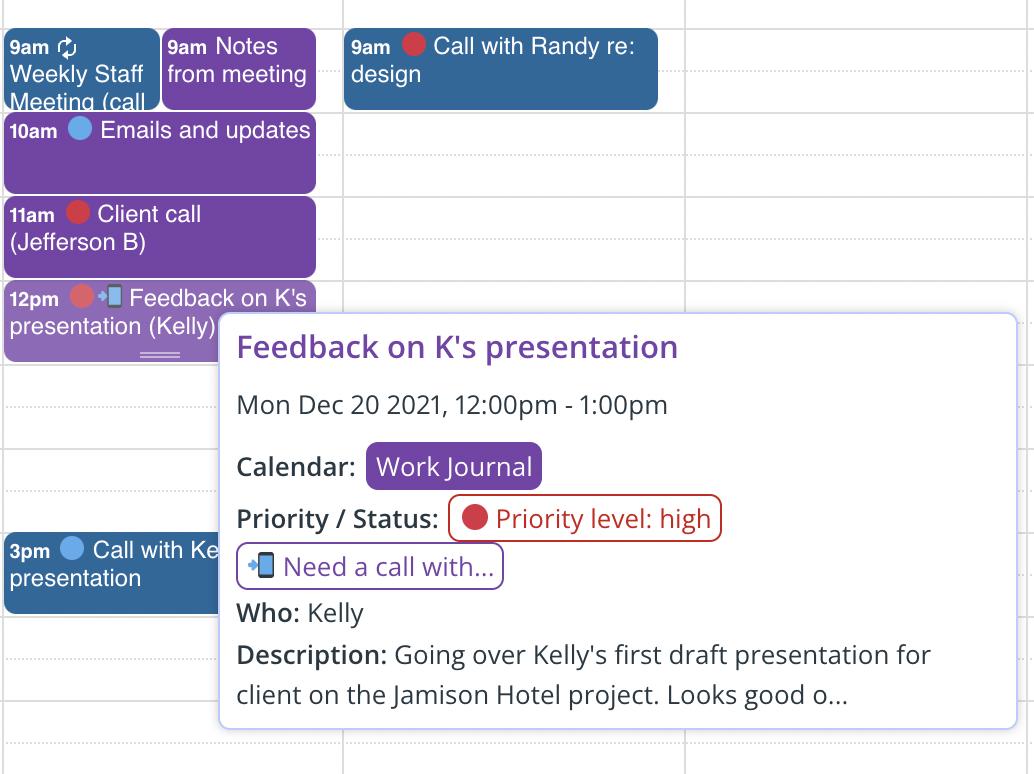 Using a work journal not only helps makes your work more visible to others, it can also help you stay focused and more productive. At the end of the week, look back and see your progress. You'll be able to prioritize your time better, collaborate openly, maintain trust, and communicate with context. Ready to get started? Create a free calendar and start your own work journal today.