Have you ever scheduled a big meeting the same afternoon your kids only have a half-day at school? If so, you know the pain of double-booking your work and personal life. The same thing can happen when managing multiple clients or projects. Or when working with different teams and contractors. Without a unified calendar showing all time-bound tasks, you'll have scheduling conflicts. Here's how to use the Trello Calendar Power-Up with Teamup to get the overview you need.
Many boards, many Trello Calendar Power-Ups
If you're a Trello user, you know what a powerful tool it can be. Automations, integrations, power-ups, organization, and collaboration: it's all there. You can create a board for every project, team, or area. And you can use multiple Trello boards for a super-flexible workflow.
The Trello Calendar Power-Up (which is now available for all users, thanks to a new pricing model) is very popular. It's easy to see why. Seeing cards in a calendar view is the ideal way to plan timelines. It helps to avoid bottlenecks due to conflicting deadlines. There's just one problem. The calendar power-up doesn't let you see the calendars from all your Trello boards in a single view.
Without a unified calendar view, you're limited. You need an overview to efficiently manage all the tasks. Without an unified view, you have to tab back and forth between different boards. Or you open multiple windows to see all the calendar data at once. That's a frustrating way to work. And it's easy to overlook something.
Even if you keep all your work-related tasks on one board, you don't have the ability to compare important personal dates and events with major work tasks, meetings, and deadlines.
Fortunately, there's a great solution to this problem with Teamup.
A single Teamup calendar for all Trello boards
With Teamup, you can easily and automatically funnel all your Trello calendar cards into a single, combined calendar view. It's a quick setup:
Enable the iCalendar feed on your Trello board and copy the iCal feed URL.
On your Teamup calendar, add the iCal feed as an inbound iCalendar feed.
Repeat for each Trello board.
The calendar data from your Trello boards is synced automatically into a single, color-coded Teamup calendar, with one sub-calendar for each board. You can add as many boards to the calendar as needed. For up to 8 boards on one Teamup calendar, it's completely free!
Having more boards? No problem. Simply scale your sub-calendars on Teamup just like you keep adding more boards on Trello.
Now you have what the Calendar Power-Up is missing: an overview calendar showing all cards with due dates, from all your Trello boards.
Let's take a look.
The Trello Calendar Power-Up in action with Teamup
When the Calendar Power-Up is enabled, you'll typically view the card due dates for that Trello board in a calendar grid. You can also see the due dates on each card in board view (unless the card doesn't have a due date assigned).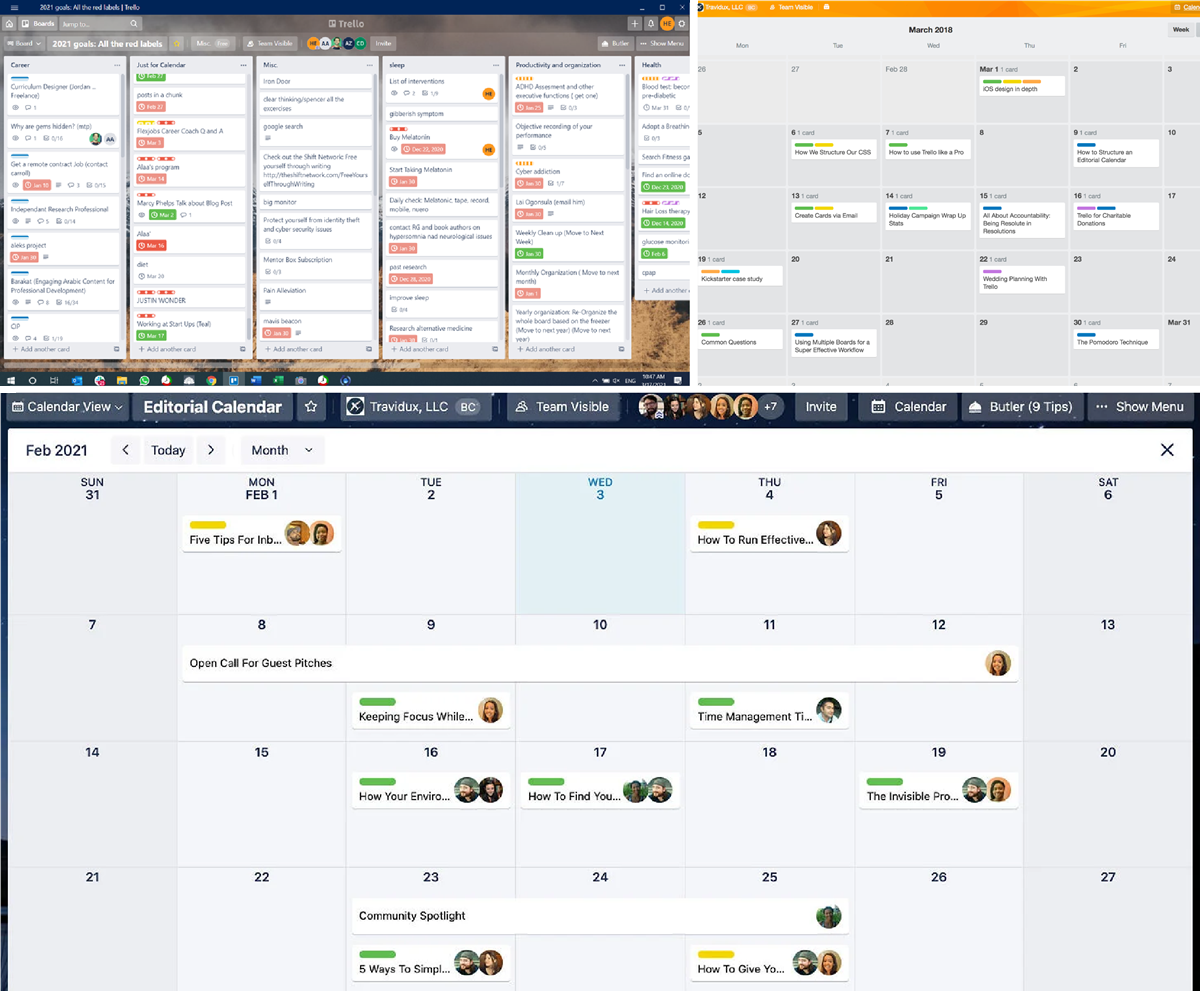 When due dates from these boards are funneled into a single Teamup calendar, you get a single calendar view. Each feed refreshes automatically. Your unified calendar view stays updated when you change a due date on your Trello board.
Each color-coded sub-calendar on Teamup can be toggled independently: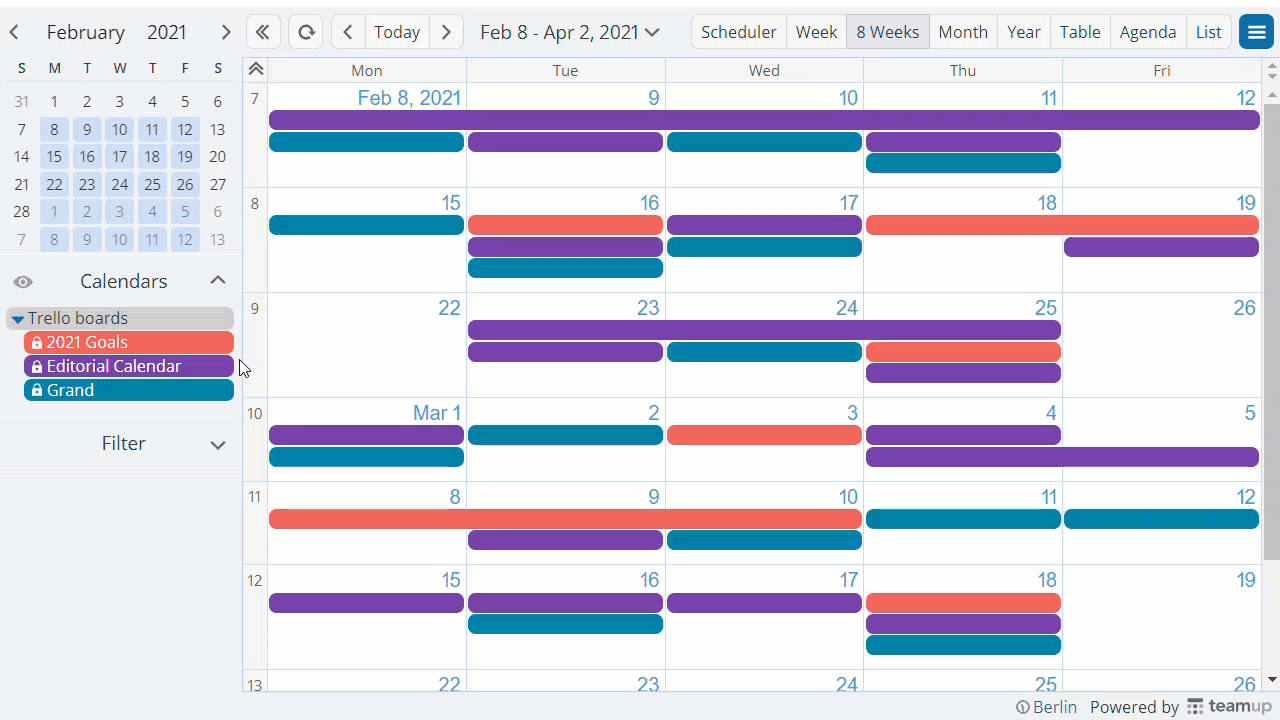 Now it's easy to see all the different cards with due dates in one place.
Working with different calendar views
Teamup's 11 calendar layout options–including the unique year view and the table view–allow you to see all due dates within the time frame of your choice. Maybe it's an overview of the whole year at a glance. Or, stay focused on the current day or week. The powerful filtering options open up many ways to gain context-specific insights.
Here's another example of keeping track of product release dates in the unique Table view: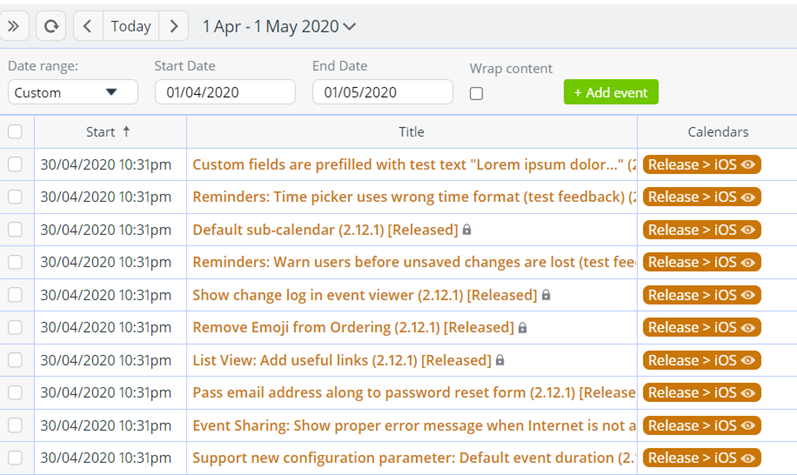 You can also take advantage of Teamup's built-in features to get even more from your overview calendar:
See this post for detailed instructions to set up a Teamup overview calendar and see all your Trello calendar power-up data in one place.
The outcome: life is easier and work is more efficient
Organizing different areas, projects, and teams into separate boards makes a lot of sense. Otherwise, there's too much information in one place. Details get lost. Everyone gets overwhelmed.
However, the truth is that no project or team exists in a silo. When one team hits a bottleneck, it impacts the whole project. When a meeting is canceled, a decision isn't made, or a client forgets to send that information, there's often a cascade of effects across many areas. Seeing it all in one place makes it easy to predict, prevent, and manage those effects. Sometimes the best you can do is dampen the repercussions of things you can't control.
With a unified view, you can also make better proactive calls about deadlines and priorities. Maybe Team A has a big deadline on Friday. You'll need to be available to put out fires and help them meet that deadline. So, you won't schedule client meetings all day Thursday.
You can see the big picture across all your boards. No more tabbing back and forth, getting confused, and missing important dates and tasks. With Teamup and Trello working together, you get a high-level calendar overview for all boards, and the ability to zoom in on a single board's details, at the same time. Teamup gives you the big picture, and Trello gives you the close-up view.