You can start with creating a new free calendar, or simply reconfigure a calendar you already have. Do you see a Welcome calendar that isn't being used on the dashboard when you login to your Teamup account? If so, make use of it. Besides saying welcome and a few quick tips to help you get started, the Welcome calendar is there for your personal use. You are the calendar administrator, and you have the full power to reconfigure any Settings and make it truly personal.
It's easy to turn your Welcome calendar into your personal Habit Journal for tracking your daily habits such as exercise, eating healthy food, or reading. With a few quick adjustments in the calendar Settings, you will have a simple yet powerful personal habit tracker accessible at any time and synched across all your digital devices.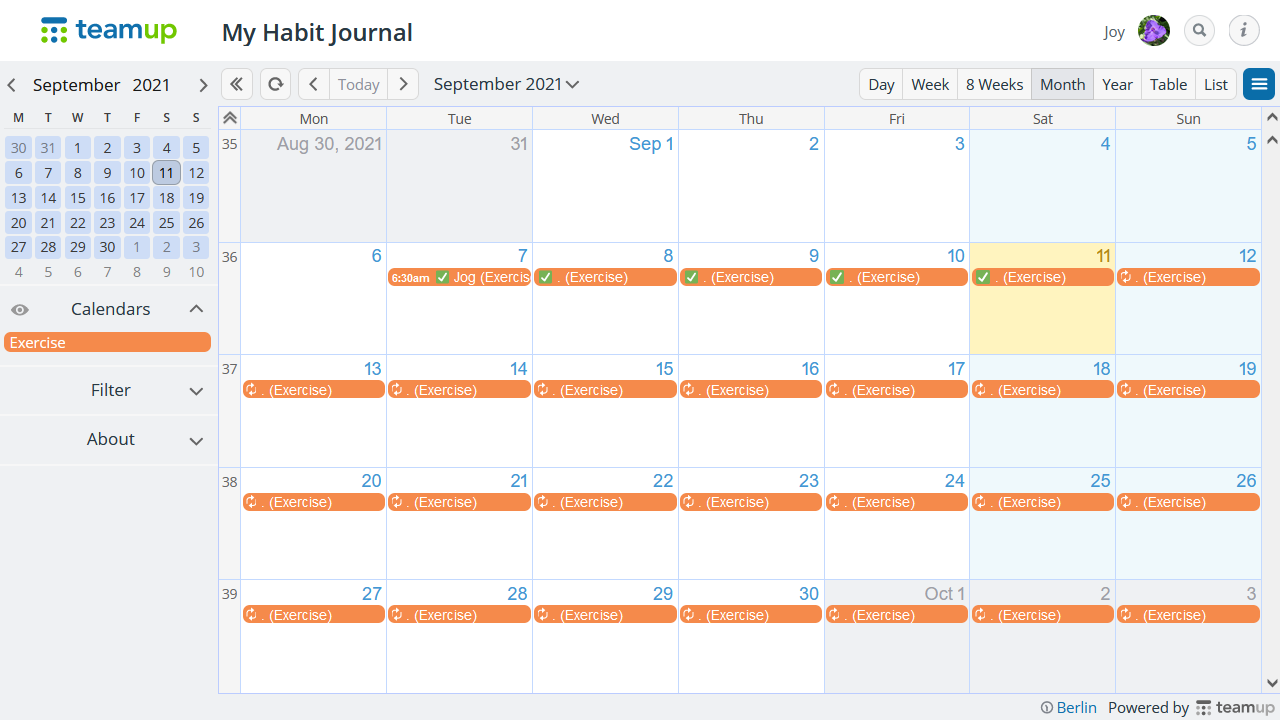 The Make Over
To turn your Welcome calendar or a new calendar you just created into your personal habit journal, consider the following changes in your calendar Settings:
Rename the sub-calendars in Settings > Calendars to the habits you want to track and choose the colors for each as you wish. For a simple start, track one habit only and deactivate all the other sub-calendars.
Rename the calendar title from Welcome Calendar to a more meaningful one, e.g. My Habit Journal. Do so in Settings > Identity.
Create a custom field to show the status of your habit tracker, e.g. a choice field with the option "I did it". Assign an emoji and let it show in the event title.
Create recurring events as the placeholder for your daily habits. You can leave the event title empty and set to display the habit calendar name in the event title.  The recurring events can serve as a visual reminder on your calendar at the interval you wish.
If you wish to use the journal to track multiple habits, it's easy to add more sub-calendars, assign one for each habit you want to keep tracking of. That's all you need to do to start journaling on your Teamup calendar.
Here's an example of tracking three habits:
Exercise
Eating healthy food
Reading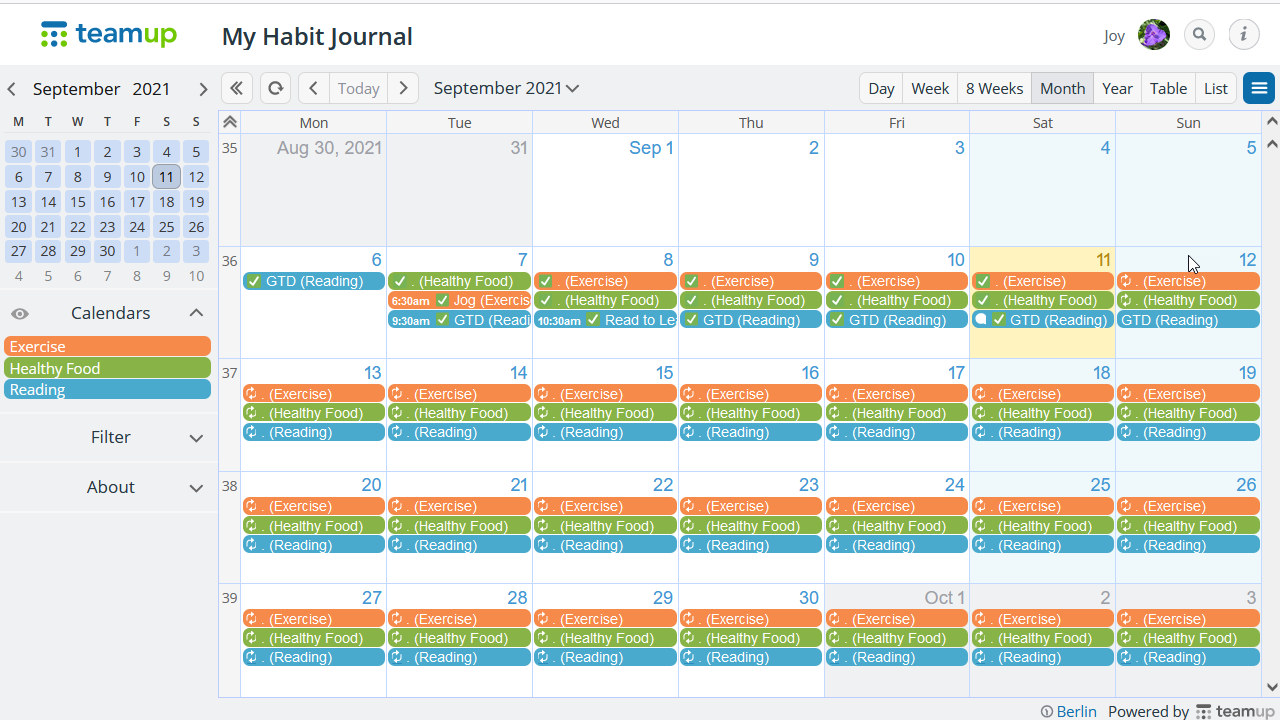 With a free Teamup calendar, you can use up to 8 sub-calendars and 1 custom field. That's all you need for a simple and free habit tracker. If you are a power user, there are many more details you can optimize in the calendar Settings to fine tune your journal setup, or even upgrade to upload pictures if you wish.
Journaling on a mobile device
Teamup is not only a digital tool. It is Software as a Service accessible anywhere anytime with a web browser on any connected computer. If you carry a smartphone most of the time, why not updating the habit status right on your phone! With Teamup's iOS app or Android app, you can easily do so regardless of where you are. All updates are instantly synced to all your devices.
5 taps to track your habits
Tap today's placeholder event in the List view or the Month view
Tap the edit button in the lower right hand corner
Tap the Habit Tracker field
Select "I did it" and tap the check icon in the top right hand to save
Tap the check icon in the top right hand again and selecte This event only to save the event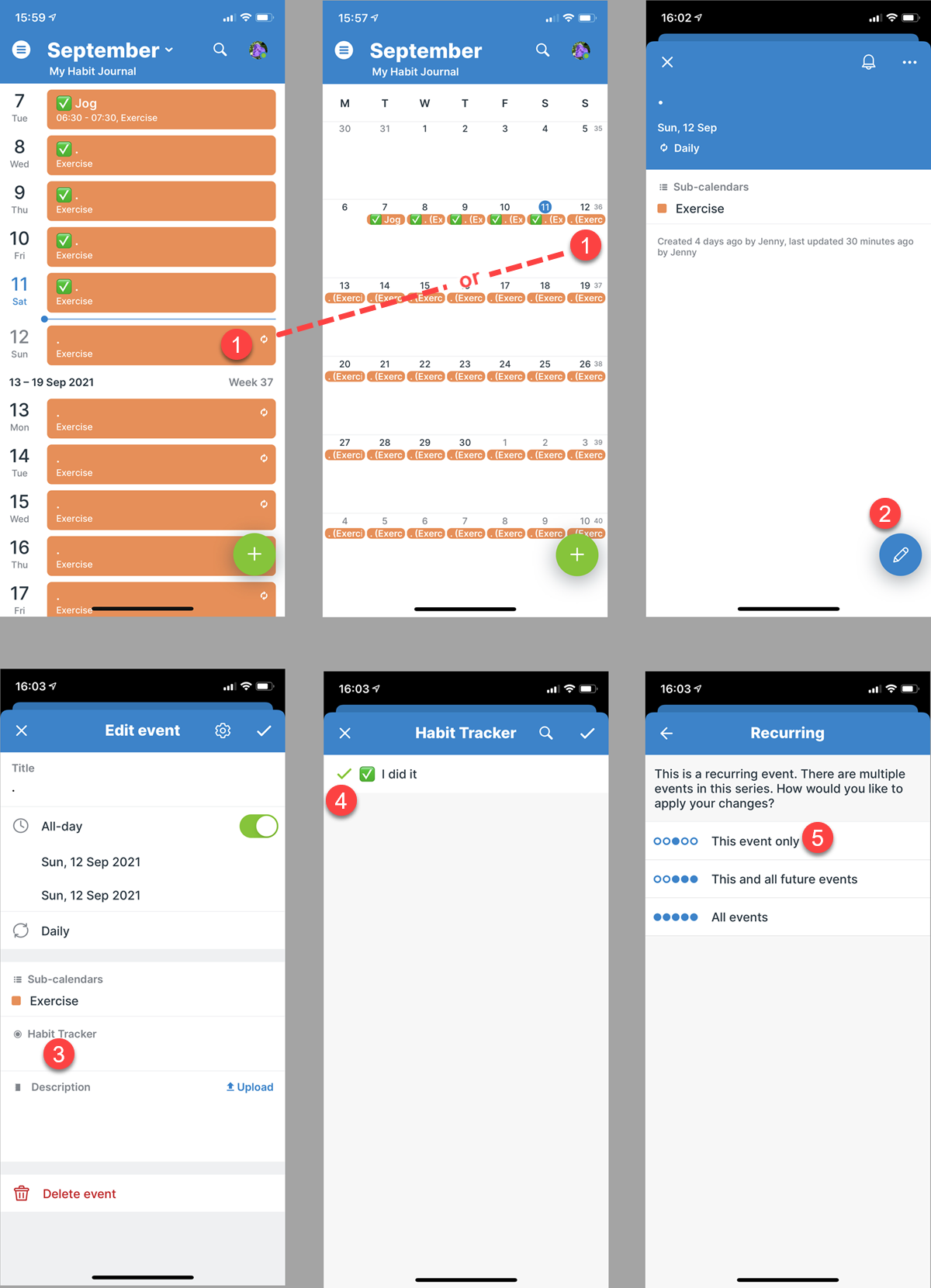 For power users
Unlike the simplistic approach with 5 taps, Teamup offers expandable space – more than any journal entry may ever need – for you to capture the details of what you experience, be it words or pictures, at length. A special moment you don't want to let elapse? Take a picture and include it in your journal! Is that something on a piece of paper important to not leave out? Using your camera to capture it and add to your journal! Here an example: These beautiful pictures taken from a morning run were added to the day's Exercise journal, right from an iPhone. Reading a Kindle book? Keep your reading notes right in the journal.
Don't Break the Chain
Building habits takes time. One piece of widely shared advice is best expresssed in Jerry Seinfeld's Don't Break the Chain method. However, instead of tracking on an annual calendar printed on a piece of paper, the habit journal you can easily do with Teamup offers a simple digital alternative to help you not break the chain: Switch to the Year view or any period of interest, then filter by "I did it" on your Habit Journal to show the days you "did it", as shown below: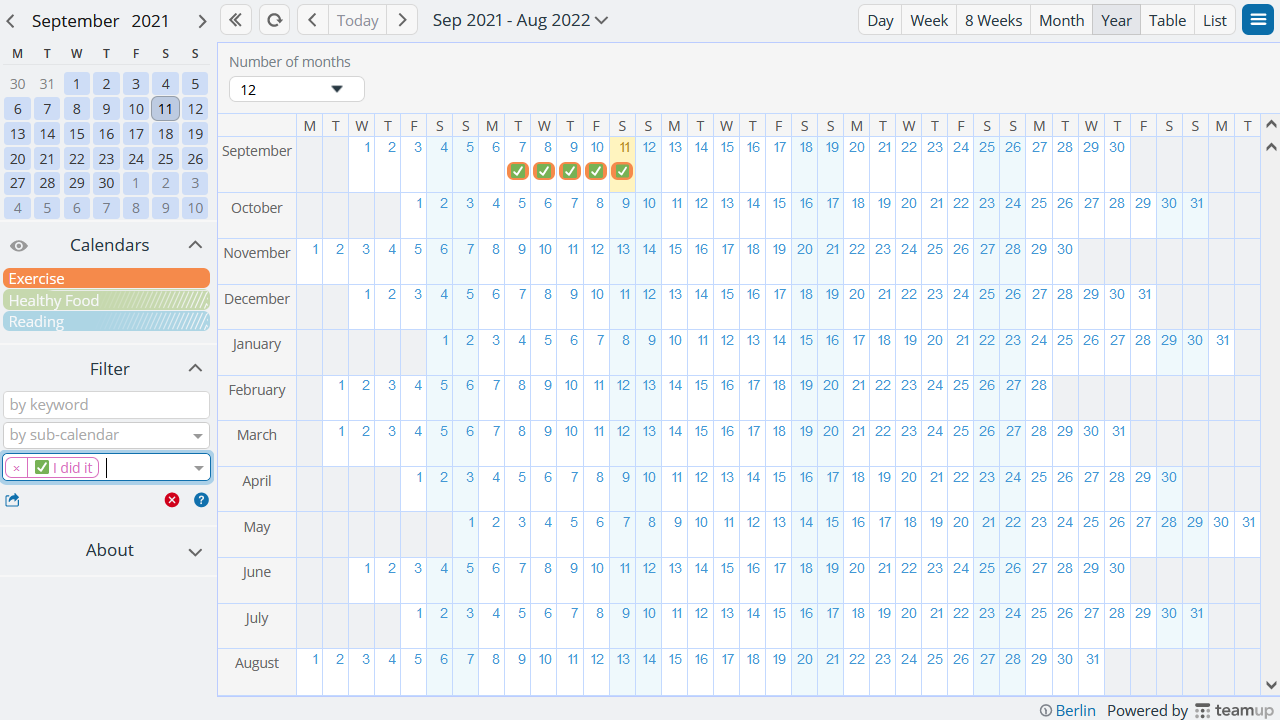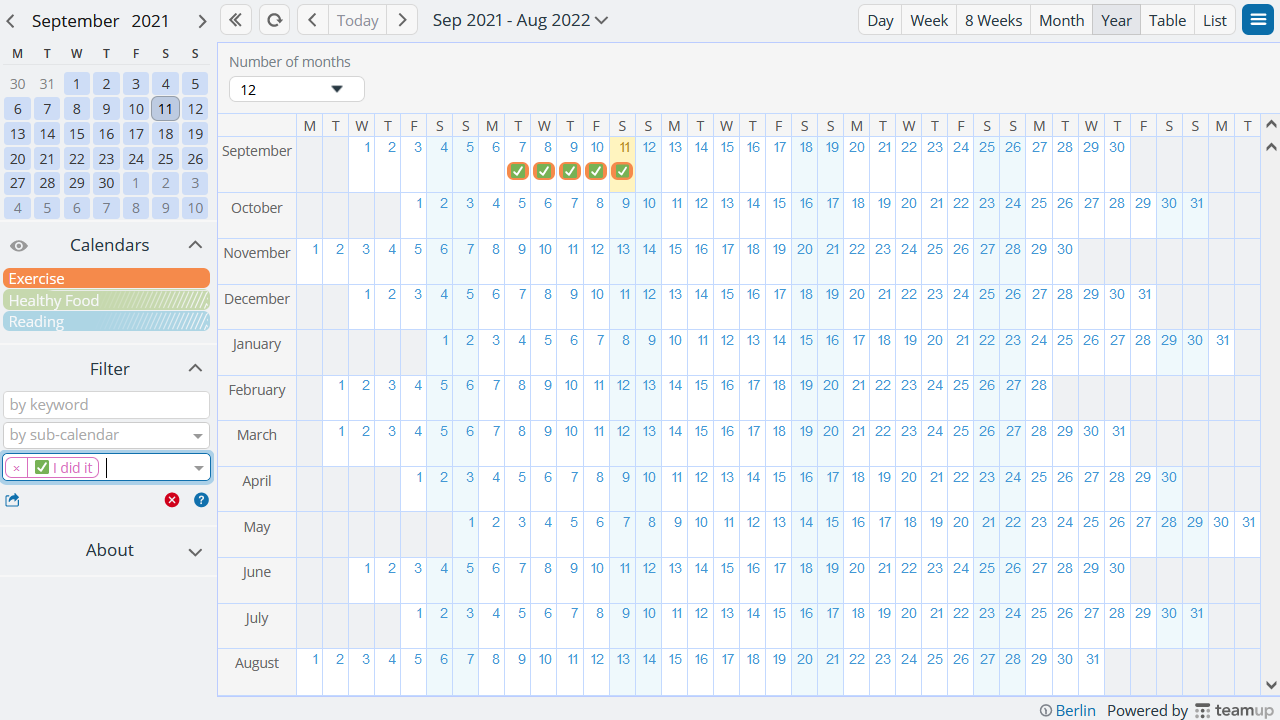 Happy habit building and journaling!