Marketing campaigns and content marketing requires a constant stream of fresh topics and creative approaches. You need to offer enough diversity to intrigue your audience, while staying loyal to your core message and what matters to your brand. When you can visualize a content marketing plan from beginning to end, it's easier to balance long-term planning with short-term execution. Plus a visual plan helps you quickly identify priorities and diversify content types much easier than a single-dimensional list of to-dos.
Successful marketing starts with a long-term plan
The first thing you need is a long-term plan for your marketing. If you don't have one in place yet, this Marketing Calendar serves as a great template and starting point. You can tailor it precisely for your team's needs.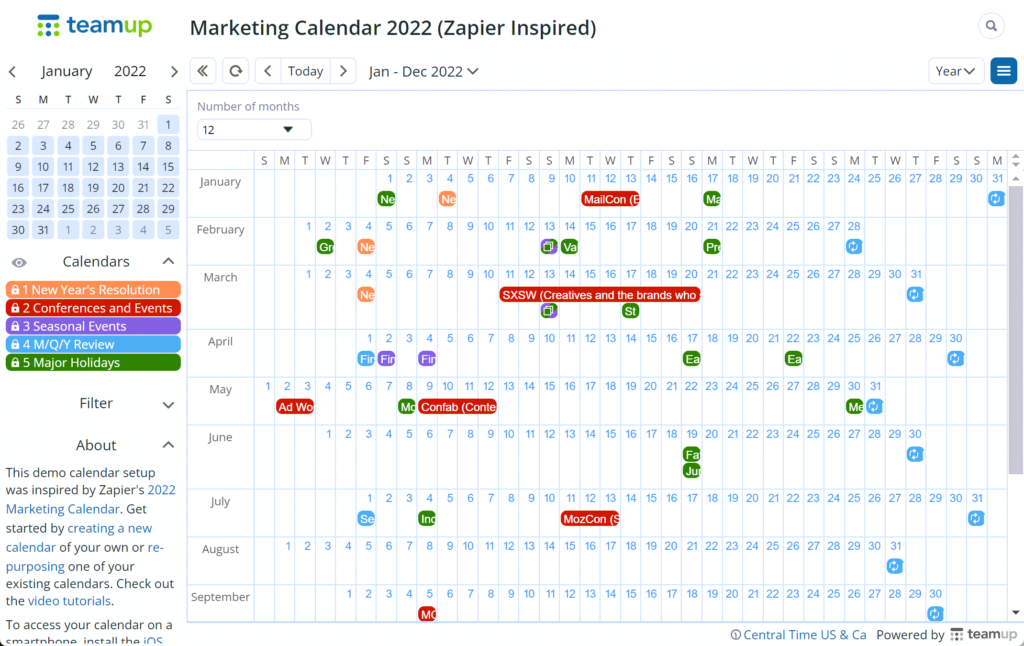 If your marketing plan has been stored in slide decks and spreadsheets so far, it's time for an update! Spreadsheets are so 1995. Why not try letting go some of the spreadsheets? Use Teamup to centralize all the pieces of precious information on one platform. That way every piece of your content marketing plan can be easily managed, updated, retrieved, and shared, as needed.
Create a 3-6 week content cycle
The long-term is where you start. And it's important to have that high-level view of all the marketing projects and priorities. But an annual plan doesn't give you the details to assign tasks and create amazing content.
For that, a shorter cycle is needed.
After creating a long-term plan, break it down into 3-6 week blocks that repeat themselves throughout the year. Each cycle can include campaigns or promotions as well as evergreen content. You can add recurring targets as well as seasonal or one-off campaigns. Switch between long-term and short-term calendar views as you visualize the content marketing plan to monitor how shorter blocks fit in with the annual picture, such as product launches, business milestones, industry events, conferences and holidays.
Plan for different topics & formats
Next, it's time to dive into details and plan a standard 3-6 week content block or campaign. The idea is to build up a structure to guide weekly and daily work:
Include familiar and fresh elements to create a balance between predictable and surprising.
For quick visual cues, use color-coding, icons and emojis. For example, each channel can have its own distinctive color. Each content category can have an emoji or unicode (created with the help of custom event fields).
Track different content formats (e.g. list posts, promotions, sponsored content, quotes, round-ups) to ensure a variety.
When you add new ideas and posts to your plan, you'll start to see which channels, topics or formats are over- or underrepresented. This makes it easy to tweak and adjust easily over weeks and months.
Navigate between planning and execution
The visual plan works in multiple dimensions and various levels of details: It can be used for planning the ideal mix of different topics and formats. It is also only a click away to zoom in to make daily adjustments or zoom out to see whether you are on track on the big picture.
For example, you can decide to publish two promotions per week, alongside two value-adding "Did you know" posts and two funny, lighthearted pieces. Your plan reflects this by repeating icons over weekly and monthly views.
However, on a daily basis in the busy reality of marketing, this plan is susceptible to change. Following the overview and especially thanks to the visual cues, you'll still see in one glimpse, when the reality is straining too far from the original plan and can reiterate instantly.
And when you look back at the year on your next annual planning session, you'll see what has been done, what has worked and what hasn't. It will make planning the next year easier and more enjoyable.
Want to learn more? See how to use Teamup for social media content or to improve editorial workflow.