So many marketing tools! It's easy to lose track of what you've created and where it's published. Teamup can help you organize social media content, keep track of follow-up, assign tasks, and have one place to access all the assets, tools, and documents you use.
Social media is such a big part of marketing, it's no wonder there are so many tools available. No matter what task or idea you have for social media marketing, it seems like there are 20 different tools you could use. While that's a great help, at times, it can also be a source of frustration. You might end up spending more time coordinating social media tools than actually publishing social media content.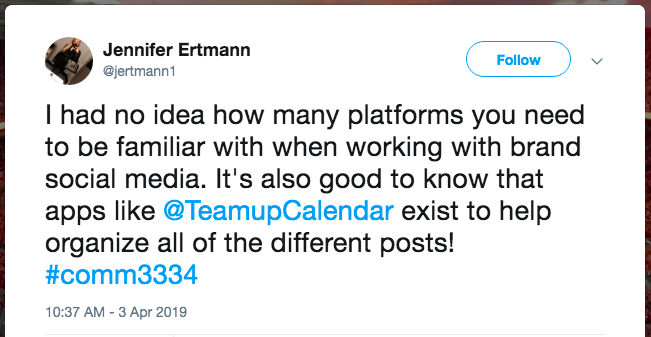 Teamup can be the tool that helps you coordinate your tools. Here are a few ideas to simplify your social media marketing, and make it easy to find organize social media content and keep track of everything you use–all in one place.
Get a high-level view
Use Teamup as the primary social media content calendar, and you can always get a high-level view of your marketing activitiy. You can add calendar feeds from multiple sources to keep track of industry events, holidays, conferences, and other things relevant to your work.
Calendar views make it easy to zoom out: try the Year view, then adjust the number of months displayed for the quarter you want to plan. Filters make it easy to zoom in: toggle off all sub-calendars but the ones you want to focus on, then see the schedule in Multi-Day, Week, or List view.
Keep the ideas flowing
Planning out content for weeks ahead of time requires you to have plenty of inspiration on hand. Then there's working with the ideas — keeping them organized, revisiting them, collecting the information and notes — all the actions that turn them from idea into a real piece of shareable content.
With Teamup, you can easily keep ideas flowing and streamline all aspects of generating, receiving, organizing, and managing content ideas.
Track performance and schedule follow-up
"Up until now we used erasable white boards to track everything. What a nightmare that was becoming. I looked at dozens of online options and by far yours was the most intuitive and flexible to do exactly what we needed."

–Mark
Every content creator knows that repurposing content is a great way to be efficient and make the most of each asset. But it's easy to lose track of images, words, and updates once they've been published.
You can use Teamup to remind yourself, or others on your team, to track the performance of social media content. You can also schedule follow-up tasks for each update you publish; it's easy to do by duplicating an event. Or create a repeating event to trigger review and repurposing of all the content that's more than a week or month old.
Assign tasks and manage projects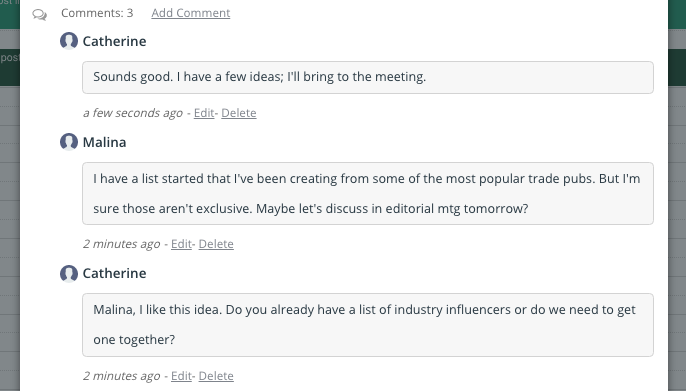 Sub-calendars, custom event fields, event comments, and event signups are powerful features that make Teamup a great collaborative tool.
Here's an example of how it could work:
Content manager creates a task, such as "Edit images for Instagram for next week's updates."

notes or information can go in the Description field.
the images to be edited can be uploaded to the event.
or a link to the right folder or tool can be added to the Description.

Custom event fields can designate the task status and priority:

workflow status can be tracked in a single-choice custom event field.
priority of the task can be set using a custom event field.

The task is assigned to the appropriate person's sub-calendar.
As the work is done, the status of the task can be updated.
In this example, when the appropriate team member opens their calendar, they'll see the new event assigned, along with all the information needed: which images need to be edited, where to find them, and the task priority. All without you having to email, message, or call.
Further, you can make any changes to the event and everyone can access the updated version right away. It's an easier, more efficient way to work with teams, assign tasks, and keep projects moving forward.
One place for central access
If you and your team get in the habit of using Teamup, you'll automatically create a single access point for all social media content. You can upload files, include links, leave notes, and have discussions in the event comments. All that data stays on your calendar. You can use filters or search by keywords to find what you need, when you need it. Anyone with calendar access can do the same, which creates autonomy and enables everyone to do their jobs with less back-and-forth time.
You can create as many unique calendar links as needed to provide access to your social media content calendar. With access permission levels, you can control what each person can do with the calendar. And you always maintain control: you can modify, add, or delete calendar links anytime.
Update and work on mobile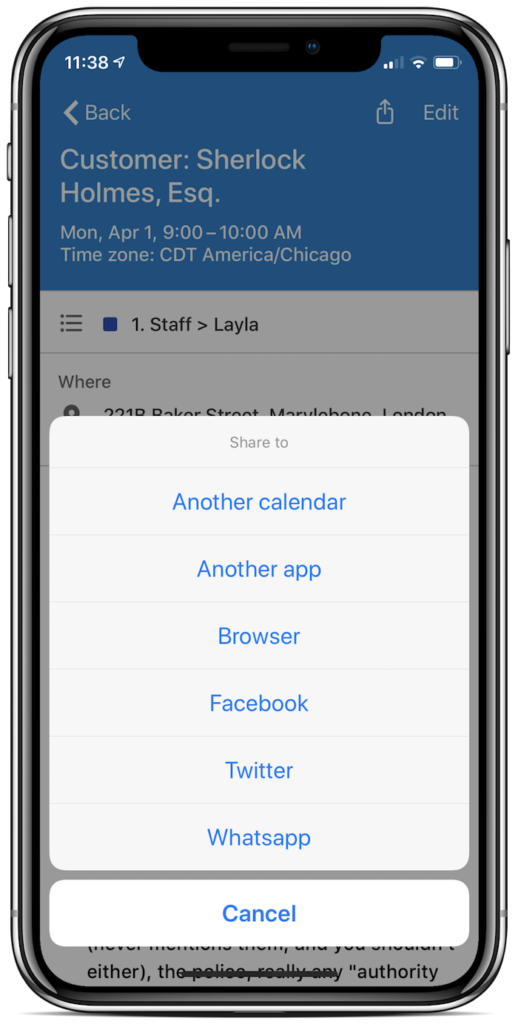 One last important point: Teamup mobile apps (for iOS and Android) are streamlined, powerful apps that allow you and your team to stay updated on-the-go. They create a seamless interface between the work you do on the calendar in your browser and the work you need to do on your mobile device. Upload a photo, link to a site, or leave a document on an event, and you'll be able to access it from the mobile app. Use event comments to discuss ideas, make decisions, and work out details: they stay with the calendar for easy reference, anytime, anywhere.
Using many tools can create an inefficient process. When it comes to social media content, however, many tools are often needed. Teamup can help bring efficiency back to your process. Ready to try it out? Create a new calendar, or test drive one of our live demo calendars to see all the features in action.
Photo by Andrew Neel on Unsplash