In the utility construction industry, saving time means saving money — and that can be challenging when you're handling dozens of crews and lots of scheduling details. Teamup power user Timothy Cooper shares how he set up streamlined communication and improved productivity as an operations manager at a natural gas distribution company.
Instant productivity increase
We have all heard sayings such as, "Time is money" and "A penny saved is a penny earned." And we know that to save both time and money, "Communication is key." Sometimes we hear the truisms so often that we stop paying attention to what they really mean.
That's where I found myself at the beginning of my management career. With a few departments and a couple dozen crews to facilitate, I was overloaded. I knew there had to be way to ease this burden. In an industry that tends to be slow on technical innovation, I needed an option that would provide an easy transition and quick improvement. Fortunately, I stumbled across Teamup. It was affordable to test and I am so glad I did.
Immediately upon utilizing Teamup, I saved downtime with field personnel and taking fewer phone calls to me as management. Productivity increased while enquiries dropped, due to the majority of our communication being in one place.
Click To Tweet
I desperately needed a way to organize several crews in one easy-to-find place. Having one central place for all my data was critical, and I also wanted to give the end users a clean and precise hub for communication to directly flow to them. Ideally, I would have the ability to provide all the pertinent information — addresses, work orders, project specific details, and much more — in one setting. This goal quickly became a realization with Teamup. I was able to turn a disorganized operation, still heavily dependent on hard copies, into a system that could be easily viewed, accessed, and moved forward at any point and without sole reliance on one overloaded individual.
Here's how to use Teamup in a construction company with numerous departments across multiple states.
Using Teamup in the utility construction industry
Create sub-calendars for crews
Begin by creating sub-calendars for your crews.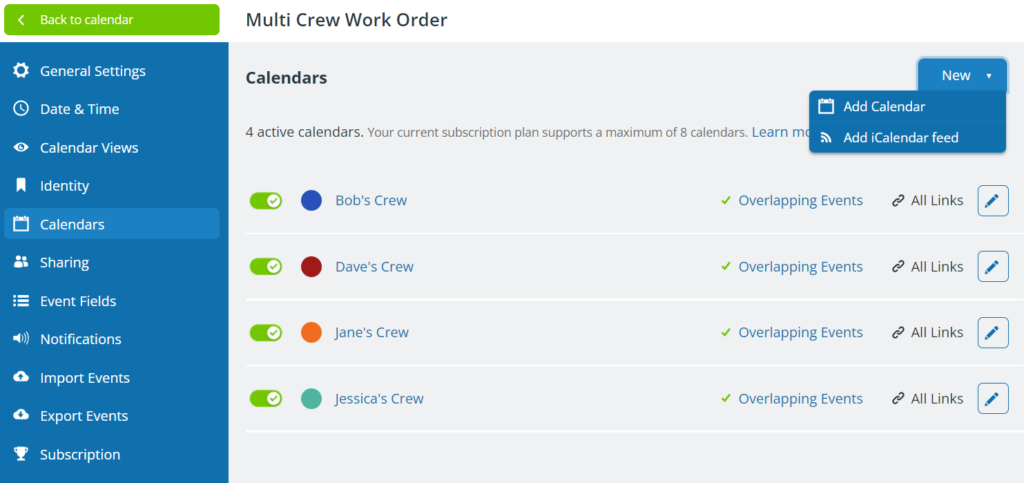 Set up custom access to the calendar
Next, set up calendar access for each crew so they have the ability to view their own calendar. Create a group for each crew, as I did. (Alternately, you can use a shareable calendar link for each crew.) Then you'll add each crew member to the group.
You can see the permissions below for Bob's Crew — they can view their own calendar (Read-only), but cannot see the other crew's calendars (Not Shared).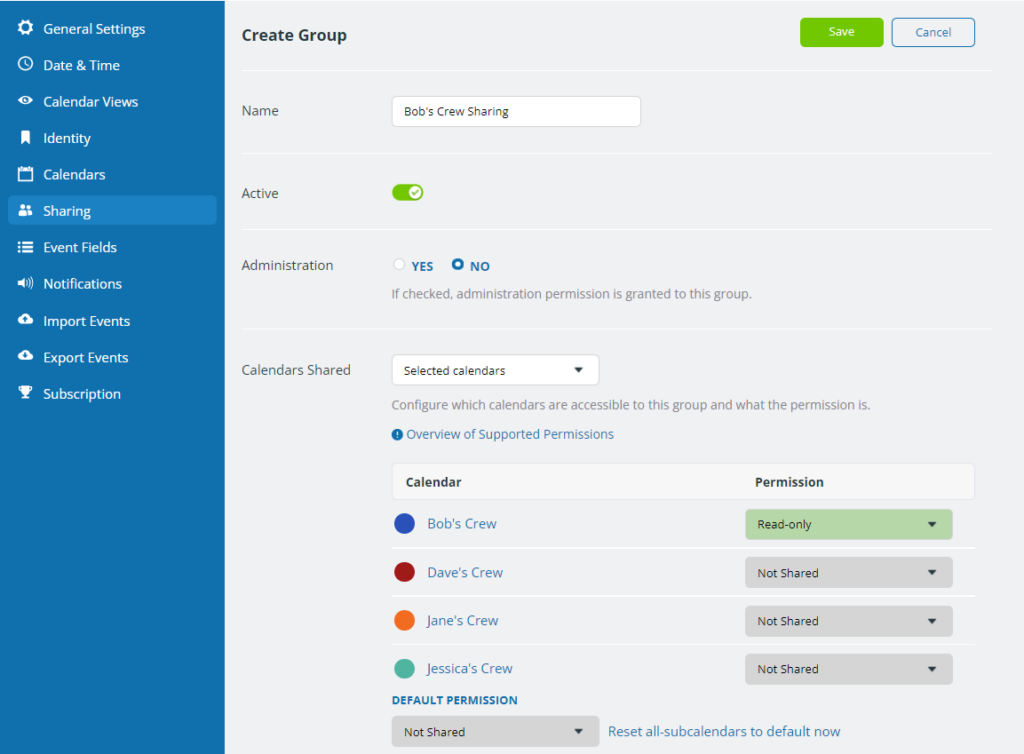 I have found that this approach keeps each person's calendar view clean and easy to use.
Teamup makes it easy to share the viewing capabilities with support crews if necessary. I found it helpful to give calendar access to inspectors so everyone across the job was receiving the same communication. The access permissions you create are not set in stone; as the calendar admin, you can add or remove calendar users, or adjust access permissions as needed.
Customize information input
Finally, you can customize your calendar so each event communicates the essential information to field personnel.  There are built-in event fields, such as the Where field which can automatically open the address in a map. Using custom fields, you can add a designated spot for nearly any type of information. I found it greatly beneficial to add scanned images of work orders and other appropriate documentation. This practice significantly cut down on our need for hard copies, which always seem to be lost or damaged.
As you can see below, I have also added the location number and customer contact for ease of access in the field.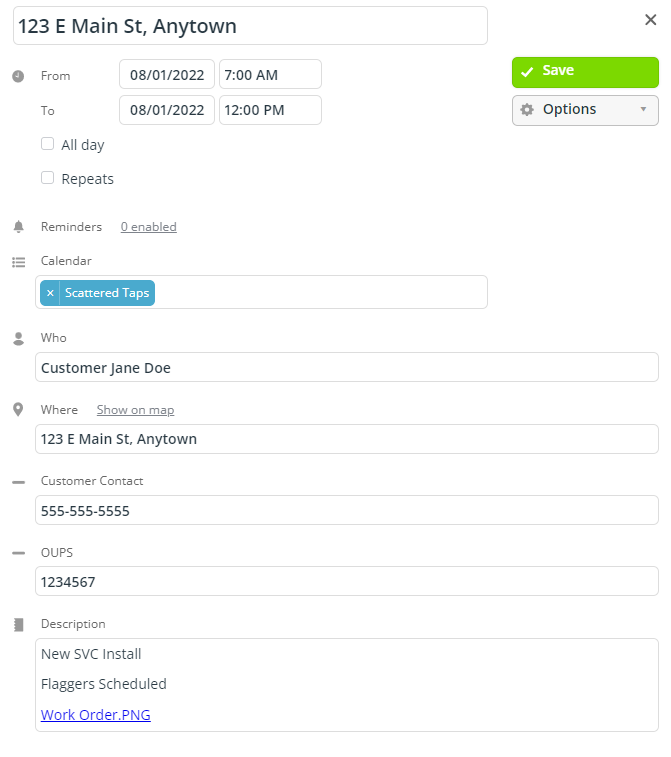 If multiple crews are working on one job, you can add the event to each crew's calendar to easy share it with the right personnel. No need to duplicate jobs or copy-paste information over and over.
Saving time and saving money
Now you can sit back with a little less weight on your shoulders and enjoy the benefits of Teamup. Having all the contact and work order information in one place has saved headache after headache.
In our operations, Teamup's interface has made it significantly easier to reschedule single jobs or even entire days lost due to inclement weather.
Click To Tweet
One of the greatest benefits with Teamup is the capacity to easily look up previously scheduled work. It is one of those helpful abilities you won't realize you need until you're using it, marveling at the time you're saving. Get started and develop your own customizable system for your utility construction work. It won't take long for everyone involved to see the benefits of using Teamup.
Thanks to Timothy Cooper for sharing your story with us!