Want to save time and stick to your nutrition goals? Perhaps you want to eat healthier meals, try new cuisines, expand your cooking techniques, or accommodate dietary restrictions. Menu planning is key, and Teamup is a great tool for organized menu planning. Do everything in one place, from saving recipes and logging food to delegating meal prep. Let's take a look.
Scattered information = frustration
A key to organization that actually works (i.e., helps you to be more efficient in what matters to you) is to have a central inbox, or place where all the information goes. If you have a central information hub, then you can always find that idea, note, or link you're looking for.
It's also easier to review your own notes, measure and track changes, and see what's really working.
Let's say you want to try a special/restricted diet for health reasons. Without a hub for all the information, here's what usually happens:
You read a book and highlight key parts on your iPad.
You find good tips when reading on your phone, so you take screenshots.
You do research on your lunch break, using your laptop.
A friend sends you recipes on Facebook.
Another friend leaves you a long voicemail with great info.
Someone tells you about a recipe account to follow on Instagram.
You save a bunch of recipes on Pinterest.
You save ideas and make food lists in your Notes app.
When you sit down to plan a menu and make your grocery list, you don't know where to start. You can vaguely remember a few recipes–on your iPad? Pinterest? A screenshot? What was the name of that one food product–is it in the voicemail? Or did you put it in a note? You have to dig around, resurfacing information you already have, before you even get started.
Getting everything in place with Teamup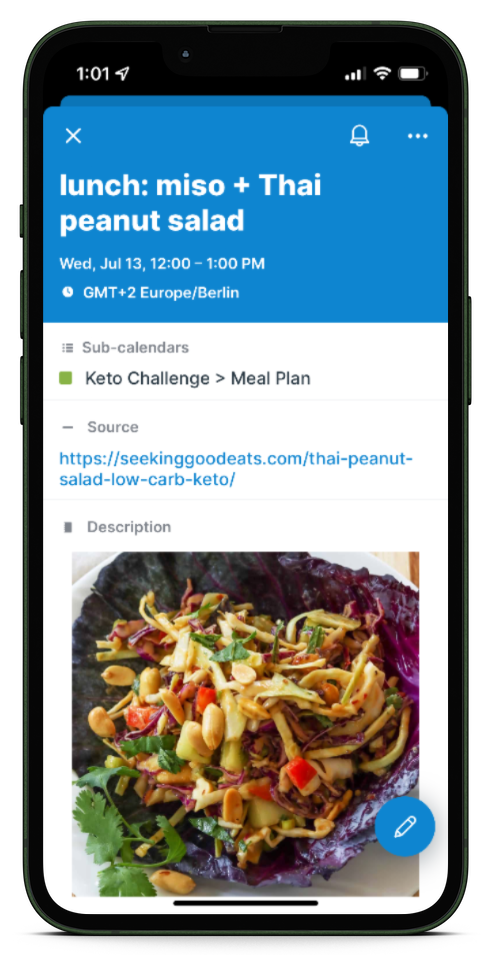 Here's another scenario, with Teamup in place:
Upload screenshots or copy-paste highlights into the calendar using Teamup's mobile apps.
When you do research on a browser, open another tab with Teamup and save the research links, along with the key points.
Save every recipe or meal idea to your Recipes sub-calendar, along with the link, notes, and who recommended it.
While you listen to a voicemail or have a conversation, open Teamup and jot down the key parts, along with who gave you the info. Want to attach a voice memo? That's possible too.
Add your favorite Instagram accounts and Pinterest boards as repeating events.
Save food lists and specific products you want to try so they're easy to find when you make a grocery list.
Now, when you sit down to plan a menu, everything you need is there. You can browse all the recipes you saved. You can search with keywords to find that one tip or piece of information you remember. If something you saved isn't clear, you know the source.
Organized menu planning with flexibility
Plans give you a starting point. Then life happens, and you have to adjust. An effective plan needs built-in flexibility. You can easily drag-and-drop the different meals you've planned as the week unfolds:
So, if you have extra leftovers from Monday and don't need to cook a Tuesday dinner, no problem. Just drag it to one of next week's open spots. If you want to switch up the order of the week's menu, it's easy to reschedule meals without losing any information.
If you find a great recipe that's easy and your whole family loves, give it a 5-star rating or add a keyword like "family favorite." When you're planning the menu, do a quick search for those saved recipes.
Logging food and delegating meal prep
You can use Teamup to log your daily food intake. It's also easy to track and measure anything from your weekly grocery budget to your daily net carb intake. Here's an example, with net carbs automatically summed in Table view:
Delegating is easy, too. You can share the whole calendar with your partner. Or share a single event, such as a grocery list or the recipe for tonight's dinner. Mobile apps make Teamup accessible anywhere, anytime.
Ready to try it out? Create a free Teamup calendar for organized menu planning, so you can stay on track and enjoy more free time.