We love this example of sharing resources with others and coming together as a community even when we must stay distanced. Watch the video to see how Rossveth set up a curated calendar… then read on for all the details.
Rossveth Niere-Lopez, like many of us, is adjusting to full days at home with children during the pandemic.
"The challenge I was facing was to find activities for my kids that they could do at home. With Covid-19 and the need to stay at home, I had to look for new activities that my 3 boys would learn and enjoy from at home."
Sharing resources with others
Rossveth wanted to find ways to help her active boys have educational, uplifting things to do. But finding all the information and sorting through the options and schedules was a challenge.
"Now with the need to stay at home, creative organizers, teachers, and educators have been making their classes or events available for free online. I tried to take note of all this wonderful information so my boys could join. But I couldn't keep up with all of them.

Then I came upon a timely post looking for a calendar platform where people could add to it but can't edit it. The solutions suggested were very inefficient – a document or a spreadsheet people could fill-in but it would have to be organized to be user friendly. I thought there must be a better solution than that."
Rather than have her children miss out on the opportunities, Rossveth decided to come up with a solution.
"I had an idea for a shared calendar, a curated calendar which would have many free classes online and events for people. I have used Google calendar, Outlook, and others. But they did not meet my needs. Based on my research, I chose Teamup. And Teamup turned out to be the perfect solution for what I wanted to do."
Rossveth set up a website and created a Teamup calendar to curate all the information and scheduling for the many online options that people are offering. Sharing resources is one way to help each other during this time.
"It's amazing to see how many want to support families while we're all experiencing this Covid-19 crisis globally. We have collected classes and events shared from all over the globe: from free music class to watercolor painting, science discussions, and lots more. A big thank you to those sharing their talents to support kids and families!"
A curated calendar of online events and classes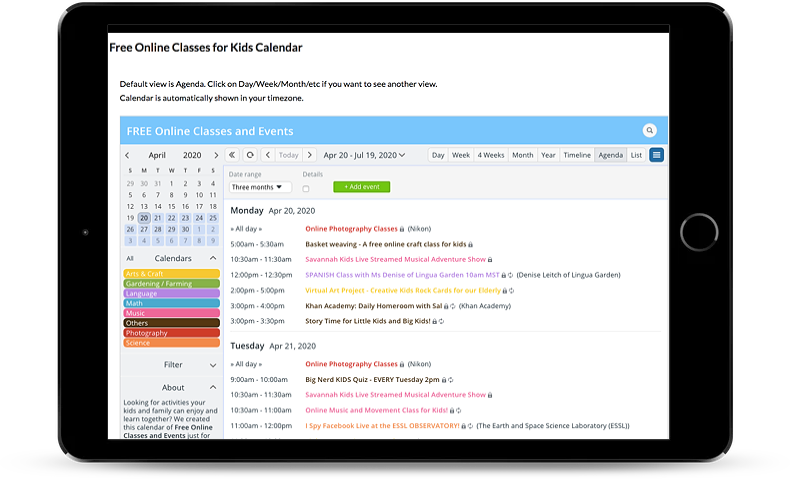 You can access the curated calendar at MakingHappyHomes.com.
All events will be shown in your local time zone (the time zone that your computer or phone has set as local):
"We've enabled automatic time zone detection so our calendar below shows in your correct time zone. You can change it anytime, just look for the time zone at the bottom right of the calendar and click on it."
To view the details of a class or event, simply click on the item and the details will open.
To search and filter events: use the filters to see events by sub-calendar or to search events for a keyword. Change the calendar view if you wish to view events for the day, week, or month.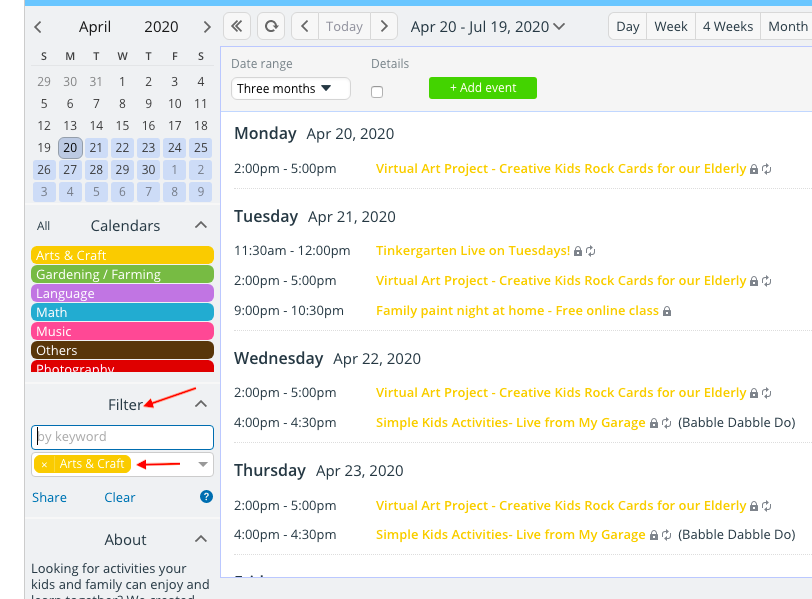 Share online events and classes
"Turns out, Teamup provided the perfect solution for what I needed! I could create a public link to the calendar and set the permission to Add- only. The public link could be accessible by anyone, no account or email required. I could create sub-calendars for each category. Like Arts & Classes, Music, Language, etc., each one having its own color. When adding events, I could upload pictures, and set the schedule to repeat if the event is recurring."
Organizers and teachers are welcome to add events directly to the calendar. Rossveth has made it possible to do so with add-only permission for her calendar.
To add an event, go to the calendar and click the green Add event button at the top of the calendar. Fill in your event details and Save.

"Teamup is why I am able to make this project a reality and it has exceeded my expectations."
Create and curate your own calendar
You can set up your own curated calendar, with the online events and activities that interest you, with an automated iCalendar feed.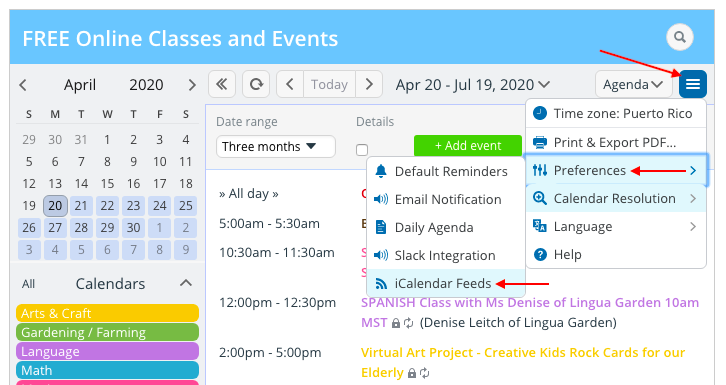 Here's how:
Open Rossveth's Free Online Classes calendar.
Click the blue menu button in the top right.
Choose Preferences > iCalendar feeds. There will be a list of iCalendar feeds, one for each sub-calendar. An iCalendar feed URL for all calendars is at the bottom of the list. Copy the iCalendar feed URL you wish to use.
Go back to your Teamup calendar and go to Settings > Calendars.
Click the blue New button in the top right, then select Add iCalendar feed.
Enter a name for the feed, then scroll to the Feed url section and paste in the iCal Feed URL.
Set the refresh interval, then Save.
Go back to your calendar to view your new iCalendar feed. It will update automatically based on the refresh interval you set.
You can use iCalendar feeds to source and curate online events, classes, and more for your own personal calendar, or to share with others. For example, you could create a curated calendar for art-related classes, resources, digital events, and online activities:
Get the iCalendar feed from the Arts and Craft sub-calendar on Rossveth's calendar and add it to your calendar (as instructed above).
Set up an automatic feed of Facebook events and add it to your calendar. See instructions here.
Add other online events and activities individually.
If desired, edit or add images to iCalendar feed events by duplicating them to another sub-calendar. See instructions here. You can keep the original inbound feed calendar private, and share only the calendar with your curated and edited events.
Share an add-only calendar link with others who want to add arts-related events and classes.
All of us at Teamup echo the gratitude for teachers, educators, event organizers, artists and musicians, and many, many more who are sharing their talents, skills, time, and energy to help our children stay safe, learning, and happy at home.
Thanks to Rossveth Niere-Lopez for all the work you put into this resource!
---
Photo by Anna Kolosyuk on Unsplash