Creating a bike club schedule for an active club with lots of rides was a challenge. Teamup's customized calendar views, mobile apps, filters, and custom event fields make a ride calendar easy to create and manage.
About Evanston Bike Club
The Evanston Bike Club was formed with 30 members in 1971 under the sponsorship of Evanston's Recreation Department.  Today they have more than 500 members who live in Evanston (35%), Chicago (20%), Wilmette (10+%), Skokie (5+%), Glenview (5+%) and other places (20+%).  Club membership is about evenly split between men and women.  What hasn't changed since 1971 is EBC's focus on safe, recreational cycling for adults.
Every day but Monday EBC coordinates rides leaving from Evanston or Wilmette, week in and week out. They offer rides in a broad range of paces and distances.
An easy-to-use schedule with customized views
EBC member Jay Twery shared their calendar needs:
One calendar to include all ride types (weekly as well as yearly)
Ability to use customized calendar views so people can see what they're interested in
Ability to have special, destination-focused weekly rides show up even if standard weekly rides are toggled off
Easy to access and user-friendly for club members
Easy to manage and secure for ride calendar administrators
Include all rides, see only selected ride types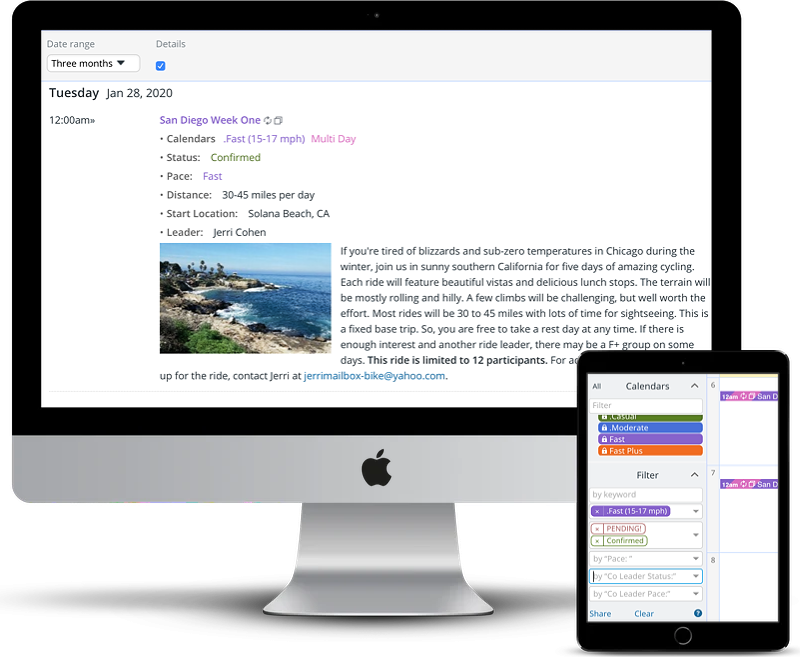 We wanted to have our weekly rides on the same ride calendar as yearly events, and also have an easy way to hide them. New people and visitors could see all the rides in one place, but most people don't want to see all rides. They know what they are interested in. Our old bike club schedule had the weekly rides listed in a singular location, and that was usually missed by visitors.
With Teamup, we used sub-calendars organized in folders to implement the ability to have a customized calendar view and see only the rides you're interested in. Go into the Year view and click the weekly sub-calendars on and off to see the difference.
People ride at different paces, and may not want to see the groups they're not interested in riding with. We implemented a sub-calendar for each ride pace, so members can easily toggle one or more pace on or off.
Differentiate destination-focused weekly rides
Many weekly rides are generic show and go rides where the group determines the destination that day. There are some weekly rides that are also a specific destination ride. We needed a way to include that ride in the calendar even if someone has weekly rides toggled off. See this weekly destination ride for an example.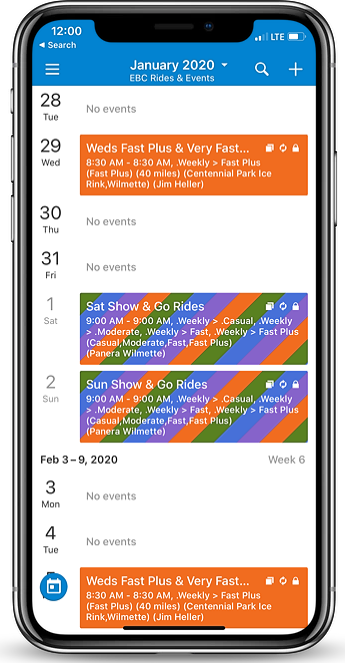 Easy to access for club members
The calendar is linked from the club's homepage. It's easy for club members to access that way whenever they want to check our biking schedule. Many people also use the Teamup apps on their phones, which makes checking the ride calendar even easier.
Repeating events and easy calendar management
We're also using a lot of the custom fields to add functionality specific to each ride.
Most of our biking events reoccur every year or week, so there are not many day-to-day changes. Most other software we tried couldn't handle having all our events repeat forever; they had a huge performance hit. Teamup could handle it.
Teamup features that make it work
Thanks Jay for sharing this great story!
---
Header photo by William Hook on Unsplash