An embedded Teamup calendar helps this unique group easily schedule global gatherings that everyone can see in their local time zone.
The Now What?! Collective believes it is possible that a diverse group of people– many hundreds in the current instance and many thousands in future iterations– can align around shared intentions, come together through multiple in-person and virtual conversations over a month or two, and co-create a field of learning and generosity that generates a nourishing harvest of meaning and resources to support them and their work in the world.
They hold these conversations via open video calls, and they schedule call participation via an embedded Teamup calendar.
"I have to say, I'm really impressed by your platform. I think it blows Google away, and I'm eager to see how the participants in this global gathering I'm convening are able to work with it."

–Ben R.
Scheduling calls for multiple time zones
The current "pop-up gathering" runs from October 14 – November 22, 2019. The online format makes it possible for participants to connect from anywhere; the challenge comes with communicating in the appropriate time zone for each person.
To overcome the challenge, there is an embedded Teamup calendar in the Now What?! Collective website. It is set to default to the local time zone of the viewer so that each person can see the available call times in their own time zone: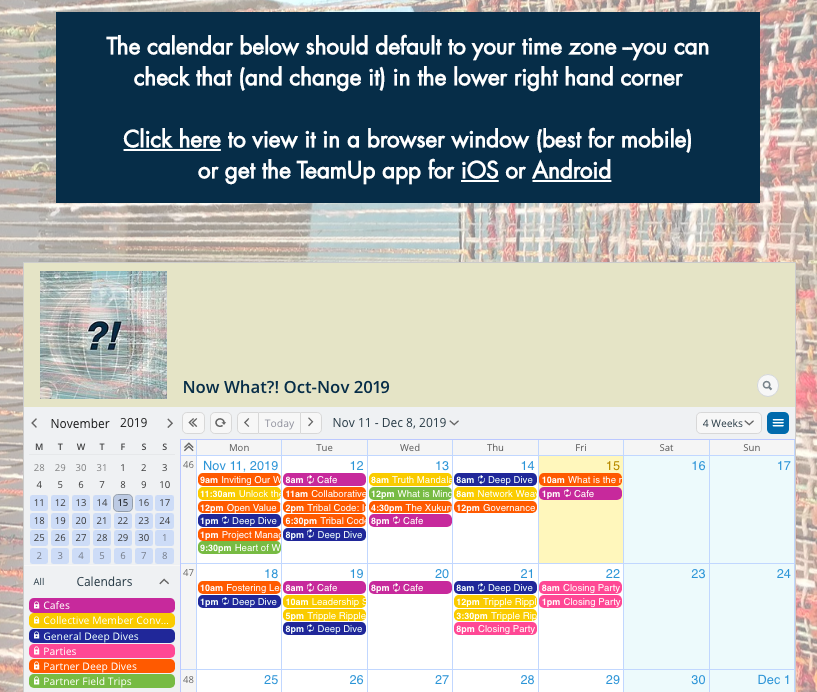 The calendar can be opened in a separate browser window to make it easier to see on mobile devices: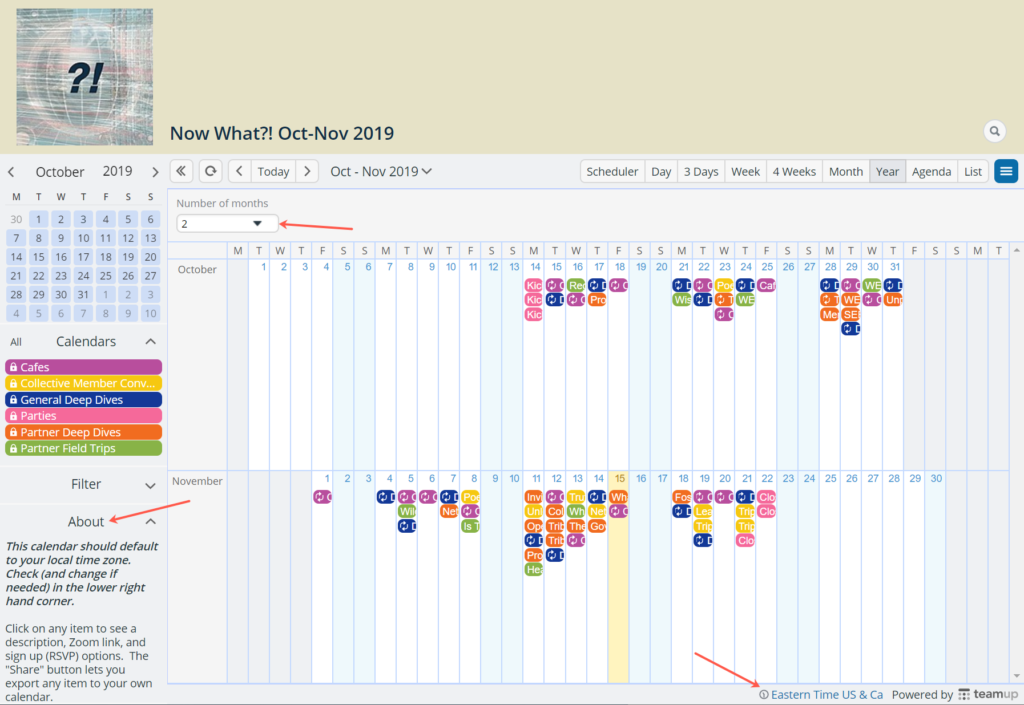 There are a few key things to notice in the screenshot above:
The 2-month view
The calendar view above is set to the Year view, which can be adjusted to show any number of months (up to 12 at a time). Since this set of events occurs over a 2-month period, it's helpful to see the calendar in a 2-month view. People can easily get a sense of the big picture, when gatherings are happening, and when it's easiest and best for them to get involved.
You can set a preferred calendar view for an embedded calendar by using the Embed Wizard, or for a shareable calendar link by using link parameters.
About box
The About box can be customized by the calendar administrator. It can display text, emojis, and/or links that are helpful for the calendar viewers. In this case, they've customized the About box to contain pertinent information:
where to see the time zone, and how to change it
how to view and sign up for the events
how to export any event to another calendar service.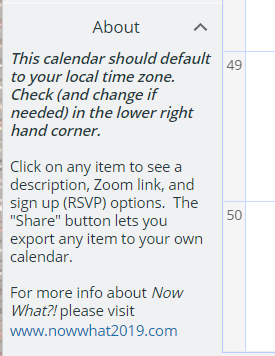 Time zone indicator
It's easy to see the time zone displayed in the bottom right of the calendar. This time zone indicator is visible in both the embedded calendar, and when the calendar is viewed in a separate browser tab.
If someone wishes to change the time zone, they can simply click the time zone link and choose another time zone. Events will automatically update to the selected time zone. This way, if a participant needs to plan for travel or share an event with someone in a different time zone, it is easy to do so: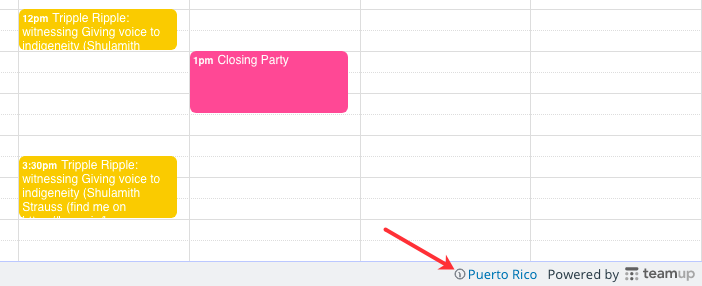 Signup for events and easy updating
"It's working really well. So glad I remembered that this existed."

–Ben R.
Other Teamup features, such as event signup, come in handy. People can sign up and easily share events on social media or via messaging to invite others. All the event information is contained in one place; if the coordinator needs to update pertinent info–such as the number to call–it's easy to update in one place, and everyone sees the updated information on the event.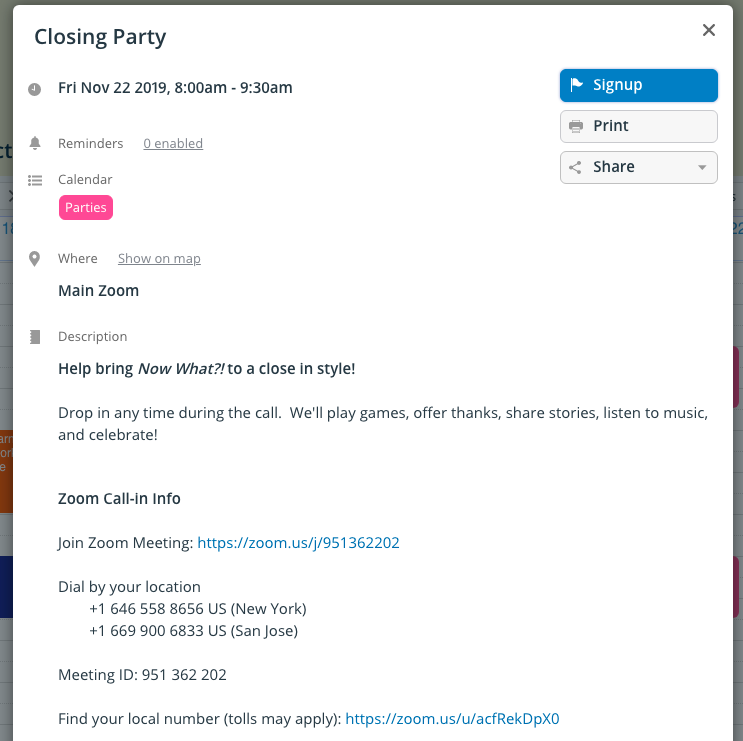 We're delighted to be part of such a great vision. Together we can make huge change in our world. Why not join a call and invite your friends? Get all the information here.