Becoming more efficient with your Teamup calendar doesn't take a lot of time: just a few minutes every day, with one of these quick methods, and you'll be on your way.
At Teamup, we want to help the world work more efficiently.
One very effective way to do that is to increase learning. If you can fully understand and master your tools, you can use them more efficiently. Your work becomes faster. You can move through routine tasks quickly. And you can systematize and delegate more easily.
We're always experimenting with the best ways to share what we know about Teamup. We work with–and in–our Teamup calendars all day, every day. Sometimes we take what we know for granted. But these little tips and tricks can turn a ten-minute task into a two-minute task, make work flow more smoothly, and make the whole experience more fun.
Here are some quick ways to learn more about Teamup with tips, tricks, and insights you can learn and try out in a few minutes:
---
1. Visual Tips Gallery
Sometimes a picture can convey a huge amount of information with a quick look. As we create new content and hear from our users, we turn some of these smart tips into visual tips and illustrations. It's easier to understand a concept when you can see it, not just read about it.
2. Quick tips on the blog
We started sharing quick tips here on the blog, and we'll keep adding more.
The quick tips are two-minute reads that you can implement right away to get more out of your Teamup calendar. Some cover more basic operations, so you can grab a quick refresher on a feature or customization option. And some are more advanced and customized ways to use your Teamup calendar.
3. Get inspired by other users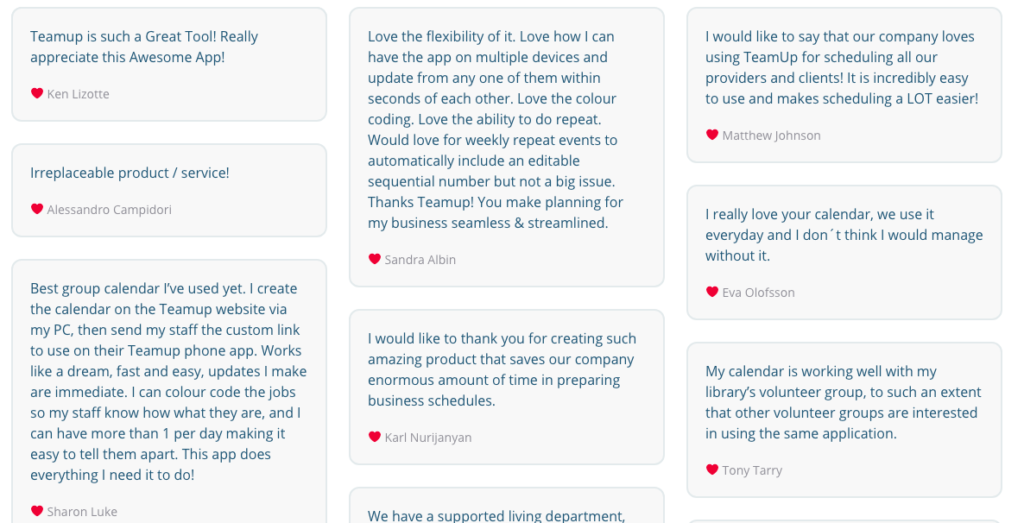 Everyday we hear from Teamup users around the world who have found their own unique, powerful ways to use their calendars. Sometimes they just us know how much they like our product (and we love to hear that, of course). Sometimes they talk about how their Teamup calendar fits into their personal life, their work, or their community. And sometimes they share amazing tidbits of knowledge about how they incorporate Teamup's features and customizations.
We collect these bits of inspiration, gratitude, and wisdom and share them on our Wall of Love. It's motivating for us, and can be inspiring for you.
4. Quick features in the Getting Started Guide
Whether you're just getting started or you've been using Teamup for a while, you can benefit from the quick feature introductions in our guide. The Getting Started Guide was designed to give you the essential information: what a feature is, how to use it, and where to find more information. There's a linked table of contents so you can click to the section you need.
5. Essential overview in the Administrator's Guide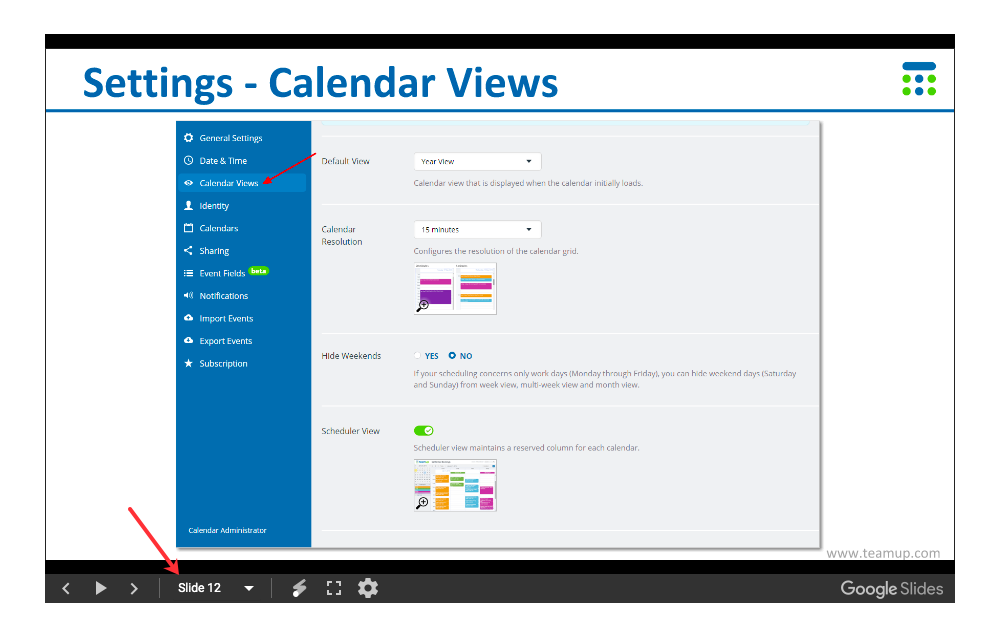 If you're the calendar administrator, you can use our Getting Started Guide for Administrator to get up to speed in a hurry. Or brush up on the features and options you haven't been using. We've formatted the guide as a slide show. You can let it play in order, or use the drop-down menu to go straight to the slide that's relevant for you.
6. FAQ for common questions
We've sorted through the questions that our users ask most often and compiled a FAQ page. This is a great page to check to brush up on your knowledge, learn how to use a feature, or find out a little more about what Teamup can do–in five minutes or less. Don't see the topic you want? No problem. You can also use the search bar at the top to search our entire Knowledge Base.
7. Live demo calendars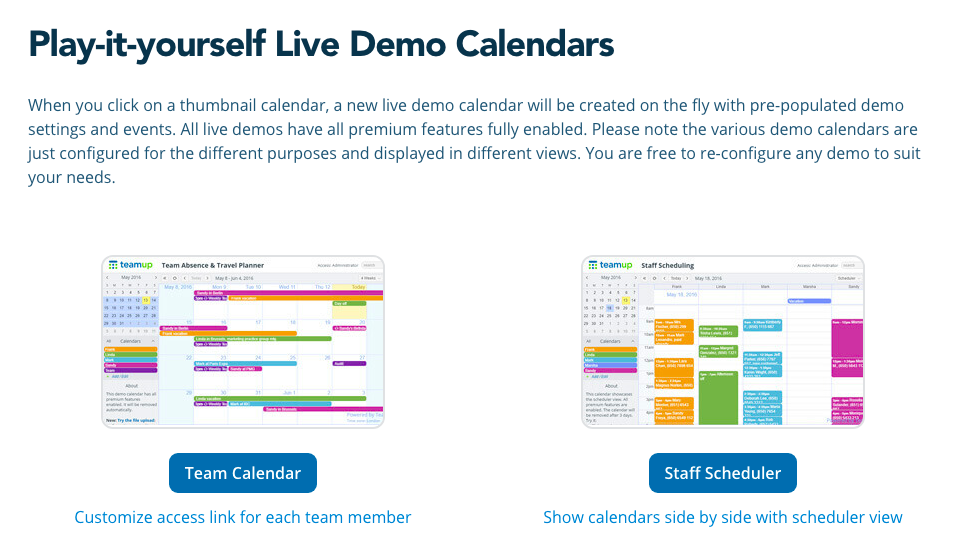 There's no better way to learn than to try it out yourself. Our collection of live demo calendars are designed to give you the chance to do that. Test all the paid features, add and edit and move things around. Play around with the calendar settings to see what's possible. It's a risk-free way to test out your ideas for calendar organization and see what the various features can do for you.
Share your great tips and tricks.
Do you have a unique calendar setup, a great methodology, a cool approach, a workaround or trick, or a tip that could make life easier for someone else? Why not share it with us–and we'll share it with the world! Send in your tips and tricks and join us in helping the world work more efficiently.