This organization with multiple locations and 90+ staff members uses Teamup Calendar to stay organized and have easier staff communication.
About Memphis Athletic Ministries
Founded in 1998, Memphis Athletic Ministries (MAM) exists to coach, grow, and lead the youth of Memphis, Tennessee, USA. They providing year-round mentoring programs with well-trained staff, using organized sports, small group mentoring, and community-wide activities. They work in partnership with families, schools and other community organizations. MAM program participants' ages range from 8 to 18. Over 750 youth participate daily through eight neighborhood centers serving under-resourced neighborhoods.
Jonathan Torres, Vice President and Chief Operations Officer, shared their story with us.
The story
With over 90 staff members and 8 sites across the city of Memphis, our organization had a communication problem. There were too many emails and different calendars to keep up with. We couldn't get everyone on the same page consistently.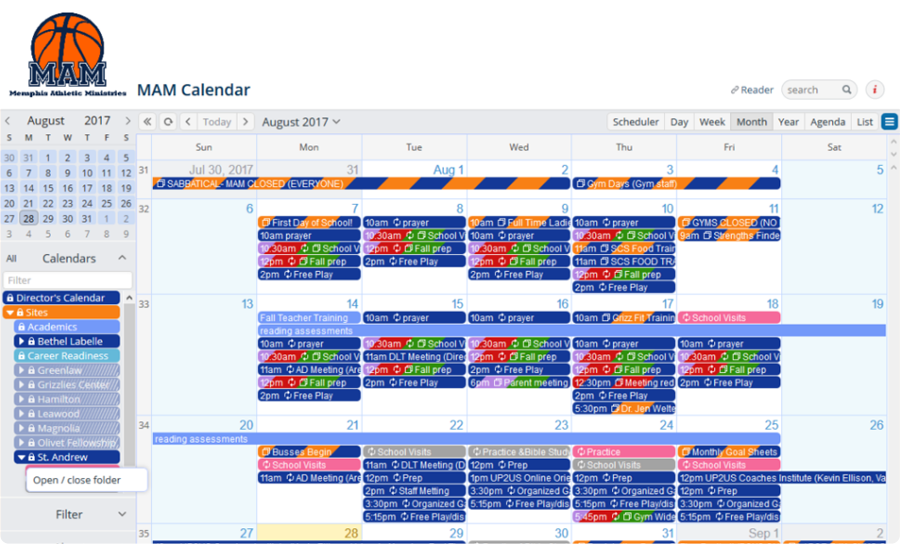 Teamup helps our staff across the city communicate and be on the same page.
We have every one of our staff using Teamup to organize and plan our staff trainings and events, along with daily tasks and field trips. Our staff works with 750 inner city youth every day to help mentor and develop them, and Teamup helps our staff be the productive team they need to be.
What makes it work
Here are some of the features that work well for the MAM staff.
---
Thanks to Jonathan Torres for sharing this story!