A Teamup Calendar provides customization options and powerful features, so this single-source boating facility can provide stellar service for their many customers.
About Chicago Yacht Works
Chicago Yacht Works is a single-source facility for all boating needs. They provide new boats, used boats, boat service, boat classes, boat rentals, boat parts and accessories, and boat storage. With 8 buildings, over 300,000 square feet of indoor heated storage, and acres of outdoor storage—combined with stem to stern service capabilities and a full-line dealership—Chicago Yacht Works is Chicago's boat facility.
Jonathan Paige was kind enough to share with us how using a Teamup Calendar helps them provide stellar service to their customers.
The challenge
We considered using a Google calendar or an Outlook calendar, but neither allowed the level of customization we were looking for.
We have a lot to organize: mechanical technicians, fiberglass repair technicians, sub-contractors and daily boat launch/haul-out tasks. We previously used a combination of whiteboards, Outlook/Google calendars (yuck!), and spreadsheets to schedule everything. It was a big headache!
The solution
We now use Teamup to schedule our technicians. It's a vast improvement over our old methods.
We started using Teamup in April of 2016. The ability to prevent overlapping events in each technician's calendar is a huge advantage. Using Teamup has stopped us from overbooking our Service department, and we can give customers actual dates for their work orders. We can also see when boats are launching, hauling, arriving, or departing, and that information allows us to make sure we schedule work orders on time.
Teamup has allowed us to easily use our own internal processes for scheduling the work and responding to customers.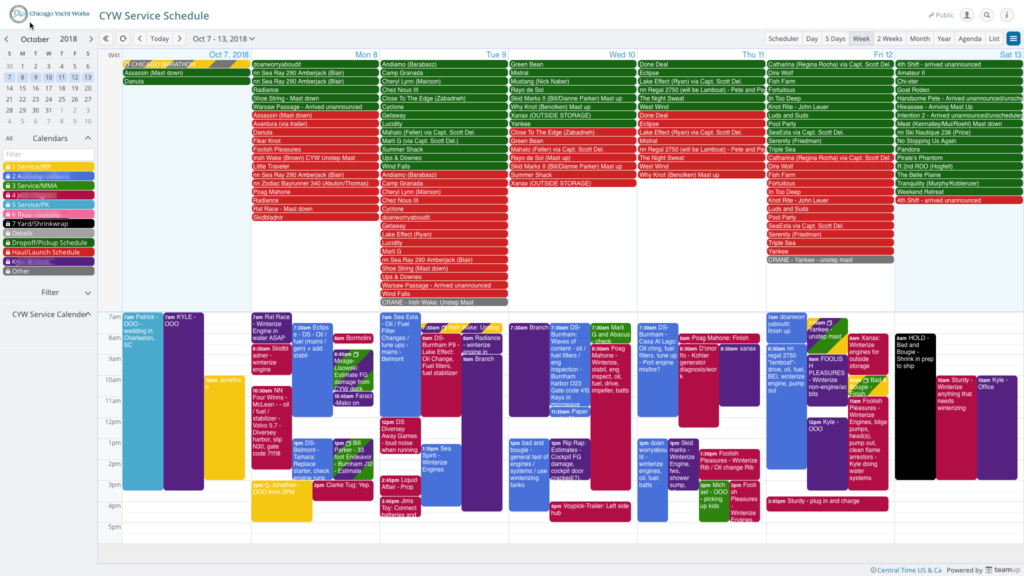 As well as using Teamup on our iMacs and phones, we also display the calendar on a 50-inch display in our Service Office. We can show our customers that we have their work order scheduled on a specific date, and we get many questions about how we use Teamup. The display is refreshed every few minutes so we always display up-to-date information.
Teamup has allowed us to improve efficiency and productivity. We have a clearly defined process, and every job is scheduled in the Calendar.
Work orders do not get forgotten, and we can set clear expectations for every one of our customers.
The success factors
Jonathan and the team at Chicago Yacht Works have figured out how to use Teamup's features in just the right way for their needs.
---
Thanks to Jonathan Paige for sharing this story with us.