Many companies need to manage shipping and schedule deliveries for customer order management. If your company is one of those, you many need to track multiple aspects of each order. Besides the basics like order number and customer information, perhaps you track other factors such as payment status, customer history, urgency, and special requests. You might even need a way for drivers to document deliveries by adding notes or photos to the order. Some order management solutions are too complicated, while others don't provide enough features. Teamup lets you track the order details that matter with a customized shipping calendar that's flexible, powerful, and simple to implement.
Frustrations with order management options
Some order management software includes the ability to schedule shipping, but it's not always the best answer. The shipping calendar feature may not be developed enough for what your company needs. Or these software solutions may be too expensive, not flexible enough, or overwhelming with features and options that aren't needed.
Business owners often turn to spreadsheets as a stand-in for an actual shipping calendar. However, spreadsheets come with their own set of limitations and problems. They're not meant to function as calendars and they're frustrating to use if you need to manage time-based data.  However, if you switch to a standard calendar, you may not have enough the functionality you need. Most calendars don't provide a way to track multiple aspects of each order.
Teamup: A simple and customized shipping calendar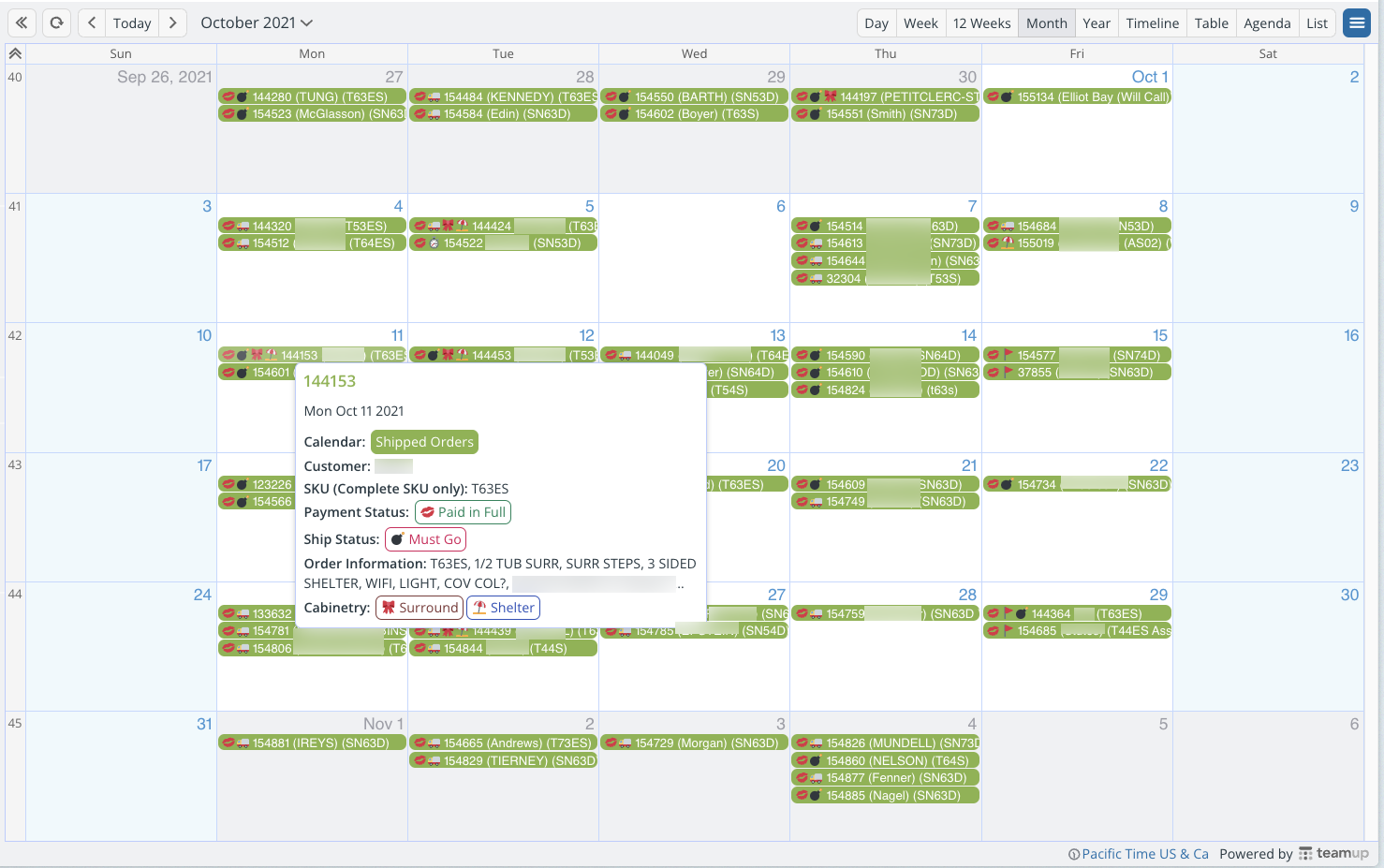 Seattle-based Snorkel Hot Tubs is a company of craftspeople who take pride and care in the making of their natural wood-fired hot tubs and stoves.  They continually strive for the highest quality, reliability and value and have been doing so for almost thirty years, with thousands of customers around the globe. They needed a solution to an out-dated shipping calendar, and that's when they found Teamup.

Track order details with custom fields
They've set up custom fields to capture all the factors that matter for their business. The assigned emojis show in the event titles, which gives quick visual clues about the details of each order. And since each custom field has a built-in filter, they can quickly sort orders by any of the factors they're tracking. That's helpful for day-to-day operations: for example, if they need to quickly the payment status of a customer's order before shipping it out. It's also helpful for gaining insights over time. They can track trends and patterns such as the popularity of certain cabinetry styles or seasonal slow times that would allow more flexibility for equipment maintenance or employee training.
What makes it work
Here's how they use Teamup for a complete shipping calendar solution:
Thanks to Tom Slater for sharing your story.