You can use Teamup as a fully functional and secure shipping calendar. Set it up for delivery tracking and ensure that order fulfillment flows smoothly. Let the sales team check on orders and shipping status without disturbing the warehouse shipping crew. 
Your business depends on smooth operations of your warehouse shipping department. The orders must go out — on time, to the right location — to keep the orders coming in. It can get complex to handle a shipping calendar. Spreadsheets are unwieldy and get outdated too quickly.
A shared calendar makes delivery tracking and order fulfillment easier and more secure:
Help order fulfillment to flow smoothly, by ensuring that everyone has the information they need, when they need it.
Keep accurate records for delivery tracking. Anyone can know which orders have been shipped, which have not been shipped, and which are waiting for pickup.
Help the sales team and warehouse shipping team to work together well. Enable sales to check order status without needing to interrupt the shipping team.
Let's take a look at how to set up and use a shipping calendar with Teamup.
Set up your shipping calendar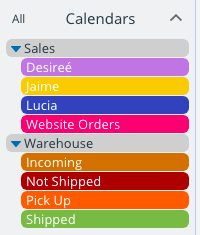 To set up a shipping calendar, we first create sub-calendars for each member of the sales team. We'll organize the sales team in their own folder: we add the three sales people, and a sub-calendar to track all orders that come through the website.
Then we'll create a sub-calendar for each warehouse shipping status. In our example, we'll use Incoming, Pick up, Not yet shipped, and Shipped. These sub-calendars are in their own folder, too.
We'll also set up several custom event fields to easily capture and track information. Here are a few custom event fields that might be helpful:
Order or invoice number
Customer phone number
Customer address or location information
Priority
Preferred delivery time (am or pm)
Special delivery instructions
Point person at delivery location
Signature needed or not needed
Payment due
Customer history or notes
Status
Delays/backorders
The contents of a custom event field can be set to show in the event title. We can also enable event comments, and use these to leave notes, record delivery times, or even upload files or photos.  The Description field provides ample space for the entire order, list of products, and any order details.
Use your shipping calendar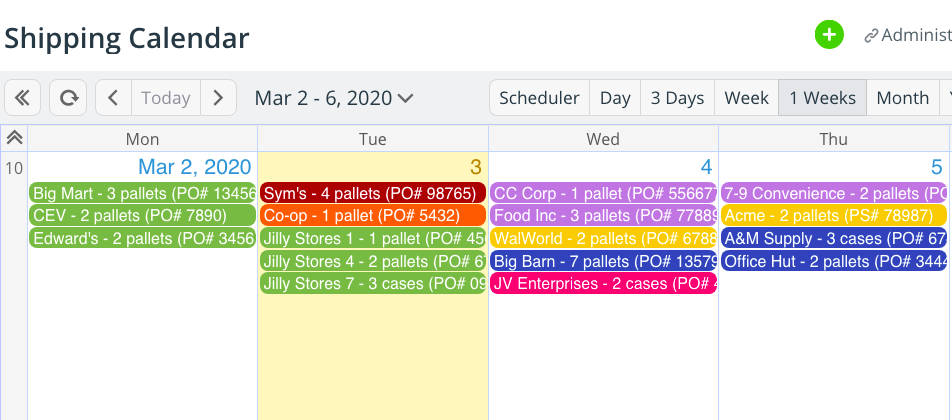 To use the calendar for order fulfillment and delivery tracking, here's the process we could use:
An order comes in (through the website or to a sales person). The order is entered into the calendar:

A designated calendar administrator or shipping supervisor could receive the orders from sales and enter them on the calendar, OR
Each sales person could enter their own orders onto the calendar. To enable this option without jeopardizing calendar security, we would give each sales person add-only permission for their own sub-calendar. This way, for example, Lucia can add her orders to the calendar, on her own sub-calendar; but she cannot modify or delete anything else on the calendar.
The order can be entered onto the date it is made, or onto the date that delivery is due.

The orders go into the calendar on the appropriate sales person's sub-calendar.

The sales person (or calendar admin) can enter all the details from the invoice.
When the warehouse shipping crew begins to work on the order, they can review the information. If anything is unclear or missing, they know which sales person to contact for help.

The shipping team begins order fulfillment for a specific order. When the order is in process or ready for shipping, they move it to the appropriate sub-calendar: Pick up, Not shipped, or Shipped.

Most orders will be moved to the Not shipped sub-calendar first.
Orders that will be picked up by the customer are put on the Pick up sub-calendar.

Once an order is shipped, it is moved to the Shipped sub-calendar.
Any member of the sales team can check the status of any order, any time, simply by looking at the shipping calendar.
Do more with Teamup
A shipping calendar can be customized for the way your orders flow. You can use various Teamup features and calendar customizations. Here are a few ideas:
Ready to try it out for yourself? Set up a free Teamup calendar here.
---