Organizing production schedule is a core requirement of any manufacturing operation. The scheduling information is available in the production management system. However, it is often difficult for the production line staff to read even if it is visible on a large display. It is inefficient if the information is accessible but not decipherable to the people who need it.
At a typical production facility, keeping production on schedule depends on each team completing their assigned tasks on time, so the next team in the line can take over and do their part. If workers don't have schedule visibility, they don't know what they need to be doing. Or if the schedule is visible but not regularly updated, teams may be working on out-dated information. Either scenario means losing valuable time.
Create schedule visibility for efficient work
Creating schedule visibility is a simple but powerful way to make teams more efficient. All it takes is a calendar display in the right place, showing the relevant information for each team. Then team members can easily check open jobs and task assignments.
Let's look at a great example of schedule visibility in action.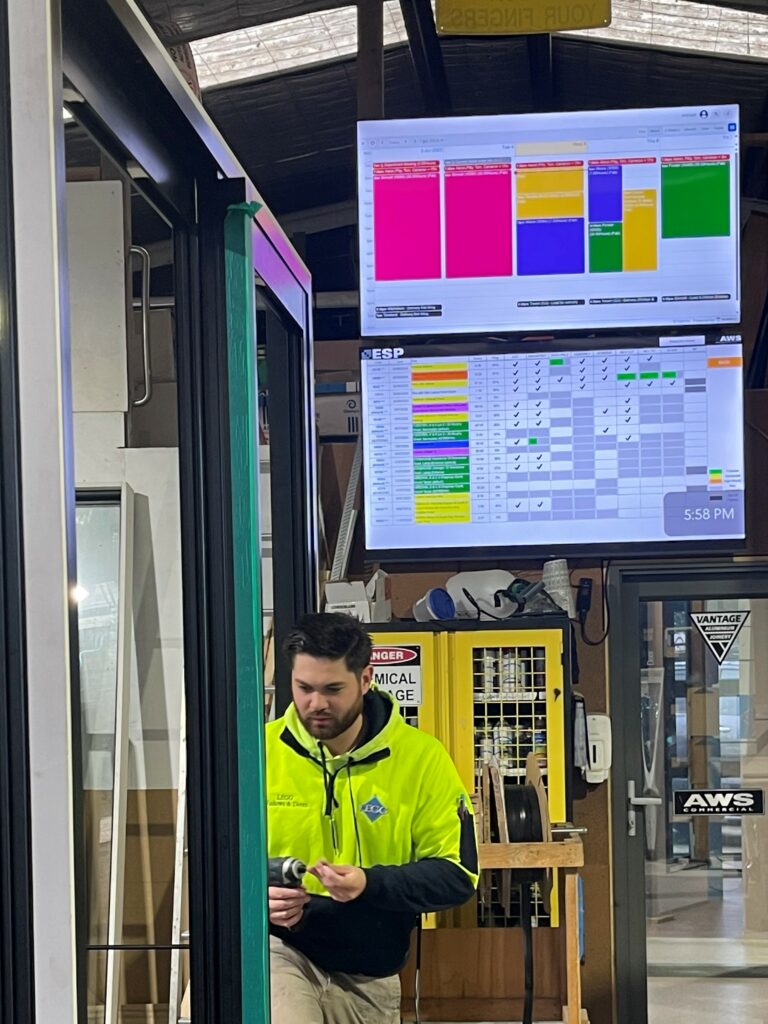 LEGG Windows & Doors is a small manufacturing business with an outstanding reputation for personalised service and high-quality products. For manufacturing residential and commercial aluminium windows and doors, they use software designed for their industry to schedule projects and track job completion across stages. But the calendar functionality provided by this software is not quite adequate for their needs. Since scheduling is such an important part of fabrication, they found a solution by using Teamup in tandem with the production software.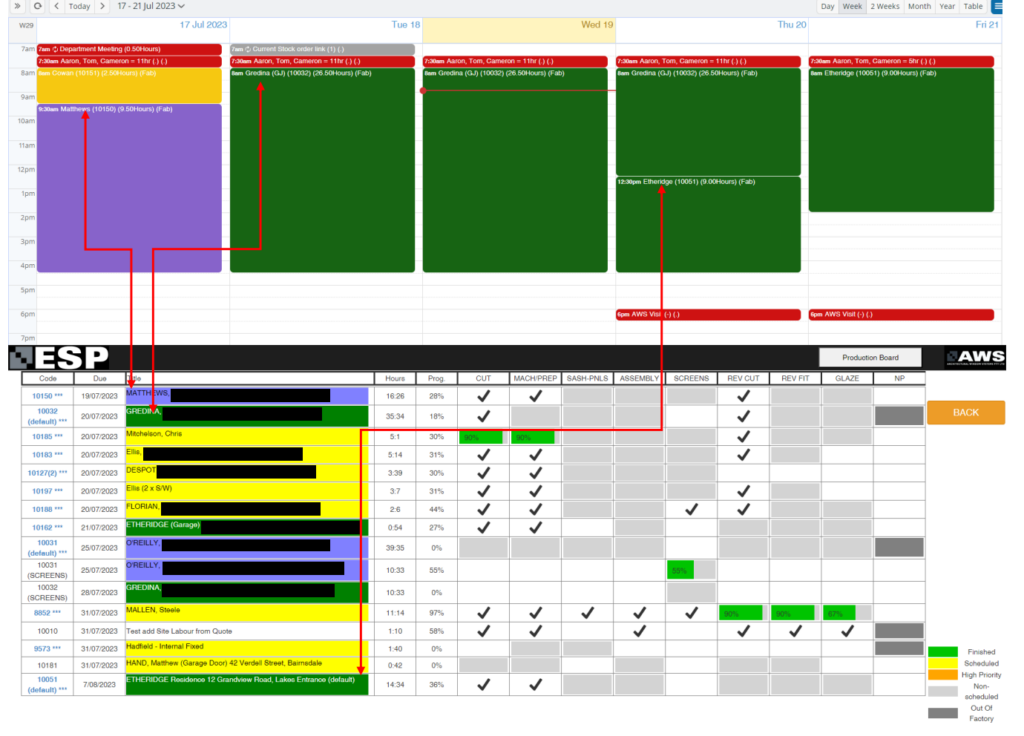 Michael Peachey, Director and Sales Manager, explained how they make it easy for assembly workers to view the progress of a project on ESP (the industry software) and the project's production schedule with individual jobs in matching colors.  The large-screen display is placed in their assembly area of the factories:
Upgrade to an automatically updated schedule
A visible schedule is only helpful if it's accurate. Using a large paper calendar or printouts may seem like a good solution for schedule visibility, but the system falls apart as soon as the schedule changes. Someone has to update the paper calendar (which gets messy and unreadable quickly) or distribute new printouts. The most efficient solution, in most cases, is a digital display that is automatically updated when changes are made to the calendar.
When using Teamup for schedule visibility, LEGG adds a refresh parameter to the calendar link used for the display so that the calendar automatically refreshes periodically. Office staff can still update the calendar if needed, adding new jobs, rescheduling as needed, updating information, and so on. The calendar display will retrieve all updates with each refresh, so team members can check the display for accurate schedule details.
Customize calendar display for individual team needs
Different teams and workers need different information. Each team needs to see their own tasks and not be distracted with what's happening in other areas. You can set up a customized calendar view for each team, so their schedule shows what's relevant for them whether it's visible on a large-screen display, a computer, a tablet, or a mobile device.
See more about setting up a large calendar display with a customized calendar view.
Combine tools to create schedule visibility
Many companies need software developed for their industry or customer base, because it ties into key databases and is designed for industry specifications. Having the right data baked into the platform makes work entry and record-keeping more efficient and accurate. However, industry software providers often focus on the unique data, functionality, and standards they provide, but leaving the scheduling part lost in undecipherable views within their system. That's where Teamup comes in, offering the missing piece of the puzzle to create the schedule visibility for more productive and efficient assembly operation.
Thanks to Michael for sharing your story!