ProLogic ITS handles strategy, planning, and delivery of information technology solutions for different sectors. Since their services involve working with vendors for different parts of each customized solution, they need efficient and secure ways to collaborate with these vendors. Anna D. Mustaffa, a Fleet project manager, was kind enough to share how they're using Teamup for managing deployments, working with vendors, and staying updated as a team.
I tell everybody about Teamup. It's an extremely useful tool and it helps keep the chaos under control. 😃
Managing deployments with Teamup
As a project manager, Anna works with many people. She needs to see all the pieces of each project. A structured calendar is key to keep everything on track:
I use Teamup to keep a schedule of all my running deployments split onto many sub-calendars… I have external vendors, internal employees, team leads, etc. all organized and I like that I can "mute" certain sub-calendars if I don't need to see them.

We were using Google Calendar and it was working "okay" but our deployments were getting muddied as we started hiring more teams.
To keep things organized for managing deployments, sub-calendars are organized by group: Deployment type, internal installers, TSMs/leads, contractor teams, and GPS contractor teams. Each group has its own 'parent' folder. Some have sub-folders for divisions within the group. With folders, it's easy to show or hide entire groups as needed. Plus, the smart filter above the calendar list helps to quickly find a specific calendar.
Staying focused on what's relevant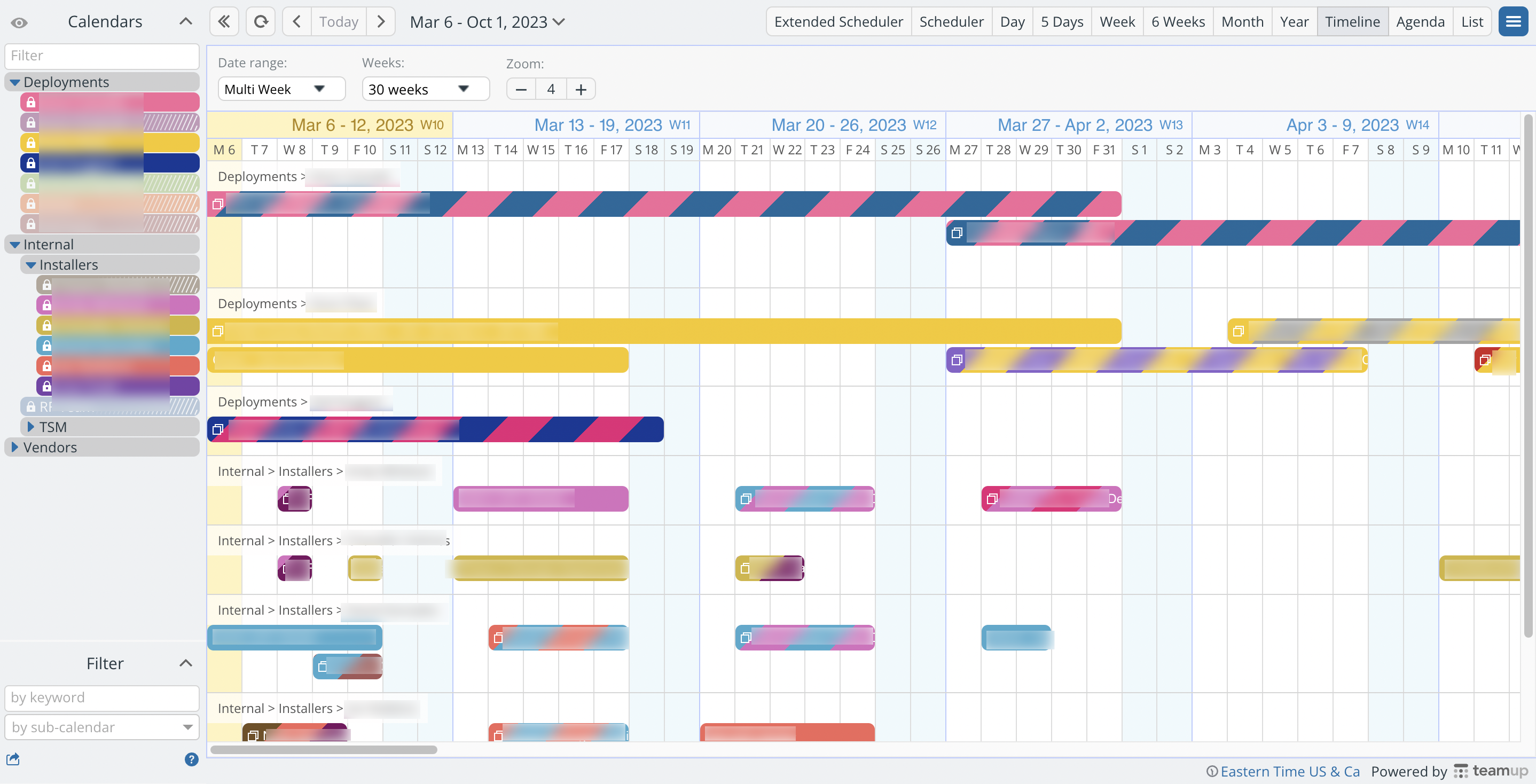 With so much information on one calendar, here is how Anna stays focused on what is relevant:
Use Timeline view to see each deployment in its own row.
Adjust to days/weeks and the zoom level to show the ideal time range.
Hide entire folders if the group is not relevant at the moment.
 And "mute" individual sub-calendars within a folder to see only the relevant data.
Calendar events can be filtered by keyword, sub-calendar, custom field, or a combination.
When managing deployments, sometimes you need to zoom in, and sometimes you need an overview. No problem with adjustable calendar views and built-in filters. Anna can view a single deployment or an entire group. Also, it only takes a couple of clicks to check a vendor's schedule or see which team members are assigned to various projects.
Keeping everyone updated
With account-based access, it's secure and convenient to keep team members and vendors synced on a browser or Teamup's mobile apps. Team members get access to the calendars they need for their work. Each external vendor has customized access so they can see their own sub-calendar only. Further, Anna can change permissions or remove an account user when needed, with no interruptions to anyone else's calendar access.
Equally important, notifications keep both external vendors and team members updated when things change:
The notification feature is extremely helpful as it alerts my teams when a change has been made immediately and with our industry things can change a lot and quickly!
I also have all notifications set up so when I put a new deployment on the calendar for a vendor, or change certain information, they receive an instant notification and makes it easier for everyone to stay updated.
Thanks Anna for sharing your story with us!