Improved file uploading, new Attachments field, custom booking systems, and some great tips. We've rounded up the latest news and updates from Teamup.
As announced previously, file uploading is now available on all subscription levels. Even if your calendar is on the free (Basic) plan, now you can upload files to your events on Teamup. Before, this feature was available only on paid subscription plans.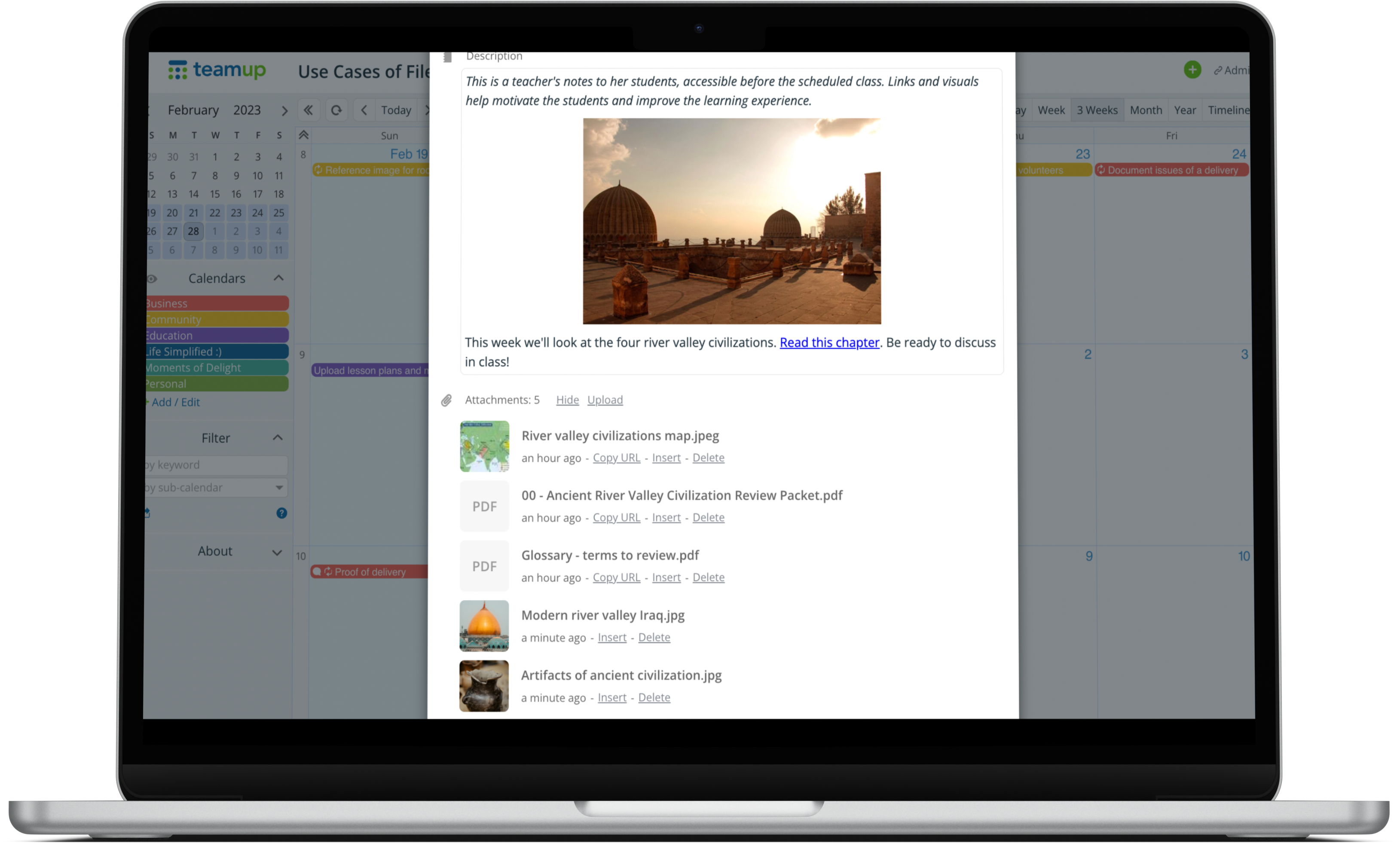 This is especially great news since we've just improved file uploading and added a new Attachments field. So, there are now three ways to upload files to a Teamup calendar event: in the description, comments, or attachments. You can see examples on our live demo calendar.
File uploads also work on mobile! We especially love the handy preview feature in the Attachments field: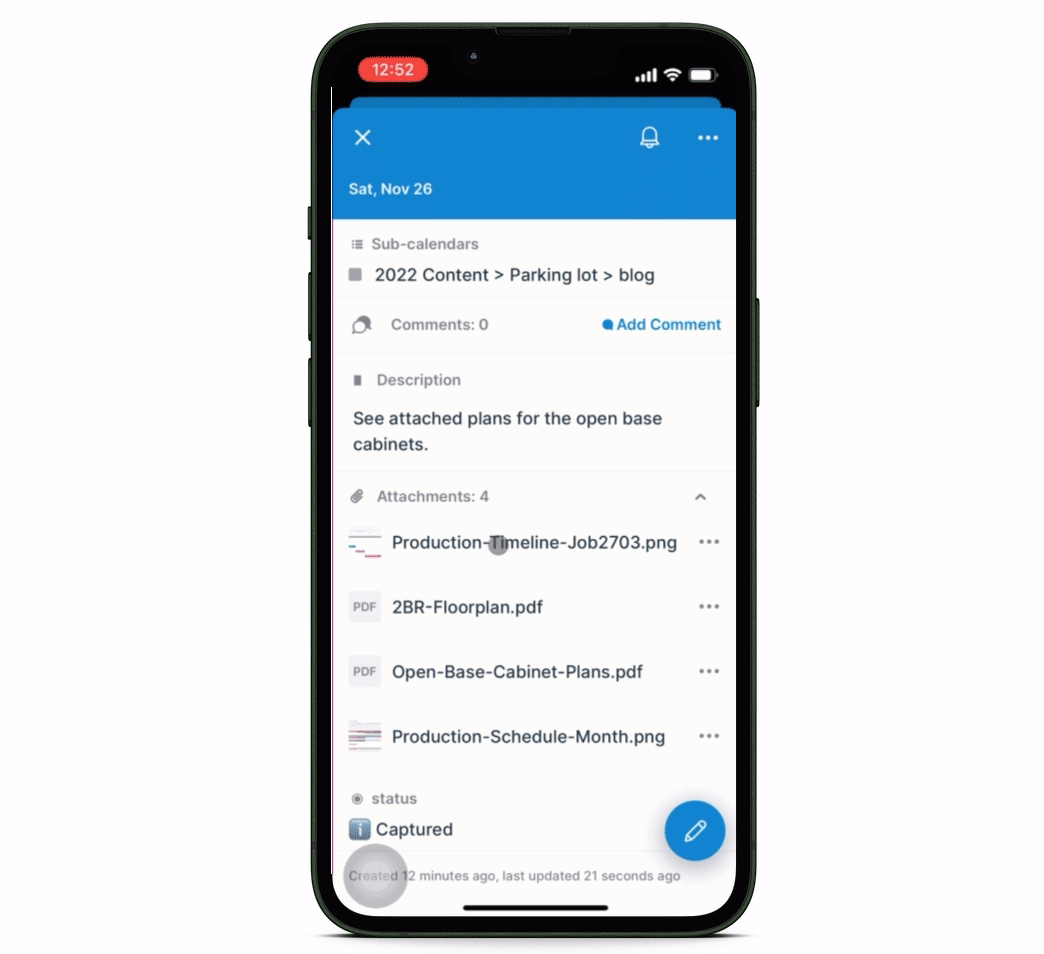 2. How do you use Teamup?
We love getting feedback from Teamup users. They often tell us what they tried before, what worked and didn't, what made Teamup stand out, and how they've set up their Teamup calendar to work more efficiently and enjoyably. Here's a great example:
"Before we used this program we just used Google Calendar, which was okay but as we started growing it was being too messy and hard to read.

Teamup is a little easier because I have external vendors, internal employees, team leads, etc. all organized. I like that I can "mute" certain sub-calendars if I don't need to see them.

I also have all notifications set up so when I put a new deployment on the calendar for a vendor, or change certain information, they receive an instant notification. This makes it easier for everyone to stay updated.

We've really enjoyed using it and would love to be able to integrate it even more with our weekly and monthly reports."
Want to share your story? Contact us!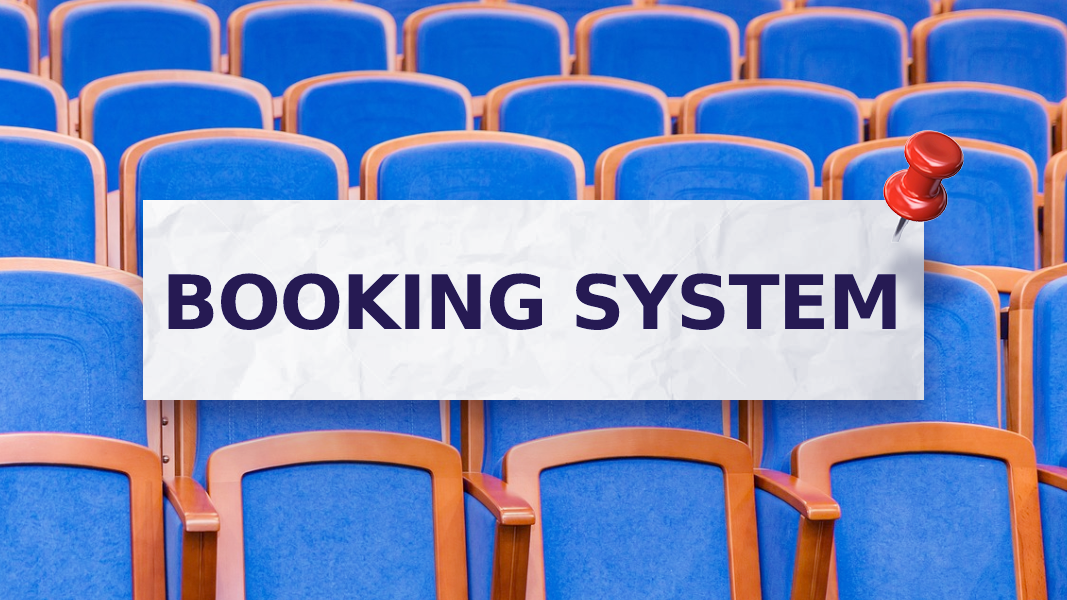 Whether you're booking shared spaces, client appointments, staff schedules, or volunteer shifts, you need a reliable system. Why not try Teamup? With color-coding and filtering, you can make available resources more visible. Secure sharing options make self-booking convenient. Teamup is both scalable and versatile. It's built for adaptable collaboration on a small or large scale.
---
"Gosh, I scoured the internet for a shared team calendar and looked at so many and there was something about Teamup and the layout, the colour scheme, multi calendar, notification settings, etc. that was so attractive to me.

I've actually used Teamup for years now…
I have a team of artists for whom I coordinate bookings and Teamup allows me to manage that. There are a few tweaks I'd love to see in the future, however, I'm still so happy with it."
---
See custom booking solutions in action with these two user stories! A tennis facility serving a neighborhood with several hundred families needs a streamlined way to manage tennis court reservations. Learn how they set up their calendar to support self-booking within their guidelines.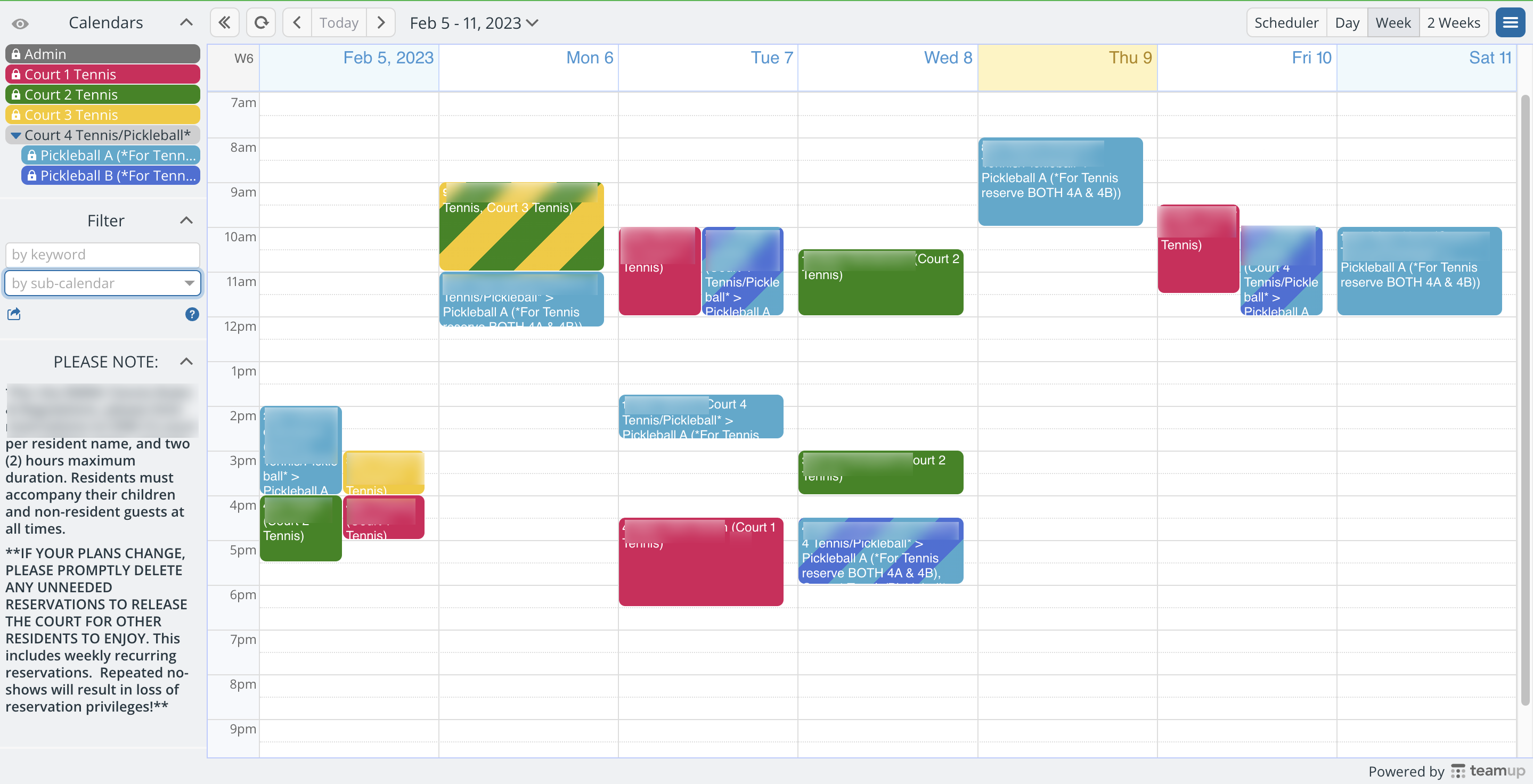 Evelyn, the music branch of Swedish study association Kulturen, provides coaching, music production tutoring, and studio space with shared equipment. Take a look at how one of the locations uses Teamup to manage booking studio space and equipment.
"I work for an organization that provides young people with tutoring in music production. Teamup has been a great tool to manage our participants studio bookings, and a major step up from Google calendar. Absolutely love your calendar!"
5. From our daily ticker, our favorite tips from the last month:
📰 See all February updates. Don't forget to bookmark the Teamup Ticker for regular news and tips.
---
"We constantly review and refine the way we use Teamup to run our Service department at Chicago Yacht Works. It is still indispensable!"
---