A lot has changed over the last decade, in the world and at Teamup. During this time, we have transformed Teamup from a simple, no-login shared calendar to a powerful catalyst for operational efficiency and group productivity. We have invested heavily in a cloud-based hosting solution that has built-in redundancy and scalability at every layer of the technology infrastructure. We have extended functionality, improved design, and rolled out many new features over the years. Today, Teamup is an important tool contributing to lean and healthy business operations for organizations of all sizes and all good purposes. Thousands of teams depend on Teamup to power the work they do, from solo practitioners and small teams to large enterprises and government institutions around the world.
To reflect all the added-value and ensure that we can keep innovating and making Teamup even better, we are announcing today our new pricing plans.
Teamup pricing and plan updates
Here are some of the important changes:
We've replaced the Premium plan with two new options: Pro and Business. This change allows us to better serve different businesses, organizational sizes, and resource needs.
We've updated the Plus plan with slightly extended feature coverage and a moderate price increase. Plus subscribers can now also upload files and attach documents to calendar events.
We've updated the Enterprise plan with some feature extensions and price adjustments. Organizations with a large number of paid calendars can now request an organization account with consolidated billing, provided that at least one calendar is on the Enterprise plan.
We've included the file uploading feature on all plans, including the Free basic plan, with various storage and file size limits per plan. A revamped version of this feature, including a new Attachments field, is now available for beta testing. Try a live demo for yourself. Please do report back if you experience any issues.
Every day, we hear from customers who are delighted by the flexibility, efficiency, and joy that Teamup brings to their work and lives. Teamup is so much more than a calendar, and it's our mission to make the world a little better and more people happier.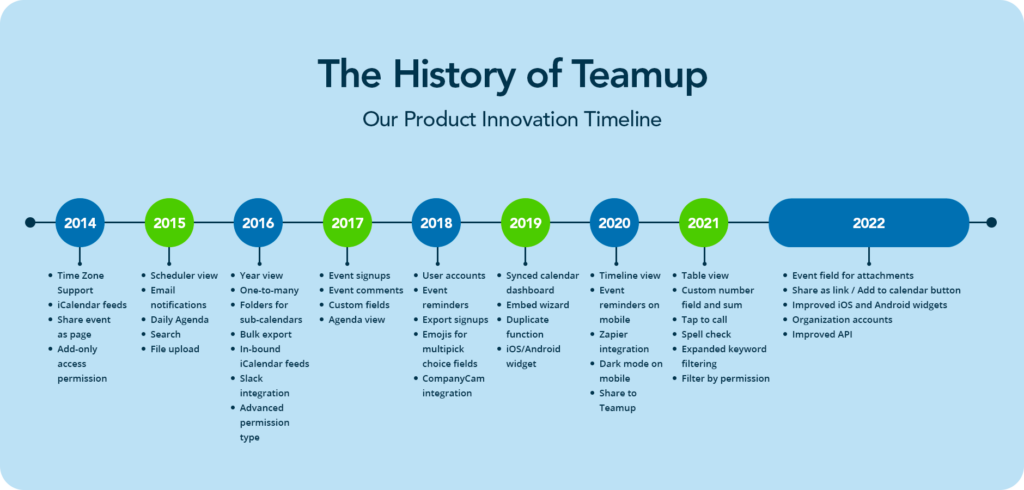 See the full plan comparison on our new pricing page. To better understand the main differences in the plans, take a look at this visual tip. If you have any questions, please do not hesitate to contact us.