USA Insulation of Cleveland is a business in Ohio, US which provides insulation services for Cleveland and the surrounding areas. Deanna Cutlip, the office manager, shared this story.
From paper calendar to Teamup
Before they switched to Teamup several years ago, Deanna and the team depended on a paper calendar to schedule jobs. It was inefficient and tricky for keeping everyone updated. Deanna would have to take pictures of the paper calendar to have with her out of office. That way, if the GM or Install Manager had a scheduling question, she could find the answer.
"When I found Teamup it solved the problem of having to use the paper calendar. Now our schedule is readily available to any of us on our phones, or tablets or computers."
Now their job schedule is accessible for any team member, anywhere–either on a browser in the office, or using Teamup's mobile apps while in the field. The calendar has multiple sub-calendars representing the multi-dimensional nature of the business operation, grouped in folders by crew, reps, locations, etc.: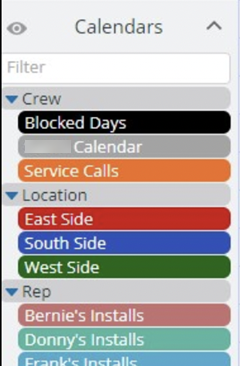 Visualizing jobs and customizing access
Jobs are entered to the calendar as events and assigned to multiple sub-calendars: who sold it (a rep's sub-calendar), a location (east, west, south) and other calendars for service calls, blocking out days, etc. There's no need to create duplicate entries. The events are displayed with striped colors showing the respective colors of the sub-calendars.
You can hover over a specific job to see the details quickly: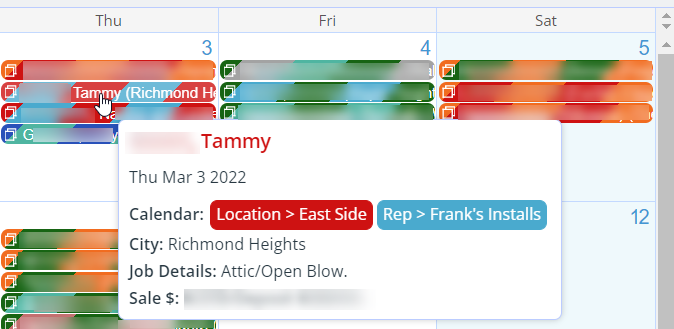 Click an event to open it, or see full details of range of events in Agenda view or Table view.
Customizing access
With Teamup, Deanna is able to let the sales reps see their installs (sold and scheduled jobs) on the calendar–and only their installs. Teamup allows this customized visibility which complements with their CRM. Sales reps can see their scheduled estimates through the CRM and their job installs, so they have a complete overview of all the day's or week's work that is relevant to them.
"The big thing about using Teamup is that I can grant them individual access to ONLY their OWN installs."
Now Deanna doesn't have to continually answer questions or provide install scheduling details, since each person can access the information easily, no matter where they are.
A calendar that calculates install amounts
Teamup's Table view is unique and powerful, especially when it is used in combination with a custom number field. Deanna loves it.
"I set up the number field to calculate our install dollars for the month. It helped tremendously to make sure that we had everything accounted for in our CRM correctly."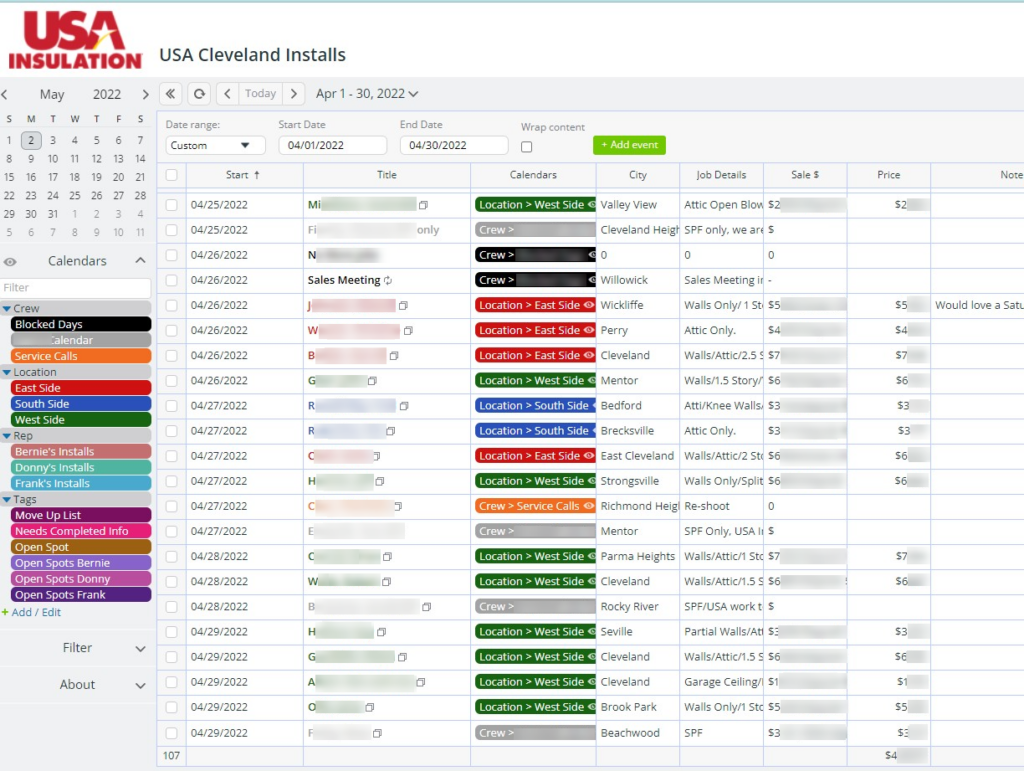 Teamup's custom number field makes it easy to track and calculate amounts. For Deanna, that's the install dollars for each job. She added a column to track the price of each job, and can use Table view to see that amount automatically summed at the bottom.
"Teamup also allows us to see any period we need, like how much is scheduled for the day, week, or for the month to date, etc. I love the new table view, and the number field and calculation."
The Table view can be filtered as needed. So if Deanna wants to see the total install dollars for one sales rep for a week or a month, she can do that by viewing only that rep's sub-calendar and adjusting the date range.
We love hearing about Teamup helping real people do real work with less frustration. Thanks for sharing your story, Deanna!
Learn more about using Teamup to capture and calculate amounts.