Who knew virtual groups and meetings would be so vital to modern life? As the world becomes accustomed to doing more things online, necessity is giving way to innovation. One area where we're seeing fantastic advances is virtual groups expanding their reach beyond their local area. From large corporations through to small not-for-profit organisations, the ability to attract a larger audience and organise people across multiple time zones has been a huge bonus.
But this new opportunity can also bring complexity, and that's where a tool like Teamup can help you expand your reach without causing a logistical hassle for you and the rest of your office.
Virtual events 24×7, 365 days a year
Take the example of Meditation Chapel. They're an interfaith, online meditation community providing a vital service for people who want to feel more connected. They're currently supporting 150 online meditation groups in four different virtual chapels, all of which run 24-hours a day. By any definition, it's a lot.
To complicate things for Meditation Chapel, their virtual groups are hosted across 10 different time zones. The people attending those sessions are scattered all over the globe, potentially in every time zone. So how do you make sure people can find a scheduled group at a time that's convenient for them?
From logistical nightmare to orderly calm
Meditation Chapel uses a Teamup calendar to show meeting times in the local time of the person looking for a meditation group. More than 6000 people use their calendar and each one sees all the information in their own time zone. Meditation Chapel administrators schedule virtual group sessions in their time zone. No one needs to worry about the impact of Daylight Saving Time on a session. Everyone who wants to attend a virtual group meditation is assured the schedule is correct.
Roger Sessions, one of the founders of Meditation Chapel says,
"Before Teamup, it was almost impossible to coordinate calendars. Trying to explain that Australia is 15 hours ahead of Mexico, except when it is 13 hours ahead, is too much for anybody to deal with. With Teamup, it is easy. You see the meeting in your local time zone regardless of which time zone is actually hosting the meeting. The functionality of Teamup is critical to supporting our world wide community."
Helping your group find the information they need
Custom fields in Teamup also assist website visitors to find the right group. In addition to a general search function, Meditation Chapel uses custom fields to allow people to search for groups by:
Language
Chapel Name
Affiliation
Faith Tradition.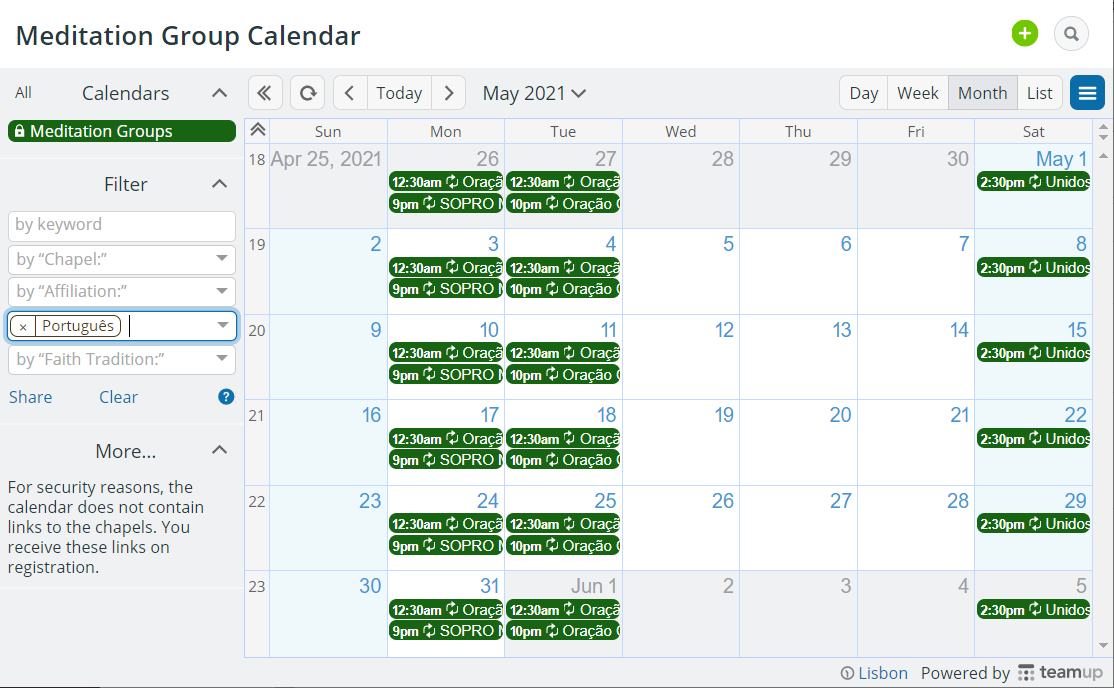 Embedding calendars for virtual groups
Once your calendar is populated with all the events, sessions, meetings and information your virtual group needs, you can embed your calendar into a website so everyone always has the most current information. You can show your calendar in a number of different ways to best suit the needs of your group. See more examples of embedded calendars.
How can your virtual group use Teamup?
We've shared one example of how Teamup can help virtual groups manage the logistics of scheduling events across multiple time zones. This same technique can be used to schedule company meetings, organise book clubs, and run online events and festivals. By removing the headache of dealing with time zones and adding in custom fields, even the largest and most complex groups are easily managed.
Learn more: