We can all use a little help getting more organized.
The holiday season, when so many wonderful activities coincide with the end of one year and beginning of a new one, is a beautiful time to pause, reflect, and focus on what matters to you.
We've been creating and collecting many blank, printable calendars. While technology is helpful, sometimes it's easier to work with paper and pencil (or colorful pens, markers, highlighters, and stickers).
---
Table of Contents
---
Use our printable calendar templates
We have a special holiday collection that we're releasing every day in December. Each day, the Teamup Elf reveals a new calendar: a printable calendar template, some calendar inspiration, or a live digital calendar. The Elf also brings a power tip for Teamup users: a few of these will turn you into a Teamup pro!
Adjust the time resolution
On any printable calendar template with a time grid, you can adjust the time resolution to your preference. Open your calendar with the administrator link and go to Settings > Calendar Views. There you can set the Calendar Resolution from 5-minute increments up to 60-minute increments, depending on your needs.
Use your own calendar
All these printable and customizable calendar templates can also be created right from the digital version of your own Teamup Calendar. Want to tweak a few things, include a few scheduled events, or have your own header? You can do that, and create your own calendar template, with or without your own existing events. See more details below.
And remember: You can use the same technique used to set up the blank calendar templates, i.e. the link parameters, to control the views of your live digital calendar which gives you endless space to write in and update easily.
Here are a few of our favorite printable calendars from the holiday calendar collection:
Would you like to be more productive and efficient? Focus. One technique that may help is to focus on the goals you want to achieve and plan for the next week. Set your calendar to help eliminate distractions and stay focused!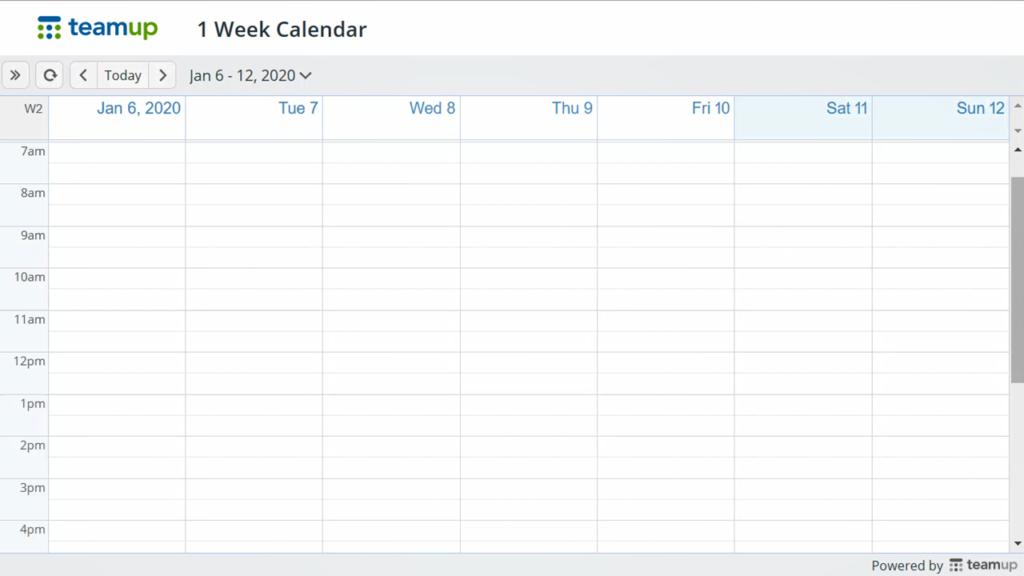 Do you know you can set the Weekly Calendar with or without an hourly grid? The weekly view with the time grid is a great printable calendar for working out your new daily schedule, adjusting a household routine, estimating time needed for various tasks, or getting an overview of all the events and tasks for the week. 
A quarterly plan is particularly helpful for academic and business planning. Need to get a solid look at all the school projects coming up? Or perhaps you need to plan how you'll allocate your team's energy and resources in the next quarter. You can customize this blank quarterly calendar, print it out or use it on your tablet, fill in all the details, and stay organized for all the projects and deadlines ahead.
Use this multi-day planner to get a focused look at what's happening right now. The multi-day view can be adjusted to a different number of days. This printable calendar is set to show the three days, with the current day in the middle. This way, you can focus on what's just happened, what's on the agenda now, and what's coming up next.
Create your own customized printable calendar
You can also create your own customized printable calendar anytime.
To make it "blank" for printing, simply select All at the top of the sub-calendar list. This will toggle off all sub-calendars from view, hiding all events on the calendar. Print the calendar by selecting the Print and Export PDF option from the blue menu. See details here. Once you've printed the blank calendar, click All again to bring all sub-calendars back into view.
You can also find a selection of blank printable calendar templates right here. Use them anytime when you need to step back, take a deep breath, get focused, and become a more organized you!
---
Photo by Estée Janssens on Unsplash