A calendar as a conference app? Yes! Find out how Teamup calendar powered the WINConference app and why it worked so well for organizers, attendees, and speakers.
About WINConference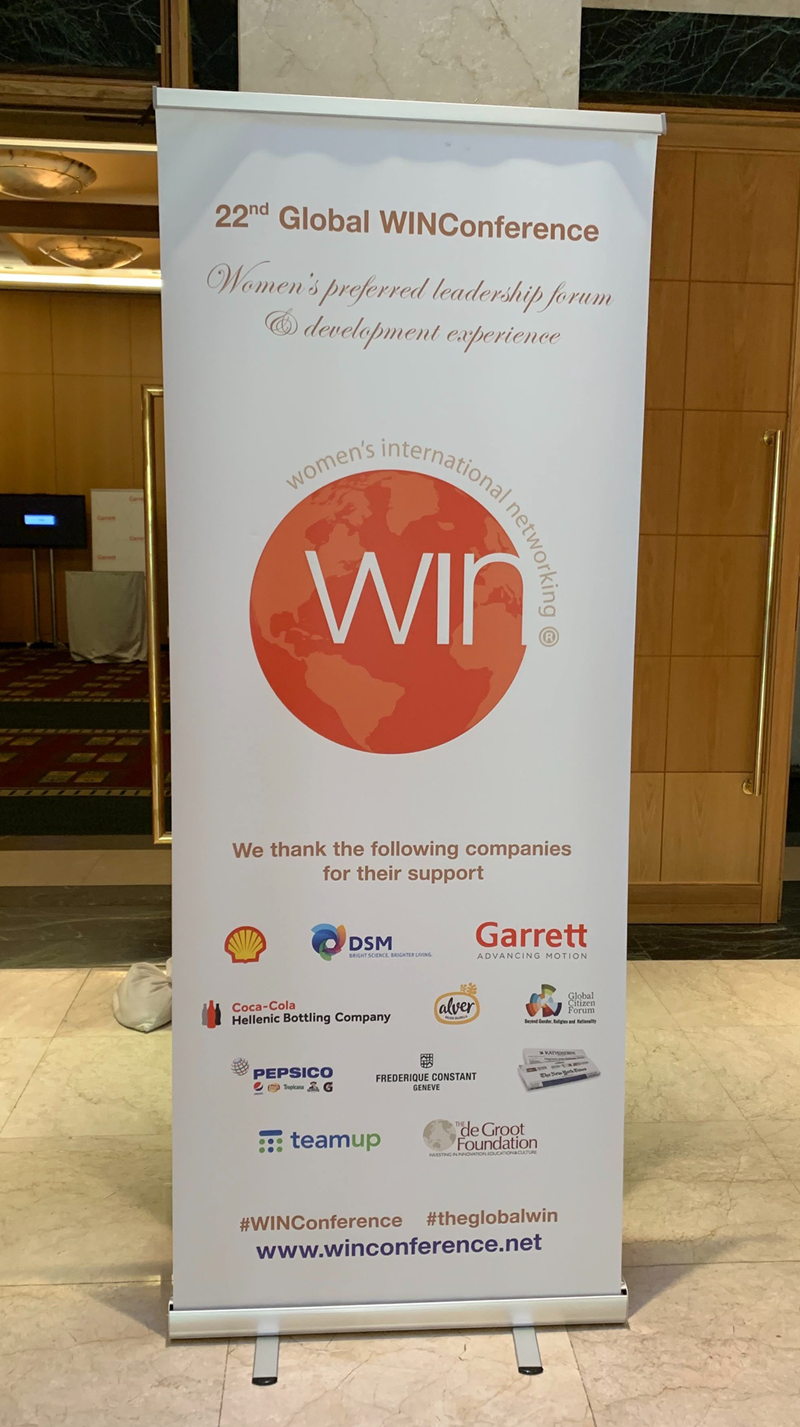 The Global WINConference (Women's International Networking Conference), is a world-class pioneering 3+ day leadership learning extravaganza for company executives, managers, entrepreneurs and artists alike. The 2019 WINConference was recently held in Athens, Greece. Teamup proudly sponsored the WIN conference app to keep organizers and attendees informed, updated, and connected. It worked with great success and demonstrated tremendous value to the conference experience.
---
Table of Contents
---
What's on the WINConference app
Teamup collaborated with WIN to provide a unique conference app for the attendees. The goal was to put the conference schedule and information into the hands of the attendees, in a way that was easy to use, accessible, and convenient.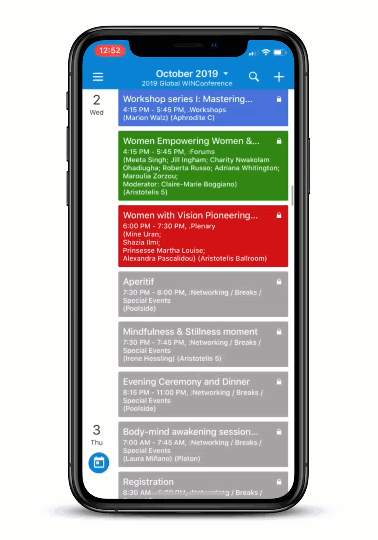 Included on the WINConference app are:
1. A conference agenda and complete schedule
The schedule was available for both iOS and Android users. It was also accessible offline so that attendees could access all the conference information even with phones in airplane mode, without a strong cell signal, or without wifi. The agenda and schedule was designed to help attendees find the right information, right when they needed it:
Color-coded conference events, organized by tracks and/or rooms: Attendees can see at-a-glance the type of session or social event they're interested in, sort by what's nearby, and quickly find details like session starting time, topic, speaker, and room location. See:
Multiple schedule display options: the Agenda view shows all event details in an easy-to-scroll list. The Day view and Multi-Day view provide an overview of the conference sessions in a calendar grid. The Scheduler view allows attendees to compare certain tracks, topics, or event types in a side-by-side view.
Filter by track: sessions are categorized into distinct tracks, and conference attendees can filter all the sessions by track to see only the opportunities that were most relevant to their interests.
Searchable by keywords: in addition to filtering the conference schedule by track, attendees can also search for keywords in event titles or descriptions. This makes it easy for conference participants to find the precise topics they care about, or to look up more sessions with a specific presenter, or to identify the type of social events they value most for networking.
Complete session details integrated into the schedule: the full details of each session, as well as speaker profiles, are included on the WINConference app. No need for attendees to flip back and forth between the conference calendar and a booklet of session details or speaker information. With only their phones, attendees can view all the details, anytime.
Easy sharing options to many other apps: a comprehensive menu of built-in sharing options makes it easy for attendees to share session information on their social media platforms or directly in a text message.
2. Complete speaker and attendee profiles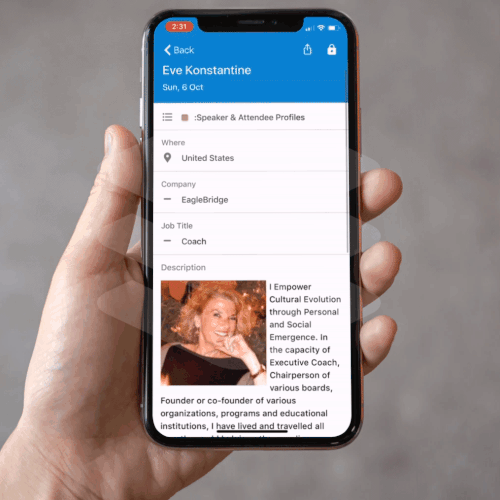 Kristin Engvig, Founder and CEO of WIN, made the decision to be more environmentally friendly by no longer printing speaker and attendee profiles on thousands of pieces of premium paper but still making them accessible to the conference attendees. All this information is now on the Teamup-powered WIN app. It also adds tremendous value to networking at the conference.
Each profile has a photo and a mini-biography of the individual.
Names are listed in alphabetical order.
Profiles can be shared or linked independently from the app.
Attendees can use the search function to look up the profile for any particular individual.
Key Success Factors
Ease of use
The same conference information–session agenda, full conference schedule, speaker and attendee profiles, social event details–is available and accessible from the mobile apps as well as from a web browser.
The Teamup calendar-based user interface is simple, intuitive, and similar to many commonly used calendar tools that people are already familiar with. No learning is required to start using it. The WIN attendees love the ease of use and are very pleased with the ability to search for sessions, speakers, company names, or any keywords.
Attendees can use the agenda view in a web browser to see all conference information on one page for quick, scrollable browsing. They can choose to view the agenda with or without details, including visible profile pictures for the speakers. Visual recognition is powerful.
Added value for learning and networking
The searchable, available, and easy-to-update attendee profiles have big benefits for conference attendees. They can filter by name to find a speaker profile quickly. It's easy for them to look up a speaker profile on the app even during the session if needed
Knowing the speaker's background often makes a big difference in what we get out from conference sessions. It also allows speakers to be more accessible during and after the conference without any extra work. The same is true for any conversation partners you might encounter at conferences. It's so easy to find out the who's who of any other attendees, not just speakers, at the moment of need. Better informed conversations allow people to connect deeper and improve the networking experience at the conference.
Productive use of small moments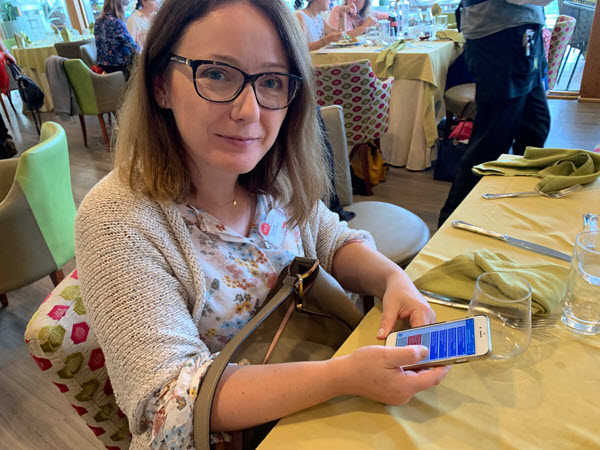 Breaks and social functions are an important part of a good conference. And everyone looks forward to them. Teamup helps attendees make good use of breaks and time at breakfast tables. They can search the calendar or sort events for various types of breaks and social events. Then they're aware of what's next, and when. They can make the most of these valuable social times according to their priorities in each moment.
It's also easy to follow up on social media, either during a break or even after the conference. Attendees can search the calendar for speakers they met or particularly valued, find their profiles, and connect. There's no need to transfer information from specialized conference software or booklet to the laptop or phone. Attendees can simply get that information (either on the app, or on a web browser) and use it in their normal way — via email, Linkedin, messaging, or whatever platform they prefer.
Sharing on mobile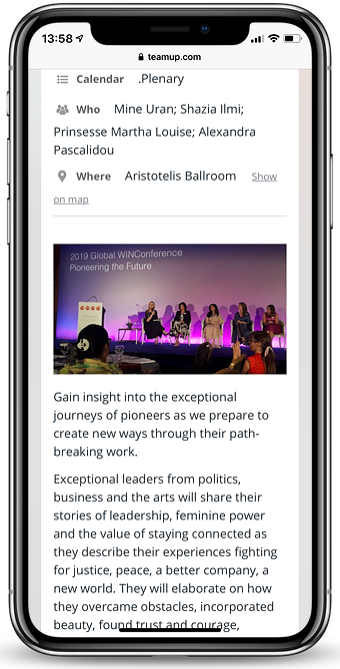 Teamup apps have powerful built-in mobile sharing options. This makes it easy for anyone to share the event to social media, or directly with a friend. All the information stays with the event, stored on the conference calendar. It's easy for speakers, organizers, and attendees to pull up the calendar anytime to reference the material or share it again.
A couple of taps is all it takes to share an event from the Teamup mobile app to any major social media platform, messaging service, or a wide variety of apps.
Opening Messages https://t.co/WrfmyD0lxU great to be at the WIN conference again. Fantastic development opportunity for our top female talent from DRS and always plenty of new thinking to consider @DRSgovuk @WINConference

— Debbie Francis (@debbiegetsfit) October 2, 2019
Attendees can use the sharing options to invite a friend to meet them for a particular sessions, or to share their photos and thoughts along with the event information. They can add their own message before sharing or sending the event.
Speaker and session promotion
"Great app. Easy to navigate and use. Loved the functionality available to capture participants at the workshop."

–Alina
Anyone can share any individual session as a stand-alone web page. This makes it easy for conference organizers to promote individual sessions on social media, for speakers to spread the word about their sessions with their own networks, and for attendees to discuss, share, and promote the sessions they are most interested in.
Social courtesy
An important part of the value at any conference is networking. There are many opportunities to meet, reconnect, and deepen relationships of all kinds. But when someone is buried in a thick conference booklet or head-down in a laptop, they miss out. Others are often hesitant to interrupt someone who is obviously reading or working.
It's not the same, though, with our phones. Because phone use is so ubiquitous, we're all used to seeing each other with a phone in hand. Accessing a conference schedule on a phone removes those displayed or perceived barriers for starting a conversation. "It's courtesy," as one attendee said.
Live support from Teamup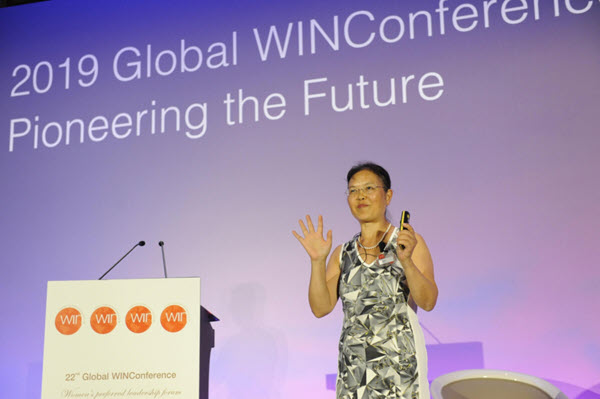 Jenny Zhan, Teamup co-founder and CEO, introduced the Teamup-powered WIN app at the opening of the Conference and remained available for on-site live support throughout the conference. An enthusiastic first-line support advocate, Jenny helped translate a great technology product created by the team at Teamup into much appreciated live experience.
"Fantastic app & great support 😉 Love it!"

–Katalin
Central management of all conference information
For the conference organizers, one of the benefits is that all the information on the schedule could be managed centrally, from any web browser. This means no special software was required to view or manage the information.
Immediate updates to all attendees: As simple as updating a personal calendar, the conference organizer can access the calendar, make changes when needed, and know that the updated information would be instantly available to all attendees across all devices and platforms. A huge time-saver! No reprints or announcements needed, and no need to update multiple information sources with the same correction. It can all be done at one time, from one central management point, accessed via web browser.
Consistent branding: the conference calendar, accessed via the WINConference app or on a web browser, has consistent branding with logo and color identity. Unlimited space for event descriptions also means that there is plenty of room for sponsor information, links, and logos, without cutting out other pertinent information.
Embedded calendar on the website or social media: a conference calendar can be easily embedded on any website, Facebook page, or other media channel. The look and feel of the embedded calendar can be customized, then put into place with a simple copy-and-paste embed code.
Up to the Next Level
Teamup is a calendaring application made to be helpful for a wide variety of organizing and scheduling needs. Using Teamup in a conference scenario like WINConference allowed us to discover new matches between the needs of conference participants and capabilities of Teamup that we did not foresee to be relevant. Some of the wishes that the WIN attendees shared with us are just a matter of enabling them.
In this post we've focused primarily on the benefits for attendees and speakers. However, Teamup offers many powerful options for conference organizers. From multi-level access permissions for streamlined content production processes to the powerful custom event fields, there is much more to explore for moving up to the next level for conference attendees and organizers!
Adding to the promise is the user account-based access control, a major new release of the Teamup software planned for the near future, which will open up many new possibilities:
User account-based access control will offer the conference organizer and registered participants additional functionality and exclusive information that is beyond a public conference schedule; for example, creating a shared bulletin board on the calendar for those looking to share accommodations or coordinate travel plans.
Inter-linking between sessions, profiles, and other information within the app.
Enabling speakers to use event signups as an instant and efficient way to gather participant information for follow-up.
More to come. Stay tuned!
---
We're so thankful to be part of what WINConference is doing in the world! Read about WINConference's use of Teamup last year, or learn more about WINConference here.