About the Barn Church
The Barn Church is a congregation of the Church of Scotland in Culloden, on the east side of Inverness. The Parish covers the communities of Balloch, Culloden, Smithton, Westhill and Cradlehall, and the church family includes a broad spectrum of people. The Barn Church draws its name from their historic building, the 'Old Barn,' which was built in 1729 as a tithe barn for The Culloden Estate.
The challenge
Reverend Mike Robertson shared their story with us:
"We've been using Teamup on the free [Basic] plan for 2 years now. We use it for our church activities and bookings, and we are delighted with how smoothly it works for us.
We use links to give calendar access to various staff members and calendar users. However, we have still been printing a hard copy of weekly calendars to display in a public area so people can see the church schedule and events at a glance. Obviously, this creates additional work to produce and also goes out of date quickly. If events are added or details are changed in the digital calendar, the printed weekly calendar can become out-dated, once it has been printed.
We'd like to install a basic tablet or other screen display in the building where people could access the calendar to view only what is in the calendar in real time. It would have to allow a user to look forward beyond the current week or to zoom in on specific events for details, but we don't want it to be editable at that access point or require any loading of an app. Simply a touch screen tablet setup mounted on a wall where people could open a locked screen and immediately view and navigate the calendar without being able to edit it."
The solution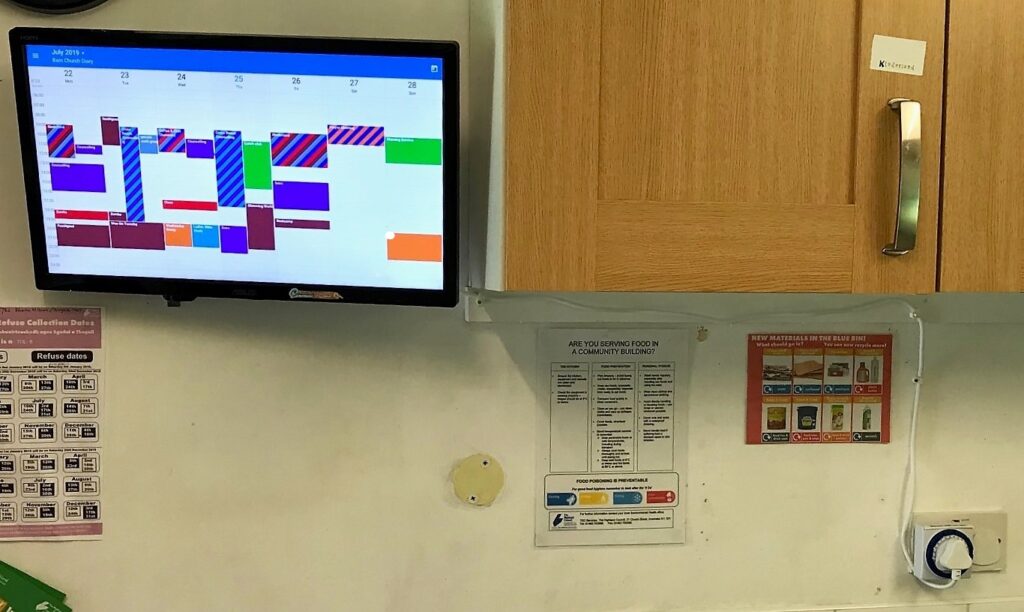 Any Teamup calendar can be displayed on a publicly accessible screen or tablet. Larger screens provide an easier at-a-glance view. Interactive touch-screen tablets are smaller but allow users to interact with the calendar, moving through dates and seeing event details.
Here's what we recommended for Rev. Robertson and the team at The Barn Church:
Create a link to the calendar that has read-only access. Since this is the calendar that will be viewed publicly, it's very important that the access permission is set to read-only to avoid accidental calendar changes or data loss.
Open the read-only calendar link in the preferred browser on the device that will be used for display purposes.

Create a shortcut on the tablet's home screen if the tablet also needs to show other options or signage. Then users can simply tap the calendar shortcut to view the calendar.
Add parameters to the calendar link for more customization of the calendar display.
With some help from Access Technology Company of Glasgow, The Barn Church was able to come up with a budget-friendly calendar display that is accessible and automated. More technical details about their setup here.
Public display calendar tips
Use link parameters
Customize the way the calendar looks on the display screen by using link parameters. You can set a default calendar view, hide the sidebar and/or header, and set other options by adding link parameters to the read-only calendar link. If you want to set up a larger display that's not interactive, you can add a refresh parameter (paid plan only) to ensure that the calendar display stays updated at all times.
Set a default calendar view
Think about the way events cycle for your particular use or organization, then set the default calendar view accordingly. For example, if monthly events are most common, then the Monthly calendar view may be best. If there is a busy, detailed weekly schedule, then the Weekly or Multi-Day view may be best.
Use colors for visual ease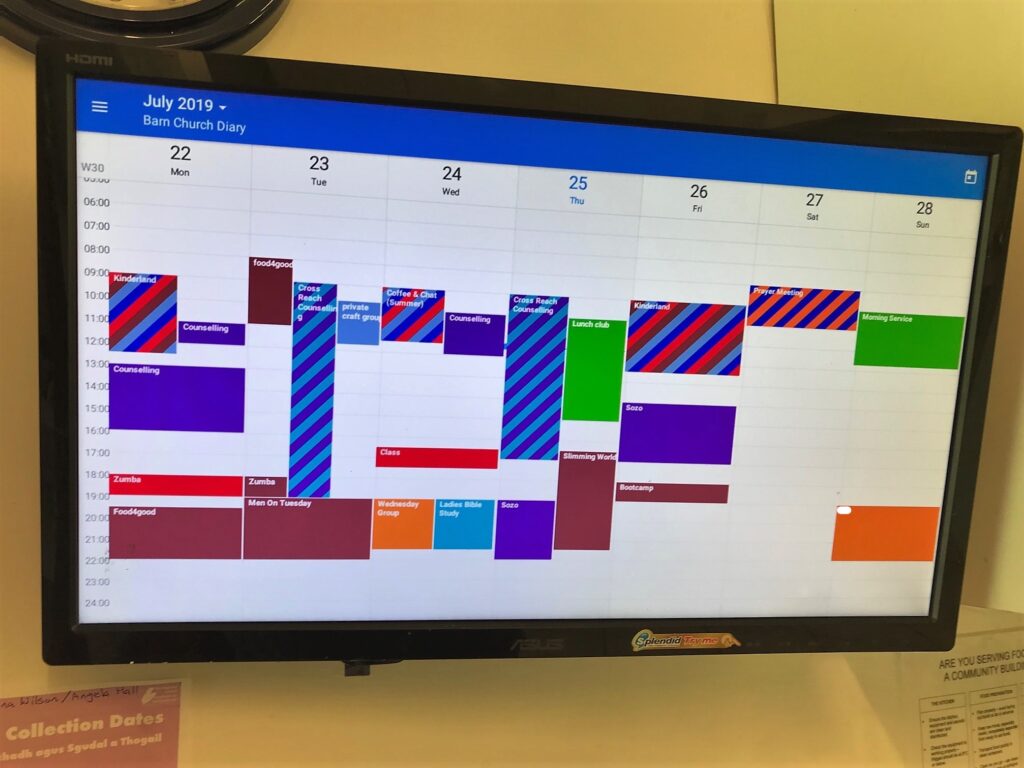 Use colors to distinguish between types of events. You can create and group sub-calendars, and set their colors, to make it easy for calendar viewers to distinguish between types of events. For example, all events related to education could be on sub-calendars in yellow and orange shades. All events that are social or "entertainment" related could be on sub-calendars that are shades of purple. With over 40 colors to choose from, there are plenty of shades you can use to make your calendar display beautiful and functional.
---
Thanks to Rev. Robertson for sharing your story with us!