Keep everyone updated on school and community events, whether they're tech-savvy or not. A shared school calendar from Teamup is accessible for all members of the community.
About Altamont High School
Altamont High School is a small school that serves approximately 350 kids, in grades 7 through 12. The school is located in the rural community of Altamont in the northeastern corner of Utah, U.S., at the foot of the Uinta Mountains, the only major mountain range in the US that runs east to west. Altamont has an elevation of about 6,400 feet above sea level, with cold winters and pleasant summers. Altamont is the center of a farming and ranching area that has a population of about 2,000 people.
Wesley Thacker, a senior student at Altamont High School, shared their story of using Teamup.
The challenge
The students of Altamont High School live anywhere from across the street to more than twenty miles away. In the past, the only form of communication from the school to parents was through a Facebook page. Not many people check Facebook, however. The old method of announcing events for the week on Facebook wasn't working. Parents and various groups were constantly asking what was happening throughout the week, so they could schedule accordingly and not cause conflict with school events.
As a tech-savvy senior in high school, I wanted to create something that could be used by everyone in our community: teachers, parents, grandparents, and students. I wanted everyone to be able to keep track of events going on in the school, including those who weren't tech-savvy. I considered Google Calendar and Outlook multiple times but their platform didn't have the flexibility that I wanted. That's when I stumbled upon Teamup.
The solution
Today, we use Teamup to keep track of all events that go on at the school.
Sometimes, events change, or even get cancelled. It's super nice to be able to change these events on the fly and know that everyone else is seeing exactly what I am. Parents can easily check the calendar with the read-only link, using the Teamup mobile app to see what is going on, if it's been cancelled due to weather, and which group is involved. For example, our basketball team has a Freshman/Sophomore team, a JV team, and a Varsity team.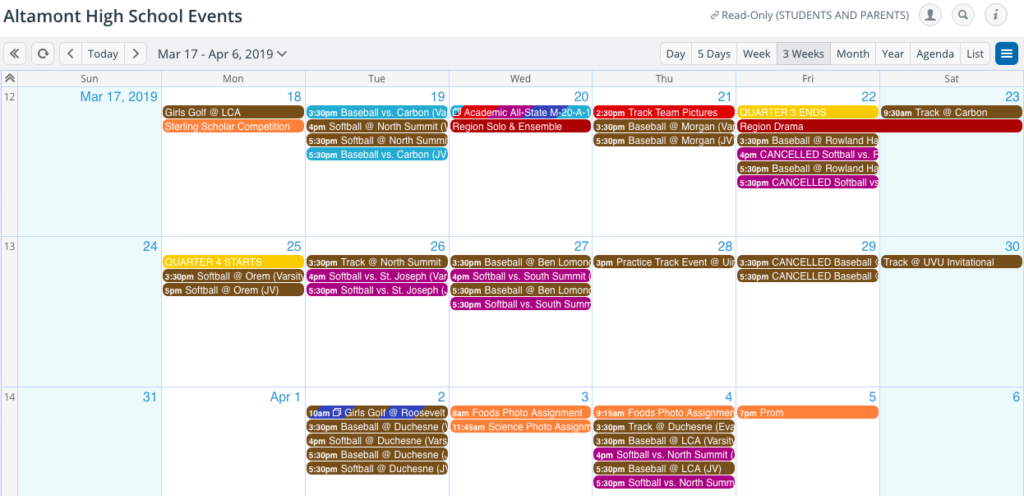 Event signups
The Signup feature has been super useful to the yearbook staff. In the past, they used a whiteboard calendar in the back of the room to list various school events; then someone on the yearbook staff would sign up to take photos for each event. The Signup feature in Teamup has made it easy for them to keep track of which events are covered, who is covering them, and so on.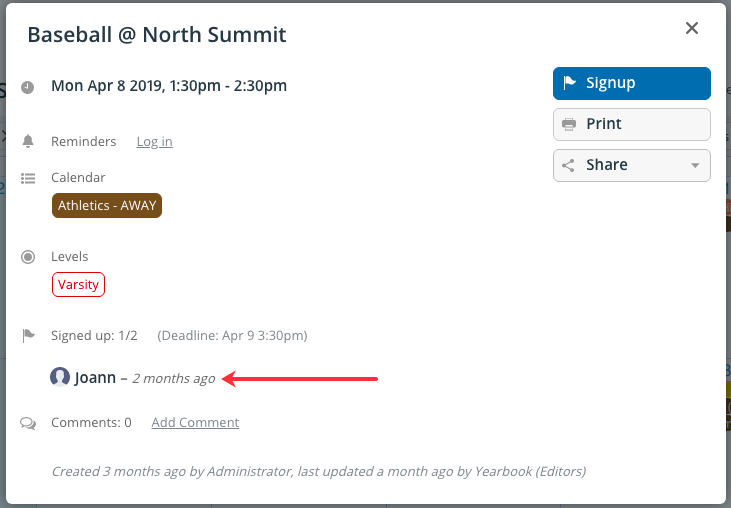 Customized calendar links
I've also enjoyed the benefit of having unique calendar links for different people. For example, we can create a unique calendar link for each coach that only allows them to modify their sport's sub-calendar. This is super helpful so they don't accidentally change events for other sports teams. As the school year goes along, we activate links for the coaches for their sport when the season begins, and deactivate it when the sport is over for the year. The Yearbook staff also has a modifier access link so they can to add and remove events if needed.
Teamup has helped me because I used to have issues keeping track of the events at the school and so did everyone else. Creating and sharing the calendar has certainly benefited everyone in my community.
---
Many thanks to Wesley Thacker for sharing your story!