Event details, mobile access, and customized calendar access make Teamup the right choice for this busy and efficient service department.
About Vantage Equipment
Vantage Equipment, LLC was founded in 2004 when it was appointed as Volvo Construction Equipment's dealer for all of Upstate New York. Vantage has also represented Gradall Excavators and BTI Hydraulic Breakers from the start.
Vantage Equipment operates from three branch stores across Upstate New York in Batavia, Syracuse, and Albany.
Vantage Equipment is focused on giving their customers the best support possible whether they are renting, buying or maintaining a piece of equipment. Bethani Rahrle-White shared with us how Teamup Calendar helps them support their customers by enabling an efficient and organized service department.
The challenge
Before Teamup, there was no visual aspect to the schedule.
Our major challenge is scheduling road techs efficiently. Before we found Teamup, there was no visual aspect to the schedule. We just had the actual physical work orders in a bin for the day of the week.
This lack of a calendar view made for confusion and difficulty scheduling more than a couple days out. It also created some difficulty if we had an emergency call and have to divert a tech from another job.
The solution
Teamup has made running the road service department much easier and seamless.
With our Teamup Calendar, I can put as much information in the appointments as I want. This makes less paperwork for the techs to carry in their trucks. With the Teamup mobile apps, they can look up where they are going next, what is going on with the equipment, who to contact if they need to, and any previous appointments that we made.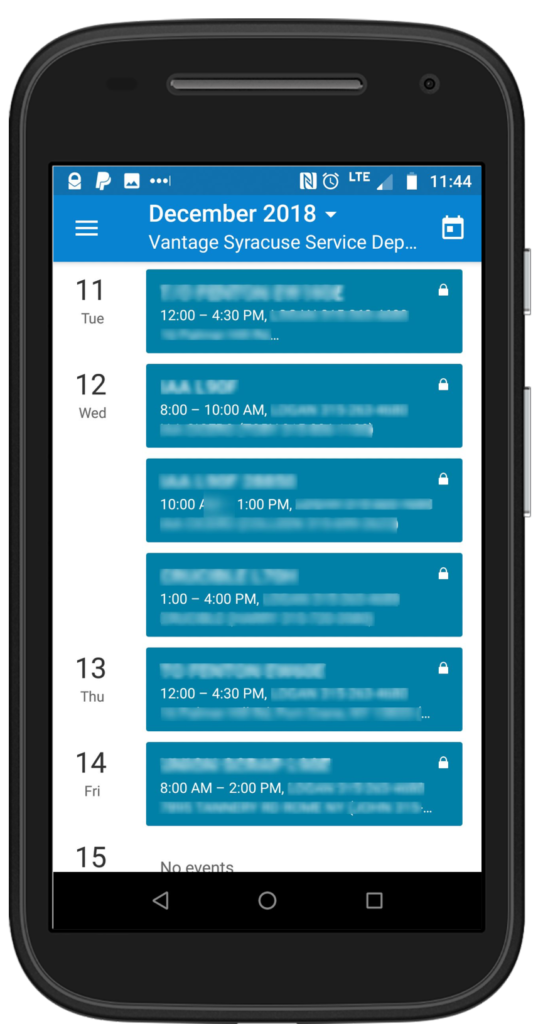 I love the ability to limit what others can see and change too. I am the calendar administrator, and only two other staff members can add or edit. Techs can see as much info as they want and the sales reps can get a good look at our schedule so they don't bombard us with unrealistic expectations for their customer's machines. I can schedule weeks ahead on service calls which is awesome. Before we found Teamup, it was too difficult to do so.
Copying an event is probably my favorite feature. We often need to go out on calls more than once; copying events saves me time. We can even print the appointment and have the techs use that printed event for handwritten notes vs. needing to create and print a completely separate form that costs the company more money.
The built-in Where field with the map feature is great too. It lets me easily see what jobs we have in a certain area. For the techs, they can click a link to the job site from the calendar. It's much easier than copying the job site information, searching for it in the GPS, and hoping it's the right location. I also love that I can enter in something like, "Bob's Repair Shop, Syracuse NY," click the map location, and get a pinpointed location. Then I just click the actual address to copy and paste it on the line in the calendar event. It makes my job that much easier.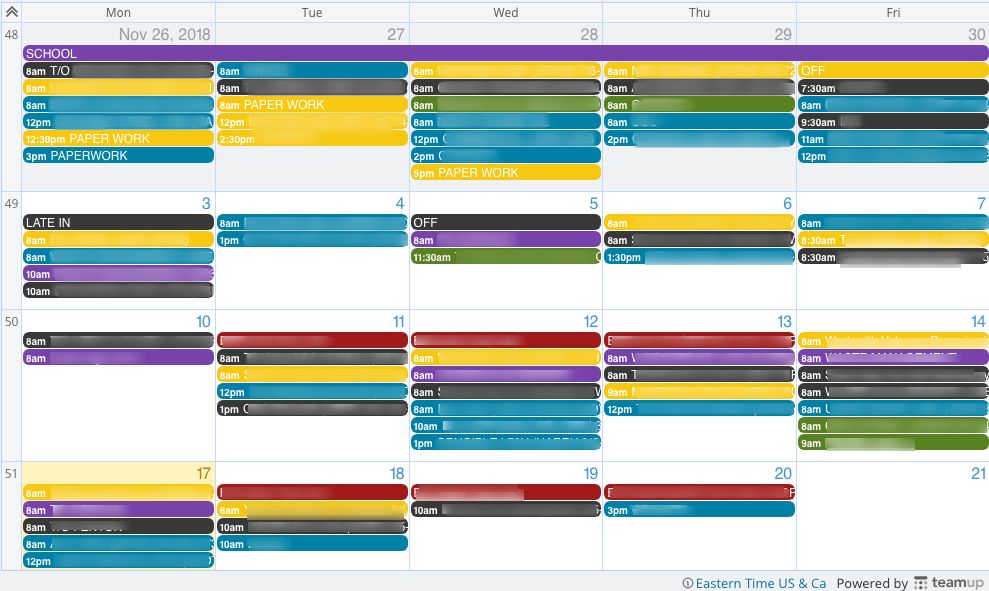 The important features
For Bethani and the rest of the team at the Vantage Equipment Service Department, these Teamup features are the perfect fit for their needs:
Description box and event comments: The description box for each event is a full-featured text editor. Bethani can input as many job details as needed, including bulleted or numbered lists, images, files, and links. Event comments can also be used as an internal notes system, and Bethani can control who sees the comments by setting the event comments to be visible to All users or only to users with Modify permission.
Event fields: The built-in event fields provide a huge help for the service department. The Where field is automatically linked to map information, making it easy for Bethani to link to each job site's location. The linked location in the calendar event makes the techs more efficient as they move from one job to another: when ready, they can simply tap to view event details of their next appointment, then tap the map icon in the Where field to open their next service location on a map. With custom event fields, the team can also capture and track data like work status, customer number, or other pertinent information.
Duplicating events: Bethani can right-click on any event in the calendar to show a context menu, which includes the option to Copy or Move any event. With a couple of clicks, any event can be duplicated to another date with no need to retype or copy and paste information.
Access permissions: With the various levels of access permission built into Teamup Calendar, Bethani can control calendar access easily. She can let everyone see the information they need from the calendar without giving everyone the ability to add, modify, or delete events on the calendar. And she can change those permissions at any time as needed without any disruption in the calendar workflow.
---
Many thanks to Bethani Rahrle-White for sharing this story with us.