When you create a Teamup Calendar, what you create is a master calendar.
Sub-calendars are individual calendars that are contained within your master calendar. You can create multiple sub-calendars, and organize them in folders. In many cases, one master calendar is sufficient for managing multiple teams, properties, projects, or events. However, in some cases, using multiple master calendars works better.
If you need to coordinate, oversee, or manage multiple master calendars, you can get a big-picture view from all the master calendars without switching between browser tabs.
This scenario shows how to consolidate multiple Teamup Calendars, used by different teams in different locations, into a single view for the overseeing manager.
The Story
Andy is a regional training manager who oversees training events in 5 different locations. The staff at each location are responsible for creating and updating events, as well as managing user access to their own location's calendar. Andy oversees all locations, so he needs an overview showing each location's master calendar.
The Challenge
Each location operates their training program independently.
Andy wants each location to have its own Teamup Calendar, with sub-calendars organized and color-coded for the various training categories and events specific to that location. The manager of each location will be the administrator of their calendar.
The challenge is creating a single, unified view for Andy. As the overseer of all five locations, he needs to regularly check in on each location's scheduled events and training sessions.
Opening separate master calendars is fine when Andy is simply reviewing events at a single location. But for comparing schedules and activities, he needs an organized overview of all 5 location's events in one single calendar view.
The Solution
1. Create one calendar for each location and add the location manager as an account user with administrator access.
Note: in many cases, supervisors or managers do not need access to the calendar settings, and Modify access is more appropriate. In this scenario, location managers will be managing calendar users so need access to the calendar settings.
Alternatively, Andy could have location managers create their own calendar directly. (Contact Teamup for Enterprise support on creating a large number of new calendars with similar configurations).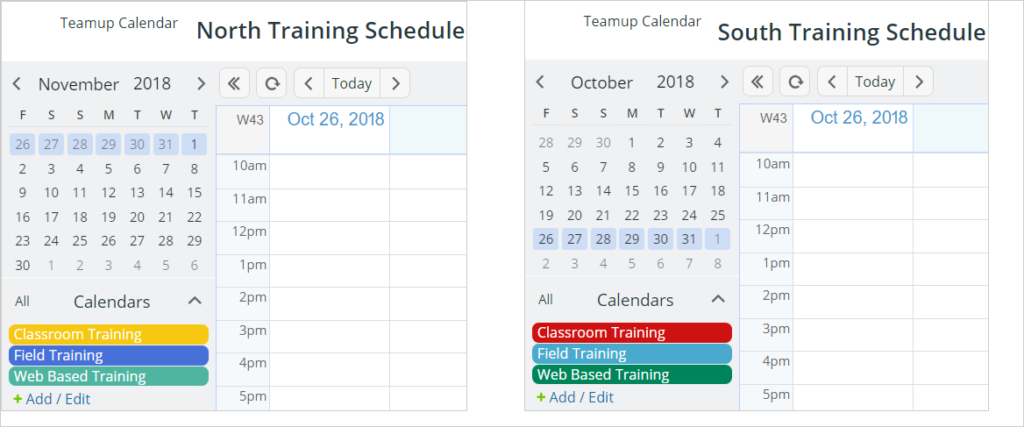 2. Create a separate Teamup Calendar to serve as the overview calendar.
This calendar will be set up to show consolidated events from all 5 locations.
3. Add iCalendar feeds from each of the location calendars to the overview calendar.
The overview calendar allows Andy to see all the master calendars and track the training events in all five locations in one calendar view.
It's important that Andy adds separate iCalendar feeds for each sub-calendar, which allows him to color-code and organize the feeds in his own calendar. This requires a bit more work up-front, copying and pasting multiple feed links. However, the set-up only has to be done once and the feeds will be refreshed automatically. A little work on the front end will allow Andy to work much more efficiently.
Andy can then group his calendar feeds into a folder structure within his overview calendar. The feeds will be read-only, which is fine for Andy since he only needs to view the events.
With feeds in color-coded categories, he can also toggle the sub-calendars and view all events in any category across all locations:

For example, to see all training schedules for the south location, Andy can turn on only the sub-calendars of the South location: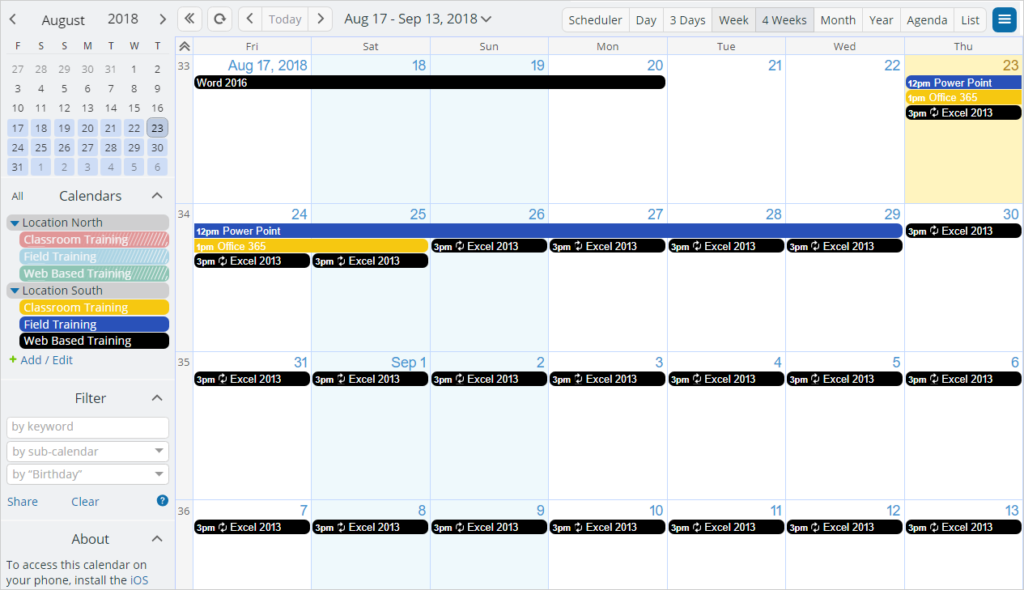 Every time an event is created on any of the location calendar, it will be automatically populated into Andy's overview calendar.
Andy can stay better informed and can focus on his real job as the regional manager, without wasting precious time to chase down scheduling details from multiple locations.
Applicable needs and benefits
One of the key benefits of the solution demonstrated in this case is its scalability:
As the number of locations under Andy's responsibility grows, it is easy to add new locations by creating a new calendar. Adding a new calendar will not change any existing calendars. Each calendar can be administered at the operational level of any organization.
Numerous feeds can be added to a consolidated master calendar as sub-calendars.

A Teamup Premium plan allows up to 50 sub-calendars and it can be extended as needed.  An Enterprise plan makes it possible to scale up to hundreds of sub-calendars.

Note that it is not required to start a new calendar to add feeds from other calendars. You can subscribe to feeds of any existing calendars.
Consider the following scenarios in which this solution could b easily applied.
Medium to large enterprises
Multi-national corporations: When regional marketing units run their own campaigns and programs, how can the team at corporate HQ keep an overview of what's happening in each region?
Media and professional service companies: When many tasks and milestones need to be tracked for each client, and multiple teams are involved, how can managers obtain the big picture and streamline information sharing, without resorting to numerous Excel sheets and emails?
Real estate and environmental service organizations: When each property is managed independently or crews are scheduled to perform specific services at multiple properties, how can property managers track resource availability and ensure that services are delivered?
Small business and individuals
Small business management and personal productivity: Do you find yourself juggling multiple calendars and schedules whether in a personal, social or professional context? How can you consolidate these sources into one view while using familiar tools, such as iCal or Outlook?
Managing client and editorial calendars: Freelance service providers, consultants, and coaches can benefit from a way to bring all their client, editorial, or coaching calendars into one view.